Breaking down Alaphilippe's world championships victory
Alaphilippe bags the biggest win of his career with an impressive solo win
If you find these weekly newsletters helpful, you can buy me a coffee to keep me fueled while up early watching races.
I am offering a daily newsletter during major races like the Giro d'Italia and Vuelta a Espana, along with two additional newsletters per week during non-GT weeks for paying subscribers. To get this real-time racing and team strategy analysis, sign-up below.
Julian Alaphilippe won the World Road Race Championship on Sunday with a bold and beautiful solo move with a little over 11km remaining. The chase group of Wout van Aert, Primoz Roglic, Jakob Fuglsang, Marc Hirschi, and Michał Kwiatkowski couldn't come to an agreement of who should work to pull back the lone Frenchman and rolled in 24-seconds down, with van Aert and Hirschi winning he sprint for 2nd and 3rd.
The 258.2km course through the incredibly picturesque countryside around Imola, Italy featured a brutal 4,500 meters (14,763 feet) of elevation gain over a 28km circuit. World road race championships are notoriously low-key until the final 50 or so 60 kilometers due to the length and difficulty of the course. This edition was so different, with a ceremonial two-man break reeled in with roughly 63km remaining. After that, the French team ramping up the pace and a solo Tadej Pogacar attack were the only real action until Pogacar was pulled back with about 20km remaining. Despite the hours lacking any real action, the final 15km was thrilling, with Alaphilippe getting away solo at the top of the final climb, and held off the chasers to cross the line for his first World Championship title.
Race Notebook:
63km-Big peloton caches two-man break and France really ramps up the pace as they hit the motor racing circuit, like, really high, literally sprint out of the saddle 63km from the finish line. Why? I guess to set up an Alaphilippe 50km down the line?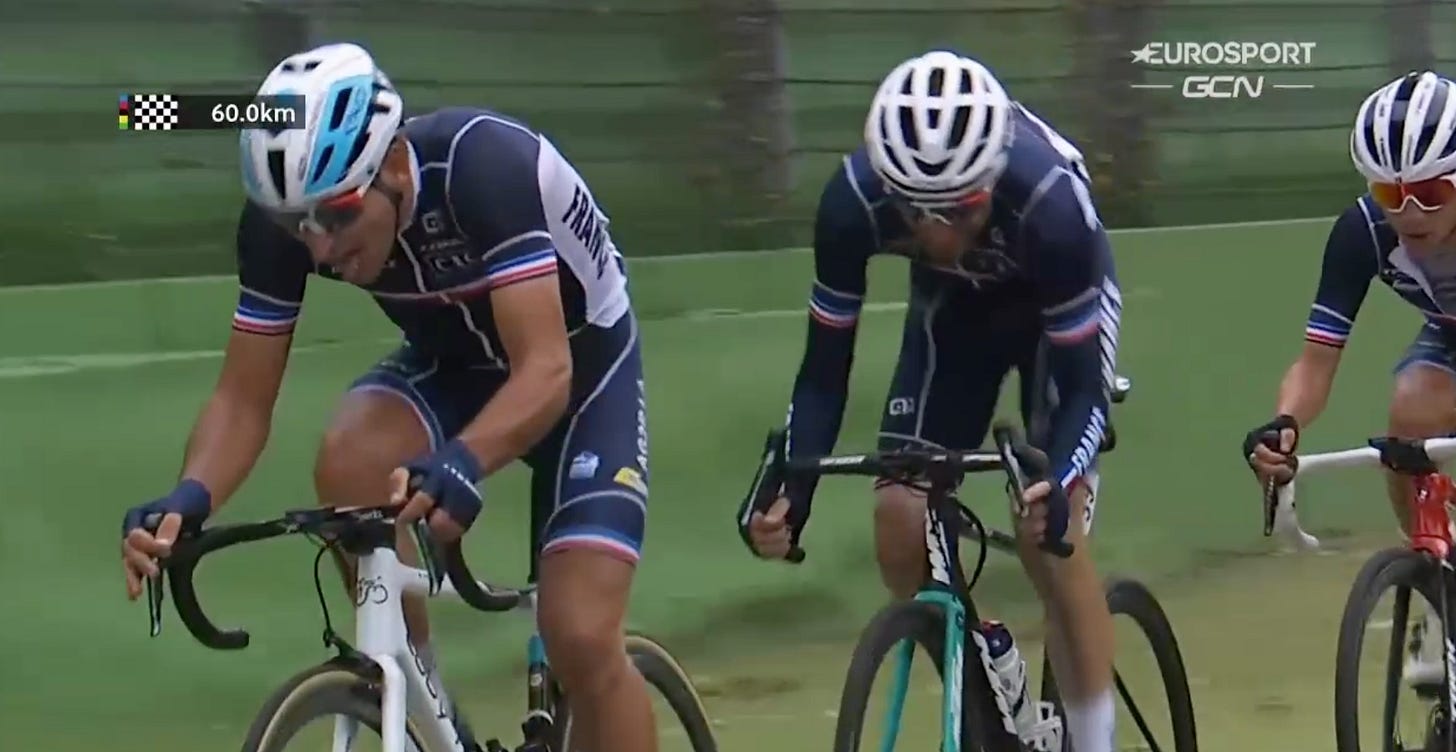 55km-Pogacar drops back to his team car as the pace is high for a bike change. Why? His bike looked fine.
50km-Belgium comes to the front and looks really strong as a few French riders are dropped and Alaphilippe goes further back in the peloton. I think France went way too early, and I don't understand why. If they wanted to make the race hard they just could have waited, its not like the last lap will be easy on this course. It just reeks of a display of French machismo without a real strategy.
41.9km-Pogacar, a few km after getting a new bike, attacks. It is impressive but I don't get it. What is he going to do? Solo from 41km out with teams of that size behind him?
40km-Pogacar looks strong but I think he is just having fun here and trying to set up Roglic, too many teams behind.
33km-Pogacar is still away and this move is putting pressure on the Belgian team, who have to do all the work since nobody in their right mind would work with them.
31.2km-Alaphilippe is riding last wheel, a terrible place to be. He must be really hurting and shows why that move from the French was ill-advised.
30.8km-Pogacar pulls it out to 17-seconds
27.5km-Pogacar's gap out to 20-seconds, if they couldn't pull him back on the flats, they certainly can't on the climbs. Roglic missed his last lap feed, could come into play late in the race.
22.1km-Still at 23-seconds and only Belgium is working. Other teams are likely trying to make Belgium burn themselves out before attacking.
-Mikel Landa on the front, he looks tiny compared to the classics guys! Shows why Worlds is such a cool race, we get to see guys with completely different skillsets racing against each other.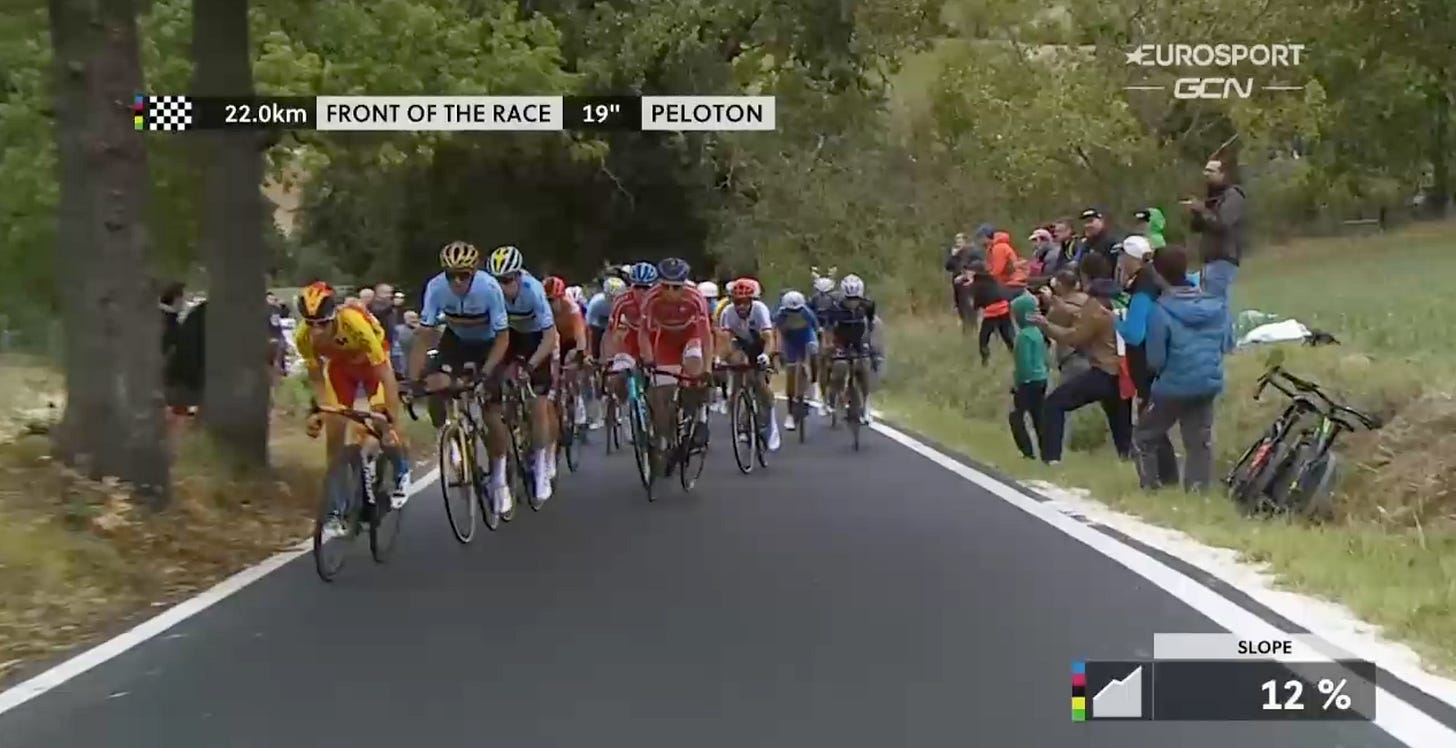 21.8km-Tom Dumoulin attacks to pull back Pogacar. I can't decide if this is really a bid to get away with Pogacar or if this was covert work for his trade team teammate Wout van Aert, who's Belgium team is rapidly running out of steam.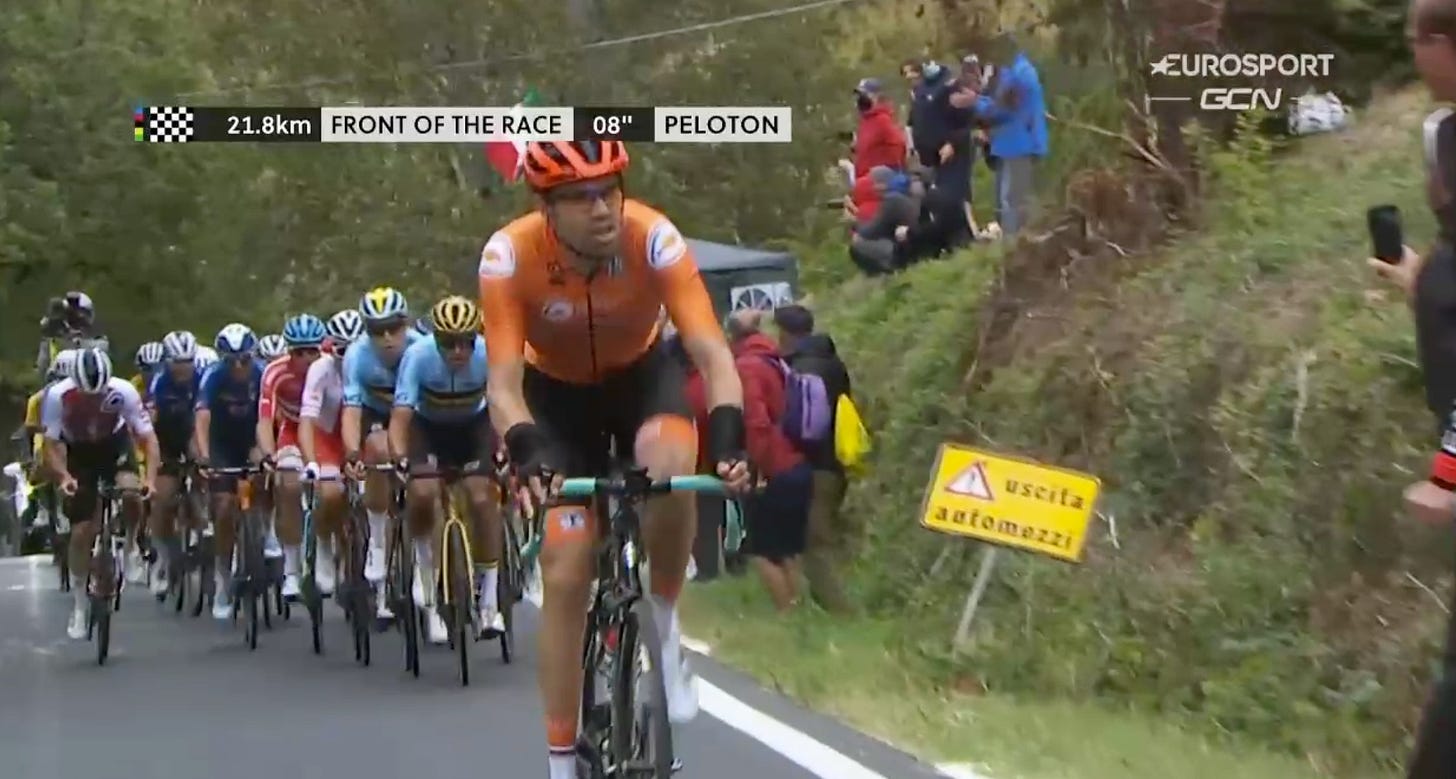 As soon as Dumoulin catches up to Pogacar, he looks directly at him or possibly even says something to him.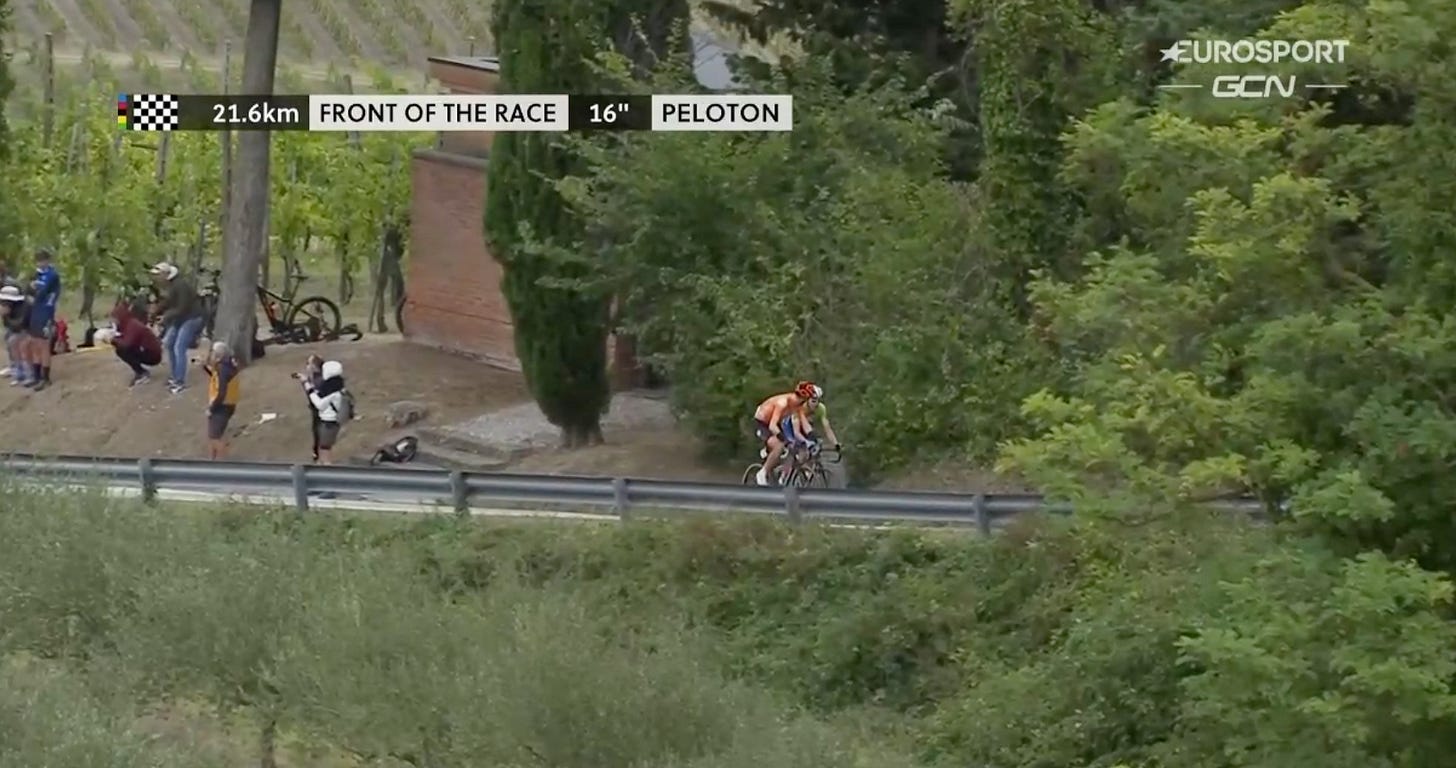 If his plan was to slow down Pogacar, it works. Pogacar's spirit is broken and he immediately slows down and gets on Dumoulin's wheel.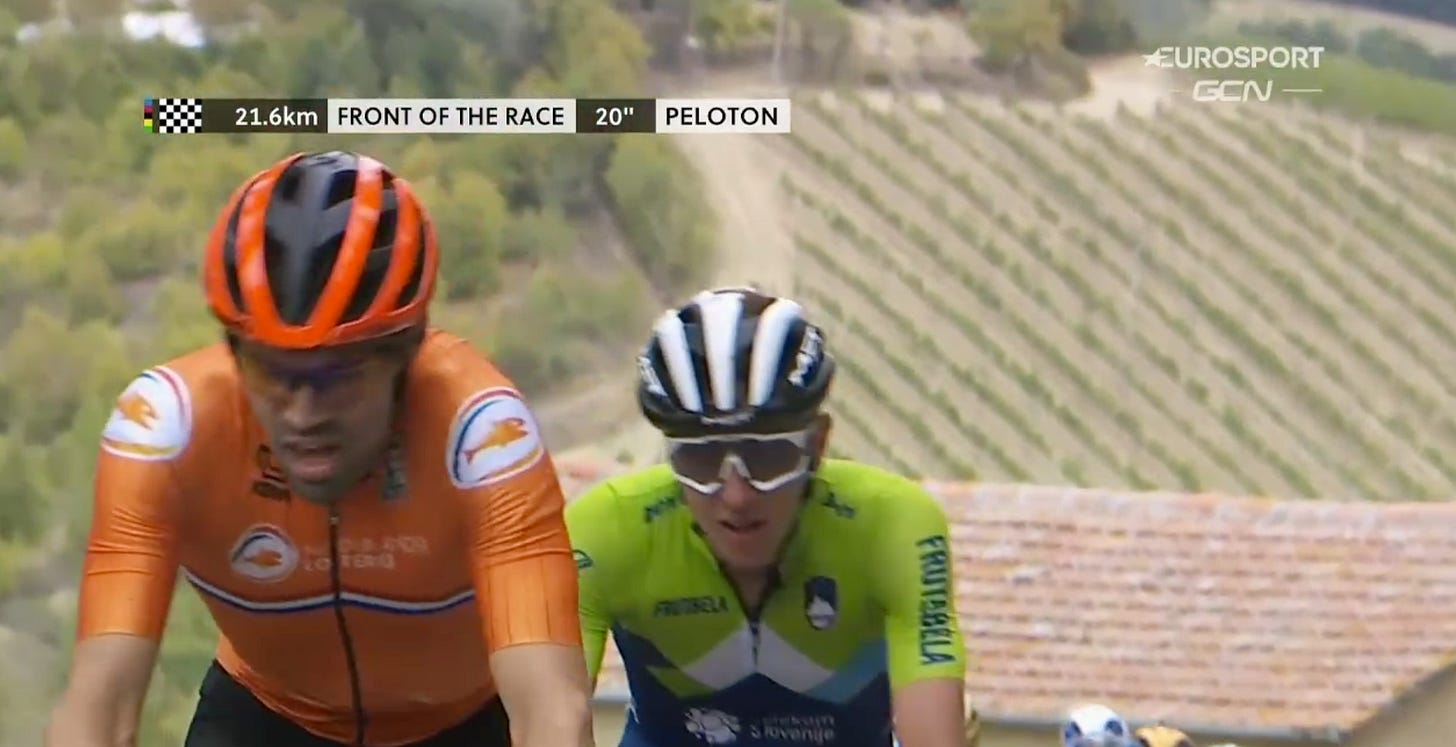 20.6km-At the top of the climb, Vincenzo Nibali attacks with Landa and Rigoberto Uran on his wheel. Van Aert realizes this is a seriously dangerous move and jumps on. However, this is a big match for him to burn if this move doesn't stick.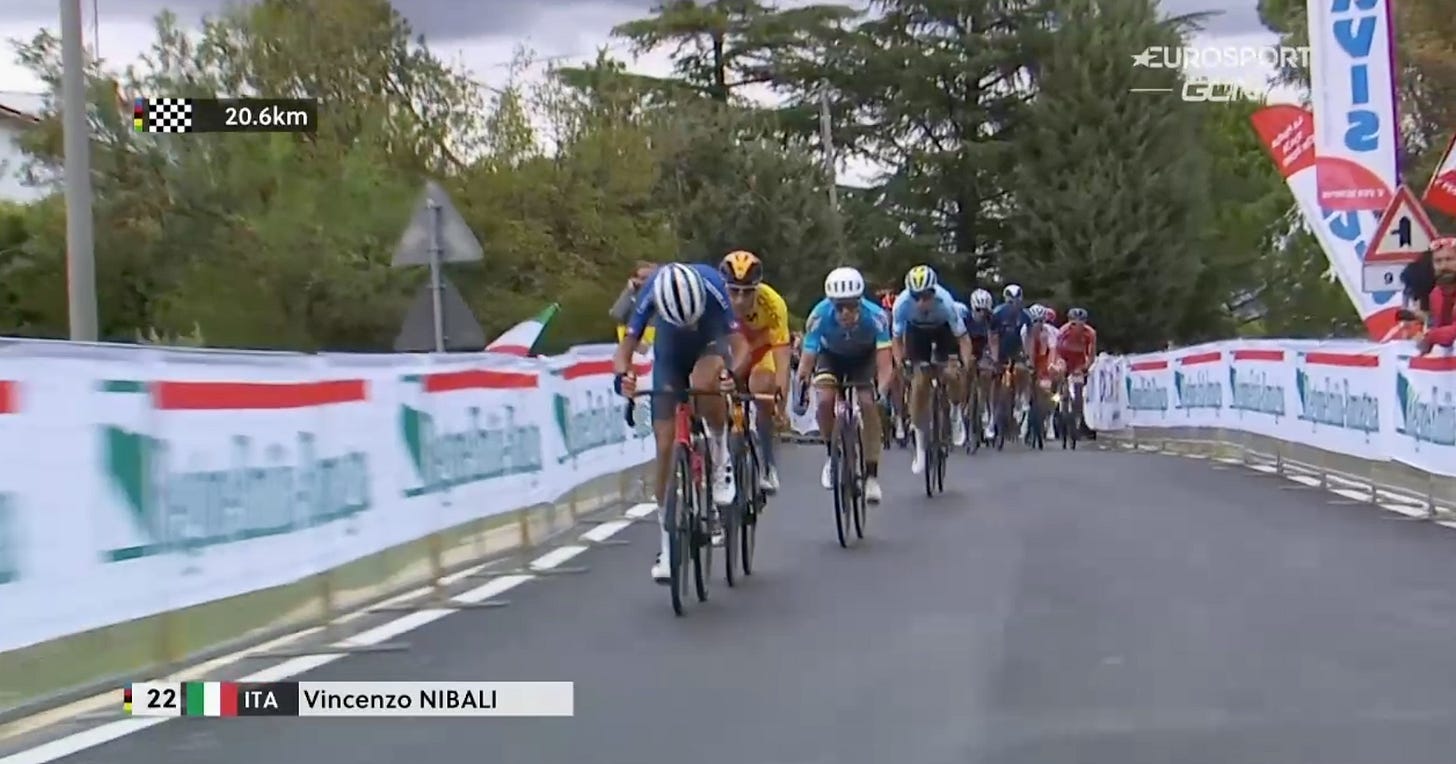 19.6km-It quickly becomes clear that instead of the race-winning move, this is a colossal waste of energy, since Alaphilippe's French teammates are making sure they can't get any type of serious gap.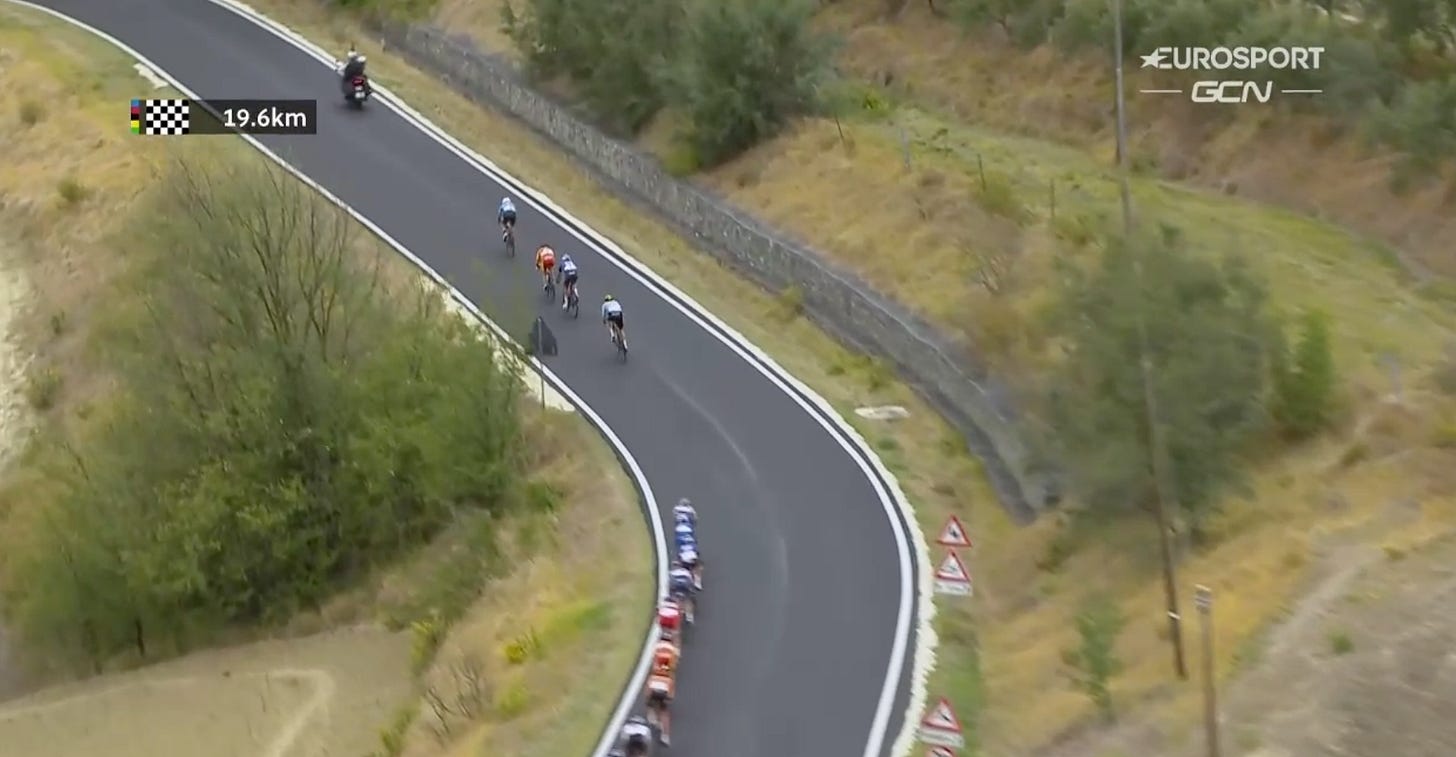 16.2km-The group has been caught and Team Italy tries to get away again. Greg van Avermaet from the Belgian team smartly jumps right on.
14.7km-A few kms later and after a few re-shuffles, we have a semi-serious split in the peloton as they approach the final climb.
13.3km-But as we hit the bottom of the climb, everyone is back together and Tiesj Benoot from the Belgian team is controlling the front.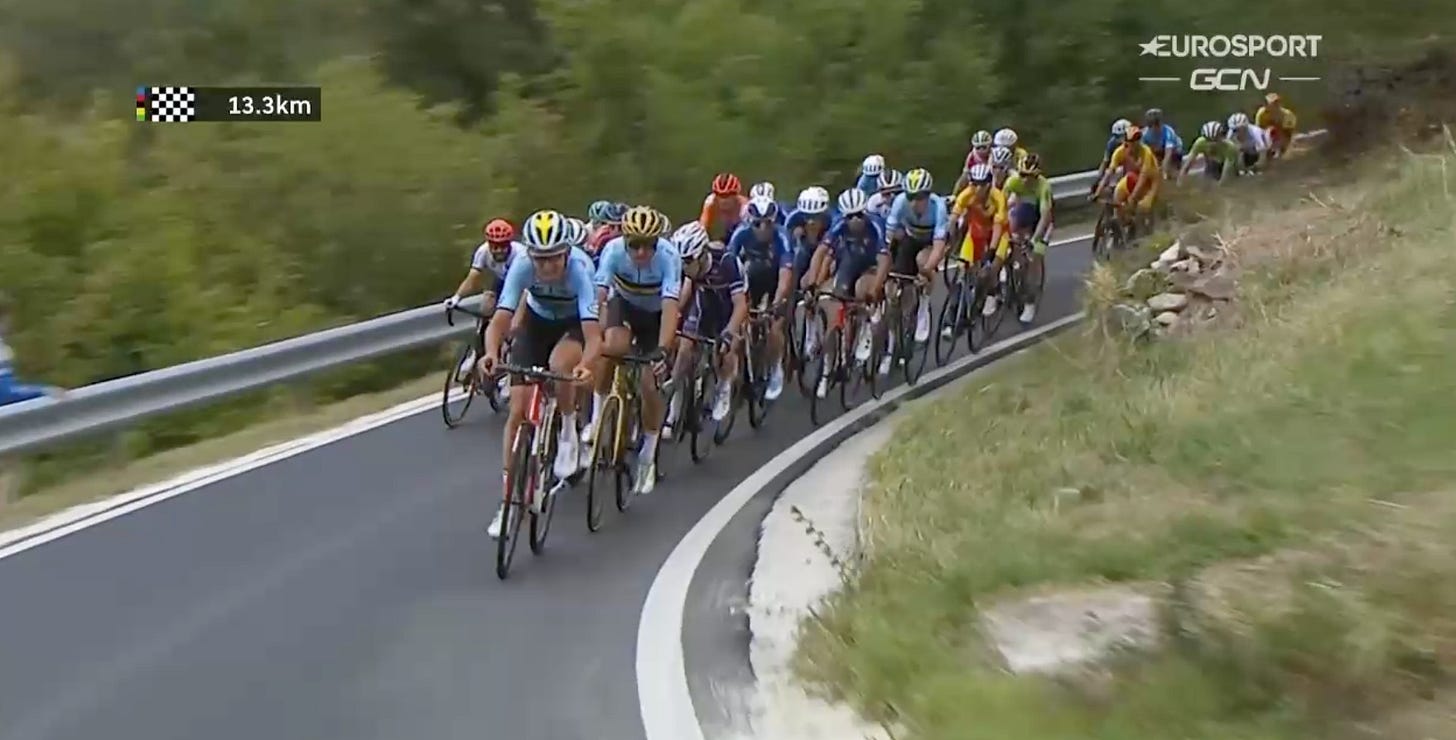 13km-Greg van Avermaet is on the front setting an infernal pace for Wout van Aert. As I mentioned in last Friday's preview newsletter, these shorter climbs reward a different body type than a standard Tour de France climb. This is on display as riders like van Avermaet spit "climbers" out the back on the short final climb.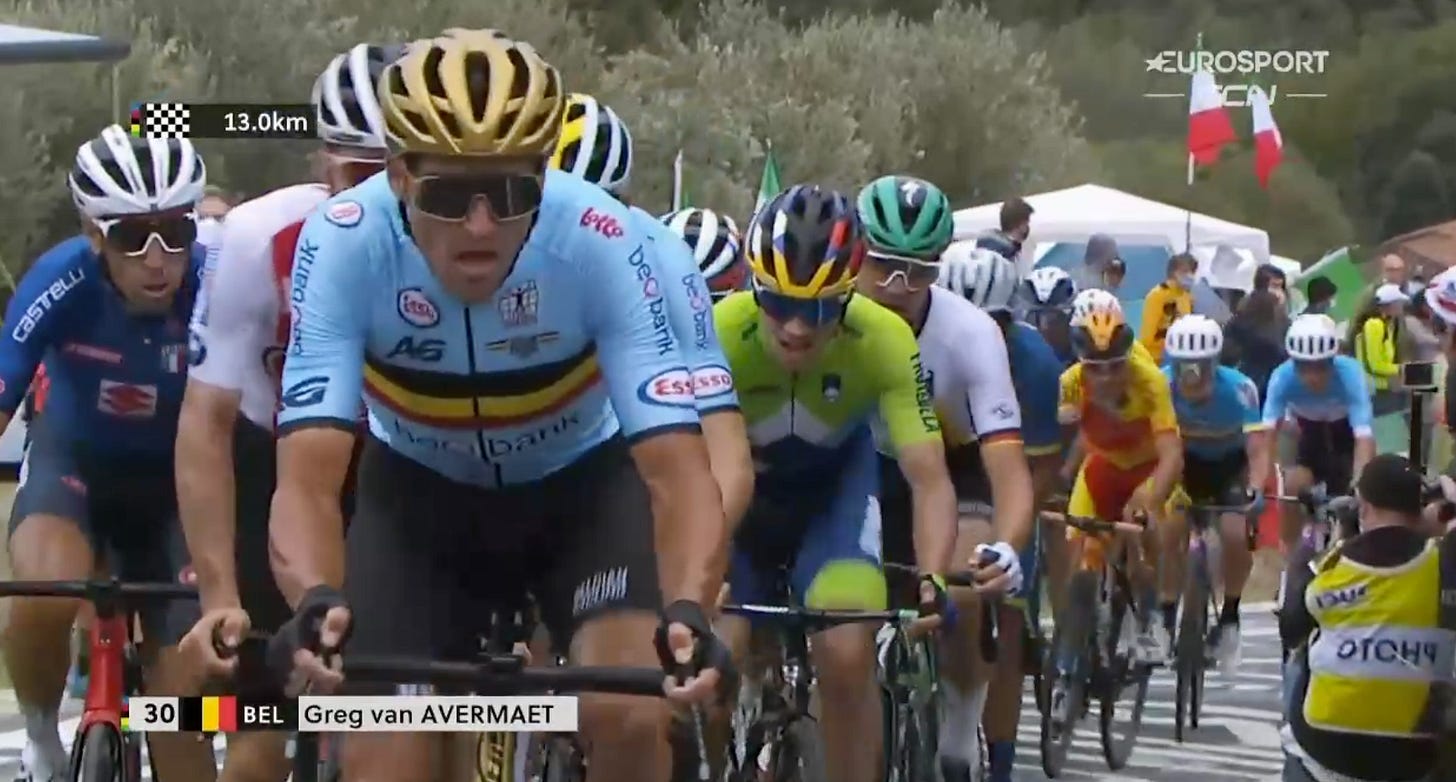 12.8km-Marc Hirschi attacks and van Avermeat is dropped. Van Aert has to respond himself and the lead group starts to take shape. Nibali makes the initial selection, while Fuglsang and Kwiatkowski miss the move and have to bridge across behind.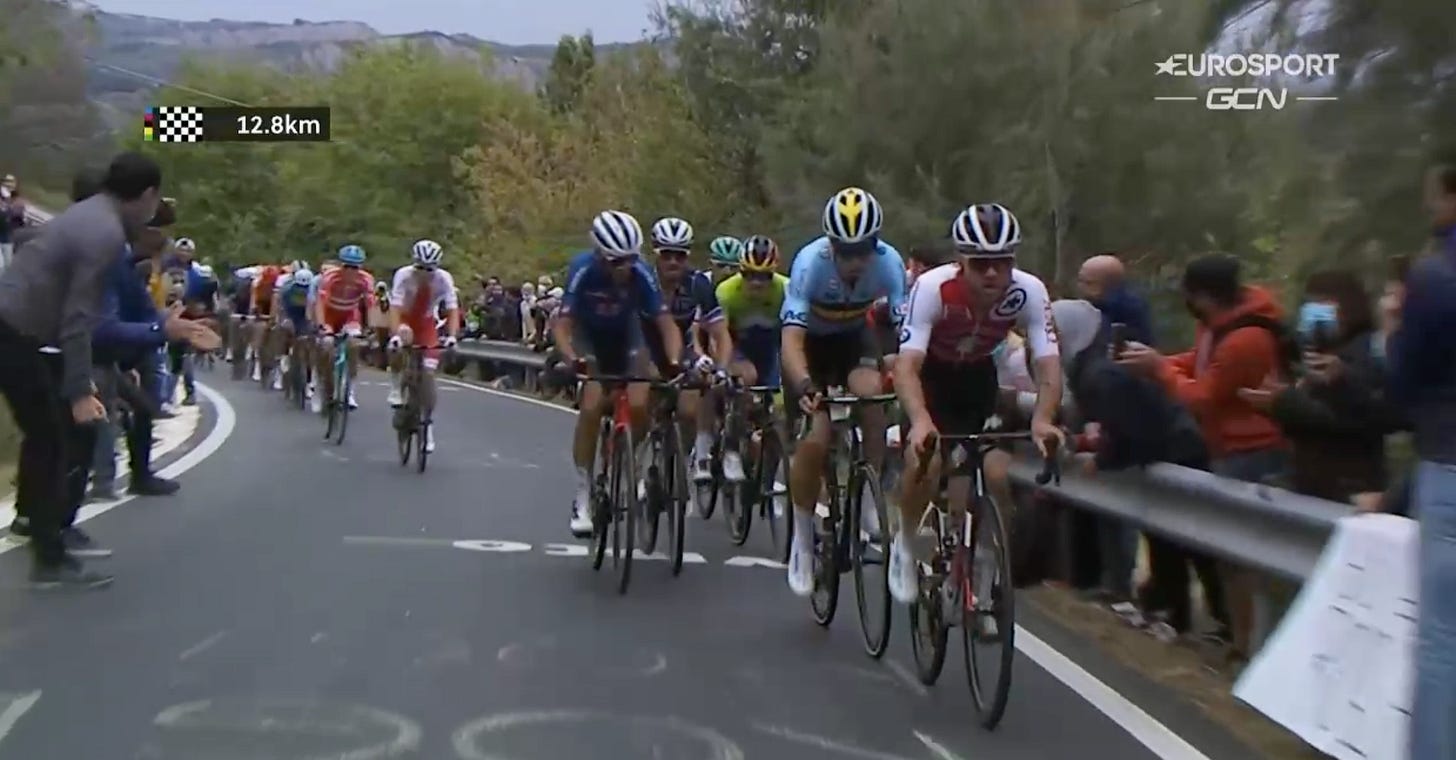 11.5km-Kwiatkowski attacks off of Hirschi's high pace, Nibali is dropped and the final lead group is formed.
11km-(The TV's feed km-to-go graphic is messed up) As the group crests the top of the climb, Alaphilippe looks back and sees the other riders are on the limit, so he smartly attacks over the top and immediately gets a big gap.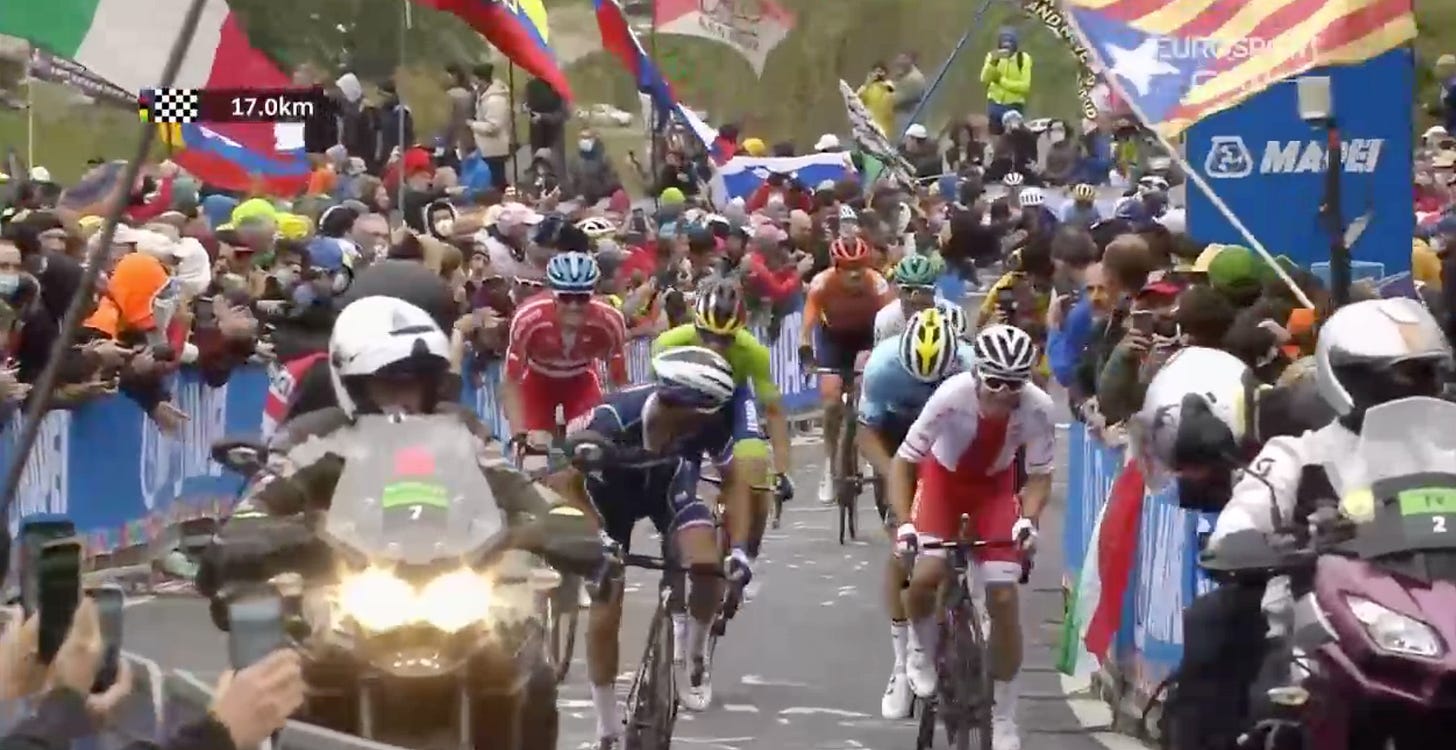 10.5km-Alaphilippe gets over the top of the climb with a sizeable gap, with no chasing riders visible behind him. The gap looks manageable at this point, but in reality, the race is over right here. The riders behind will never work together to pull him back, as the one who does the work is guaranteed to lose, which gives the advantage to the lone rider out front. He has 10-seconds but he might as well have 10-minutes.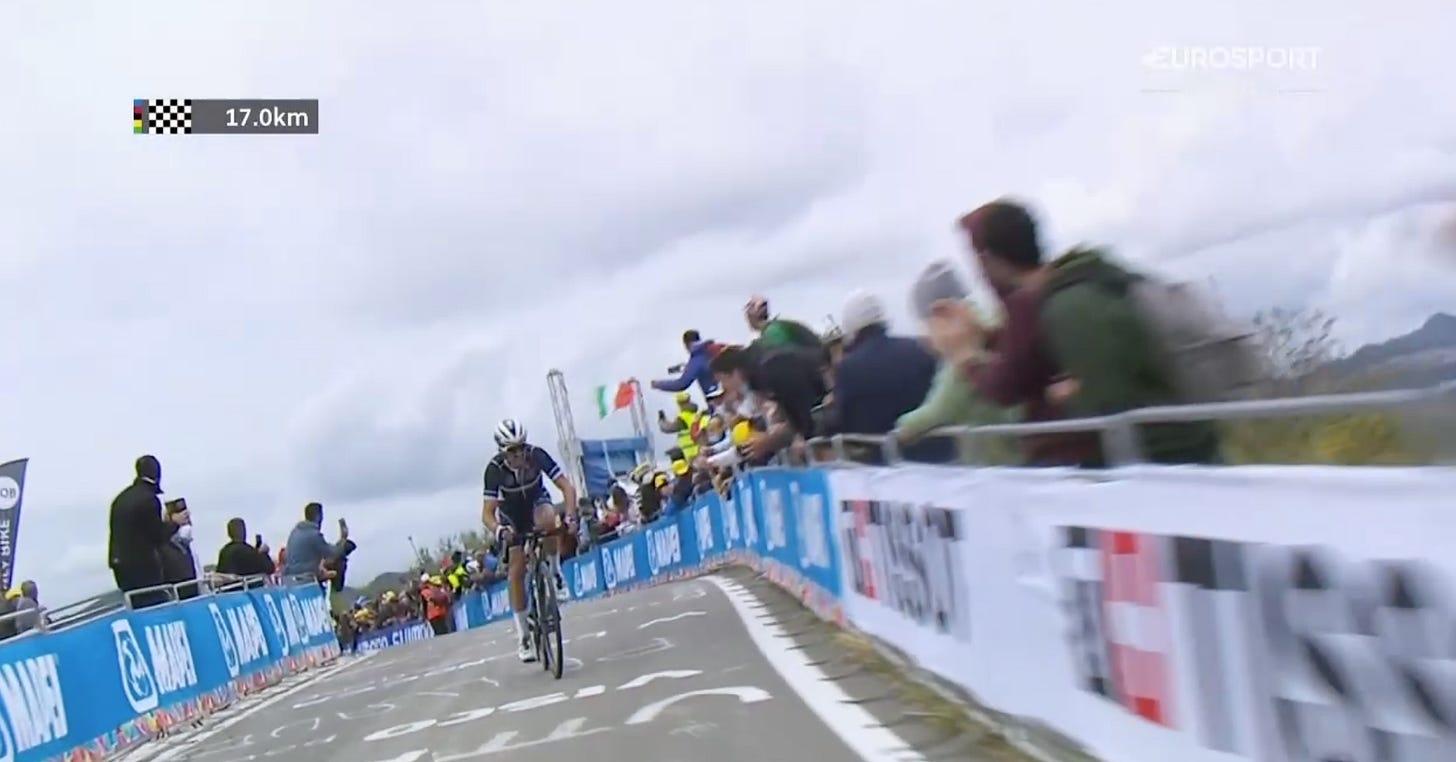 It was interesting to see the climbers getting dropped on the final climb. These courses are for more muscular riders, and even though Roglic makes it over the top with the front group, he is really struggling to hang on and do any work on the flats.
5.5km-Alaphilippe rips down the descent, losing no time to the chasing group, this will really hurt their motivation. There are no race radios at worlds so Alaphilippe doesn't know his time gaps, but is constantly yelling at the TV motos to tell him what is going on behind. Gap still at 11-seconds
-He should stop yelling and just focus
3.6km-Gap is out to 15-seconds, it has been such a fast run-in that it seems impossible that a group could catch him
3.1km-Alaphilippe is out of the saddle on the flat moto circuit and the definition of un-aero, but he is pulling out the gap just by having no fear of getting caught, while they start playing games behind.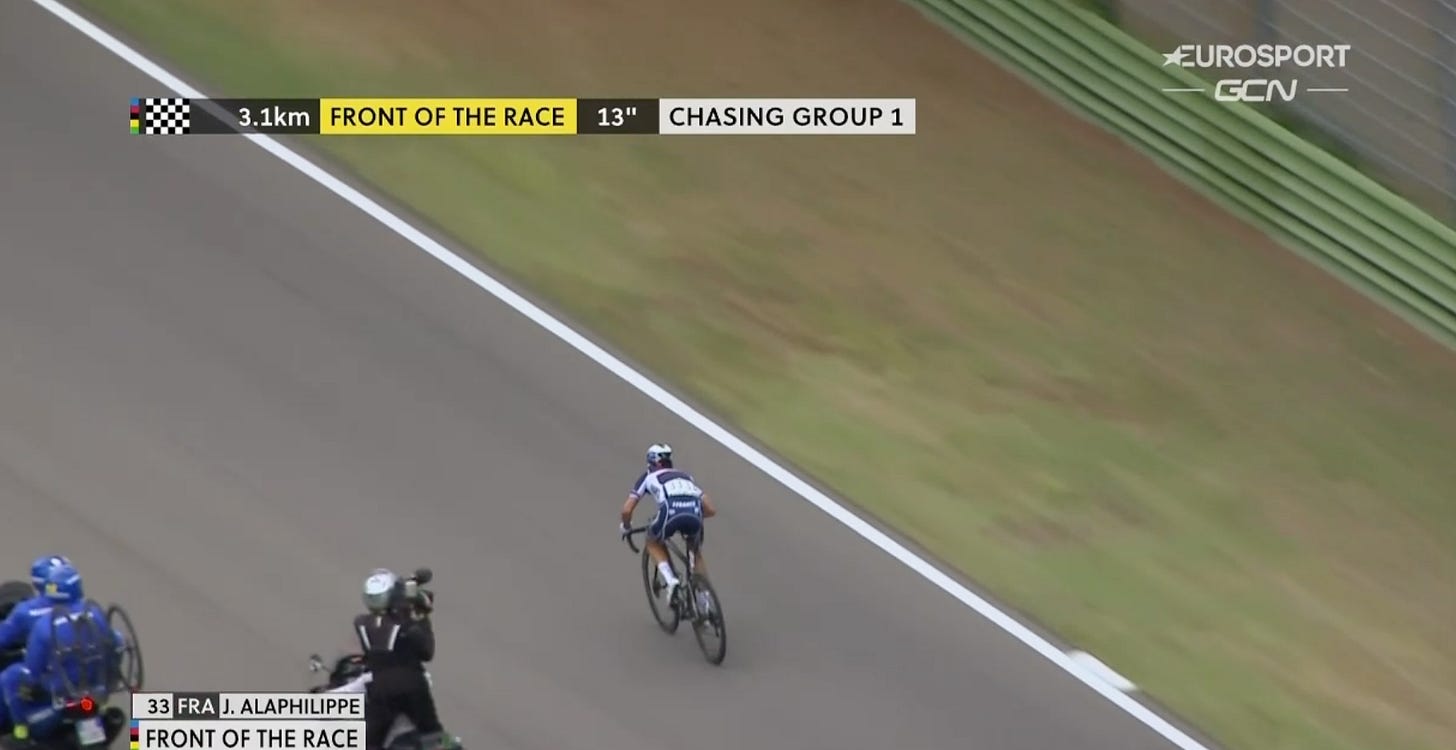 2.1km-The group behind is starting to look around at each other and getting cagey about being the one to put in too much work. Also, look at how much bigger van Aert is than the rest of the group. It looks like a dad out for a ride with his kids.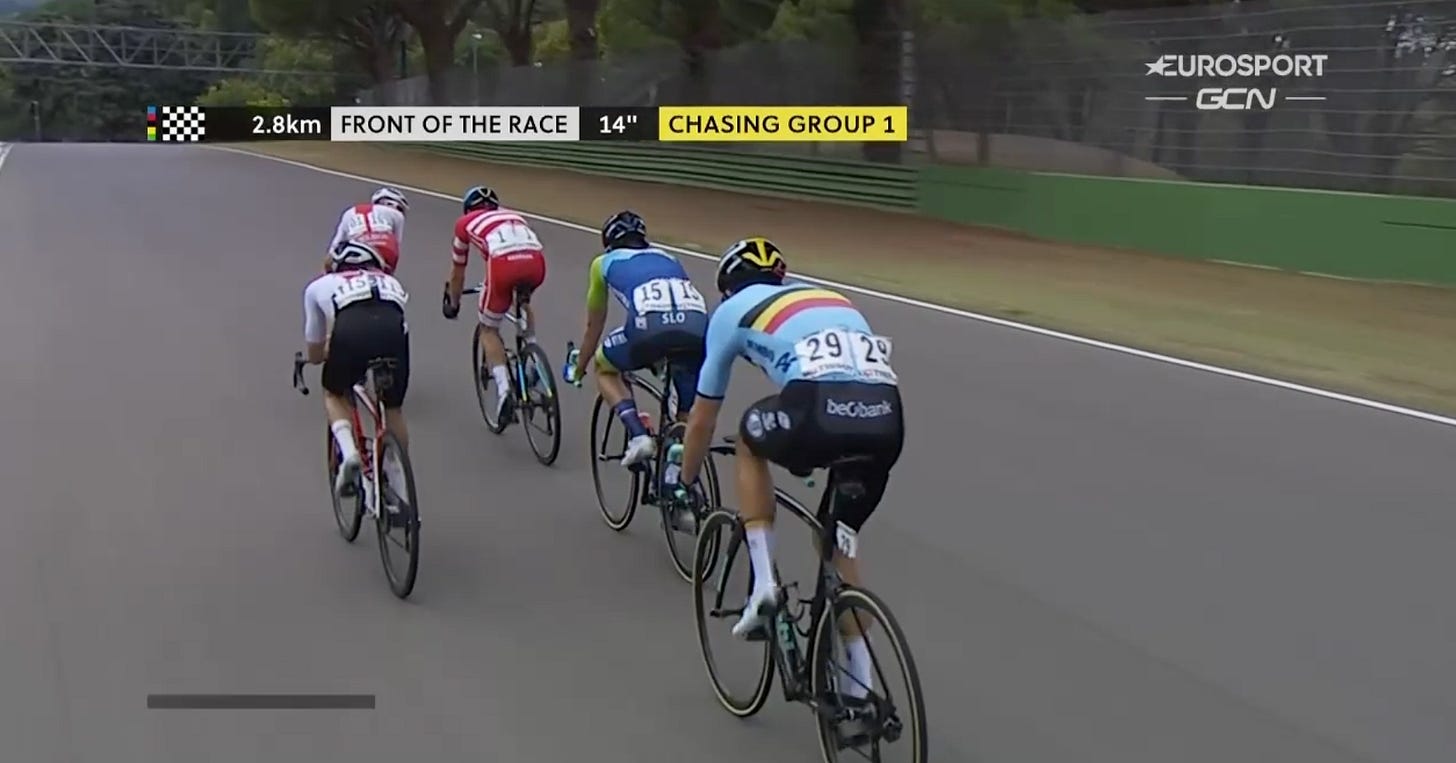 Finish-Alaphilippe comes across the line alone on the Imola motor racing circuit to win the World Championships. I was half expecting him to have a mechanical in the final km and throw his arms up in protest like every time he tried to follow an attack at the Tour de France. Van Aert wins the bunch sprint behind for 2nd place with the young Hirschi rounding off the podium with an incredibly impressive third-place finish.
Major Takeaways:
Pogacar's solo attack forced the Belgium team to use valuable resources, which meant Van Aert had to chase attacks in the final lap by himself. This potentially used up energy he could have used to go with Alaphilippe over the final climb.

The "singe rider advantage" game theory played out perfectly. Nobody wanted to commit to pulling back Alaphilippe, and the small gap only incentivized them to play the waiting game.

There were people saying Roglic should have done everything he could to pull back Alaphilippe in the final few kms to pay van Aert back for the work he did for him at the Tour since he didn't stand a chance of winning the sprint. This would make sense, as riders should always take care of their trade teammates ahead of their national team teammates, since their trade teammates help them achieve results that pay the bills, but Roglic was just shot. The power required on these shorter climbs is just absurd, and GT riders generally lack that pure explosiveness.

For example, Twitter troll/trainer/training numbers cruncher Antoine Vayer said his calculations had Alaphilippe averaging 537 watts, or 7.8 watts per kilo. in the final 4 minutes of the climb. This is a very explosive effort to make after 6.5 hours of racing. Some people are saying this isn't "believable," but the duration is short enough that it is much more believable than someone averaging 7 watts per kilo for close to an hour in a TT.

I thought van Aert was unbeatable, but in retrospect, Alaphilippe's win makes perfect sense. He was a bit off his best at the Tour de France, but the massive effort required to get through the race acted as the perfect training and left him in peak form for worlds.

The Tour de France was key training for this race, as displayed by 8 out of the top ten finishers having raced at the Tour.

My outside pick for the win, Alexey Lutsenko, was pulled from the race due to a positive COVID test. Could be an issue for the Giro next weekend if he gave it to anybody.
Keep an eye out for the premium Giro d'Italia preview newsletter later this week.