Discover more from Beyond the Peloton
In-Depth Pro Cycling Analysis
Over 16,000 subscribers
Breaking down the Giro d'Italia & Vuelta Stage 7 Preview
Discussing the Giro's defining stages & previewing the Vuelta's Stage 7
The 2020 Giro d'Italia wrapped up yesterday and we were treated to an incredibly rare sight; the first-ever final stage tie-breaker at a grand tour. Despite this historically close race, Tao Geoghegan Hart's 39-second winning margin over Jai Hindley left no doubt as to who the stronger rider was. He put a massive 2.6 seconds per kilometer into the runner-up over an extremely short final time trial. This capped off an incredibly impressive showing from Team Ineos, who went on to win seven stages and the overall title after their team leader, Geraint Thomas, crashed out all the back on Stage 3. Geoghegan Hart's win and Ineos' dominance all seems so obvious in retrospect, but the first week certainly didn't look good for them and I personally didn't see this coming. So, let's dig into how I was so wrong and how Tao won this race.
What The Heck Happened? Why Was I So Wrong & How Did Tao Win This Race?
Going into the event, I thought the race would be won by either (listed in likelihood of winning) Simon Yates, Steven Kruijswijk, Geraint Thomas, Vincenzo Nibali, Aleksandr Vlasov, Jakob Fuglsang, or Rohan Dennis. Obviously, I couldn't have been more wrong since none of these riders won the race or even finished in the top-five overall. Well, what happened?
Simon Yates: Contracted COVID and left the race after a series of sub-par performances followed by a positive test.

Steven Kruijswijk: Contracted COVID and left the race after a series of sub-par performances followed by a positive test.

Geraint Thomas: Crashed on a bottle in the neutral zone prior to Stage 3 and left the race with a fracture in his hit.

Vincenzo Nibali: Showed every one of his 35-years of age and failed hold pace on every major climbing set-pace outside of the Etna finish on Stage 3.

Aleksandr Vlasov: Left the race on Stage 2 due to a stomach bug.

Jakob Fuglsang: Consistently lost time through the first two weeks due to a mixture of flat tires and failing to hold pace on the longer climbs. Finished on 6th place, which is his best-ever result at a grand tour.

Rohan Dennis: Lost buckets of time working for his Ineos teammates, but put in three good TT performances and a few supernova climbing performances. Set the all-time record up the Stelvio and looked like he could have won the race overall if his team had thrown their support behind him after Thomas left the race.
I still think some of these were decent picks. For example, I think either Thomas or Kruijswijk would have won the race if they were able to avoid COVID and breaking hips. However, other picks were clearly flawed from the beginning. Nibali, at 35-years-old and exhibiting poor performances the entire season, was just a bad pick. You should never rely on a rider's local knowledge and ability to "just make it happen when it counts" to overcome cracks in form and advanced age. Interestingly, his objective performances on climbs were very similar to his performances during past winning efforts, which shows that the level has risen around him, not that he has suffered a serious decline in form. I will be digging into this specific issue and others like during subscriber-only off-season newsletters.
So, now that we know who specifically didn't win the Giro, let's talk about who did and how they did it.
Let me say up top that I didn't think Tao Geoghegan Hart could win this Giro until the finale of Stage 18. However, if I was doing truly objective analysis, I would have had to consider him an eventual winner. I harbor a dislike of him due to the Anglophone cycling media incessantly talking about him and commentators like Bradley Wiggings saying things like "It is great to see Tao winning because he is one of us." This coverage feels tribal and a bit racist (is Ecuadorian Richard Carapaz a less worthy winner because he is not "one of us"?) but Tao is obviously a very good rider and I should have considered him a contender from the beginning. I will attempt to filter out these personal biases in future predictions to avoid falling into the same trap as the mainstream media.
Consistently Losing Time
Tao Geoghegan Hart came into this Giro with the sole job of working for Geraint Thomas to help him win the overall. This explains how why he would "take it easy" in the opening time trial, which featured dangerous crosswinds and a tricky course. I'm sure the main instructions from his team were to stay safe and simply finish within the time limit. This would contribute to coming in 2'03 down on stage winner Filippo Ganna and 1'40 down on Geraint Thomas and 1'41 down on eventual leader João Almeida.
What is amazing is that he continued to lose time as the race progressed. He lost close to 2-minutes on Wilco Kelderman, 1'30 on Almeida, and 26-seconds to Hindley on the Stage 3 summit finish on Mount Etna.
It is extremely rare to see an eventual race winner lose minutes in the first three stages of a grand tour. The level is so consistently high and the races are so well planned by the big teams that it is nearly impossible to come back from a deficit like the one Geoghegan Hart was facing.
However, Geoghegan Hart had the advantage to be racing one of the most wide open grand tours in recent memory. With the Vuelta a Espana sharing dates and drawing the sport's major GC stars, he had a larger margin for error. He also had the fortune of being on one of the only truly strong teams remaining in the race. After Jumbo-Visma and Mitchelton-Scott left the race prior to Stage 10, Ineos was by far the strongest team in the race. Hindley's Sunweb team was certainly good and held pole position at this point, with Kelderman only 34-seconds behind a young and unproven Aleimda following Stage 10. Meanwhile, Geoghegan Hart was 2'45 down back in 14th position.
What is mind-blowing in retrospect is that Geoghegan Hart continued to lose time after that point. Going into the final week of the race, he had fallen to 3'44 down on Almeida and was still 2'48 down on Kelderman following a mediocre time trial performance on Stage 14.

If you showed me this leaderboard and told me there was one-week left in a grand tour, I would literally never guess that the two top finishers would be the bottom two on this list. Even with Nibali fading at this point in his career, he is still a good rider. Also, Pello Bilbao, Domenico Pozzovivo, and Rafal Majka, while not grand tour winners, are incredibly good riders.
Ineos Bet Big on Kelderman Fading
But at this point in the race, Ineos made a key decision, which was to trust that Kelderman would fade when put under pressure. In retrospect, this makes complete sense, but at the time, he was showing no sign of cracking and appeared to be the strongest rider in the race and was seen as the consensus winner. The media was even coming out with the take of "he actually has never lost time in the final week of a grand tour" (nevermind that this is factually incorrect).
The next day, on the Stage 15 summit finish at Piancavallo, they sat back and allowed Sunweb to rip the race to shreds, while Geoghegan Hart sat on Hindley's wheel the entire way up the climb, believing he was pulling Kelderman to an overall victory. I criticized Geoghegan Hart for this passive act, saying he needed to take the opportunity to attack Kelderman and take time on him before the final time trial.
I couldn't have been more wrong. My argument was only correct if Kelderman wasn't Kelderman. Ineos trusted that they had the superior rider and could deploy their team to crush Kelderman later in the race. They were taking a bit of a risk with this strategy since the Stage 18 climb over the Stelvio wouldn't have been able to happen the day before or after and Kelderman could have held to the lead without this climb. But, I'm sure they were willing to because if the strategy failed and Geoghegan Hart lost, it wouldn't have drawn much attention. All the pressure was on Kelderman and Sunweb while Ineos was riding stress-free.
They also made the key calculation that even if Geoghegan Hart couldn't leapfrog Hindley before the final TT, that they still held the advantage in that discipline.
Rohan Dennis: The Trump Card
On the Stage 18 ascent of the Stelvio, Ineos deployed their secret weapon, Rohan Dennis. I'm positive nobody in the race thought Dennis would shred the race on the Stelvio while setting the record for the fastest ascent. This hour-long effort dropped Almeida, who lost his entire 3-minute final deficient on this climb, as well as dropping Kelderman and forcing his Sunweb teammate to make the difficult decision to leave his team leader.
This is the moment when Geoghegan Hart won the race. As soon as Hindley left Kelderman, the race was over. Kelderman held the gap to a manageable 40-ish seconds by the top of the climb, but poor jacket management and a solo chase through the valley floor saw him hemorrhage an additional minute by the start of the final, 10km-long climb. A more organized team would have handled the clothing distribution better (i.e. Ineos) and provided him with a dedicated teammate who would use everything they had to pull him through the valley.
Instead, Sunweb chose an ill-fated double leader strategy that saw them send a rider who didn't stand a chance of dropping Geoghegan Hart on the climbs or beating him in a TT up the road.
While Geoghegan Hart was still 15-seconds behind Kelderman following this stage, Ineos must have been confident in their ability to deploy Dennis in a similar fashion on Stage 20 to put Kelderman into difficulty again.
A key piece of information here that Ineos would have known is that Geoghegan Hart entered the Giro with the aim of assisting Thomas in the extremely mountainous and difficult third week. This means he would have been slightly undercooked in the first two weeks with the goal of hitting a fitness peak in the third week. This means they could be confident in his ability to drop Kelderman and compete with him in the final TT.
This theory is supported if we look back on the stages where there were non-bonus seconds time differences between him and Hindley. You can see that he gained no time on Hindley in the first 8 stages but Hindley failed to get a time gap on him from stages 9 to 21.
Stage 1: (ITT): Hindley took 49-seconds on TGH
Stage 3: Hindley took 56-seconds on TGH
Stage 9: TGH took 19-seconds on Hindley
Stage 14: (ITT): TGH took 75-seconds on Hindley
Stage 15: TGH took 4-seconds on Hindley
Stage 21: TGH took 39-seconds on Hindley
TGH also took an additional seven more bonus seconds than Hindley.
Success Breeds Success
Even though they entered the final stage without the GC lead, Ineos must have been confident in their ability to win the overall in the final TT. They had won an astonishing seven stages at the race and to them, after Thomas crashed out, any success was gravy.
Also, the team's DNA is derived from the British track system and TT-ing is in their blood (no pun intended). Even though Geoghegan Hart isn't personally a particularly strong time trialist, it was evident from his Stage 21 performance that he was well-coached. He showed superior to form to Hindley and rode with the confidence to purposely go out incredibly fast, knowing that a large time gap halfway through would demoralize Hindley and that he would be able to hang on.
Ineos vs Sunweb
Ineos deserves a massive amount of credit for circling the wagons after Thomas' crash. They had a GC favorite crash out of a second-consecutive grand tour and could easily have lost their focus. Yet they rebounded with a series of impressive stage wins and won the race overall with a career domestique. I personally have not ever been a fan, and certainly, their world-beating budget helps them have GC winning caliber riders waiting in the wings, but this recovery is impressive regardless. Additionally, they rode as opportunists; waiting and waiting for their moment to strike and blow the race to pieces. This stands in stark contrast to their ultra-defensive Fortress Froome style that has netted them 7 out of the last 9 Tour de France wins.
This stands in contrast to Sunweb. I praised Sunweb for their tactics throughout the Tour de France, and if we pull back, 2nd and 3rd overall at a grand tour is a great result for them. However, I couldn't help but feel their ambush stage-winning style unfavorably carried over to the Giro. They tended to live in the moment and attempt to grab as many successes they could get on each day without taking a moment to step back and look at the big picture. This worked great for them at the Tour, but winning grand tours takes a completely different mentality. Exhibit A is the decision to have Hindley leave Kelderman on Stage 18. He went on to win the stage, but this essentially slammed the door shut on any chance to win the race overall.
Where Do Tao & Hindley Go From Here?
The top two finishers in this race are only 25 and 24 years of age. Normally, this would be the emergence of two stars of the future. However, they are both older than the last two Tour de France winners Egan Bernal (21) and Tadej Pogacar (20), and are slightly unconventional grand tour winners due to the fact that they aren't world-class time trialists.
Geoghegan Hart reminds me of a Ryder Hesjedal-esque Giro winner. A jack of all trades but master of none who had everything fall in to place to land a career victory.
His biggest obstacle is his biggest strength, his Ineos team. They currently have the 2018 (Thomas), 2019 (Bernal) Tour de France Winners along with the 2019 Giro d'Italia winner (Carapaz) under contract. They also have Adam Yates and young star Daniel Martinez coming in via transfer on what I assume are massive, multi-million-pound contracts. This doesn't even take into account Pavel Sivakov, the young Russian rider who matched Pogacar on the final stage of the Dauphine. Throw the GC-projects Rohan Dennis and Filippo Ganna into account, both of whom fit the Ineos profile of chiseling massive time trialists into grand tour destroyers, and Geoghegan Hart's chances of ever getting the opportunity to win another grand tour at Ineos look slim.
It sounds absurd, but even with this win, he lacks a clear path to GC leadership on his own team. Where this gets interesting is that he doesn't currently have a contract with Ineos for 2021 and any preliminary conversations are now moot since this Giro win will allow him to demand a serious pay-raise for 2021 and beyond.
Nibali's struggles and the loss of Porte leave a team like Trek-Segafredo without a viable GC option at grand tours. Geoghegan Hart, a kind and likable English-speaking grand tour winner could easily demand a $2-3 million per year contract from them (Trek management, please venmo me a 10% finders fee for sketching this deal out).
Interestingly enough, this is exactly what Hesjedal did following his Giro win. However, this would leave him without the powerful Ineos machine. And as we've seen multiple times before, Ineos riders never seem to find the same success when they leave for other teams.
Hindley displayed incredible climbing talent, including a 6.4 watts per kilo performance up Piancavallo, but his lack of pure TT ability will seriously limit his ceiling in every grand tour he enters. However, with Kelderman leaving Sunweb for Jumbo next year, he is their sole GC rider and will have significant resources at his disposal. I personally don't think he will ever win a grand tour, but he should animate many of them for the next 5 years.
This Giro brought in a new era for the Giro, which for years was a regional affair dominated by Italian riders. First time in the history of the race, there was no Italian rider is in the top-5 overall. This speaks to both the internationalization of the Giro, which is a positive feat, and also to the decline of Italian cycling.
Random Shoutouts:
Tao Geoghegan Hart became only the third time in the history of cycling to win a grand tour without wearing the leader's jersey at any point.
João Almeida, at 22-years-old, showed incredible resolve and physical ability to rally in the final TT to jump into 4th place overall. Even if he has to contend with a healthy Remco Evenepoel for GC opportunities, I think he will be a force in grand tours.
American Brandon McNulty finished 15th overall. He faded in the third week, but this is one of the best grand tour overall results by a rider from the US in recent years. However, at 22, he is facing an overwhelming number of talented riders in the same generation and it still feels like McNulty is searching for the right niche. In some ways, he reminds me a bit of Geoghegan Hart a few years ago.
Vuelta Stage 7 Preview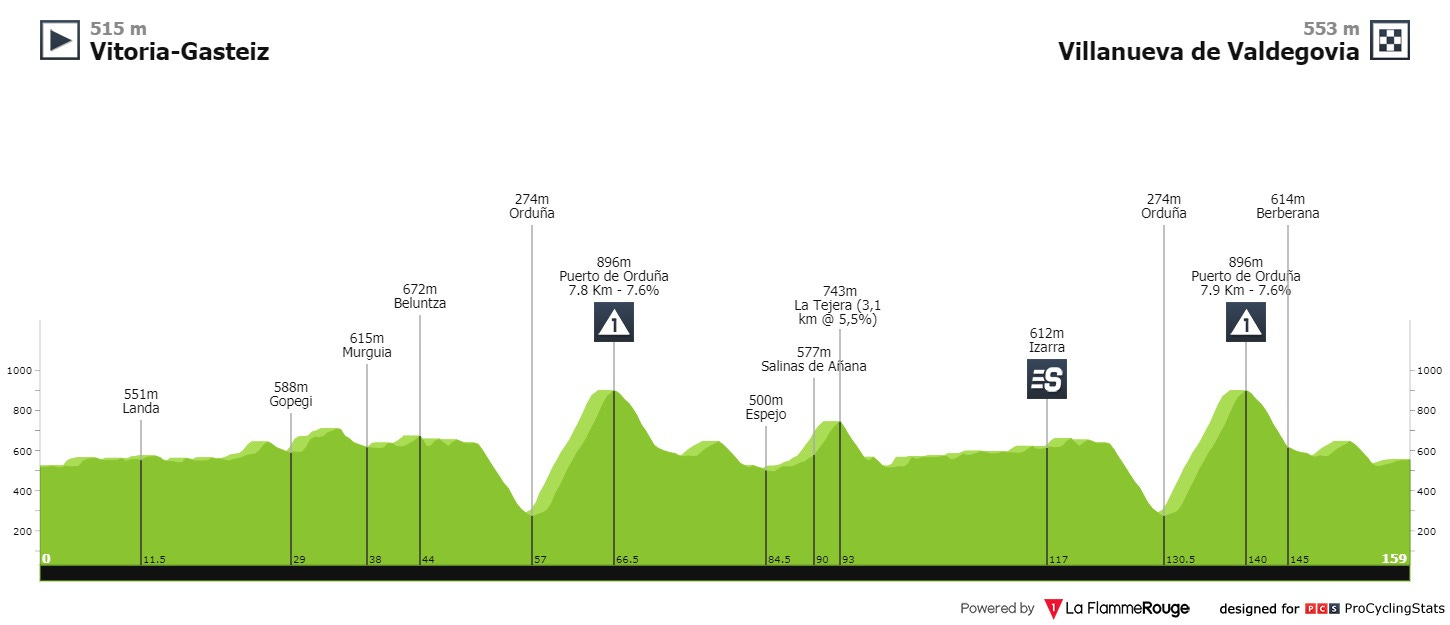 Tomorrow's Vuelta stage features a challenging route through the rolling hills between Vitoria Gasteiz and Valdegovia in the Basque country of Northern Spain. It is hard to tell what the heck is going to happen in any of these stages, but at first glance, this looks like a classic post-rest day breakaway day.
The race starts in Vitoria Gasteiz and the first 50kms take place on undulating terrain before the riders drop down to the foot of the first climb. The Puerto Orduña is 7.8kms long @ 7.7%, but the ascent kicks up to 14% just before it flattens out inside the last 2kms.

The descent leads onto a more lumpy phase in the race until the flattest part of the route navigates the riders back to familiar terrain. Once again, they drop down to the foot of the Puerto Orduña to tackle the same climb as before on the same side.

What makes this stage perfect for a breakaway is that the climb is likely too tough for the sprinters but too far from the finish for a GC move. At the top, there are still 18kms to go to the finish line. This makes me think that no GC riders will consider it worth the effort to attack, only to be pulled in on the flat final 12kms.

The only thing that could change this is if a notable GC rider has an issue and is dropped on the final climb. This will give multiple teams an excuse to push the pace.

It interesting that the Giro made an effort to track from the southern tip of the country to the northern border with France, but the Vuelta is anything but a literal tour of Spain. They are just riding around in circles in the north of the country and at no point do they go south of Madrid. This means the weather will continue to play a major role.

Prediction: I struck out with this pick a few stages ago, but this is perfect for Luis Leon Sanchez. I think he will win out of the breakaway and Carapaz will hold the race lead.