Discover more from Beyond the Peloton
In-Depth Pro Cycling Analysis
Over 16,000 subscribers
Giro Stage 18 & Vuelta Stage 3: An instant classic on the Stelvio
A magic day of cycling on the Stelvio and a classic punchy day at the Vuelta
The Giro d'Italia might have been a little dull up to this point but wow, the Queen stage to Laghi di Cancano certainly didn't disappoint. The Stelvio, which kicked things off with 60km-to-go, seriously split the leaders for the first time in this race, with João Almeida losing contact and quickly falling out of the overall race lead, while Tao Geoghegan Hart and Jai Hindley rode away from second-place, Wilco Kelderman, who was forced to chase solo for the final 90 minutes in an attempt to salvage the overall race lead. Hindley outsprinted Geoghegan Hart to win the stage, while Kelderman came over the line 2'18 later, saying his race lead by 12-seconds.
Almeida would come in close to five minutes down and would ultimately lose the Pink Jersey he has held since Stage 3. He slipped from 1st to 5th place, but this shouldn't be seen as a defeat, but rather a triumph from the young rider. He has put up a great fight this entire race and did an amazing job to recover after being dropped on the Stelvio. Most young riders who hold leaders jerseys at grand tours completely give up after being dropped (i.e. Simon Yates) and are never able to make that next step because they simply sit up when they struggle, but Almeida proved he won't be one of these riders with the courage he displayed today.
The stage was blessed with dry, sunny, weather and served up beautiful high-mountain scenery on the iconic slopes of the Stelvio. The sun beaming off the newly fallen snow as the riders climbed the endless switchbacks as the race finally came to life made up for two sub-par weeks.
The Vuelta a Espana was finally put in its place by the Giro, as it merely produced an above-average first-week grand tour stage. Dan Martin broke a two-year win drought, finishing in front of Primož Roglič and Richard Carapaz, and extending 2nd place on GC over Carapaz to 8-seconds with the time bonuses.
The big news out of the Vuelta was that the race wouldn't be able to cross into France for its Stage 6 summit finish on the Col du Tourmalet and planned crossing of the Col d'Aubisque. This derails the Vuelta's hardest stage and the news will certainly be a blow to Carapaz, likely the strongest climber in the race.
Instead, the stage will still start in Biescas, near the French border, and will finish atop Aramón Formigal, which was the scene of one of the stages in Vuelta history, when Nairo Quintana and Alberto Contador teamed up to put Chris Froome to the sword with a long-distance raid back in 2016. In fact, the new parcours is an almost exact replica of that stage. At 146.4kms and three climbs with a little over 10,000 feet of elevation gain, it pales in comparison to the original course.
Correction Corner:
I said yesterday in the Vuelta race notes that Dan Martin was over 2-minutes back at one point, only for him to finish 2nd on the stage and move into 2nd place overall. I believe I got my Martin's mixed up, and it was actually Guillaume Martin who was dropped.
I also said that João Almeida had held the Pink jersey since Stage 1, when in fact, he took the jersey on Stage 3.
I got the final climb of the Vuelta completely wrong in my Stage 3 preview. I pulled details from the mid-stage climb instead of the finish. Apologies.
Giro d'Italia Notebook & Takeaways:
49.2km-11km into the Stelvio, Sunweb is on the front setting a relentless pace. Almeida is sitting towards the back of the group. It isn't a good sign that he seems to be struggling with 15km left on the climb.
48.1km-Almeida is being dropped by Sunweb's pace on the Stelvio. His teammate Fausto Masnada doesn't drop back to help him. He keeps looking back and it takes him four minutes to actually sit up and go back to him. He clearly just wanted to defend his own top-10 position. This is terrible and I would expect his director gave him some threatening words in his earpiece to make him go back.
47km-Ineos takes up the pace on the front as Filippo Ganna drops back from the breakaway. Nibali is dropped by Rohan Dennis' pace. With 10km to go on this climb, these gaps are going to be huge.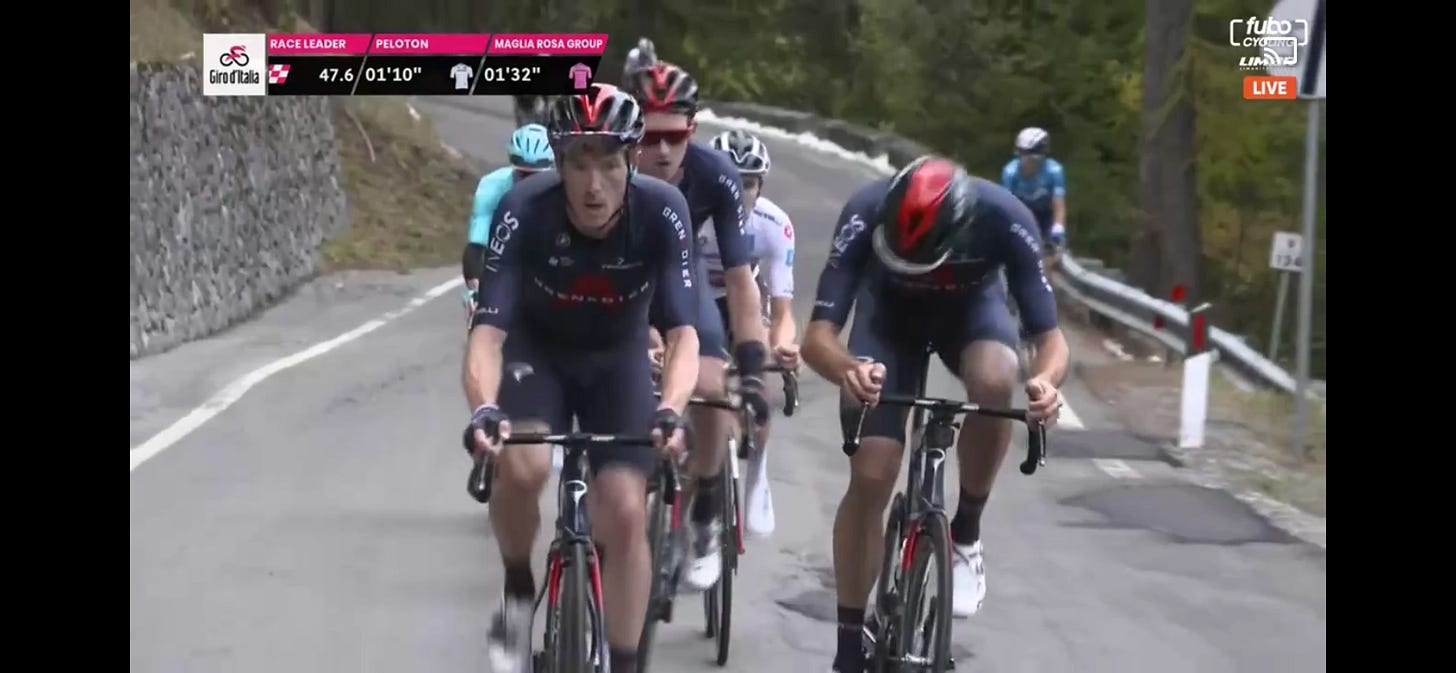 46.8km-Kelderman is dangling at the back already, wow.
46.6km-Almeida has made it back to a group with Patrick Konrad and Rafak Majka, who were dropped by Ineos. This is pretty impressive from the young guy. His teammate Masnada is actively not helping and is just sitting in. Oof. Later, Masnada seems to throw a tantrum and just sits right off the back of Almeida's group for the rest of the stage, not helping in the valley when it would have been extremely helpful.
Note that Ganna is still in the front group, this incredible climbing from him, and makes me think he could transform into a GC rider.
46.4km-Dennis is still on the front setting a fast pace. This climbing is really impressive. He is showing he can work well for teammates, which is something I've had doubts about in the past.
46km-This front group has gone down to four riders incredibly fast and they already have over a minute to Almeida. It shows that everyone in the group was just barely hanging on.
45.7km-Kelderman is dropped by Dennis. Geoghegan Hart and Hindley are still there. It is odd to watch Hindley ride on while his team leader, who is 3-minutes in front of him, dangles off the back. This is really tricky for Sunweb. Kelderman could really use a teammate right now. Also, this means the GC will likely be between Geoghegan Hart and Hindley, and now that one-second gap that Geoghegan Hart allowed due to his early celebration on Stage 15 comes into play.
44.9km-The front group catches the final breakaway rider, Ben O'Connor. There are now three Aussies in this front group. All four riders in the lead group are Anglophones, what a sad day for the Giro.
43.6km-Dennis might have to dust off the GC ambitions after this ride. He looks the strongest of them all.
43.5km-Almeida has pulled the gap back to 1'33, this isn't over.
43km-However, they still haven't hit the hard part of the climb. Also, Kelderman has already lost a lot of time.
42.5km-As I'm watching the race I'm furiously researching Hindley's career TT results versus Geoghegan Hart. He doesn't appear to be terrible, but he might have to try to attack Tao and gain time. This gets awkward since this would just further distance his teammate Kelderman, who is the current overall race leader on the road.
41.3km-I'm seeing power numbers snippets from Dennis and he is pushing a consistent 450 watts on this climb. Considering the altitude and length of the climb, that is a very, very hard pace.
40.8km-Kelderman is 36-seconds back. The time gap has stopped growing and he is still comfortably in virtual first place. 
40km-The riders don't appear to have extra layers, I'm wondering how they are going to descend in near-freezing temps with just standard kit on.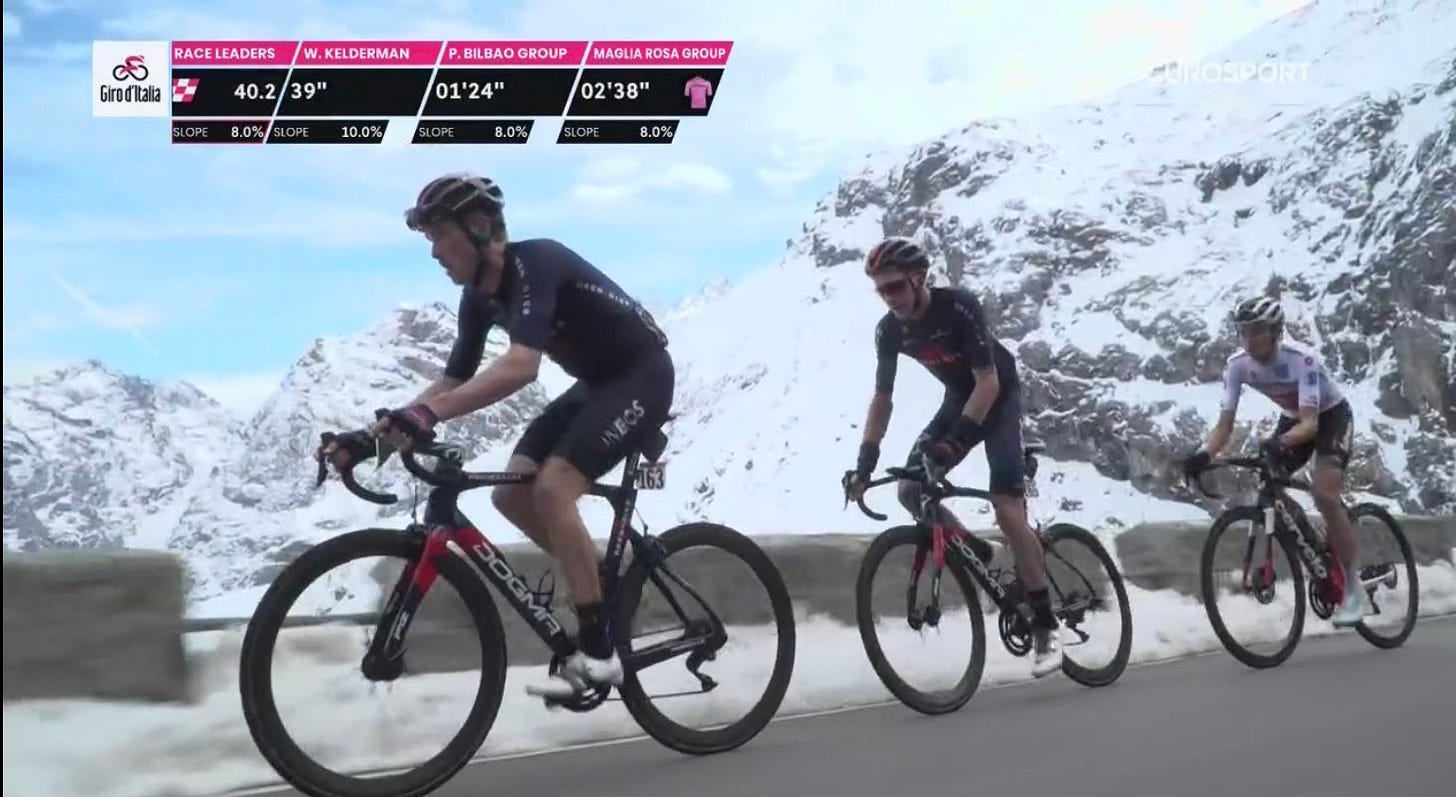 39.2km-Almeida is now 3 minutes back, he is officially out of the race for first, but Kelderman is holding strong at 44-seconds.
38.7km-The two Ineos riders have really warm jackets on thanks to a well-placed team helper. Hindley is handed one closer to the top and is really fumbling with it and struggling to get it one.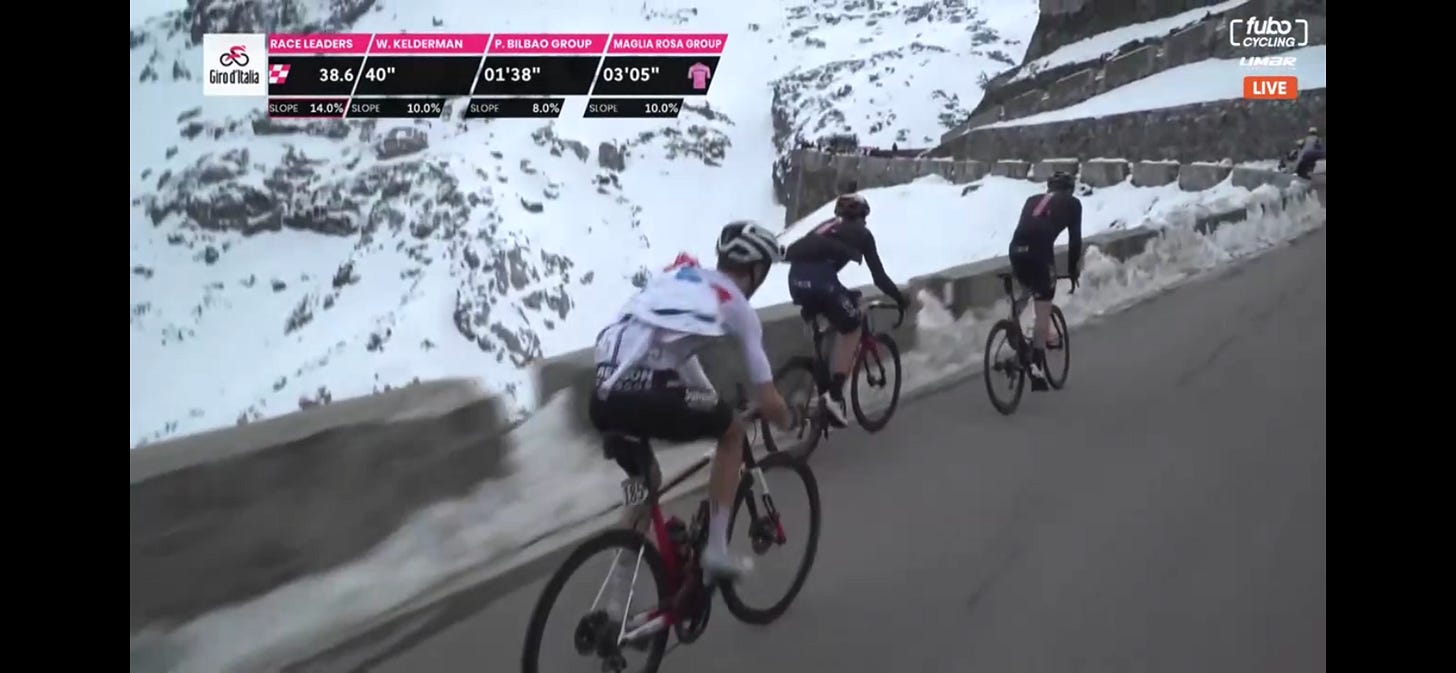 38.5km- He nearly crashes and the Ineos riders are being very kind (or stupid) not to attack him here. I can think of a few riders in the past who wouldn't have been so kind (Vincenzo Nibali to name one).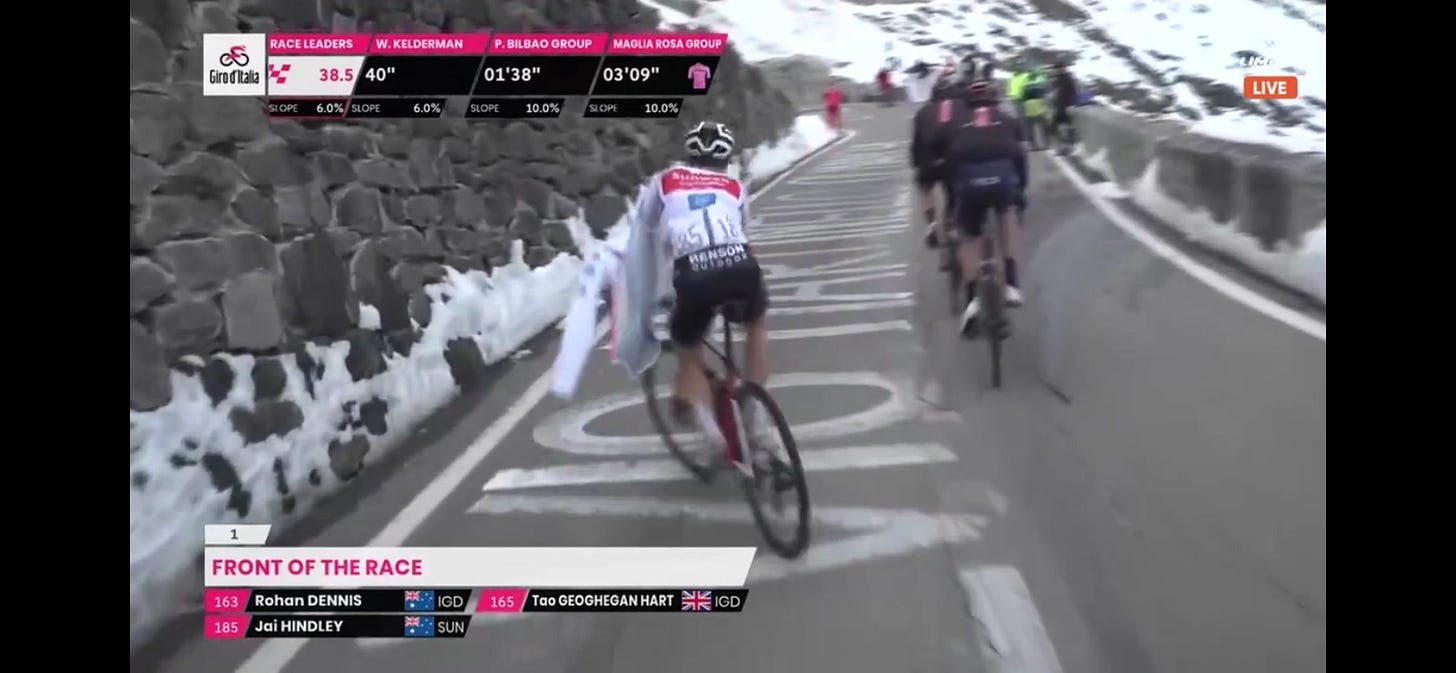 38.2km-He can't get this jacket on, this is crazy. It is like an extended comedy bit. However, this is serious if he can't get it on. His race could be over on the descent. I wonder if being Australian means he isn't used to putting jackets on while riding.
37.8km-Now Hindley can't get his jacket zipped, thus eliminating almost all of the benefit of wearing a jacket. This is a disaster and shows how Ineos does the little logistics a bit better than other teams. Also, I wonder if Ineos isn't driving hard enough, Tao needs a lot more time on Kelderman than this 46-seconds. 
36.1km-Hindley is descending with an open jacket, this is really bad and he will be much colder and slower than the Ineos pair.
34.8km-Kelderman is descending with an open jacket as well. Big mistake. I'm not sure why these Sunweb riders couldn't quite zip those things up. You are better off pulling over and zipping it up, the flappy jacket slows you down A LOT.
34km-It looks like Dennis is playing games with Hindley by letting a big gap go to Tao and forcing Hindley around him on the descent.
30.8km-Kelderman is losing time, out to 46-seconds.
29.8km-Kelderman losing more time, at 48-seconds. He just takes his jacket off because it is slowing him down so much.
28km-Kelderman back to 41-seconds
24.2km-Geoghegan Hart needs serious time on Kelderman, at around 2'45 back and a 15km TT on Stage 11, he will need around 3'30 on Kelderman at the start of that stage.
12.7km-They are on a flat section and Kelderman is leaking time, now at 1'19. He seems to be struggling after the cold descent. It is also due to Dennis pushing on the flats, which shows that it was a good idea for Geoghegan Hart not to attack to keep him around on the Stelvio. Perhaps Hindley should have attacked to dump Dennis on the Stelvio.
11.5km-Dennis is a huge thorn for Hindley and Kelderman, if they could get rid of him, it would force Geoghegan Hart to work and Hindley could sit on.
11.3km-They go through a bonus sprint point and Hindley doesn't see it! Geoghegan Hart gets 3 bonus sections and goes in front of Hindley. It would be amazing if this decided the race.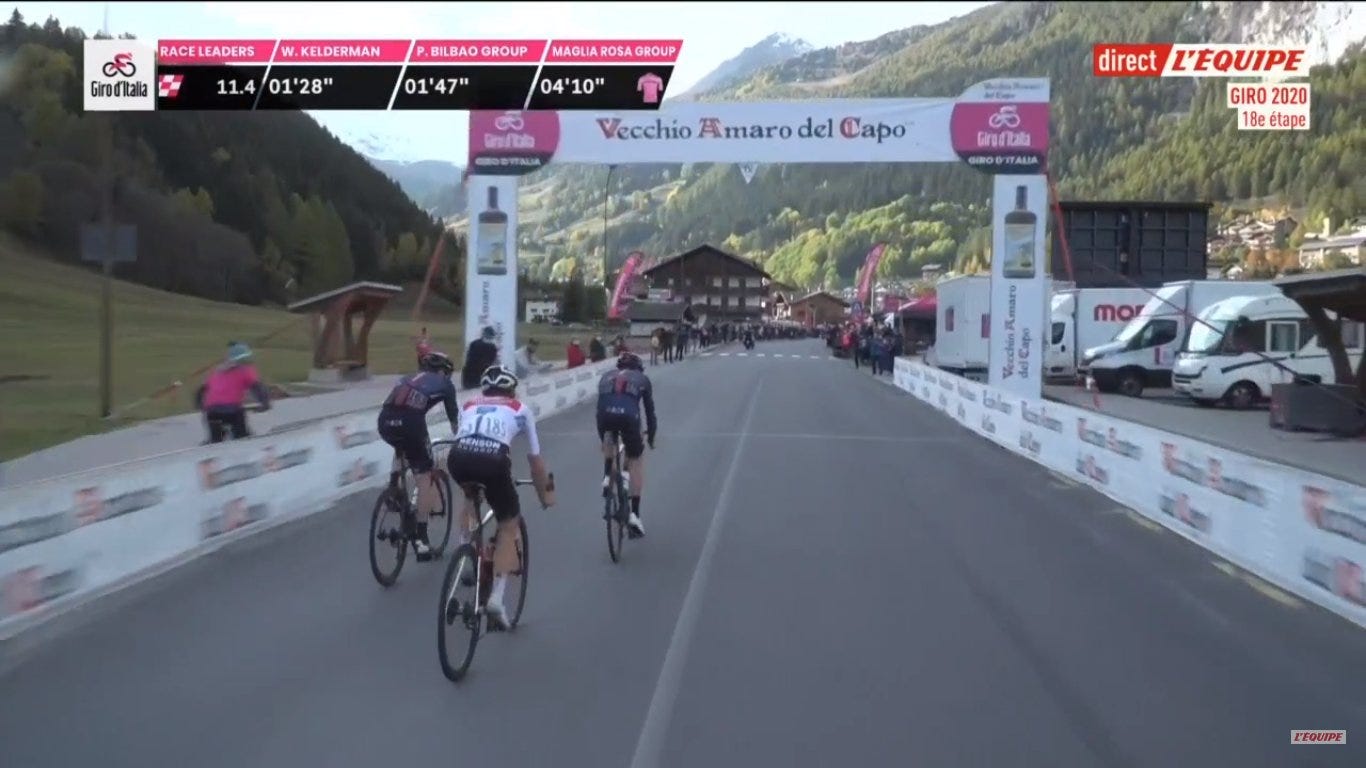 10.3km-Kelderman is all the way back at 1'41. The team car offers him a bottle, he takes it, but when he reaches back to get another bottle and some food, they speed off to get up to Hindley. He gestures at the disappearing car angrily and this sums up why teams shouldn't ride with two leaders.
Dennis finally pops, Hindley can sit on Geoghegan Hart's wheel now. If Kelderman continues to lose time, Hindley will have to attack Geoghegan Hart at some point and take time.
9.6km-Kelderman is caught and passed by Fuglsang and Bilbao. Oof, that's not good. Fuglsang and Bilbao could catch the two leaders. Fuglsang is going to regret losing so much time over the last two weeks, he looks incredible right now, the best I've ever seen him in a grand tour. Bilbao is proving me wrong regarding his ability to ride well with a recent Tour in his legs.
7.5km-Kelderman at 1'38, pulling time back. He maybe should have sat up and waited for Bilbao and Fuglsang on the flat section to get a rest and then climb together.
7.2km-Geoghegan Hart needs to get more time on Kelderman, the climbs on Stage 20 might not be hard enough now. He seems to be extremely angry with Hindley for not working on the front, but this is an absurd request. Hindley will never work to distance his team leader, especially one who is riding into the race lead.
6.6km-Bilbao and Fuglsang at 1'14, Kelderman at 1'36. Bilbao is only a few seconds behind Geoghegan Hart and Hindley in the overall, if he can catch them and then distance them on Stage 20, he could actually win the overall.
6.4km-Bilbao drops Fuglsang. He is really flying.
5.8km-Kelderman holding steady at 1'32, Bilbao at 57-seconds. Geoghegan Hart isn't pulling out time and is running out of road. This is where his decision to not attack back on Stage 15 comes into play. He could and should have dropped Kelderman then.
5.1km-Bilbao at 50-seconds, wow. Geoghegan Hart could be backing off the pace so that Hindley won't jump him, but this would be thinking about problem B (Hindley) before solving Problem A (Kelderman).
4.5km-A lot of questions will be raised about whether Hindley should have waited for Kelderman as he certainly would have helped, but I think there is no way he could have known that Kelderman would hold it this close and you can't let a rider like Geoghegan Hart, who you are leading by a second, go up the road.
4km-Hindley is riding below 300-watts, he might be able to attack Geoghegan Hart after sitting in the wheels for so long.
2.4km-Bilbao at 38-seconds. Hindley must be sitting on and just counting on winning the stage and leaping back in front of Geoghegan Hart with the time bonus.  Kelderman is at 1'48. In retrospect, it is super impressive Kelderman wasn't tempted to increase his pace to stay with Fuglsang and Bilbao.
1.3km-Geoghegan Hart is in a TT position as the road flattens out and is really hammering. Kelderman is slipping a bit, back to 2'01.
Finish: Geoghegan Hart drives it all the way to the line and Hindley sprints around him for the win. This gets Hindley back in front of Geoghegan Hart on the GC. 
Kelderman is creeping coming in here, loses 2'17, plus the 6 seconds to Geoghegan Hart and 10 to Hindley for the time bonuses. This means he will take the Pink jersey but Hindley is behind him at 12-seconds back and Geoghegan Hart at 15-seconds.

Takeaways:
An incredibly boring race has turned in a flash and is now one of the tightest top 3s we've had in a long time going into the final two GC days on a grand tour.

The race over the Stelvio was incredible and produced one of the most exciting and devastating days of grand tours racing that I've seen in a long time. Also, the additional final climb at the finish (used for the first time ever in the Giro) was key and made the race more dynamic than when we last went over the Stelvio in 2017.

The Ineos pair should have attacked Hindley when he was struggling with his jacket on the Stelvio. I know it is mean and unsportsmanlike, but if Geoghegan Hart loses this race by a handful of seconds, this moment will become a massive what-if for Ineos management.

If anyone thought the level of this Giro was down compared to year's past, guess again. Dennis, Geoghegan Hart, and Hindley set today a new record on the Stelvio (1 hour 11 minutes 6 seconds).

Bilbao really proved me wrong. I thought he would fade in the third week due to riding the Tour de France two weeks before this Giro, but the opposite is true, he is surging in this third week. He was the fastest rider on the final climb and is now only 1'19 back. He would need a massive performance to win this race, but a podium isn't totally out of reach.

Having a podium this tight going into the final few days is a very rare feat and something the Giro should be applauded for. People have complained that the race has been boring, but I think true boredom stems from a dominant rider just hammering the rest and winning by 4-5 minutes (a la Froome and Armstrong at the Tour).

Sunweb is between a rock and a hard place here. Their best bet to win is to have Kelderman hang on to Geoghegan Hart on Stage 20 and win the race in the TT on Stage 21. But if he is dropped by Geoghegan Hart again, Hindley has to try to attack Geoghegan Hart and gain more time before the TT on Stage 21.

Sunweb's lack of institutional planning was on display today. While Ineos had well-placed helpers on the Stelvio to hand off jackets and on the final climb to hand off drinks and gels, Sunweb didn't and botched both and suffered the consequences.

Kelderman descending the Stelvio without a jacket was followed by the gap to the leaders blowing up in the valley, and he seemed to lose steam in the final 2kms after his team car failed to give him two bottles. These types of unforced errors are crictical and could cost him the race.

Hindley screwed up by not attacking on the final climb. If you want to win the Giro, you have to attack. According to Velon power numbers, Hindley averaged 310 watts for the final 11 minutes, with only a few moments above threshold, which was likely in the sprint. This shows he was really just sitting on and could probably have attacked and maybe dropped Geoghegan Hart.

It is possible he was being told by his team to not attack to help the optics, but by riding two horses, Sunweb is getting too cute and could leave themselves with a 2nd and 3rd place in Milan. I think if they are going to back both, they needed to tell Hindley attack on the final climb. But even if those orders weren't given, Hindley needed to come to that conclusion on his own. Even if he didn't drop Geoghegan Hart, the changes in pace would have slowed their speed and allowed Kelderman to get closer. Geoghegan Hart was riding as fast as he could, attacking certainly wouldn't have lifted the pace.

After the stage, Kelderman was clearly annoyed that Hindley didn't wait for him and it is odd that a teammate who is 3-minutes down on his team leader wouldn't sit up. Hindley likely slowed Geoghegan Hart slightly by acting as an anchor, but once Geoghegan Hart realized he couldn't trick Hindley into working, he was likely riding all out to win the race overall. Every second counts at this point, I would be surprised if he really held back because of Hindley.

This has to be the only sport where the coaches have to make decisions while driving a car and watching the race on a delayed feed on an 8-inch dashboard screen? After today, it is clear that teams should have coaches or directors watching the race with a dashboard of information and beaming directions to the riders or the directors in the cars. I feel like a lot of Sunweb's issues stemmed from just being overwhelmed by the chaos of driving and attempting to service two riders.

I'm still not sure if Sunweb made the right or wrong decision by leaving Kelderman to fend for himself, but it is certainly strange to watch a team leader riding into the race lead being left to flounder for 90-minutes by a team. On the other hand, Kelderman is clearly fading, which I predicted at the beginning of this race, and Hindley is surging, so the simple logic could be to go with the rider who is surging, not fading. To figure out Sunweb's best chance of winning the overall, let's consider the contender's TT performances in this race so far.
Kelderman/Hindley/Geoghegan Hart TT Times
With the top three separated by only 15-seconds and only one mountain stage left, this race will most likely come down to the time trial on Stage 21. The projected performances from the top-3 need to be taken into account when considering if Sunweb made the right decision to allow Hindley to leave Kelderman.
In the Stage 1 TT, Geoghegan Hart could have assumed his time didn't matter since he was there to work for Thomas, but, he should have known he was the backup plan and tried to ride as hard as he could.
The same goes for Hindley, he couldn't have known he'd be trying to win the race in the third week, but he knows he is an amazing climber and a third week of high mountains awaited, and that he was the Plan B for Sunweb.
For the Stage 14 TT, Neither Geoghegan Hart nor Hindley knew they would be racing for the overall win a few stages later. Hindley was in 7th place and Geoghegan Hart was in 12th, but neither were that far off the lead with a lot of race left. They should have been trying their hardest in this TT.
Giro Super TT (Stage 1+ Stage 14)
Kelderman has gained 73-seconds total on Geoghegan Hart over 49kms of TTs (1.5s/km)
Kelderman has gained 99-seconds total on Hindley over 49kms of TTs (2.02s/km)
Geoghegan Hart has gained 26-seconds on Hindley over 49kms of TTs (.5s/km), which is similar to their gap on the final Tirreno Adriatico earlier this year (which was .6s/km)
If these trends held on Stage 21 (15-km TT), Kelderman will gain 22-seconds on Geoghegan Hart and 30-seconds on Hindley.
Geoghegan Hart will gain 7.5 seconds on Hindley.
This means to win the overall, Hindley needs to take 11-seconds on Geoghegan Hart, while Geoghegan Hart needs to take 37-seconds on Kelderman on Stage 20.
My personal hunch is that Kelderman will be dropped again on Stage 20. Once big gear grinders like that start fading in a grand tour, they usually continue their slide in other stages. I think Geoghegan Hart could take 37-seconds on Kelderman even on an "easier" climb like Sestriere. I think Sunweb's best bet is to have Hindley attack Geoghegan Hart.
However, if Hindley is Sunweb's GC bet, some odd decisions have been made. Firstly, Hindley pulled Geoghegan Hart up the final climb on Stage 15, only to sit up and the final km and let Geoghegan Hart take valuable seconds. Secondly, if Hindley is going to win this race, he needs to take time on Geoghegan Hart, and the final few kilometers of the final climb today would have been a great place to try.
If Kelderman is dropped on Stage 20 and Hindley can't get time on Geoghegan Hart, who then beats him on Stage 21 to win the overall, the decision to leave Kelderman alone today while not having Hindley attack is going to look incredibly stupid.
Vuelta a Espana Stage 3 Notebook & Takeaways
100km-Jumbo setting a hard pace on the front on another tough day with cold, rainy conditions.
48km-The break has already been pulled back and a handful of riders are attacking the peloton to form a second break.
37.5km-The break has 1'23 and the pace back in the peloton looks really hard. This Vuelta has been unbelievably hard.
18km-The break only has 19-seconds as the final climb approaches.
8km-The peloton is catching the break. I think I got the stats so wrong for this climb, I had it at 18kms long and the elevation data I was looking at had it gaining over 2,100 feet, but that must have been incorrect, it is starting now and looks to gain around 1,600 feet.
6km-Marc Soler has had an issue and is chasing back on at the worst possible time. He is trying to motorpace his team car but the race commissar makes them stop. I think they did get him to the back of the peloton, but that is a bad place to be when the pace is this high at the start of a climb.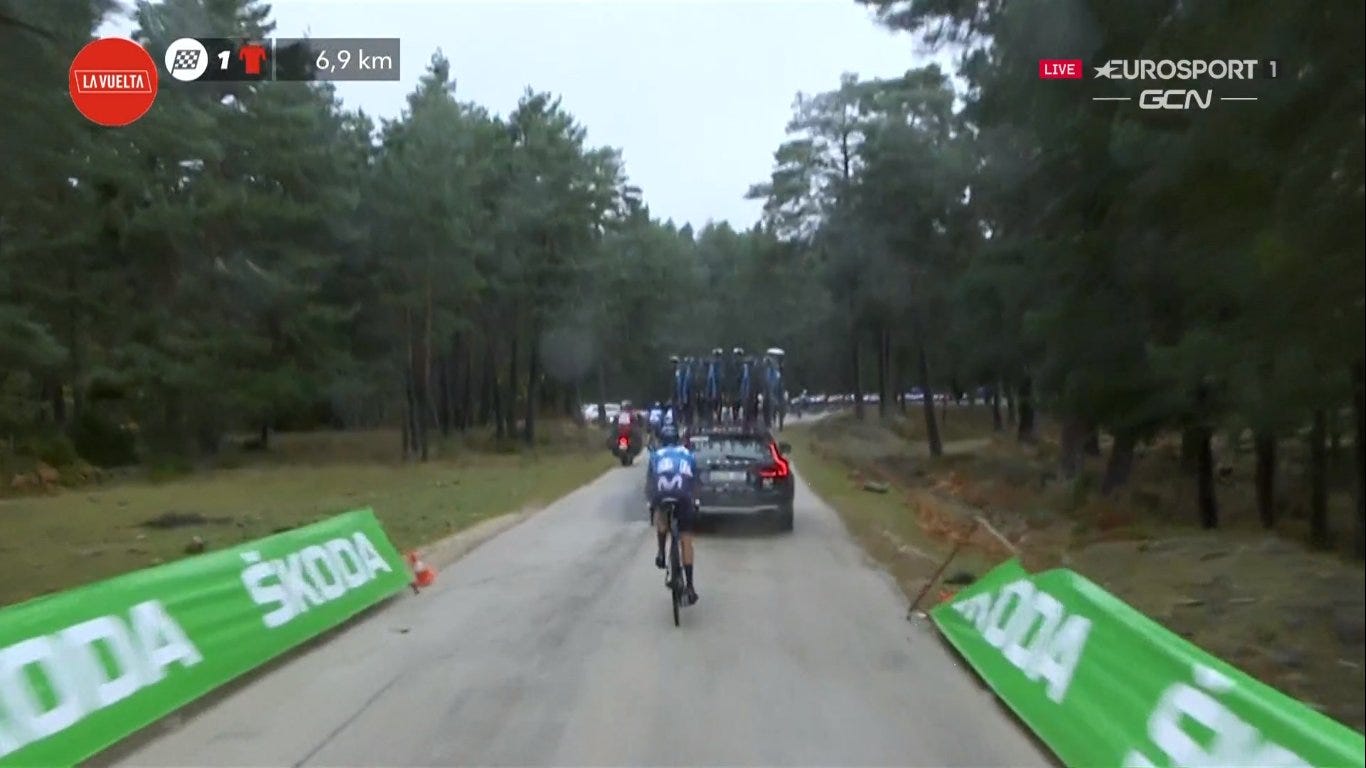 5.1km-Who is that on the front? Well, it is Chris Froome! The old guy seems to be finding his legs is able to get up front and set a hard pace for Carapaz.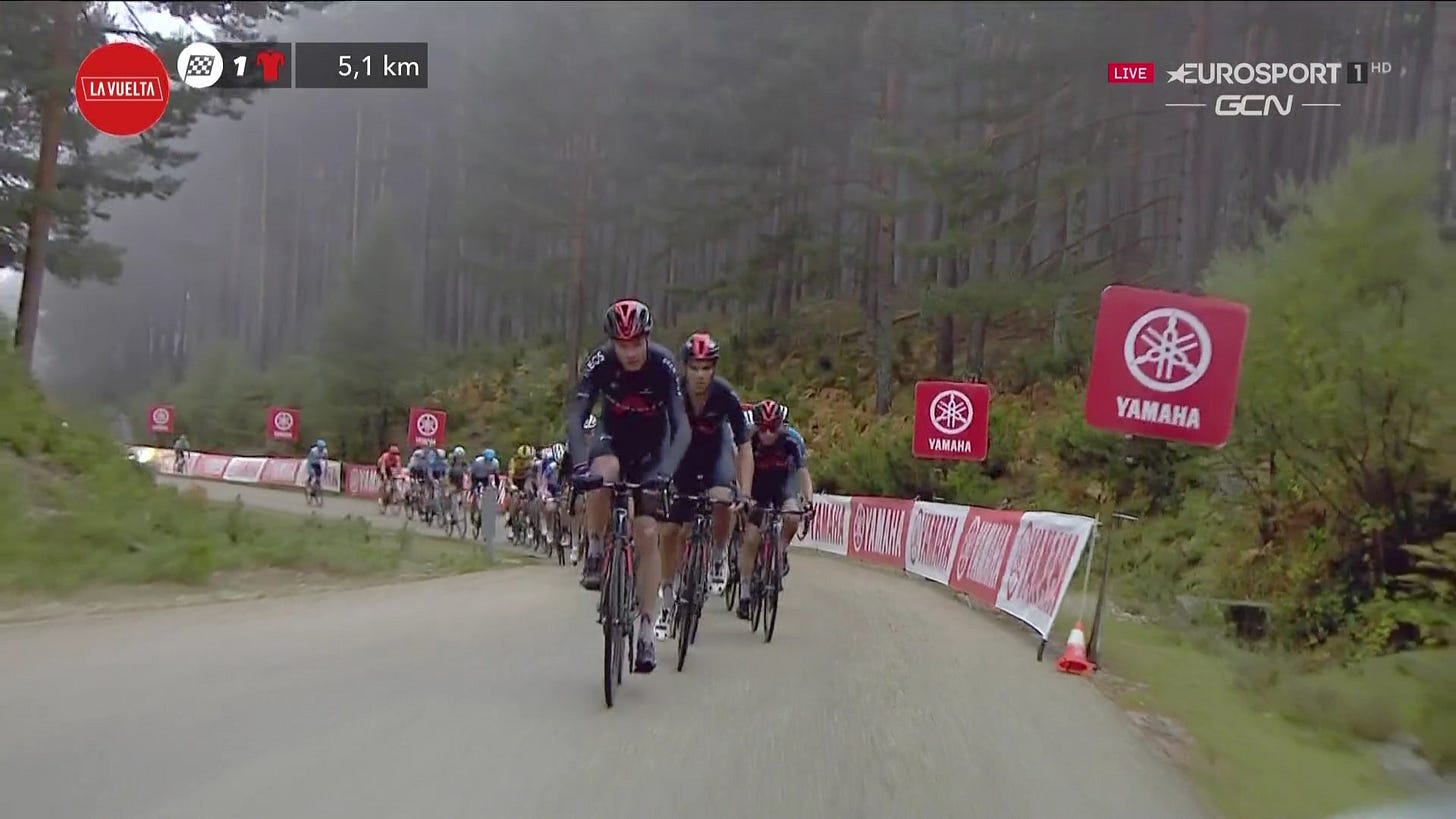 4.9km-Chaves has an issue and has to take a massive bike that doesn't even come close to fitting him from a teammate bike. Wow, this is horrible timing for him.
3.4km-Amador is drilling it on the front for Ineos, which is making it really hard for Chaves to catch back on.
2.8km-Carapaz swings off the wheel of Sosa on the front and starts talking into the radio, either he is hurting or wanting to attack from further back.
2.6km-King Kenny Elissonde attacks and Chaves is so close to the back of the peloton, the problem is that it is splitting as he is catching. Literally, the worst place to be in a bike race.
2km-Sosa pulls Ellisonde back and is setting pace for Carapaz. Chaves won't make it back, 37-seconds back.
600m-Roglic is towards the front of a really select group, Kuss attacks. 
Finish: Dan Martin wins the sprint ahead of Roglic and Carapaz. With time bonuses he picked up yesterday and today, he's now 8-seconds in front of Carapaz in 2nd place.
I was too excited about the Giro to grab any screenshots or gifs from the Vuelta finish, but below is a link to a video of the final km.
Takeaways:
This is a big win for Dan Martin, but I would hesitate to say this is just a stage win. The Irishman was been perfect in the first three days of this race and without the usual dilly dally first week where he almost always crashes and loses time, he could actually figure in the overall at this Vuelta. He has looked great so far and is only 5-seconds behind Roglic and the stage where he would have struggled, Stage 6, has been taken off the menu.

Roglic looked good but I was surprised to see him lose the stage. After rewatching the finish, it kind of looked like he was more interested in making sure he beat Carapaz than winning. If he isn't considering Martin as a rival, he is making the "Carapaz Mistake" from the 2019 Giro all over again (The Carapaz Mistake is when Roglic focuses on one rider too much while letting another rider go up the road and win the race. It is ironic Carapaz could be on both sides of the mistake.)

You can tell they've just thrown some blacktop over a dirt road for this finish, which makes the climb really steep and this is shown by the time gaps that formed at the end of the stage.

Movistar's good fortune didn't last long. Mas lost 9-seconds in the last few hundred meters, Soler and Valverde lost 45 and 55-seconds.

Chaves lost 1'06 at the line. This is devastating for him since he was looking like the 5th strongest rider in this race and Stage 6 would have suited him incredibly well.
Preview & Predictions
Giro Stage 19

If you glance at this profile, you might think, oh wow, an easy stage. But look again, this is a 259-kilometer behemoth wedged between two brutal mountain stages. WHY!? This is the same distance as a stand-alone monument. I assume the answer is that the start and finish towns shelled out a good amount of cash and they just had to string them together, but this is silly.
The stage traces the west-side of Lake Como for the first 50km of the stage. This means they will pass right by the Hotel Grand Tremezzo, and I recommend the riders dip it to grab a few Aperol Spritzes on the terrace. This would also be a much better rider protest of a too-long stage than sitting on the road.

The peloton is going to be so tired and wanting to save energy for Stage 20, so I'm doubtful that the teams will want to motivation to hold this together for a sprint.

Peter Sagan was pulling at the front of the peloton at the base of the Stelvio, so he clearly feels good. Also, he knows this is his last chance to win a stage at this race, and with Majka and Konrad out of contention for a podium, the team will work to keep the race together.

Prediction: Peter Sagan is fantastic at sprinting after long stages and gets his second stage win by outsprinting Demare.
Vuelta Stage 4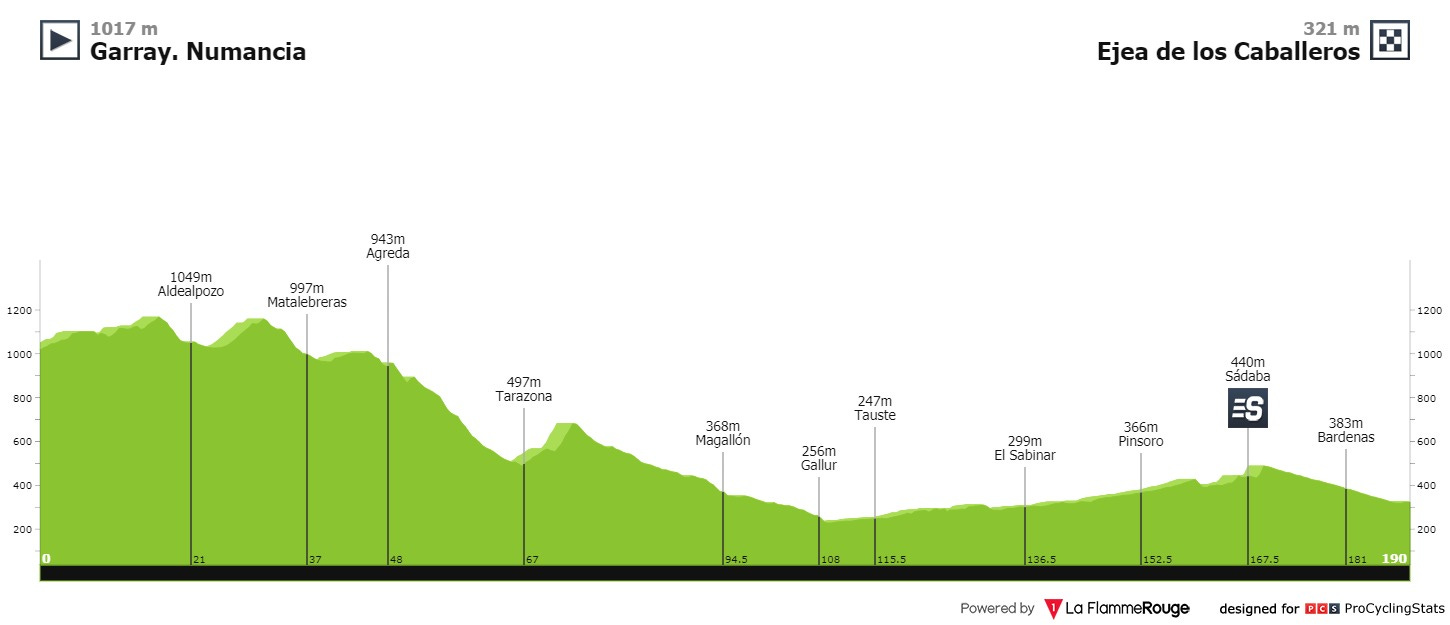 The Vuelta finally gets an easy-ish day. This is a "sprint stage"," but I think the breakaway specialists could finally sniff a chance and get up the road.
Prediction: The sprinter's teams pull the break back before the line and Jasper Philipsen wins the sprint.