Discover more from Beyond the Peloton
In-Depth Pro Cycling Analysis
Over 16,000 subscribers
Giro Stage 2 & Liège–Bastogne–Liège
A double-booked Sunday delivers excitement in the final kilometer
This is a premium daily grand tour analysis newsletter. Thank you to current subscribers. If you were forwarded this newsletter or are on a complimentary membership and want to continue to get these in the future once your free trial ends, sign up below.
Stage 2 of the Giro d'Italia and Liège–Bastogne–Liège, one of the sport's biggest one-day races, both ran at the same time today (who put together this schedule!? This is way too much cycling), so we will have a bit of a split newsletter today. I wasn't planning on covering Liège, but the final sprint was one of the more interesting finishes so far this season and it certainly featured bigger stars than the Giro.
Giro d'Italia: Diego Ulissi bested Peter Sagan to take victory on the uphill finish and bag his 7th career Giro stage win.
Liège–Bastogne–Liège: In a kind of Tour de France "Greatest Hits" race, Primož Roglič stunned Julian Alaphilippe in a photo-finish sprint after the World Champion sat up before the finish line to optimize the quality of his winning photo op. It gave Roglič a chance to redeem himself after a crushing defeat on Stage 20 of the Tour de France and featured a fantastic and exciting final kilometer in what I have historically found to be a bit of a dull race. Moving the finish line into the actual city of Liège from in front of a suburban gas station has certainly helped.
Liège was by far the more exciting race, but wow, it really got blown out of the water in the "beautiful scenery making me want to visit" category. The Giro peloton cruising through the picturesque Sicilian countryside really contrasted to the miserable Liège participants trudging through a grim-looking Wallonia region of Belgium. If anyone has a photo of Liège occurring in sunshine, please post it on social media and tag me, I'm convinced it has never happened.
Giro Stage 2 Race Notes:
71km-Aleksandr Vlasov drops out of the race with illness!? Not good, considering his teammate Lutensko tested positive for COVID last week. Is there a BTP curse on young Russian riders? What is going on here?
36km-Break is being kept on a tight lease by Bora and Sunweb, for Peter Sagan and Michael Matthews.
25.3km-Gap to break is down to 56-seconds. There is some weird format with the intermediate sprints where the second sprint of the day nets bonus seconds, not points (I think? This isn't totally clear to me. In classic Giro fashion, all the rules seem to be made up on the fly). It must be the organizers trying to incentivize the favorites to pull back the breakaways and duke it out amongst each other on the final climbs of the day.
20km-Ineos on the front letting the break's gap go out to 1'09. They want to keep Thomas out of pink in this first week at all costs.
11.4km-gap down to 17-seconds, the break is going to stay away to sprint for the time bonuses.
7.6km-Ineos setting an extremely hard pace on the front to keep Thomas up front and out of trouble. Astana then takes it up for Fuglsang.
5km-Peloton is FLYING into this climb
1.2km-Valerio Conti attacks to set up Diego Ulissi. He is setting an incredibly fast pace for what seems like an absurd amount of time. He is dropping the rest of the field and a gap appears behind them. Deceuninck-Quick Step's Mikkel Frølich Honoré, a young, unknown rider (at least to me) is one of the only riders that can follow them.
Ulissi attacks off this leadout and immediately gets a big gap on the peloton.
Sagan recognizes that it isn't coming back goes all-in making the bridge up to the leaders.
After Sagan makes the junction, Ullisi launches his sprint. He easily distances Rølich Honoré and Sagan, who has already burned the matches he would use to sprint bridging up.
Major Takeaways:
Ulissi gets a great stage win with undeniable strength. Sagan appears to be back and closer to his old self and it seems like he was just caught out by poor positioning here and having to burn his sprint just to close to the gap.

The three leaders had a five-second gap to the peloton, which had no time splits between them. The Giro did this exact finish back in 2008, where multiple significant time gaps opened up among the GC leaders. For example. Alberto Contador lost 10-seconds to eventual second-place Riccardo Ricco. This shows how much the sport has changed in those 12 years and how hard it is to get gaps on uphill finishes in modern cycling. Many of the names at the front of that 2008 finish were later caught doping, so perhaps this speaks to a cleaner sport (or just more doping parody).

Michael Matthews missing that winning move and adds support to Sunweb's decision not to take him to the Tour de France. It was clear that was the winning move but he just simply missed it and sat in to win the bunch sprint. This is a common trend with him.

Ulissi has made a career out of winning Giro stages like this, has a total of eight Giro stage wins. The Italian averaged 540 watts over the final 1'40, with a mind-blowing 8.6 watts per kilo (try going out and doing that today and report back how it goes). This shows the final climb was incredibly hard, but the stage as a whole was reportedly incredibly easy, with a team insider telling me some riders on their team averaged under 200 watts for the entire stage, making this a televised coffee ride through the beautiful Sicilian countryside.

Filippo Ganna was able to put out enough raw power to easily finish in the group and defend his race lead.

Jakob Fuglsang is already down two incredibly strong teammates after two stages. This isn't good and also makes me worry about a potential COVID spread within their team. One of their Tour riders, Alexy Lutensko, tested positive for COVID last week and it is worth noting that Miguel Angel Lopez was at the Tour with Lutensko before traveling to the Giro.

With extreme heat across Sicily, many of the riders were wearing ice vests before the stage, but a BTP on-the-ground correspondent said that he was surprised to see most of the team just covering their riders with cold towels before the stage. It is a good reminder of how low-tech the sport can be and how little some of these things think about the details of rider performance.

This easy day should set up a fast and exciting finish up Mt Etna on tomorrow's stage (preview below).
Liege-Bastogne-Liege
I wasn't taking notes during Liege-Bastogne-Liege, but essentially, the race was World Championship-esque (really really hard with little-to-no action off the front) until Alaphilippe attacked with 13.8km to-go and pulled Roglic, Hirschi, and Tadej Pogacar out with him. Kind of like a Tour de France reunion Tour. Mike Woods tried to bridge but waited too long and missed the move.
Long story short, we get that group of riders entering the final kilometer in the lead, with Matej Mohorič chasing behind and Mathieu van der Poel leading the peloton behind him. As they cross the 1km-to-go banner, it becomes clear Mohorič is going to catch the group, and van der Poel's chase group is getting closer, and it clearly rattles Alaphilippe. He keeps looking over his shoulder and leaves a great position that had Roglic stuck on the front to push the pace to attempt to hold off the chasing group.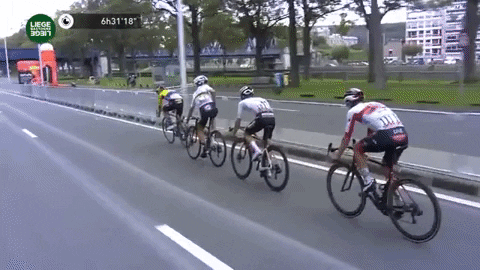 Mohorič catches and blows right by them, and if you didn't know better, you might think he is trying to help his fellow Slovenians by keeping the pace high to allow them to slot into the perfect sprint positions towards the back of the group while still holding off the chasing peloton.
Alaphilippe is way too jumpy here and launches his sprint off Mohorič too early. He gets an initial gap, but both Pogacar and Hirschi are able to come around and start to pass him. He looks back, sees this, and crosses over into Hirschi's wheel to put them out of commission. Thinking that he has taken care of his competition, he sits up to celebrate WAAAYY too early and a surging Roglic gets him with a perfect bike-throw on the finish line. To say this was karma in action would be an understatement.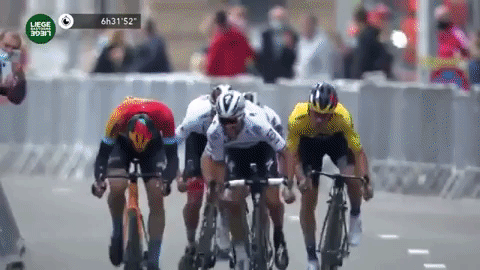 Even if Roglic hadn't taken the win from Alaphilippe, he would have been awarded the win since the Frenchman was relegated by the race jury for his move on Hirschi after the stage.
A lot of takeaways here, but in short, it was great to see Roglic salvage his season by getting a win at the sport's oldest race (and become the only rider to ever win Liege on his first try).
With Alaphilippe's relegation, there were three Slovenes in the first four spots.
Alaphilippe's nervousness cost him the race win, but it wasn't just isolated to the final kilometer. The World Champion was acting oddly all day, going back to the car multiple times to stick his feet up to the window of the moving team car to have his support staff check his cheats, then preceded to change shoes on the move, as well as performing multiple bike changes. Perhaps the rash of mechanical failures he has suffered in the last two months has gotten to him, but I thought this type of behavior was incredibly odd (who changes shoes mid-race?) and signaled that he knew he was on an amazing day physically but just lacked the patience to sit in the group and win it at the end.
Giro Stage 3 Preview & Predictions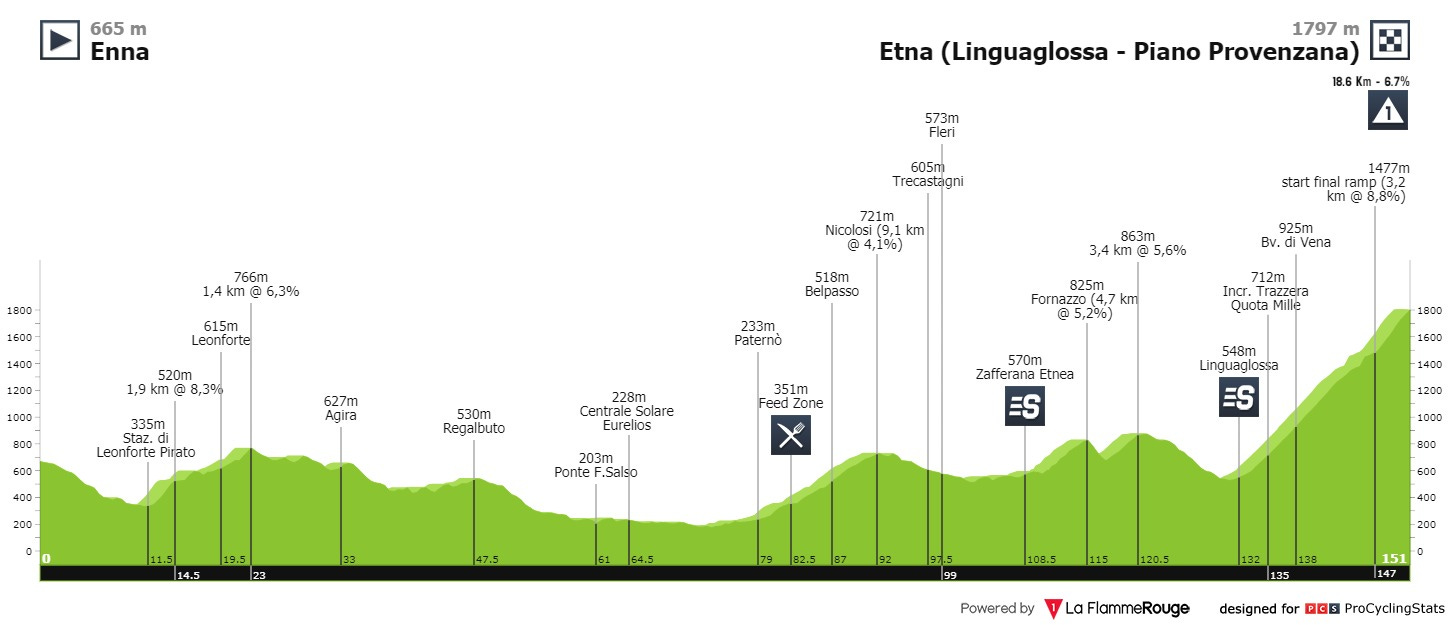 Stage 3 finisheses up the volcanic slopes of Mt Etna, 18km @ 6.7%, with the steepest slopes coming in the final few kilometers.
The Giro last raced this summit in 2018 and the volcano created significant gaps, with Simon Yates and his teammate, Esteban Chaves, riding away from the group and finishing with a 28-second gap.

The Giro also ascended the climb in the year before, and the GC favorites all finished together, with Geraint Thomas leading the group, but headwinds neutralized the most difficult portions of the climb.

This is a good finish for power-climbers like Geraint Thomas, so I don't expect him to suffer. It will be interesting to see how his Ineos teammate Filippo Ganna performs. The team has had great success turning track riders into grand tour winners, and despite their rash of recent signings, they could view Ganna as a future Pogacar-stopper at the Tour de France.

Prediction: After my missed Vlasov prediction and blowing the stage 2 finish, I'm a little gun shy here. However, I think Simon Yates will conquerer his Giro demons with a stage win tomorrow while João Almeida takes the Pink race leader's jersey. Geraint Thomas will slot comfortably into second place, which will allow his Ineos team to sit back and let DQS control the race until the next TT on Stage 14.