Giro Stage 3: Meltdown on Mount Etna
The Giro stays Giro on stage 3
This is a premium grand tour newsletter. Thank you to current subscribers. If you are receiving this as the free weekly email, were forwarded this newsletter, or are on a complimentary membership and want to continue to get these along with daily grand tour analysis in the future once your free trial ends, sign up below.
The third stage of the 2020 Giro d'Italia sowed chaos in the race for the overall classification, with Ecuadorian Jonathan Klever Caicedo winning atop Mt Etna from the breakaway in an absurdly ugly Giro-edition EF-Education First jersey (they look more like the sponsor-cluttered Androni-Giocattoli kit than the vintage Mapei fare) but missed out on the overall lead by a single second. João Almeida, who finished the stage tied on time with Caicedo, took the Pink leader's jersey due to a finish position countback, became the first Portuguese rider to take a leader's jersey at a grand tour in 31-years.
The two top favorites for the overall classification, Geraint Thomas and Simon Yates couldn't keep pace on the brutal slopes of Mt. Etna. Thomas lost over 12-minutes due to injuries sustained in a crash in the neutral zone and Yates was simply unable to follow the favorites on Etna, coming in over four-minutes behind the stage winner.
In a normal, non-Italian grand tour, the rest of the favorites would have rolled into the finish together after some shadow-boxing on the volcanic slopes, but alas, the Giro is no normal grand tour. We saw a complete breakdown of order in the GC group, with riders literally arguing with each other while trying to figure out what the heck was going on. Wilco Kelderman capitalized on this chaos and took a significant chunk of time after chipping off the front, while Jonathan Castroviejo, Rafał Majka, Domenico Pozzovivo, Vincenzo Nibali, and Jakob Fuglsang came in ahead of Steven Kruijswijk and Pello Bilbao, with Almeida hanging on for dear life behind to finish just in time to take Pink.
The story of the Giro so far has been the surprisingly large time GC gaps. We have seen smaller and smaller time gaps at grand tours in recent years, but on Stages 1 & 3 at this Giro, we have seen some relatively massive time gaps between the establishes "favorites," and are left with a bundle of relatively unknown and/or unproven riders, plus Nibali in the top-ten.
Giro Stage 3 Race Notes:
150km-Geraint Thomas hits a loose water bottle in the neutral section in Enna and goes down really hard. This is incredibly unlucky, but also shows why you have to always stay at the front if you are riding for GC, even in the neutral.
This isn't an isolated incident, Thomas is somewhat addicted to crashing out of grand tours while in overall contention. He crashed at the 2017 Giro d'Italia on Stage 9 at the base of the Blockhaus climb and later that season, crashed out of the Tour de France on Stage 7.
35.9km-Gap to break is 4:22. A dog in the middle of the peloton causing riders to serve out of the way, incredible nobody crashed. I recall from a ProCycling Magainze piece from 2011 that Marco Pinotti was talking about the large number of stray dogs around the base of Mt Etna and how it could cause trouble when the race passed through.
26km-Geraint Thomas is dropped. He is clearly hurt from that crash earlier in the neutral zone. Filippo Ganna drops back to ride with him. Ben Swift leaves him to get back to the peloton and they quickly move on to Plan B, which isn't quite clear to us quite yet.
21km-Ganna has paced Thomas back to within spitting distance of the peloton, but the way he was losing his teammate's wheel at times during the chase makes me wonder how long he will last on the climb.
12km-Thomas is clearly hurt and is already way off the back. A few more teammates have dropped back to give him support. Tao Geoghegan Hart and Jonathan Castroviejo are still at the front.
11km-Bora, sensing that the race could be more wide open due to the absence of Ineos, sends a rider up the road to attack. They gey pulled back, but there is a lot of odd gesticulating and anger about riders pulling them back. Why? It is almost like the race is broken now that Ineos is out, nobody knows what to do.
-Ineos losing Thomas means this Giro could get really wild. Unlike the Tour de France, there are no dominant teams to control the race.
While it looks like the front group is holding back, it has been an incredibly hard climb so far, in the first ten minutes of the climb, Rafal Majka averaged 355 watts (5.92 w/kg). In short, they are riding hard.
8.6km-Simon Yates is dropped. Oh no, I really should have trusted my gut here when making the race predictions. It hasn't seemed like Simon hasn't been the same since his epic collapse at the 2018 Giro and this is further proof of that. This has clearly come as a surprise to his Mitchelton-Scott team, who have been working at the front all day to set up an attack and stage win from him on the slopes of Etna.
7.3km-Nibali is towards the back of the peloton and doesn't look good. Tao Geoghegan Hart also looks like he is really hurting
6.5km-Jonathan Castroviejo attacks, looks strong but he isn't getting much of a gap, is this a dummy move?
5.9km-American Brandon McNulty in this lead group, if he stays in the front group, he could be in the overall race lead at the end of the stage. He has done well here before. He got 4th on the Etna stage in last year's Tour of Sicily, which he won overall. 
5.4km-Scratch my previous comment, Jonathan Castroviejo is in the big ring and powering away
5.3km-This is chaos, you rarely see a climb like this without any semblance of control in modern professional cycling. It is every man for himself and those who hesitate will miss out.
5km-Fuglsang on the front of the group, trying to pull back Castroviejo. 
3.8km-The group of favorites catches Castroviejo. The weather looks miserable, rainy and windy, closer to Wallonia than yesterday's postcard views
3.5km-Wilco Kelderman attacks the GC group, looking really good and gets a gap immediately. He had a good TT on Stage 1 and could really move up the overall standings if he finishes with a gap here.
3km-This is when the climb gets really hard. Steven Kruijswijk on the front, driving the pace
2.7km-It is looking like the lone remaining breakaway rider, Caicedo, could stay away for the win. His gap is just over a minute but it isn't really coming down. It also seems like EF has an endless supply of young, talented, South American riders. I've never heard of this guy and he is about to win a stage at the Giro and possibly go into the overall race lead.
2.2km-Nibali smells blood in the water and attacks. This is creating gaps in the group behind and the virtual leader on the road, João Almeida is dropped 
1.9km-Fuglsang takes it up and drives the pace, which drops Kruijswijk. There are four 30+ riders left on the front, this is like cycling's version of the senior tour.
1.6km-Kruijswijk claws his way back on.
1.2km-Pozzovivo attacks, this is wild stuff, just riders duking it out without any help from teammates.
1km-Nibali and Fuglsang are on the limit, Caicedo will stay away for the win
Caicedo stays away for the stage win, with hometown hero Giovanni Visconti dangling just a few seconds behind. It is a really impressive ride, he didn't concede much time to the GC favorites over the final few kilometers, which was the toughest part of the stage, after being out front in the breakaway all day.
Fuglsang leads the GC group through, he looked very good, Nibali looked like he was just hanging on, Kruijswijk actually recovered and got within a few seconds. 
Current GC Top-Ten

Major Takeaways:
What a crazy day, I don't ever recall a mountain stage that disrupted a race this much in the first few days of a grand tour. 

This top ten features a shocking number of unknowns and unprovens. Nibali is the only rider with a career grand tour win. We only know one thing after three stages of the Giro, and that is that this will continue to be an unpredictable and chaotic race and we could see an unlikely winner like Pello Bilbao (but remember, he just raced the Tour de France and the fatigue will catch up with him later in the race) or Wilco Kelderman.

Caicedo is clearly a great climber, as shown by his incredible performance today, but he is a complete unknown in three-week races. Even though he is 27, he only started racing at the WorldTour level last year. His biggest career win was the one-week Vuelta a Colombia in 2018, and the only other grand tour he has raced in his career is last year's Giro, where he failed to register a notable result. Long story short, I think he will fall out of contention as soon as Stage 5.

The big winner today is Nibali, this unfolded perfectly for him. Fuglsang looked very strong, but he has no recorded success in three-week races. This leaves Nibali as the only grand tour winner in the top-20 of the race.

In my Giro preview newsletter, I thought it was possible for Nibali to overcome some bad form to win this race. So far, everything has worked out perfectly for him to execute this.

The next grand tour winner on the GC standings is Simon Yates, currently in 25th place after losing over four minutes today.

Yates actually recovered fairly well after being dropped so far from the finish to "limit" his losses, but he's stuck in no-mans-land here. He is still too close to get in breaks and go for stage wins and would need a massive recovery to pull that time back and back into contention. It is possible that he simply suffered a bad day and is hoping he can turn things around before the next summit finish on Stage 5.

After today, it would be safe to assume 2018 was the year we hit peak Yates. The twins emerged as the most promising young GC riders in the sport, with Adam taking the best young riders jersey at the 2016 Tour and Simon winning the 2018 Vuelta a Espana, but as they close in on 30 years of age, neither of them have been able to recapture the success from those younger years.

Ineos' Plan B was revealed to be Jonathan Castroviejo, who looked fantastic, not Tao Geoghegan Hart, who lost over two minutes. But keep in mind, riders like Castroviejo and Bilbao are still carrying incredible form forged at the Tour de France, but will certainly struggle later in the race as fatigue sets in. Due to the condensed schedule, no rider in the history of the sport has even ridden a grand tour so close to finishing their previous grand tour, so we have to assume the fatigue will be even greater than normal.

João Almeida takes the race lead, tied on time on Caicedo. This, combined with yesterday's photo-finish at Liege, shows that every second really does count on these stages.

On paper, Wilco Kelderman is the big winner today, pulling back time and sitting only 43-seconds back, but in my book, Nibali is in the driver's seat now at 55-seconds back. Kelderman is the better time trialists, but his best result in a grand tour is 7th and Nibali should be able to pull out time in the high mountains (if those stages happen).

The Geraint Thomas crash has huge implications for his career. This could very well have been the last we saw him contending for an overall win at a grand tour. At the age of 34 and on an Ineos team that brings in more young GC talent every week, he could very easily never get another chance to lead a team at a grand tour.

Brandon McNulty's 8th place is a fantastic GC position for the young American. If he can finish the race in the top-10, I believe that would be the best result for an American at a grand tour since Chris Horner won the Vuelta in 2013.

EF is generally seen as a US team due to its American roots and registration in the USA, but besides the team ownership being based out of Switzerland, this season has been a reminder that its racing core and future is South American. Both of their grand tour wins this year have come from South American riders.
Stage 4 Preview & Predictions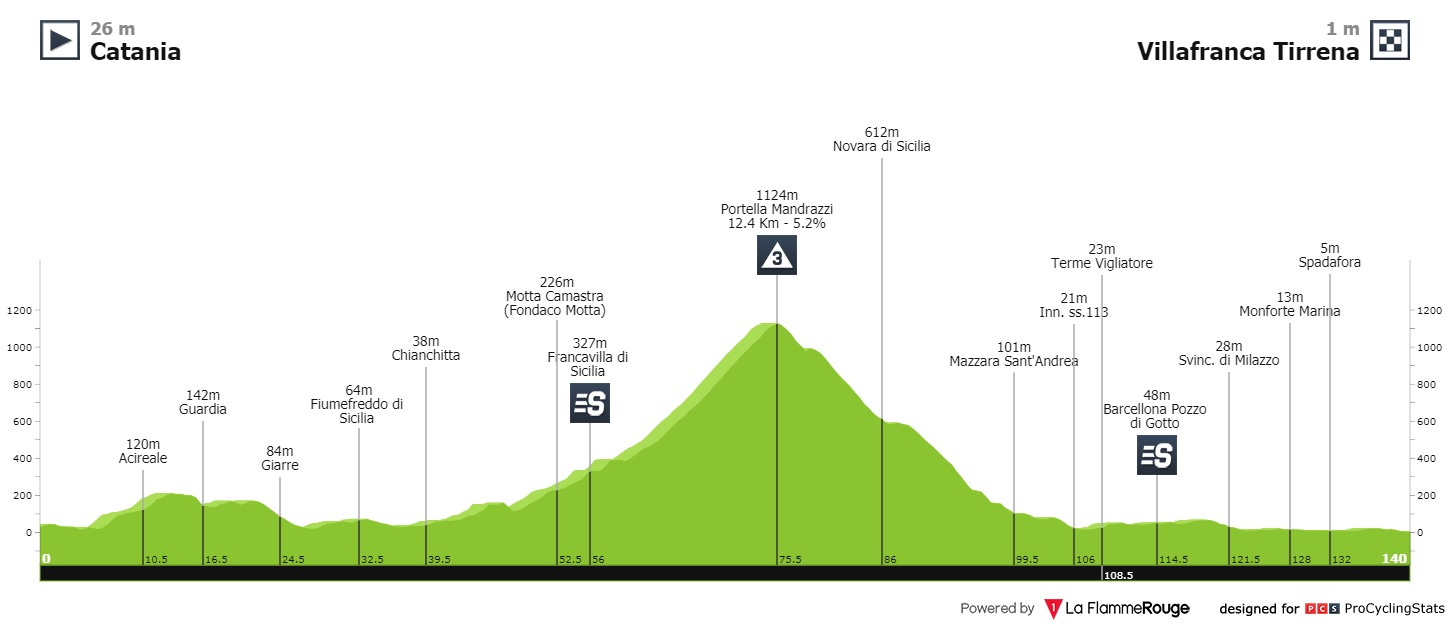 Stage 4 is the Giro's final day in Sicily and is what passes for a sprint stage at the Giro d'Italia. I wonder if they showed the sprinters the profile of the flat final 40km and simply forgot to mention the massive mountain smack dab in the middle of the stage.
This should be a straight forward stage that finishes in a bunch sprint. But as this Giro is showing us, we can't take anything for granted, and for all we know, Nibali, Fuglsang, and Kruijswijk will get dropped on the mid-stage climb and Almeida will increase his lead in the overall classification.

Prediction: Peter Sagan delivers on his 2 million euro start-fee with a stage win from a bunch sprint. João Almeida keeps the Pink jersey despite EF and Caicedo trying to create a gap in the final few kilometers.