Giro Stage 5: Tricky roads, bad weather, and a stunning win
A new star emerges on a difficult day through the mountains of Southern Italy
This is a premium newsletter. Thank you to current subscribers. If you were forwarded this newsletter or are on a complimentary membership and want to continue to get these along with daily grand tour analysis in the future once your free trial ends, sign up below.
After a rough couple of months, Team Ineos got a dose of incredibly good news. Their young Italian star Filippo Ganna, the lone survivor of the early breakaway, took an incredibly impressive solo win on a stage that featured over 15,000 feet of climbing through the mountains of Southern Italy (all while being the heaviest rider in the race). Not only did Ganna win the day, but he signaled that he could be the heir to their GC throne, and continue their series of riders that have used time trailing to dominate the Tour de France (Bradley Wiggins, Geraint Thomas, Chris Froome). His performance today showed that he is far from a one-trick pony and that he could potentially use his otherwordly power output to win more than time trials in years-to-come. With riders like Tadej Pogacar on-the-rise, it is going to take a truly special rider to challenge for Tour de France wins in the years to come, and today, Ganna signaled that he could very well be the rider to do it.
Back in the peloton, Vincenzo Nibali ripped down the wet descent into the finish in an attempt to put pressure on his rivals and possibly force a gap, but ultimately, every major GC rider rolled in together 33-seconds behind Ganna. João Almeida was able to increase his GC slightly by grabbing a 4-second time bonus after coming in third and now has a 43-second lead over second place, Pello Bilbao, who moved up after Jonathan Klever Caicedo fell off the pace on the final climb and lost 16-minutes.
Stage 5 Race Notes:
32km-The gap between the peloton and the breakaway has dropped from 4 minutes to 2'18 in something like 15km. It doesn't look like they can stay away on the final climb
28km-Thomas De Gendt and Augusto Einer Rubio attack out of the peloton as the final climb begins. 
26km-They close the gap to the break to 1'29, with the peloton still at 2'10. A chasing group of two riders is in between them and the peloton. I say they but De Gendt is doing all the work here. 
25km-He could actually close this gap, this is super impressive. He has it down to 1'03 already.
24km-De Gendt has the gap down to 51-seconds, he is absolutely flying. Peloton still at 2'03. I think it is possibly a mistake for riders like Nibali to let Steven Kruijswijk hang around. He will only get better as the race goes on since he is still recovering from his crash at the Dauphine, and if they want to put time into him, now is the time.
23.9km-Sunweb is leading the peloton, which is interesting. DQS has the pink jersey but Sunweb is acting like Wilco Kelderman is the leader on the road.
23.8km-Ganna is still in the lead group on the climb. This is interesting to watch. I wanted to see how he would do on Mt Etna but the Thomas crash meant we didn't get to see that. He looks really good here though like he could potentially be a Miguel Indurian v2.0 (I hope for the sake of exciting cycling that this isn't true).
22km-Jonathan Klever Caicedo is getting dropped back in the peloton. I'm not incredibly surprised after the massive effort he put on on Stage 3.
20km-De Gendt has it down to 7-seconds, this is really really impressive. I thought he was washed up but this is vintage de Gendt. Notice in this photo that you can see Ganna is riding this climb in the big chainring.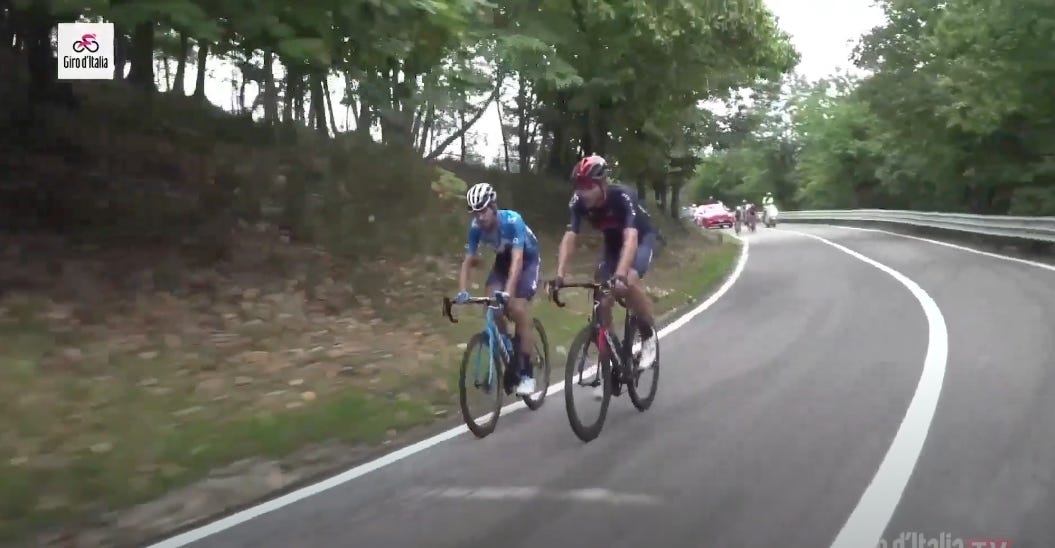 19.5km-The two chasers are catching Ganna and Hector Carretero (Rubio's Movistar teammate). Rubio attacks immediately, definitely the textbook move, and De Gendt latches right away. I wonder if he should have shaken things up my attacking before the junction was made just to throw off De Gendt, who would have known this counter was coming. I love Ganna on this climb. I think he will be able to keep his power high enough to potentially drop everyone.
18.4km-Trek leading at the front of the peloton. Rubio's attack has done nothing but drops his Movistar teammate Carretero. Ganna is getting nervous because he knows they could get caught by the peloton if they keep mucking about. Ganna is probably the heaviest rider in this race and if he could win a mountain stage, the sky is the limit for this guy. He should attack and use his power to hold them off on the descent.
17.5km-Starting to rain, this is perfect for a Nibali attack on the descent. The weather has moved in so fast that it looks like it has gone from day to night in a few minutes.
17km-João Almeida is isolated, which is a bit odd. On paper, he should have a few DQS teammates with him
16.5km-Ganna attacks. I absolutely LOVE this. He can push much bigger watts than the other two and will use that to hold them off on the rest of the climb and the descent. If he goes to the line with them, they will outsprint him.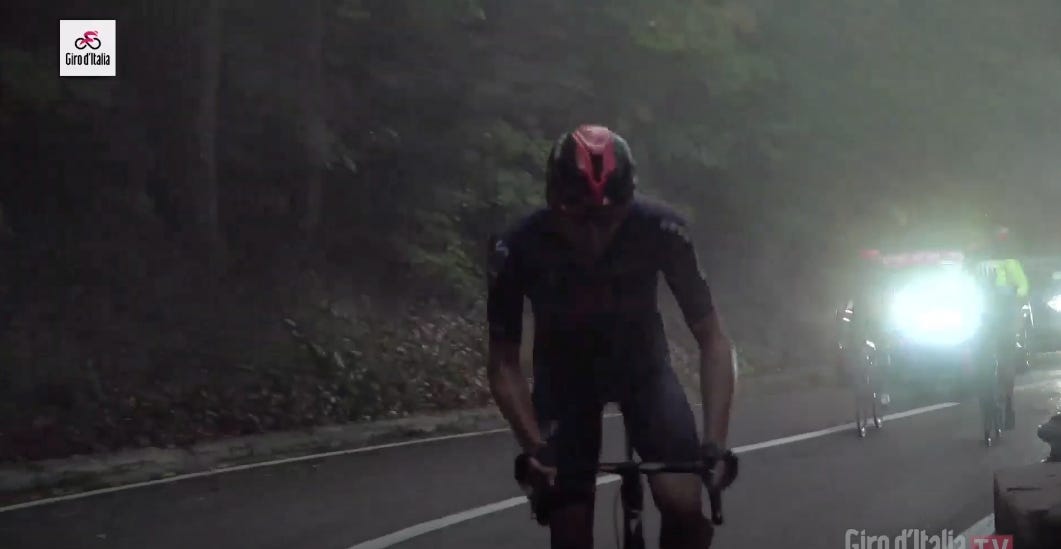 15.7km-Ganna has put his breakaway companions out of sight and pulled the gap to 1'10 on the peloton. He's got this.
14.1km-Ganna is increasing his gap, it is out to 1'20
11km-Simon Yates is getting dropped, not a good sign. This is a fairly "easy" climb and he can't hold pace. This shows us that his troubles on Mt Etna on Stage 3 weren't an isolated incident. Meanwhile, Domenico Pozzovivo is hammering on the front of the climb. The weather is really horrible out there and will make this descent a key.
9.8km-Ganna had 49-seconds on this descent. It is wet and visibility is low, so this isn't a sure thing.
8.9km-Pozzovivo attacks on the descent, dude is taking huge risks and flying down this climb. Nibali senses this is a great opportunity for him to put his rivals under pressure and takes over on front to press the pace.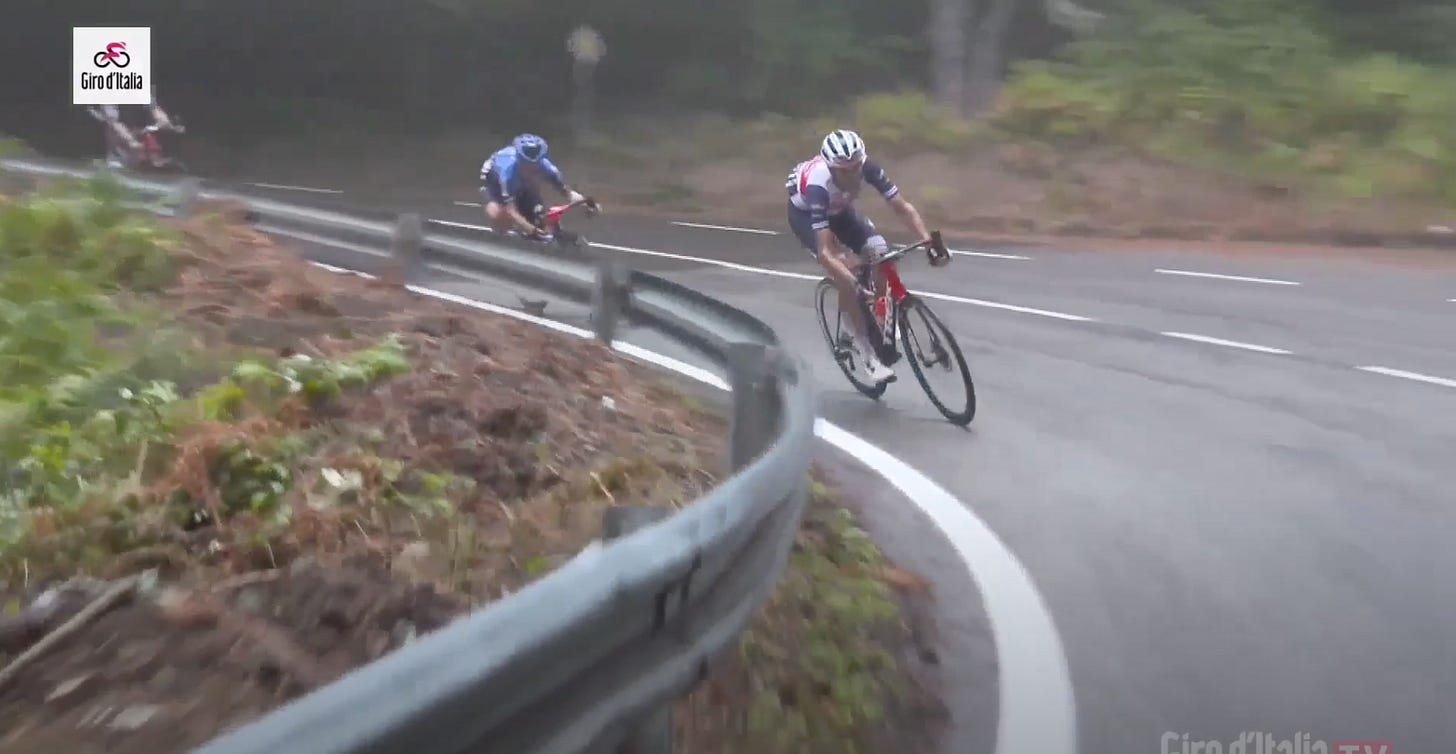 7.9km-Ganna is having a little bit of trouble on this descent and the gap is down to 45-seconds. These Italian roads are really tricky, especially in the rain.
6.7km-Nibali goes through the apex of a tricky corner much, much faster than Ganna.
4.8km-Ganna still has 47-seconds
4.3km-Small gaps forming in the peloton and there could be GC gaps at the finish.
3.8km-Nibali has a small gap off the front, really impressive work here.
Almeida shows he is present both physically and mentally by responding with a little attack in an attempt to further his lead. Jakob Fuglsang jumps on him immediately, showing that the favorites are starting to worry about him.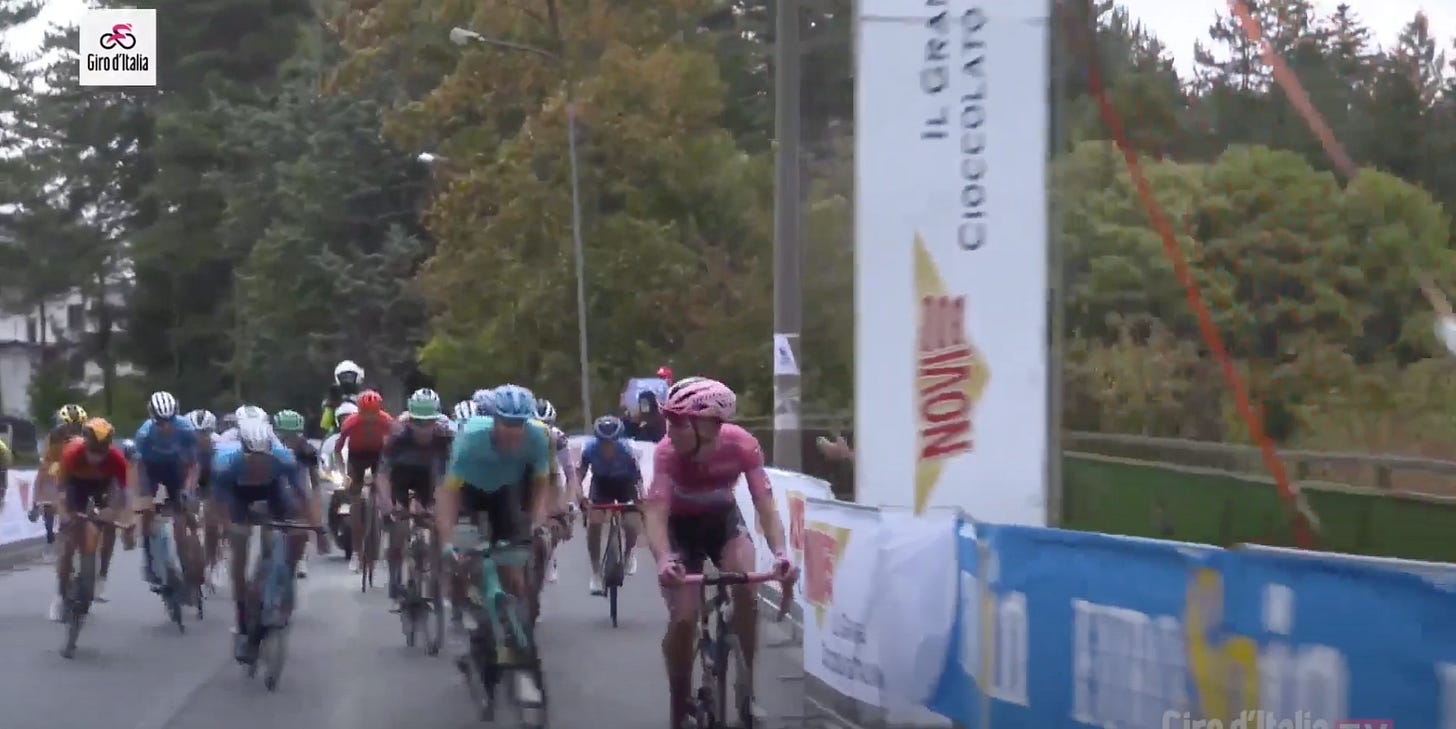 1km-Ganna is coming in with 37-seconds, lost a good portion of his gap in the last few kilometers but he gave himself enough of a gap to weather that loss. This is a huge win for him, I believe it's his first pro road race win and signals that he has a lot more in his future than just time trialing.
Finish-Ganna crosses the line solo, super impressive win. Patrick Konrad gets 2nd, Joao gets 3rd, bonus seconds of 6 & 4, after coming in 33-seconds down.
I'm so excited about this Ganna win that I'm bouncing around the room like an atom.
Short summary of the stage:
- Ganna attacks
- Ganna gets company
- Ganna pulls all day for his teammate Puccio
- Ganna rides everybody off his wheel on the long Cat 1
- Ganna wins solo
Major Takeaways:
At the risk of being hyperbolic, this win should terrify every other young GC rider in the sport. The stage featured 15,550 feet of climb and the 4km pursuit world record holder just soloed to a stage win by riding world-class climbers off his wheel on a climb while weighing 82 kilograms (according to his post-race interview) after working all day in the breakaway for a teammate that he later dropped. Some people might find this suspicious, but his pure power output is so high that in theory, he can make up for his heavier weight by having a functional threshold power close to 500 watts. If he is able to lose a few kilograms without losing much power, a la Bradley Wiggins and Geraint Thomas, he could be unstoppable in races like the Tour de France.

Some might say this "isn't normal" and means he is doping, but the blueprint for recent Tour de France success has been to take a big, powerful rider and strip as much weight off them without losing too much power (worth noting that Wiggins was caught using drugs to keep his power up while allowing him to lose weight. Also, this drug sounds great, I might have to reach out and get it thrown into the BTP membership package).

However, Ganna does appear to simply just be a bigger human than those past examples. He has extremely broad shoulders and a massively thick neck, which makes him kind of looks like a pro athlete from another sport that is just riding a bike to get in shape. This structural difference could be the one thing that keeps him from crossing over to a full-one GC contender and see him pursue one-day classics like the Tour of Flanders.

Nibali didn't get any time gaps out of his attack on the descent but this is how he wins grand tours. He puts pressure on his rivals on sections of road that require extreme technical skills and hopes that they either can't hold the pace or it slowly wears them out mentally and physically. He is putting out so much less power and energy on these sections than everyone else, and this adds up over the course of three weeks.

Sunweb, Trek, and Astana all took turns turning the screws on the front of the peloton on the final climb and descent, but the team of the race leader, Deceuninck-Quick Step, was conspicuously absent. This lack of strength could be a problem if teams really want to put Almeida in trouble early in a stage later in the race.

Simon Yates finishes in the group but it is a really bad sign for him that he could barely hang on a climb where the heaviest rider in the race rode clear.

I have to wonder if Ganna would be the current race leader if he hadn't dropped back to help Geraint Thomas on Stage 3. Obviously, we can't know for sure, and that climb of Etna was brutal, but he looked incredible today.

João Almeida had an impressive ride and clearly wasn't just hanging on due to his sprint finish to grab bonus seconds at the finish line. If he can survive the uphill finish on Stage 9, the Stage 14 TT should give him a chance to increase his lead. This would mean he enters the final week in Pink, and if a few of the high mountain stages are canceled or shortened due to snow, he could be a real contender to win the race overall. The big questions are if he can hold up over three weeks at 22-years of age and if his DQS team is strong enough to support him if he gets ambushed early on a stage in the final week.

Nibali has moved from a +700 outsider before the race started to +250 after the stage today. If you didn't get your bets in at +700, these are steep odds for a 35-year-old who has looked off his best this year, but it is hard to deny his favorite status. The other two interesting options at Wilco Kelderman at +500 and Almeida at +1200. On paper Kelderman is a great pick, but riders who haven't podiumed at grand tours rarely start winning them late in their careers. I would prefer to bet on youth over an old dog learning new tricks, and as I mentioned above, Almedia could have things fall in his favor if snow spoils the third-week. For what it's worth, the Dolomites are forecasted to have snow all next week and below is a current shot of the Stelvio pass, which is supposed to be ridden on stage 18 (October 22nd).
Something to keep in mind on days like today are equipment choices and how they affect the race. The Italian roads are incredibly tricky to navigate and with rain and tire/brake choices can make a big difference in these conditions. A team insider told me that their team was running a mix of tubular and standard clincher wheels due to sponsor pressure. They would normally be on tubulars, but the wheel sponsor, wanting to push their consumer-facing products, are pressuring them to be on clincher wheels with tubes, which give the rider much less grip on a rainy descent. This sets up an odd dynamic where the team is purposely riding inferior technology to appease a sponsor. He also mentioned that their team was likely at a disadvantage on a day like today because they were on rim brakes, which gives their riders much less stopping power and control on technical, rainy descents. Remember that Ganna, riding on rim brakes, lost close to half a minute from the top of the final climb to the finish line, and Valerio Conti, on rim brakes, was struggling to stay with the breakaway on some of the technical mid-stage descents.
Stage 6 Preview & Predictions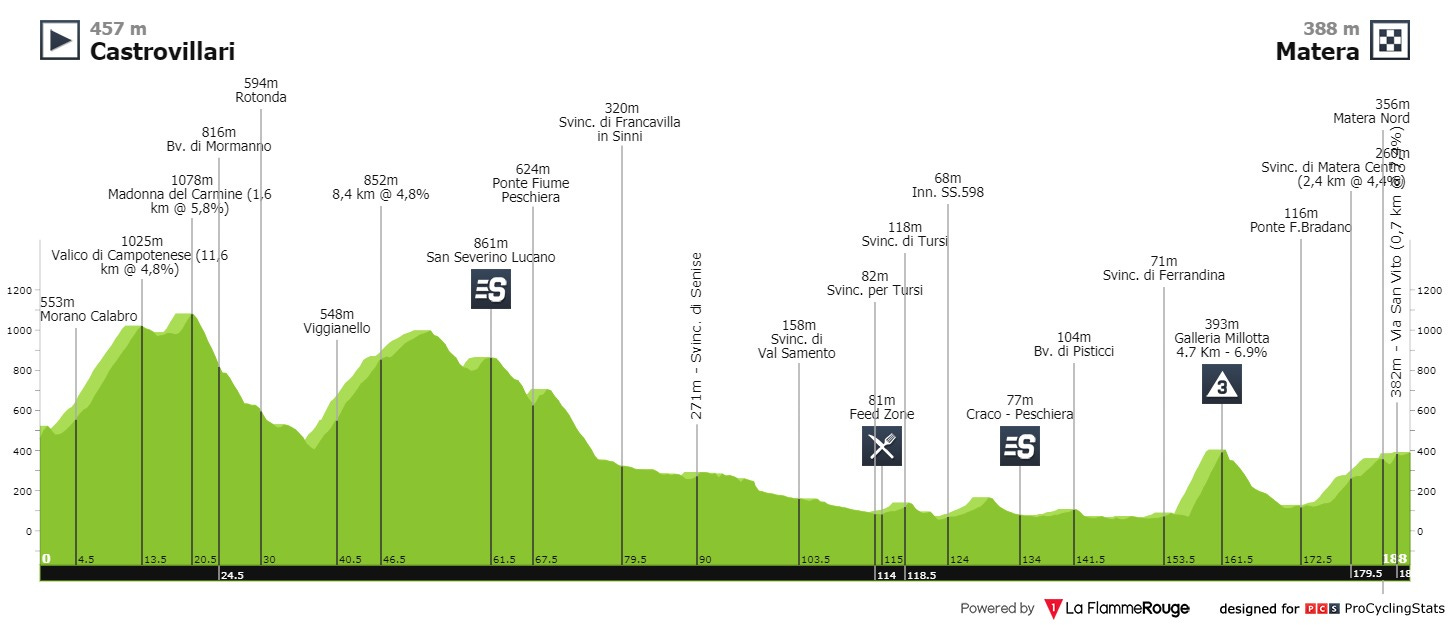 Stage 6 is another lumpy day with an uphill finish, so it looks to be a perfect opportunity for Peter Sagan to bag yet another second place.
This is a great example of a stage where when I first looked at the stage classifications of the route, I assumed this would be a boring flat sprint stage, but when we actually look at the profile, it reveals itself to be an incredibly challenging stage.

It should produce an exciting uphill sprint finish, but that is assuming teams like Bora and FDJ will be able or even want, to hold this together. They could think it is too risky to work for a sprint finish, only to have a rider like Diego Ulissi clip off the front and steal the stage win. On the other hand, Peter Sagan is missing his premier races, the one-day classics, to be here and win stages exactly like this, so perhaps Bora will go all-in no matter what.

The 4.7km long, 7% climb 24 kilometers from the finish should be hard enough to drop sprinters like Fernando Gaviria and possibly even Arnaud Démare.

Prediction: I'm going to keep predicting it until it comes true: Peter Sagan will finally win a race on the uphill bunch finish. João Almeida will easily defend his Pink jersey.