Giro Stage 9: Puffy jackets are en vogue + Gent–Wevelgem
A double edition to cover a horrid day at the Giro & a cracking Gent-Wevelgem
This is a premium newsletter. Thank you to current subscribers. If you were forwarded this newsletter, are on a complimentary membership, or received this as the free weekly email and want to continue to get these along with daily grand tour analysis in the future once your free trial ends, sign up below.
Sunday was an embarrassment of riches for cycling fans. We had Stage 9 of the Giro d'Italia, won by Ruben Guerreiro (another great Portuguese performance at this Giro, which I cover in the latest BTP podcast), the one-day classic Gent-Wevelgem, won by Mads Pedersen and Paris-Tours (I won't be covering that race here), won by Casper Pedersen (not related, but what a day it would be for the fictional Pedersen family if they were).
Stage 9 of the Giro d'Italia was incredibly difficult. It featured tons of climbing and horrible weather. But despite the near-constant climbing for the final 80-kilometers of the stage, the GC contenders were content to sit tight and allow the stage to be contested between the early breakaway, with Jonathan Castroviejo eventually surging clear. Ruben Guerreiro marked him, sat on his wheel until the final few meters before coming around Castroveijo for the stage win. The GC riders sat in until the steep ramps in the final 500 meters, where Jakob Fuglsang and Wilco Kelderman attacked and grabbed 18-seconds from race leader João Almeida and 14-seconds from Vincenzo Nibali. However, Almeida was able to salvage enough time to take the Pink jersey into the rest day.
Gent-Wevelgem was won by Mads Pedersen, who upset the heavy favorites, Wout van Aert and Mathieu van der Poel. I personally thought this was the best race of the weekend, and it has really become a great event since moving from its mid-week calendar spot to its own weekend. The Flemish countryside looked spectacular and we got to see the real one-day titans of the sport facing off in the final 15-kilometers. Wevelgem isn't nearly as difficult as its sister race, the Tour of Flanders, which means it sticks together until much later in the race, and can actually produce a sprint finish. However, since its course change and move from Wednesday to Sunday, it hasn't been won by a pure sprinter and has seen legitimate classic stars like Alexander Kristoff, Peter Sagan, Tom Boonen, and Greg van Avermaet consistently win. It has also become a decent predictor of success in the Tour of Flanders and Paris-Roubaix, which bodes well for Pedersen at next weekend's Tour of Flanders.
Giro Stage 9 Notebook:
Start-I found this odd photo from the beginning of the race which shows Vincenzo Nibali attempting to get in the early breakaway. This type of move from a race favorite is sure to doom the breakaway (no other GC riders/teams will let it go), so I have to assume he was legitimately trying to turn the race on its head from the start. I think it is too early in the race for this to work, but it signals that he believes there isn't a single team strong enough to control the race and that at some point, the race can be won from an early breakaway move (or he knows the race won't make it to Milan and is trying to get the lead as early as possible).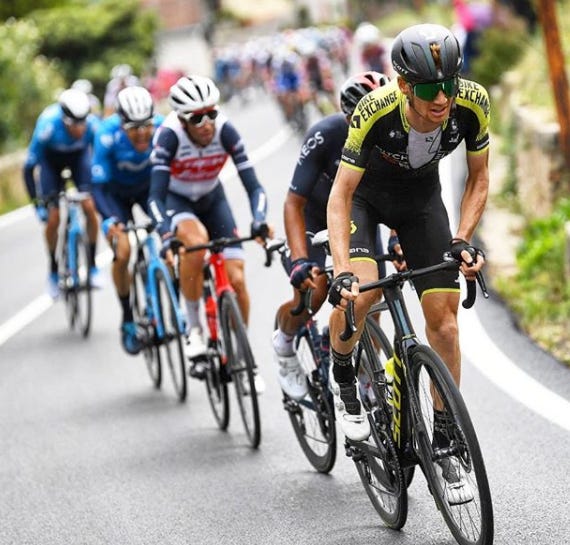 29.3km-Trek is cranking up the pace and leading the peloton into the "final climb." In reality, they've been climbing since 80km to go. However, the lead GC group is quite large, which shows the pace hasn't been too high. Perhaps this cold, rainy weather is blunting attacks and just turning the stage into a race of survival. The gap to the break is 3'51.
17.6km-Speaking to the defensive nature of the stage, the gap to the breakaway has actually gone up 2 seconds and is now at 3'53. They will stay away. Which is great news for all-team good guy Larry Warbasse up in the breakaway.
*Larry is great but it is going to really tough for him to win this, Jonathan Castroviejo and Ruben Guerreiro will be tough to beat in the finale.
8.8km-DQS is now driving the pace at the front but Almeida is caught off the back and was forced to chase back on. Once he catches back up he doesn't go back up to his teammates and sits right behind Nibali instead. 
8.4km-Nico Denz and Sunweb come to the front for Wico Kelderman. He must feel good and think he can carve out a little bit more time in this steep final kilometer.
6.2km-Castroviejo (Spain) and Guerreiro (Portugal) get clear of the break, these are the two strongest guys in the race. Big Iberian rivalry right here. Also, it is a battle of disc vs rim brakes, which is the Duke-North Carolina of cycling.
5.5km-The Iberians are starting to squabble a bit, either Guerreiro is playing games or just isn't strong enough to pull, and this will cause Castroviejo to hold back.
5.1km-Fabio Fellini attacks the peloton and it looks like he has grabbed a stylish 90s windbreaker and pulled up the sleeves. How and why was this garment ever produced and given to the team? The bike and wheel sponsors spent millions of dollars doing aerodynamic R&D on their products and it all goes up in smoke the second a rider puts a flappy jacket on. On the flip side, the windbreaker with the teal does give him a very cool retro look and makes him look like he is repping a 90's NFL expansion team.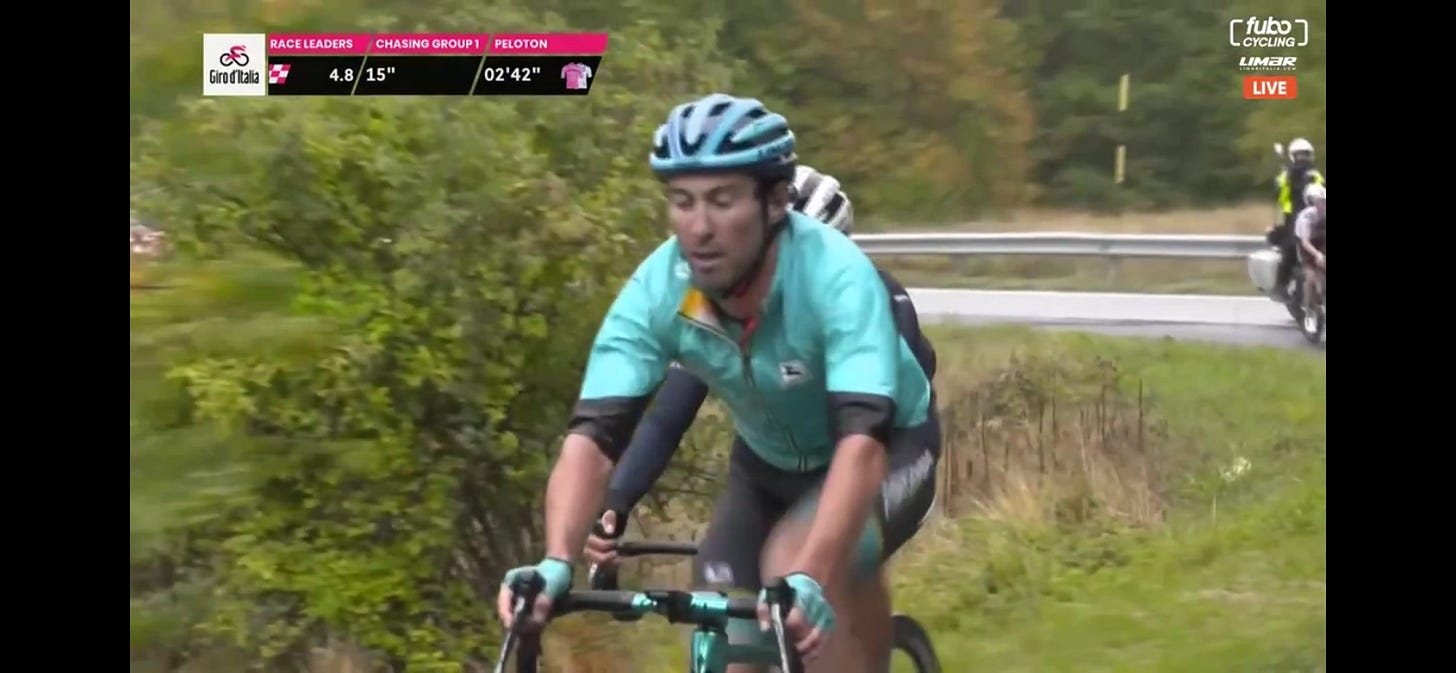 3.5km-They are hitting a slight descent here. They will go past the Refugio soon. I'm sure some riders will be tempted to dip in for a local beer and a plate of homemade ravioli.
3km-DQS is also sporting windbreakers with a wild amount of puff.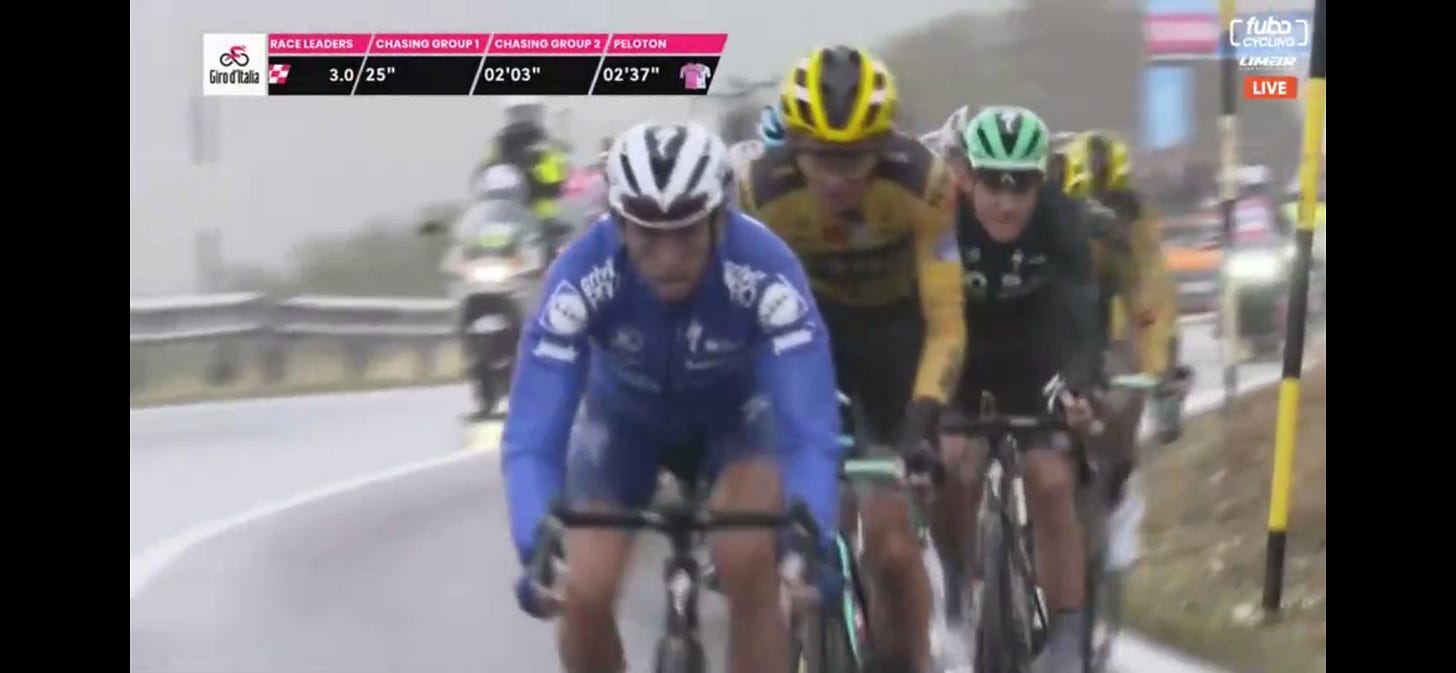 Compare these jackets to Ineos' rain jackets, which are waterproof but also form tightly to the riders' bodies, giving them a significant aerodynamic advantage.
1.1km-Guerreiro and Castroviejo go into the final kilometer. It gets steeper from here to the finish. I don't think Guerreiro has taken a single pull. This is likely a mix between Castroviejo being a stronger steady-state rider, but also a TT-specialist who isn't particularly deft at winning mass-start road stages.
.5km-The peloton is still tightly packed together. I wonder if the bad weather has tempered any big attacks or if they are just waiting for the steep slopes.
Finish-Guerreiro sits right on Castroviejo's wheel before he launches the winning attack. Castroviejo actually puts up a good fight for around 10-seconds, but the quicker Guerreiro eventually cracks him and crosses the finish line with a healthy gap.
A little over a minute later, Kelderman and Fuglsang attack and create splits on that final ramp. Nibali loses contact and loses 14-seconds, while Almeida also gets dropped and loses 18-seconds.
GC picture going into rest day:

Major Takeaways:
It isn't a good sign for Nibali that he was distanced on that final ramp, especially after his team put in so much work to presumably set up an attack that he physically couldn't execute. If this was the case, I'm confused why this was the strategy, since he knew this wasn't a good climb for him due to also losing time here in 2016 (It almost seems like he isn't reading this newsletter).

I've heard some pundits criticizing riders for not attacking and taking time today, especially with the future of the race in doubt, but I'm not sure that final climb was tough enough to make it worth the energy. Not to mention the weather likely makes it difficult, if not impossible, to really muster up the strength to launch a knockout move.

Nibali looks to be in big trouble since Fuglsang and Kelderman just look stronger every time the race goes uphill. But, this is classic Nibali. He lost time on this finish back in 2016 to Fuglsang and still went on to win the race in the third week. Meanwhile, Kelderman and Fuglsang have no history of riding well for three consecutive weeks.

Speaking of 2016, the GC picture following this finish in that edition was oddly similar to this years.

Despite all the talk about this being Fuglsang's year, his GC position in 2016 was actually better at this point in the race (he would end up 25-minutes behind Nibali at the end of that race). Nibali is in a similar position time-wise than he was in 2016, but in a superior GC spot). I put this here to remind us that this isn't the Tour de France, and the GC picture in the first week compared to the end of the race is often wildly different at the Giro. I also just want to remind everyone that Fuglsang isn't to be trusted in grand tours (I'm a Fuglsang fan, I promise!)

It will be interesting to see how Joao does in the TT on stage 14. It appears like he is slowly leaking away his GC lead, but if he can pull out another TT performance like stage 1, he could reverse a lot of these losses and come out with a significant lead.

Kruijswijk lost more time today than Nibali, but he also lost time here in 2016 and was poised to win the race before crashing in the third week. It is hard to know exactly what we can glean from this and the GC picture is incredibly vague going into the first rest day. 

Not a great look for Trek that they put the team on the front to increase the pace and then their leader gets distanced in the finale.

Pozzovivo can't TT to save his life, but he is riding well (although he did get distanced on the ramp today), and if/when things break down in the second week, he could be a huge benefactor. I think Pozzovivo winning a chaotic Giro would be the most fun thing ever, so I'm biased. 

All of this assumes that the race will make it to the 3rd week and that all the riders will still be in the race after the rest day COVID tests. Simon Yates' positive test and news out of Rome signals that the Italian government is rattled by the rising COVID cases in the country and could start looking to cancel the Giro. If Joao can just hold on for as long as possible, he could steal a Giro win here.

At first glance, this second week looks boring, but I think things could get really wild really fast. Some of these stages are incredibly hard, even if they look like "easy" stages on paper. The Italian topography is unforgiving and stages without the high mountains could actually encourage more attacking and aggressive racing.
Gent-Wevelgem Takeaways:
I missed most of Gent-Wevelgem, so I will just breakdown the final few kilometers here, but I might circle back at some point later this week after I rewatch the race to see if we can glean any insights for next week's Tour of Flanders (Flanders is so small that the Tour is a one-day race).
To me, the big story up top for this race is Mathieu van der Poel committing a party-foul by simply racing to keep Wout van Aert from winning the race. Van der Poel spent the final 5km shutting down van Aert and then refused to work when the winning move went. Outside of being a buzzkill, this tells me that he is hurting after a few weeks on amazing form and could be lacking some form for next weekend's Tour of Flanders.
First of all, racing in Belgium is awesome. The races are all-out from the gun and 200-riders are forced to fight for position in tiny roads (yes, that is a road) pictured in the screenshot below.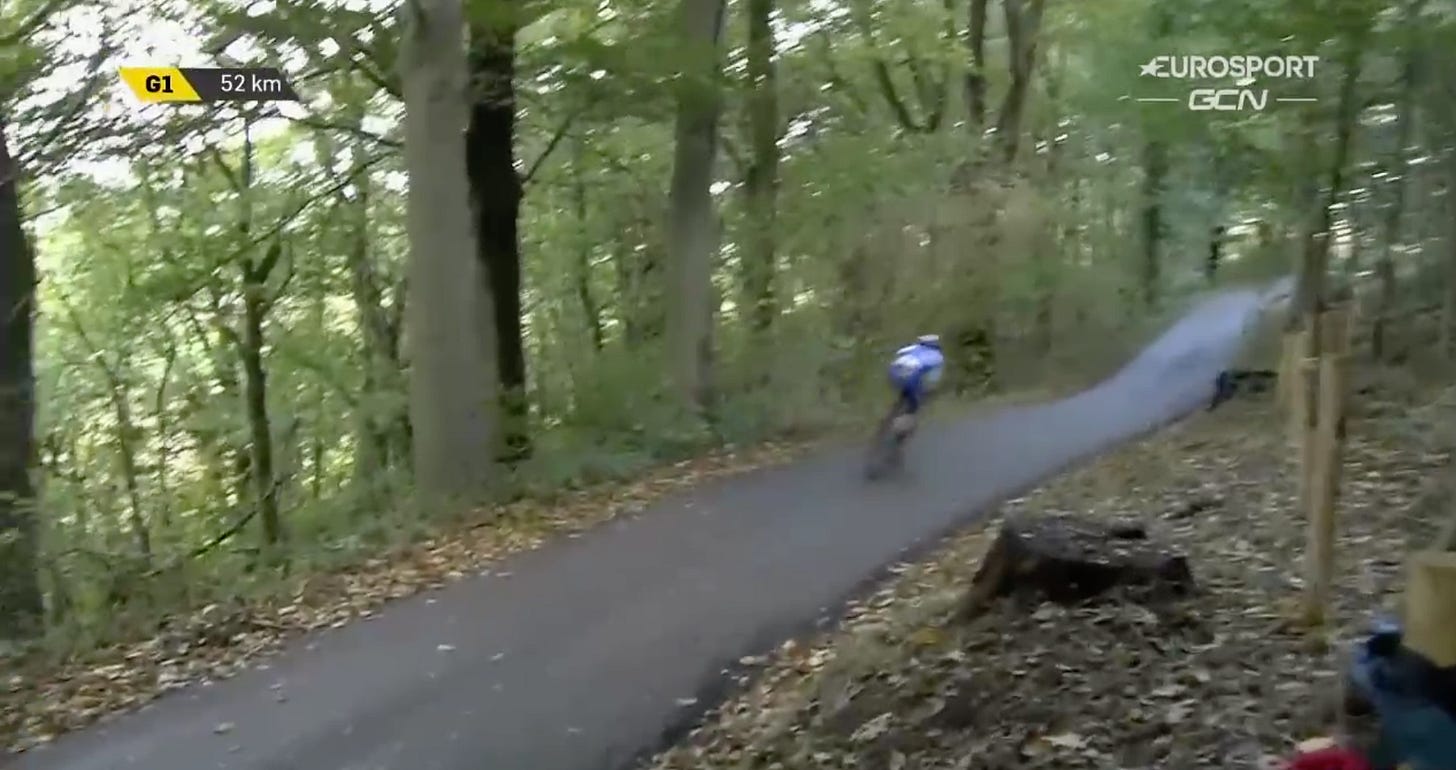 From what I've seen of the race, it was extremely hard racing all day, and we entered the final 15-kilometers with an elite selection of the world's best classics riders.
4.8km-This group is absurdly strong. We have the 2019 World Champion Mads Pedersen and 2019 Tour of Flanders winner Alberto Bettiol, but this is essentially a two-man race between Wout van Aert and Mathieu van der Poel. Van Aert attacks off a move from Florian Sénéchal and we can see van der Poel is caught off-guard in second-to-last wheel.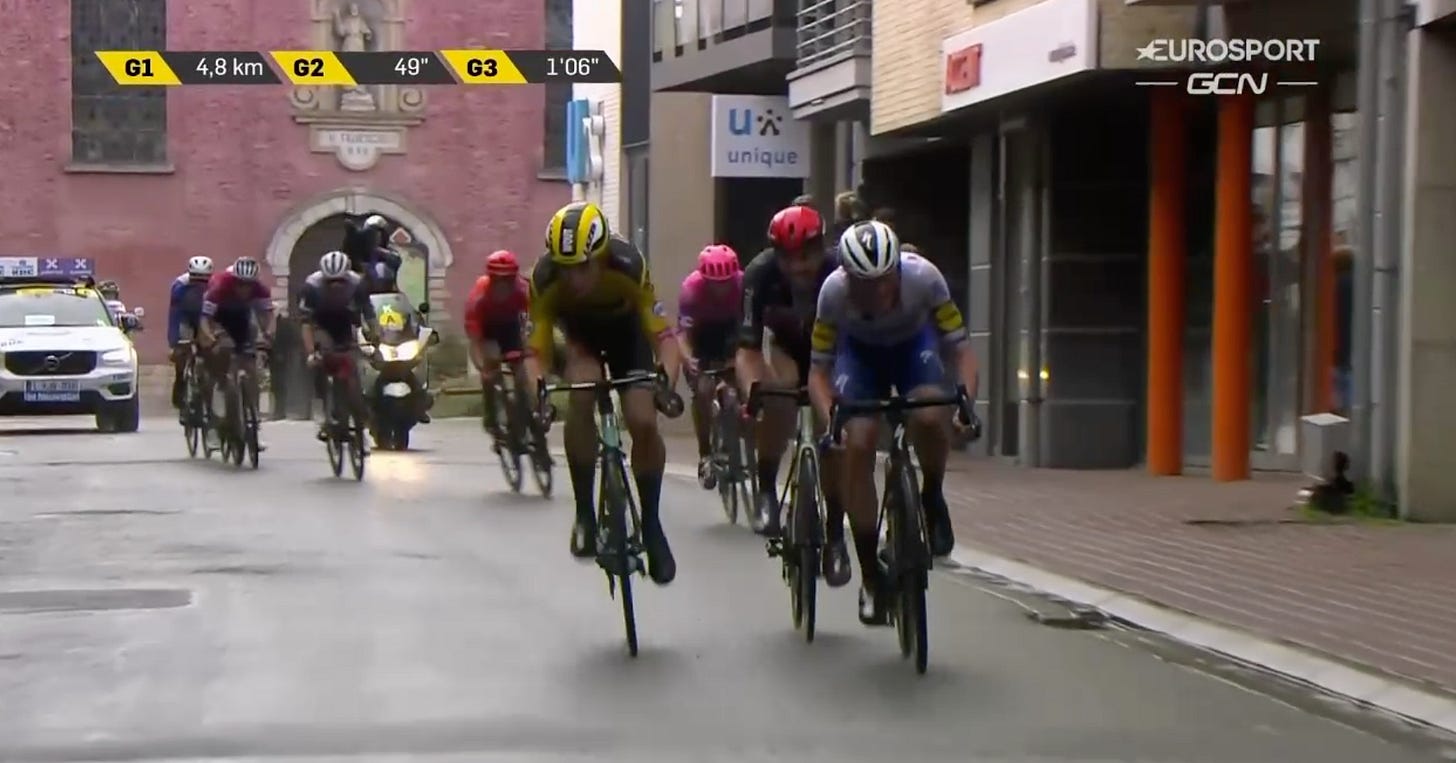 4.5km-Van Aert has a clean gap and van der Poel hasn't gotten to the front to chase him down. I thought he was free and clear at this point.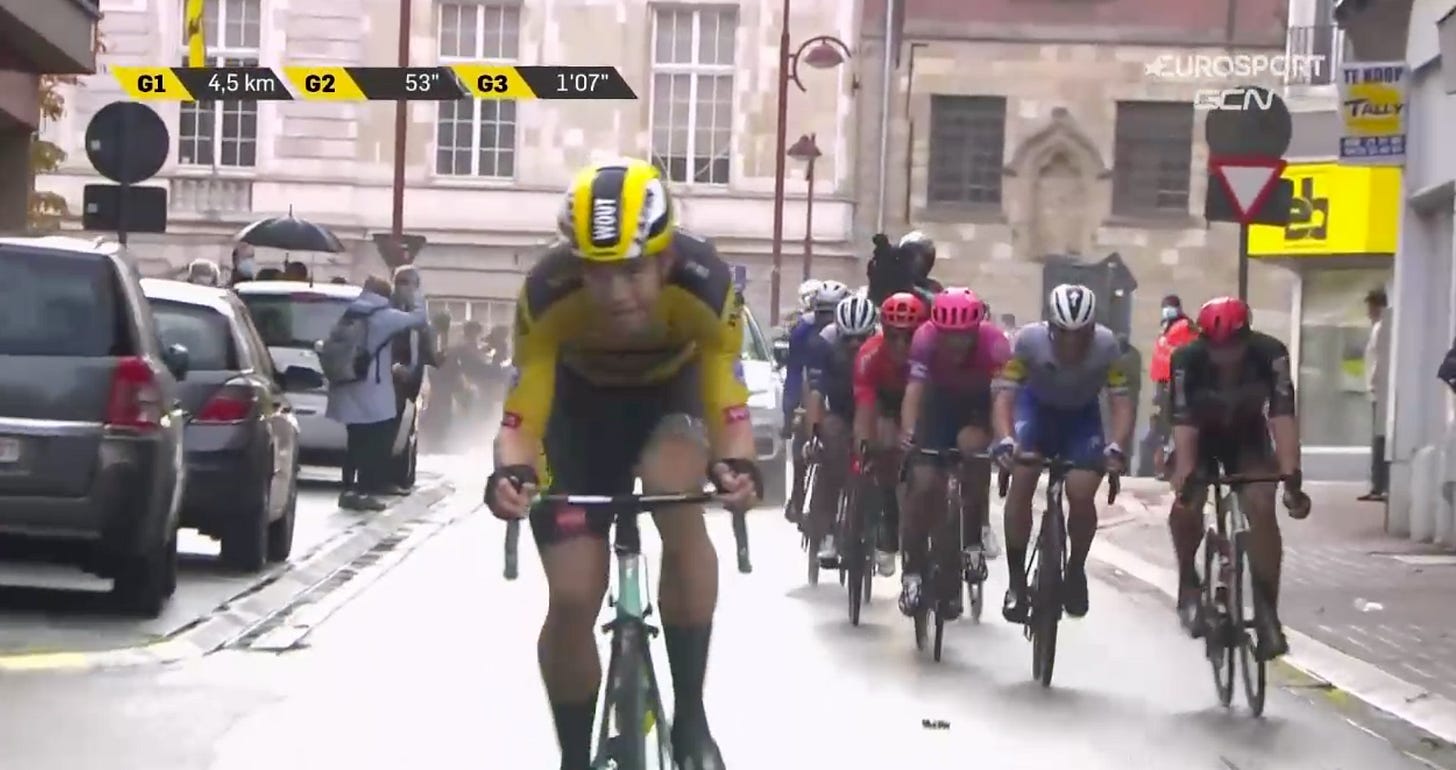 4.2km-However, just a few moments later, MvdP has attacked to bridge up to van Aert. The rest of the group can't let this go and Matteo Trentin goes to the front to shut it down.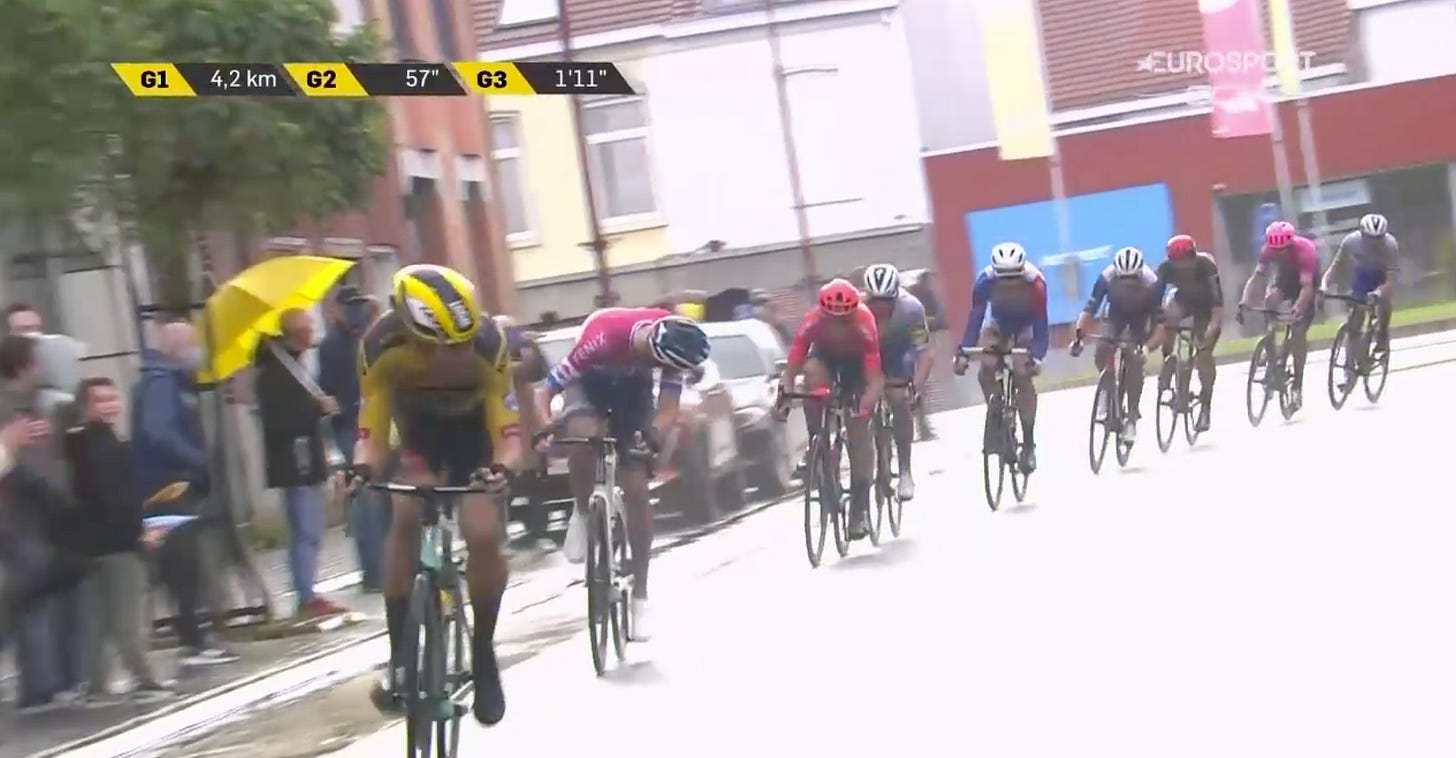 4km-The group comes back together which is immediately followed by a slowing in the pace. This slowing means another attack is imminent, and sure enough, Stefan Kung, who knows he can't outsprint anyone in this group, attacks over the top. He is followed by Bettiol, van Aert and Sénéchal.
3km-This group is perfect for van Aert, who will smoke these guys in the sprint, but we can see MvdP once again chasing behind.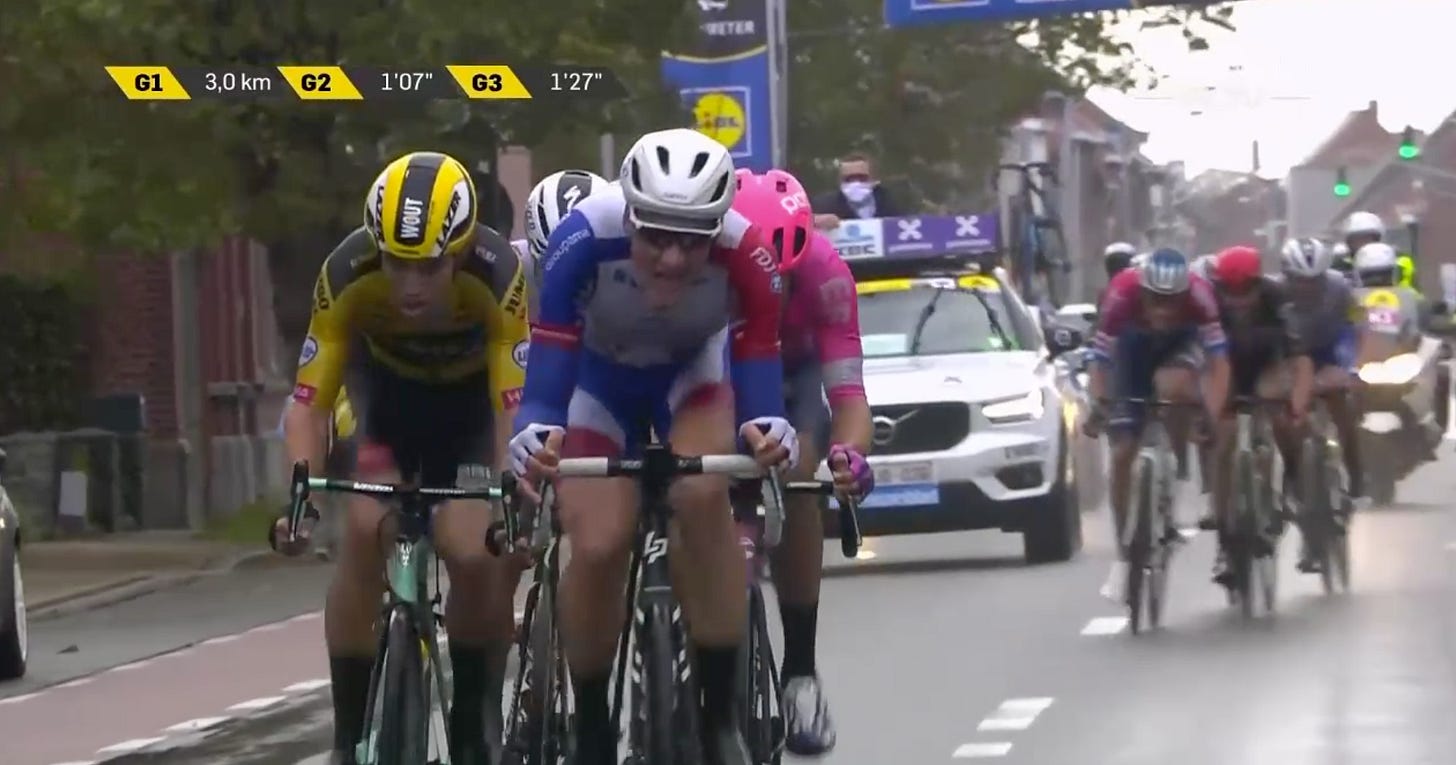 1.4km-Once again, the race comes back together and the pace slows, which allows Bettiol, Sénéchal, and Trentin to attack and get clear. This is the winning move due to both van Aert and MvdP being stuck in the group behind. Those two riders hate each other due to their bitter Cyclocross rivalry, and won't work together to pull these three leaders back. Pedersen knows this and you can see him attack from the back of the chase group just as John Degenkolb is looking the other way.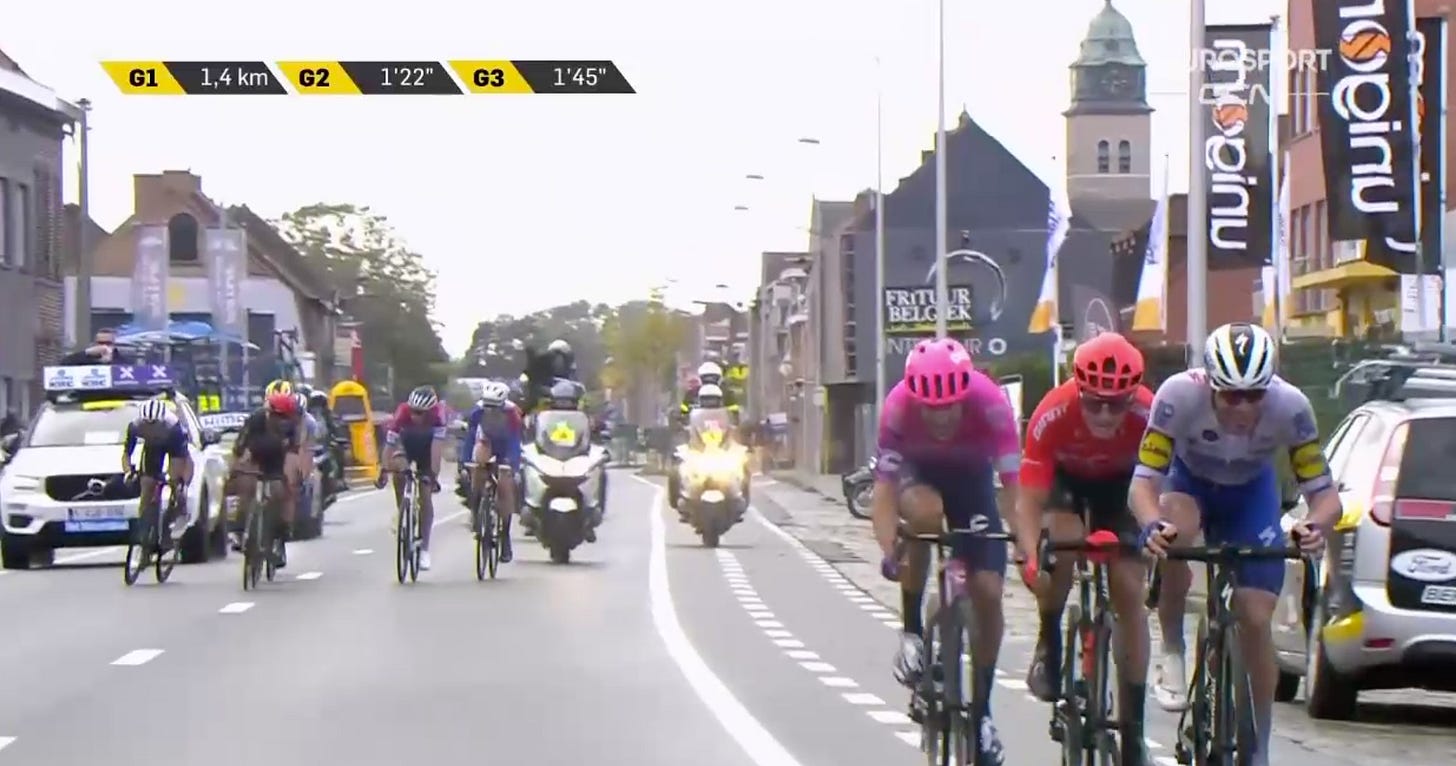 1.2km-Pedersen sprints across the gap by himself and this is the race-winning move. He is emerging as a great sprinter (remember, he got 2nd on the Champs a Elysees) and knows if he can make the junction, the race is his. Van Aert attempts to close the gap but is followed closely by van der Poel, and when he pulls off, van der Poel refuses to work and van Aert sits up. The race is over.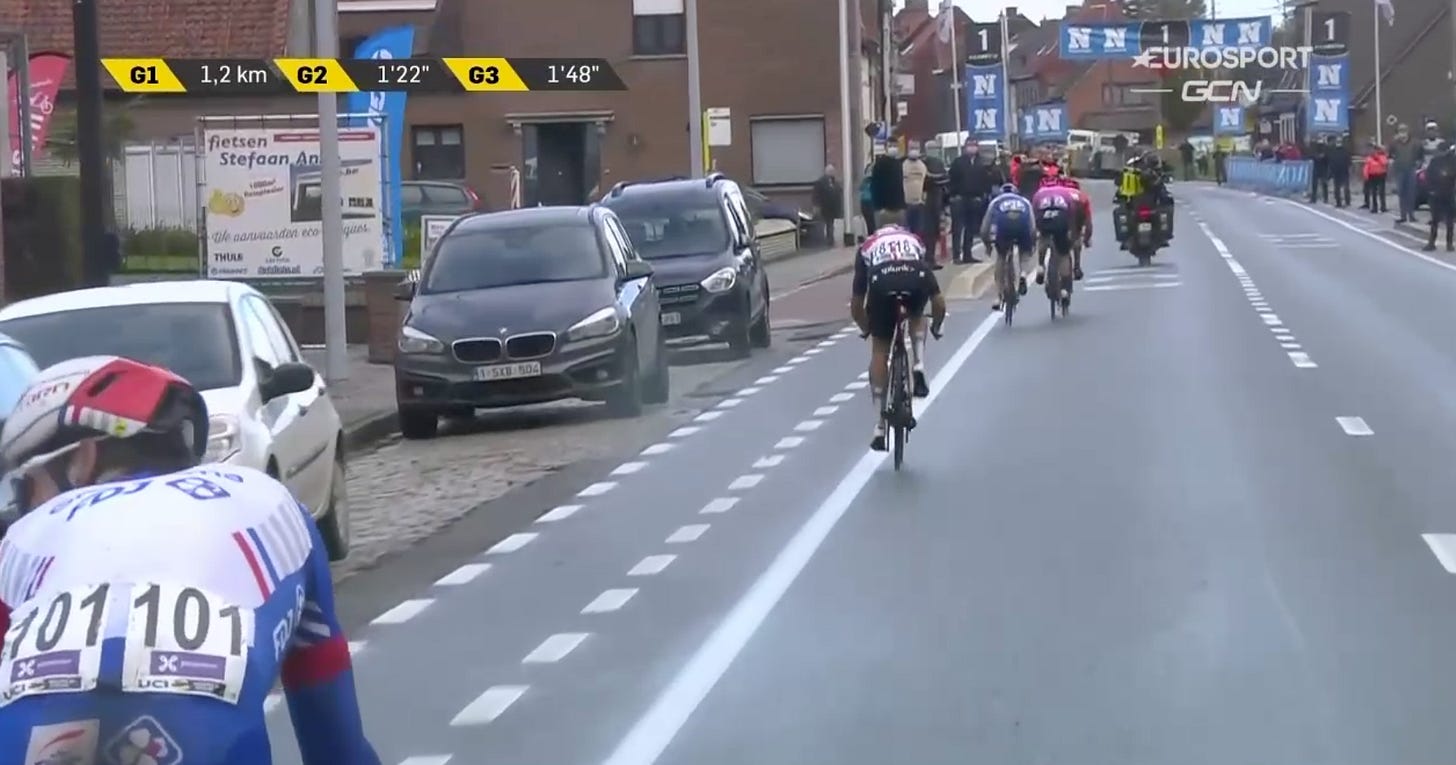 Finish-Sure enough, Pedersen smokes Sénéchal in the sprint.
Pedersen wasn't the favorite for the win, but he will rack up some major victories due to the rivalry between van Aert and van der Poel. Anytime stars like those two emerge, it becomes harder and harder for them to actually win big races since they get marked out of races. People remember 2005-2014 as the Boonen-Cancellara era, but remember, those years saw riders like Stuart O'Grady, Nick Nuyens, Johan Vansummeren, and Stijn Devolder win Flanders/Roubaix due to the massive amount of attention focused on the two major stars.

Van der Poel may be the biggest talent in the sport, but he has a lot to learn if he wants to make the transition from the winner of races like the BinckBank Tour to a Monument winner.

Additionally, van Aert is going to have to learn how to win while being marked so heavily. He had an amazing run of one-day wins back in August (Strade-Bianche & Milano-Sanremo) but he can't ride under-the-radar anymore, the secret is out, and he has to learn how to deal with this attention.

Flanders will be a different story due to its harder finishing circuit, but I wonder if van Aert was using today's finish to show van der Poel that he won't help him win races if van der Poel is going to race so negatively and mark him so closely.
Tomorrow is a rest day at the Giro, but I will send out a brief newsletter to cover any COVID positives in the peloton and preview Tuesday's Stage 10.