Le Tour: Breaking down if Jumbo blew it & Quintana's doping chatter
Digesting Jumbo's collapse, Pogacar's comeback and Quintana's potential doping problem
If you find these weekly newsletters helpful, you can buy me a coffee to keep me fueled while up early watching races.
I am offering a daily newsletter during major races like the Giro d'Italia and Vuelta a Espana, along with two additional newsletters per week during non-GT weeks for paying subscribers. To get this real-time racing and team strategy analysis, sign-up below.
The latest episode of the Beyond the Peloton Podcast is live. I go in-depth on a lot of the topics covered here, talk potential doping at the race and play some roadside audio from the Stage 20 TT. 
The first day without the Tour de France is always a strange day, but I'm taking today to look back at the past three weeks and attempt to answer a single question: Could Roglic and Jumbo-Visma have done another differently to avoid their crushing Stage 20 defeat?
Also, we awoke this morning to the news that Nairo Quintana's hotel room had been raided following Stage 17 last week, and that the authorities would be moving forward with a doping investigation based on what they found. Considering how mediocre he was at this race, this doesn't bode well for the peloton as a whole.
Major GC Takeaways:
Did Jumbo screw up? People are saying they should have pressed their advantage and "got rid" of Pogacar, but the kid is clearly the strongest rider in the race, so how would they have done that? Yes, it is great to take time when you can get and not wait until the third week, nobody is more of a fan of that than me, but I can't think of a single point when they could have dropped Pogacar other than the two times they did on Col de Loz and the Stage 7 crosswinds

Roglic certainly looked like the strongest rider in the race on the Stage 4 summit finish, but Pogacar was the only rider that could stay right behind him.

I'm not sure if attacking 3km down the mountain would have distanced him or attacking on Stage 8 would have done anything either.

Jumbo distanced Pogacar on Stage 7, but in the end, he was so strong that ended up helping him. It allowed him to delay getting the jersey until the very last moment, and if that team would have had to defend the jersey and control the peloton mid-race, the race could have spiraled out of control. I know certain media members are saying, this proves teams don't matter, but teams do matter to the extent that if the Yellow Jersey's team can't control the race, things can get chaotic and a leader can easily lose a race.

A lot of people like Eddy Merckx are daying Jumbo screwed up by "not getting rid of Pogacar," but nobody is putting forth how exactly they were supposed to do that. It is hard, if not impossible, to drop a rider that is stronger than you.

It is also interesting how the narrative has shifted from "they are too strong in the first week!" "The Tour is won in the third week, "It is all about conserving energy" to "They should have pressed their advantage" "Take time when you can"!

When Simon Yates did exactly that at the 2018 Giro d'Italia, only to have an epic collapse in the final week, while Chris Froome, who had been struggling for the first two weeks, launched an epic, long-range attack to win the race in the final three days, the popular theory in the media was that Yates had blown it by riding too hard early in the race and that it was better to ride "easy" in the first two weeks and save your attacks for the final few days like Froome.
Did Roglic fall apart in the TT?
My assessment is: Not really.
Richard Carapaz slow-pedaled the TT course and then rode the climb as fast as he could. He is a climbing specialist grand tour winner, and he only beat Roglic's time on the climb by nine seconds. If you told me the day before that this would happen, and Roglic would finish 40-seconds behind Tom Dumoulin on the stage, I would be sure he would have secured the overall. 
Roglic did 6 watts/per kilogram on the final climb, and people are saying this isn't great. But this can't be compared to the 6.8 w/kg he was doing on similar climbs earlier in the race, because he was 40-minutes into a threshold effort by the time he started the climb. He was most likely riding at 6w/kg for the 40 minutes before he started doing the climb at 6w/kg.
To put into perspective just how fast Pogacar's time on the climb was, he beat Chris Froome's record by 10-seconds, and Froome did the climb at the end of a very easy road stage, was drafting 70% of the way up the climb, and didn't have to stop and change bikes during the effort like Pogacar (while drafting doesn't give you a huge boost at those grades, it does help).
His watts per kilogram are being estimated at 6.9w/kg for the climb of La Planche, roughly 460 watts. This is insane considering he was probably around 6w/kg for the 40-minutes prior to the climb.
I had some thoughts on Pogacar's possible use of doping techniques in yesterday's premium newsletter. Click here to read.
To read more into Roglic's performance on the final TT, let's take a look at the four time-checks on the course.
The first time check was the first half of the rolling, flattish section. We see Remi Cavagna had the fastest time, followed by Tom Dumoulin, a flat time trialing specialist and former World Champion, with Tadej Pogacar, a rider with little-to-no flat time trialing pedigree, only five seconds behind him. Roglic's time right behind Kasper Asgreen and in front of Wout van Aert is exactly what you would expect, but he is already a stunning 22-seconds behind Pogacar. And the "hard" part hasn't even started yet.

The second time check is the last half of the "flat" section, and we see here that Pogacar is really flying. He puts four-seconds into Dumoulin, and Roglic is hemorrhaging time to Pogacar here. He has almost lost the race lead before the climb even begins.

The third time check is the first half of the climb, and we see Pogacar has taken a fast time on the flats and cranked it up even more for the first half of the climb. We can see Porte and Wout van Aert were pacing this slightly slower on the flats but saved a lot for the climb. Roglic isn't great here, but he is still climbing pretty much equal to great climbers like Kamna, Carapaz, Martinez, and Quintana, so it's certainly not a meltdown.

The fourth time check is the final few minutes of the climb, and Pogacar is still trucking along here. Porte, who is flying, still surrenders 16-seconds. Van Aert's performance on these steep slopes is really, really impressive, and could indicate that he could become a GC rider in the future. Roglic actually goes up this at a decent clip, just a second behind Tom Dumoulin, who would finish second on the stage. I think on a good day, Roglic would want to be a few seconds faster than van Aert and Porte here, but it would be a real stretch to go 16-seconds faster than them at the end of an extremely tough time trial.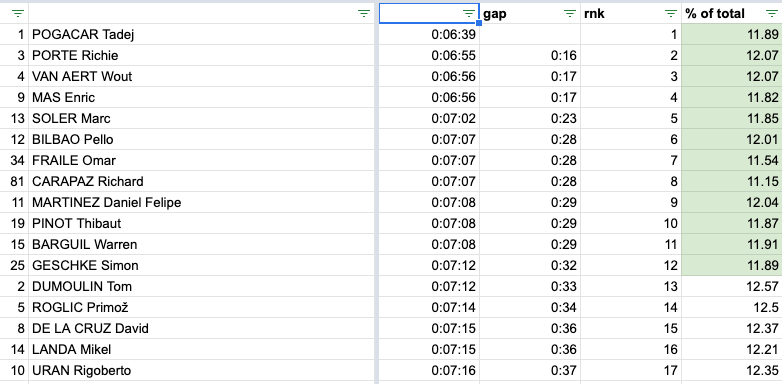 Here is the total time for the climb of La Planche de la Belle Fille. I think on a really good day, Roglic would have ridden this around, or just slightly faster, than Richie Porte's time of 16:32. Remember, even if he did that, he still would have lost the overall lead by 1-second, due to his time losses already sustained on the flat section.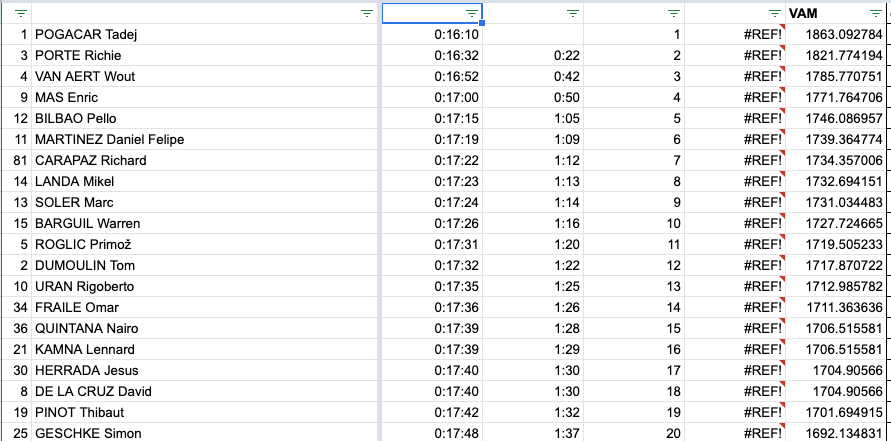 About That Stage 8 Attack
If I could point to one spot where Roglic potentially blew the race, it would be letting Pogacar ride away on the Peyresourde during Stage 8. This attack let him close his gap to Roglic from 1-minutes 25-seconds to 45-seconds. If Roglic has these extra forty seconds going into the final TT, that 1'37 advantage MIGHT have been enough to save his race.
When we look at a screenshot of the attack, it looks like Roglic and the others simply let him go.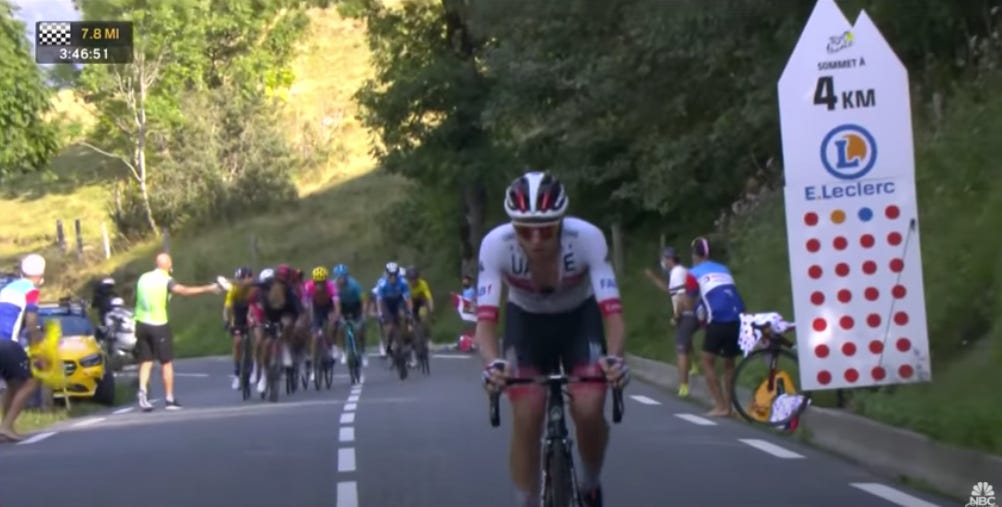 Just from the photo, it looks like Pogacar is riding pretty hard while the others squabble behind.
But if we look at Pogacar's power file, it tells a different story and leaves us to believe that Pogacar simply rode everyone off his wheel with brute force. He averaged 428 watts for the 25-minute climb. You can see how jerky the effort was for the first half of the climb, the attack, and then a high sustained effort to the top.

If you zoom in on the spike on the purple line, which is his power spiking during his attack. He hits 860 watts and averaged 521 for over a minute during the attack in the middle of a 7w/kg effort, which is insane.

But the most impressive part of this performance is that he actually averages more power after the attack, 444 watts, than before it, 412 watts. 

Looking at these numbers, it doesn't seem overly obvious that Roglic "let him go." These are some of the highest power numbers I've ever seen, like Lance Armstrong/Alberto Contador at the peak of their powers (and doping). Perhaps Roglic could have followed, but I take issue with people simply assuming that's what happened.
Even though this attack and sustained powers are somewhat unbelievable, this effort was only 25 minutes long, which makes it more reasonable. However, his TT effort was twice that long and he was essentially putting out the same power. Add this to the fact that he has practiced power transparency his entire career, but decided to ride the final TT with no power meter on his bike, and I'm a little suspicious. 
Also, this supports my theory that Roglic didn't really crack, he rode 6 watts per kilo for the final TT, which is really good, similar to Wiggins' and Froome's winning time trial rides at the tail end of the Tour. He just happened to be going against a guy that averaged close to 7 watts per kilo for an hour, and there isn't much you can do about that. Tom Dumoulin looked to be back at his World Championship winning level and got beat by over a minute. I think this shows that there isn't much Roglic could have done to save this race.
Pogacar stopped uploading his power after this Stage 8, likely due to people gawking at the absurd numbers and beginning to wonder if something was amiss, but if we take his estimated power from Stage 13 when Roglic finally attacked him, he is doing around 420 watts for the final 15 minutes up the absurdly steep ramps of Puy Mary to hang on Roglic's wheel. In my mind, this is as good as we saw Roglic all race, and he is putting out slightly less power than Pogacar was on Stage 8.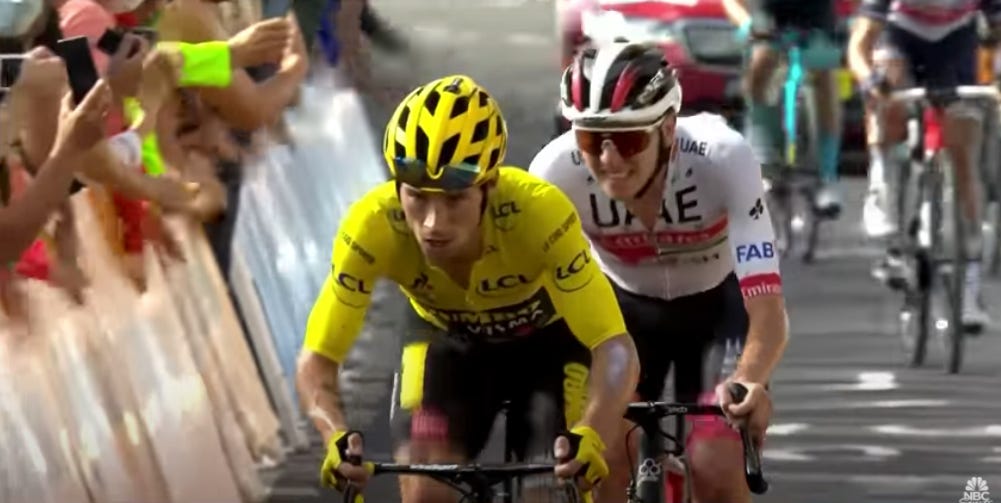 Pogacar looks to be struggling here somewhat while Roglic is stonefaced, but at the end of the stage, Pogacar is still glued to Roglic's wheel, despite the ridiculously steep finish ramp. I think this was the best Roglic could throw at Pogacar and he couldn't even get a second.
At the end of the day, Pogacar was the stronger climber and time trialist at this Tour de France, displayed by his extremely large margin during the final TT and the climbing records he set on the Col de Peyresourde, Col de Marie-Blanque, Pas de Peyrol, Grand Colombier and Planche des Belles Filles. It isn't clear to me how Jumbo should have gone about 'getting rid' of him, outside of an unexpected do-or-die long-range attack, which wouldn't make sense with a minute lead.
There have been complaints about riders not attacking in the mountains, but I think people aren't understanding that they literally cannot. The pace at this Tour was SOOOOO high. I went back watched Team Sky shred the Tour de France on la Blanche de la Belle Fille in 2012, and to think that Richie Porte is riding faster than his younger self in that video is mind-boggling, and that Pogacar would have easily dropped Froome that day is simply unbelievable. Porte is riding faster than he did during his time at Sky and is just barely hanging on. The level in the mountains is now is so much higher than it was just a few years ago, and riders are doing their best just to hang on.
Random Musings
It is interesting how Roglic seemed like an unbeatable machine just a few weeks ago, but now he cuts a figure that is oddly similar to Cadel Evans, who actually had a similar loss at the 2008 Tour de France to Caste Sastre.

A Climber's Tour? Let this be a lesson to everyone for future Tours. We kept hearing how this race would be won in the mountains, and that the gaps may seem small so far, but we will see huge gaps on the big Alpine climbs. However, if we look at the total time lost/gained between Pogacar and Roglic, the biggest loss for Pogacar came on the flats in the crosswinds, while his biggest gain came in the 36km TT. The mass start mountain stages saw the climbing sensation pull out a mere 32-seconds.

People will remember this Tour as Jumbo putting in work for three weeks and then blowing it, but they truly ascended to the level of team dominance that Sky had enjoyed in year's past. If they can find the money to keep these riders together, look for them to be dominant for years to come with riders like Tom Dumoulin, Sepp Kuss, and Wout van Aert coming off the "bench."

Also, this collapse validates their decision to let Wout go for stage wins. Those two stages win mean they didn't lose it all on Stage 20.

Putting this comeback in perspective: The greatest Tour finish of all-time and the great TT comeback of all time was Greg Lemond coming back from 50-seconds down on Stage 21 24.5km TT in 1989 to win the overall by 8-seconds. He made up 2.4 seconds per kilometer. Pogacar made up 1'56 in 36km on Roglic to win by 59-seconds. He took 3.2 seconds per kilometer.

Where does Egan Bernal fit into the sport now that Pogacar has emerged? He was the youth sensation last year after winning the Tour at 22-years-old, but 12 months later he seems washed up. It will be really difficult for him to come back and win multiple grand tours against the extremely talented youngsters like Pogacar, who can climb with him but are far superior time trialists.

We should also be cautious about assuming these young riders will continue to improve and go on to dominate for years to come. Jan Ullrich won the Tour at 23-years-old, and Andy Schleck won the Tour at 25-years-old, but both would never win another Tour again.
Quintana's Hotel Room Raid
I touch on this in today's podcast, but the fact that Nairo Quintana looked so good for the first half of the Tour de France before visibly losing a gear, and then had his hotel room raided where doping products were allegedly found, is horrible news for the entire race. Nairo was pretty good, but he certainly wasn't great at this race. He was just hanging on in the mountains when things got tough. If Quintana is proven to have doped in the 2020 Tour, it will leave us to assume that those who were better than Quintana were also doping. We don't know anything concrete at the moment, but this is all starting to feel a lot like 2006 all over again and I wouldn't be surprised to see the house of cards fall in the coming days.