Le Tour: Final week thoughts & Stage 16 preview
Taking the rest day to preview the Tour's final week
If you find these weekly newsletters helpful, you can buy me a coffee to keep me fueled while up early watching races.
I am offering a daily newsletter during the Tour de France, Giro d'Italia and Vuelta a Espana, along with two additional newsletters per week during non-GT weeks for paying subscribers. To get this real-time racing and team strategy analysis, sign-up below.
The latest episode of the Beyond the Peloton Podcast is live. I have EF-Education First Performance Manager Nate Wilson on to talk about their pre-Tour camp process, training theories, the incredibly fast climbing speeds at this year's race, and how he sees Roglic and Pogacar handling the high Alpine climbs in the third week. 
As crazy as it seems, we are about to enter the final week of the Tour de France. The first two weeks were full of extremely hard racing and have birthed a thrilling Green Jersey battle, but the GC remains unusually tight with only seven stages remaining.

This is due to a few factors, but the main reason is the lack of a time trial, which always builds gaps between GC contenders. The lack of a TT also leads to less attacking on climbs since when the GC stays clustered together, nobody has the perceived incentive to go all-in to attack. There is false security in this since riders like Lopez, Yates, Landa, and Quintana are almost guaranteed to lose 1.5-2 minutes in the final time trial, so their closeness to the lead isn't completely reflective of their true position. There really should be a "TT-Adjusted GC" leaderboard that takes historical TT performances from every rider and shows what they need to make up on riders like Roglic, Pogacar, Porte, and Uran (on a good day) before the Stage 20 TT.
I have heard some criticism of Jumbo-Visma for dominating on the Grand Colombier on Stage 15 and failing to put any time into Pogacar (they actually lost 4 seconds due to the time bonus at the finish line), only putting 5-seconds into Richie Porte, 8-seconds on Miguel Angel Lopez, 15-seconds on Mikel Landa and Adam Yates and 18-seconds on Rigoberto Uran.
In my opinion, these criticisms are missing a few things. Firstly, Jumbo put over seven minutes into Egan Bernal, the defending champion and a threat for victory as long as he is close to the race lead. With him so far out of the race lead, they no longer have to deal with Ineos, a diminished, but still strong team, attempting to derail them in the finale of mountain stages. They also don't have to put any time into other riders, since they have the best time trialist, Primoz Roglic, in the Yellow Jersey and part of the reason they are riding so hard is simply to play defense and deter attacks. He could follow wheels all the way to Stage 20 and win the race. The onus is on the others to put time into him. As long as they can keep the pace too fast to attack, they will win the race. If they are dropping riders with their defensive pace, that is just gravy.
There is only one rider they fear, and that is Tadej Pogacar. Roglic would certainly feel better if he had more time on the young Slovenian, but launching an attack 3km from the finish line on yesterday's stage isn't the answer. He hasn't been able to drop Pogacar in the mountains so far, and any attempt in those past stages would just be needlessly isolating himself from his team and playing into Pogacar's hands.
Going back to the Stage 20 TT, the 36km course is tailored-made for Roglic. It features 30km of flat-to-rolling terrain, followed by a difficult 6km climb at 8%.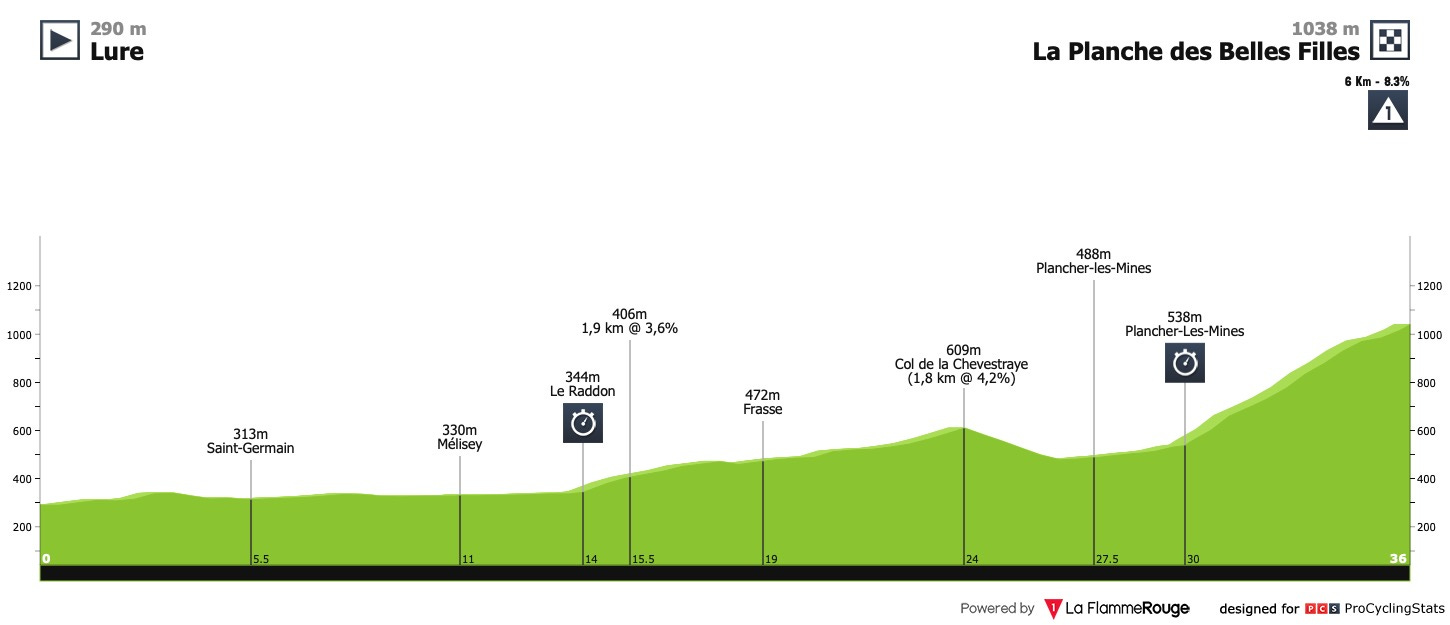 While Pogacar doesn't have the TT pedigree that Roglic has, he is the reigning Slovenian TT national champion, beating Roglic by 9-seconds on a 30km course that had a whopping 2,300 feet of elevation gain.
Pogacar averaged 420 watts for the 24-minute climb to start the race and then 305 watts for the 10-minutes "flatter" section afterward. This shows the kid can generate an absurd amount of power, but the pacing here is actually quite poor. If that TT was a few kms longer, the older, more experienced Roglic would likely have overtaken him.
Another key data point we have for Roglic v. Pogacar TTs in the 36km TT from the 2019 Vuelta. The course featured a few shorter climbs and wasn't nearly as difficult as the Tour's Stage 20, and Pogacar lost 1:29 to Roglic. This doesn't bode well for his chances of besting Roglic on Saturday but this was a day after Pogacar put 48-seconds into Roglic on a summit finish, so perhaps Pogacar was hurting after digging deep.
After looking at these two data points, it seems like the best Pogacar can hope for is to finish around the same time as Roglic in the final TT, which means he needs to take at least 40-seconds going into it. My guess is that he has Wednesday's Stage 17 circled. It is a brutal, high-altitude mountain stage, and finishes on a long climb that is literally on a bike path that has incredibly steep pitches for the final few kms. Roglic's Jumbo team will struggle to control the race here and if Pogacar thinks he can drop the race leader in the mountains, this is where he has to try.
However, history on Roglic's side. Despite all the talk of "the Tour is won in the third week," in the past 32 editions of the Tour, the race lead has only been taken after the second rest day a total of seven times.
Stage 16 Preview & Predictions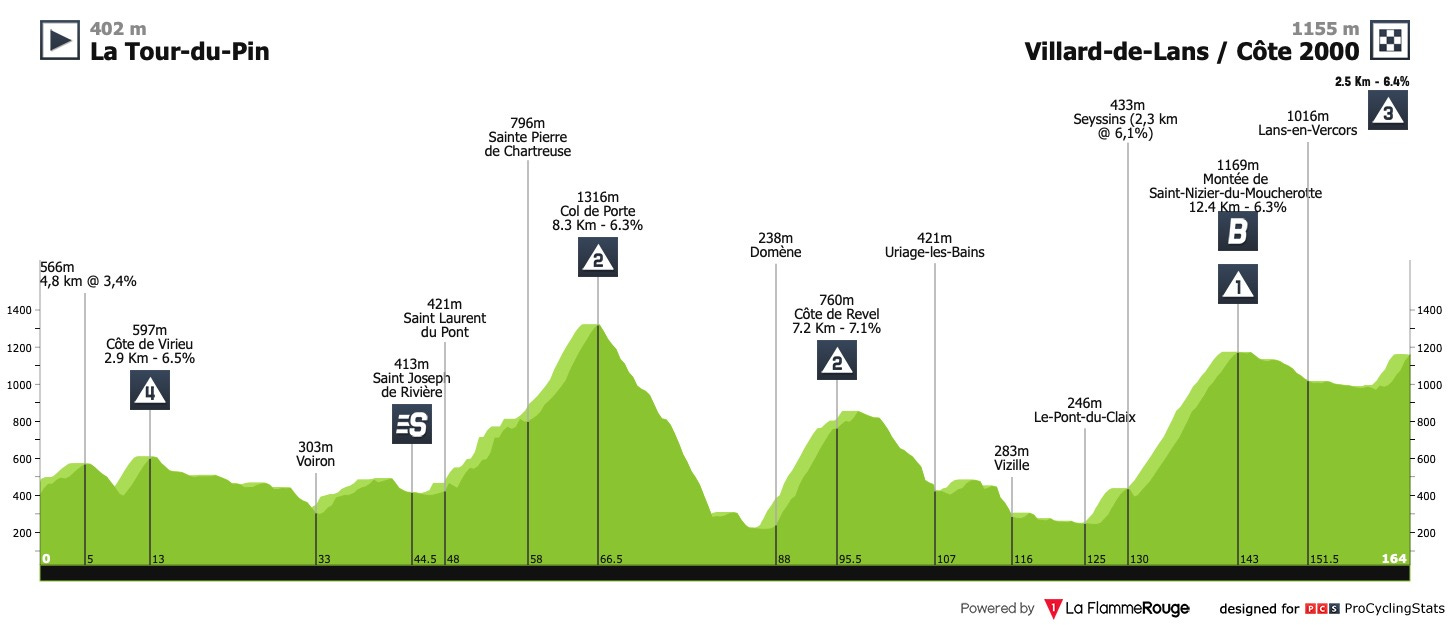 Tomorrow's 16th stage races through the heart of the Alps and the 164km stage traves over four climbs from La Tour-du-Pin to a punchy finish in Villard-de-Lans.
Stages following rest days are ALWAYS weird and we usually see a GC contender stumble. Riding hard every day and then taking a day off will confuse a rider's body and some will struggle to start the engine back up again.

Villard-de-Lans, the ski resort just southeast of Grenoble, is steeped in cycling history. Erik Vanderaerden won a time trial here in 1985, Pedro Delgado was victorious in 1987 and 1988, Laurent Fignon took the spoils in 1989, Erik Breukink in 1990, while Lance Armstrong won here in 2004.

The stage starts uphill and after a short drop the Côte de Revel we will undoubtedly see Peter Sagan and Bora attempt to close his 45 point Green Jersey deficit on Sam Bennett by setting a brutal pace to drop the bigger sprinter on the 4th category climb before the intermediate sprint point. This will have the effect of making the race difficult for everyone and any GC contenders who are struggling to find their legs after the rest day could have a really hard time on the Col de Porte following the sprint.

The stage finishes with a 20km drag uphill, broken up by a slightly downhill plateau before a kick up in the last 2.3km, 6.6% climb.

This finish could see time gaps appear as a few riders are distanced on the steep climb and then forced to frantically chase back on the plateau, while the leaders go all-in to hold them off. This is similar to the thrilling Stage 20 in the 2017 Giro d'Italia, where we saw Tom Dumoulin forced to chase to limit his losses to the lead group led by Vincenzo Nibali.

Prediction: The breakaway can't get a sustainable gap due to the high pace going into the intermediate sprint, where we see Peter Sagan win and halve his Green Jersey gap to Sam Bennett. Tadej Pogačar outsprints Primož Roglič to win the stage and closes his GC lead to 36-seconds. Jumbo once again sets a blistering pace on the final climb and Richie Porte stays with Roglic and Pogacar and gets even closer to that final podium spot.