Le Tour Stage 10: Crosswind, bridges & road furniture
The peloton was greeted by COVID news, endless road furniture and unusually long bridges following their day off
This is a premium daily grand tour analysis newsletter. Thank you to current subscribers. If you were forwarded this newsletter or are on a complimentary membership and want to continue to get these in the future once your free trial ends, sign up below.
The Beyond the Peloton Rest-day podcast is live
Covid Rest-Day News: Ineos, Mitchelton-Scott, Cofis, and AG2R all had staff members test positive for COVID on the rest day. This means that if either team has another positive on next Monday's rest day, the entire team will be sent home. This could be a huge problem to Egan Bernal, since it is unlikely a staff member on Ineos was COVID positive and didn't spread it to anyone else on the staff or race squad. Also, the director of the race, Christian Prudhomme, tested positive. The big news here is that he hosts a guest in his car following the race every stage, and hosted the French Prime Minister on Saturday.
Stages following rest days tend to produce surprises and extremely hard racing, and Stage 10 started no differently. However, the end result, with Sam Bennett besting Caleb Ewan in a sprint finish and taking the Green Jersey doesn't tell the whole story. The stage was littered with echelons and crashes, but the main contenders regrouped before the finish, rendering the drama of the stage meaningless from a GC point of view.
Stage 10 Notebook:
102.6km-The two swiss escapes, Michael Schar and Stefan Kung are ALREADY getting pulled back, with their gap down to 21-seconds. This is really wild, the breakaways have been kept on really tight leashes for most of this tour. DQS is on the front trying to blow the race up just as the peloton turns into the crosswinds.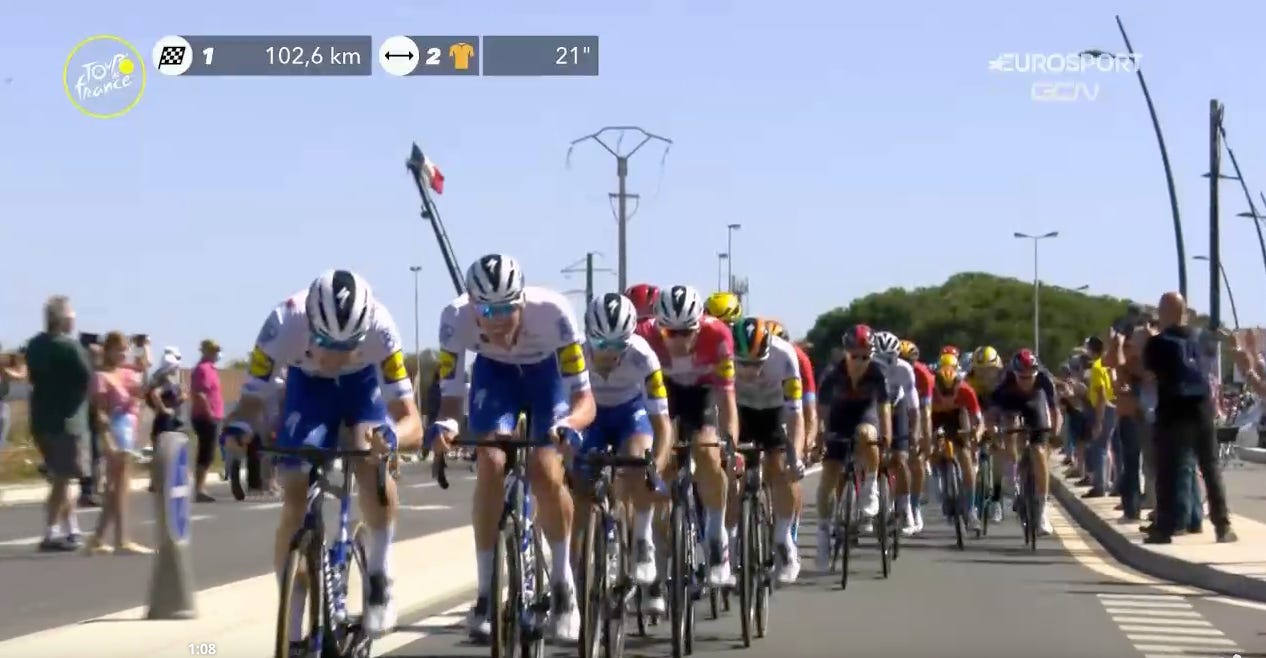 101.7km-The effect of this pace is already having an effect, as we can see splits already forming in towards the front and anyone not in the front "glob" echelon is strung out and grasping for any draft they can find.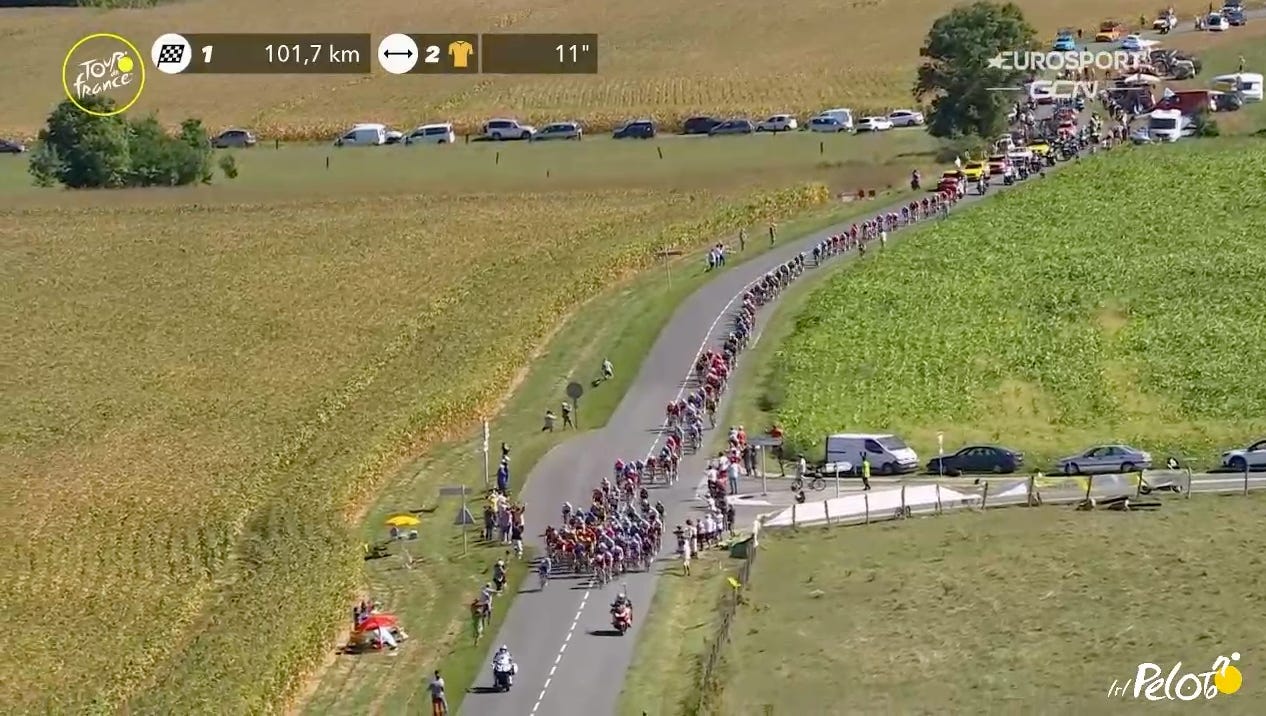 101km-No GC favorites are caught out and so the impetuous to help DQS is low, which causes the peloton to "blob" up. Things get incredibly dicey and dangerous when this happens.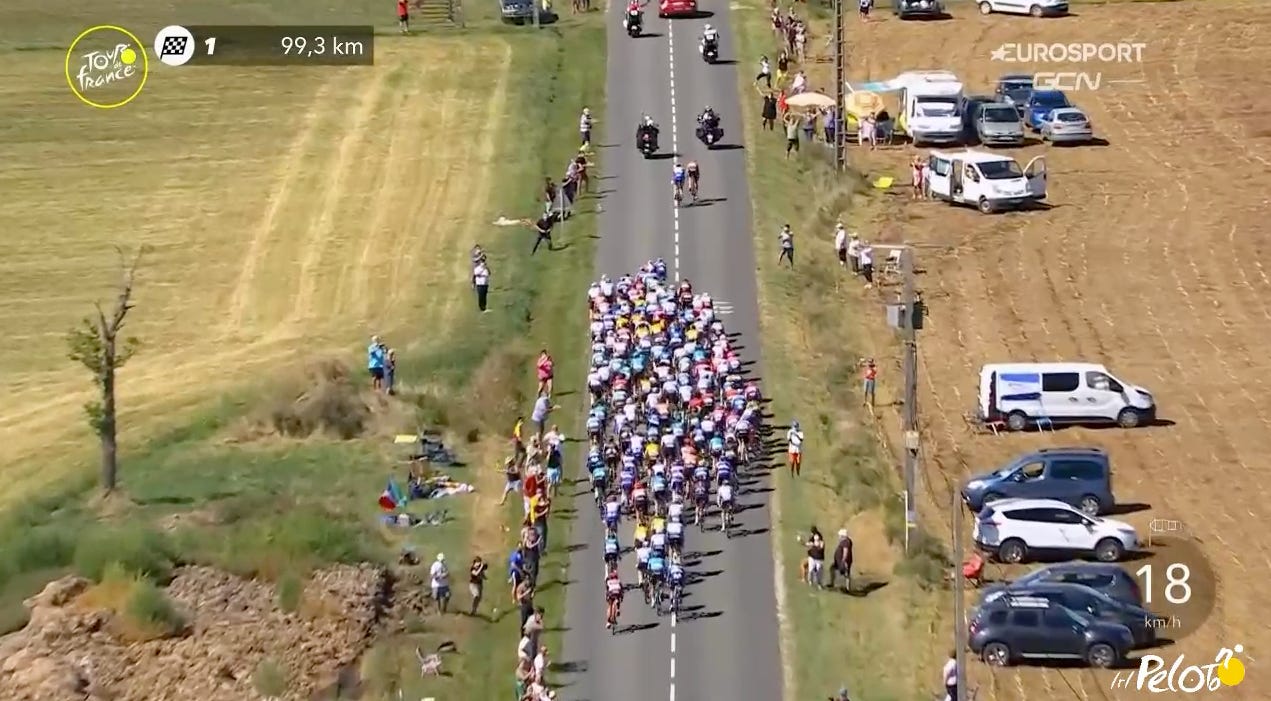 99km-And right on cue, a slight touch of wheels causes a chain reaction through the field that takes down an entire row of riders.
A few riders like Sam Bewley and Toms Skujiņš go down hard, with Bewley leaving the race with what looked like a broken collarbone. This gif shows why it is so important to ride at the front at all times if you want to win the Tour de France. You can be riding along minding your own business, and a touch of wheels can end your race.
97km-Thinking Peter Sagan went down or was caught behind the crash, Bennett's DQS team literally starts sprint at the front of the race to break it up and put him out of contention for the intermediate sprint.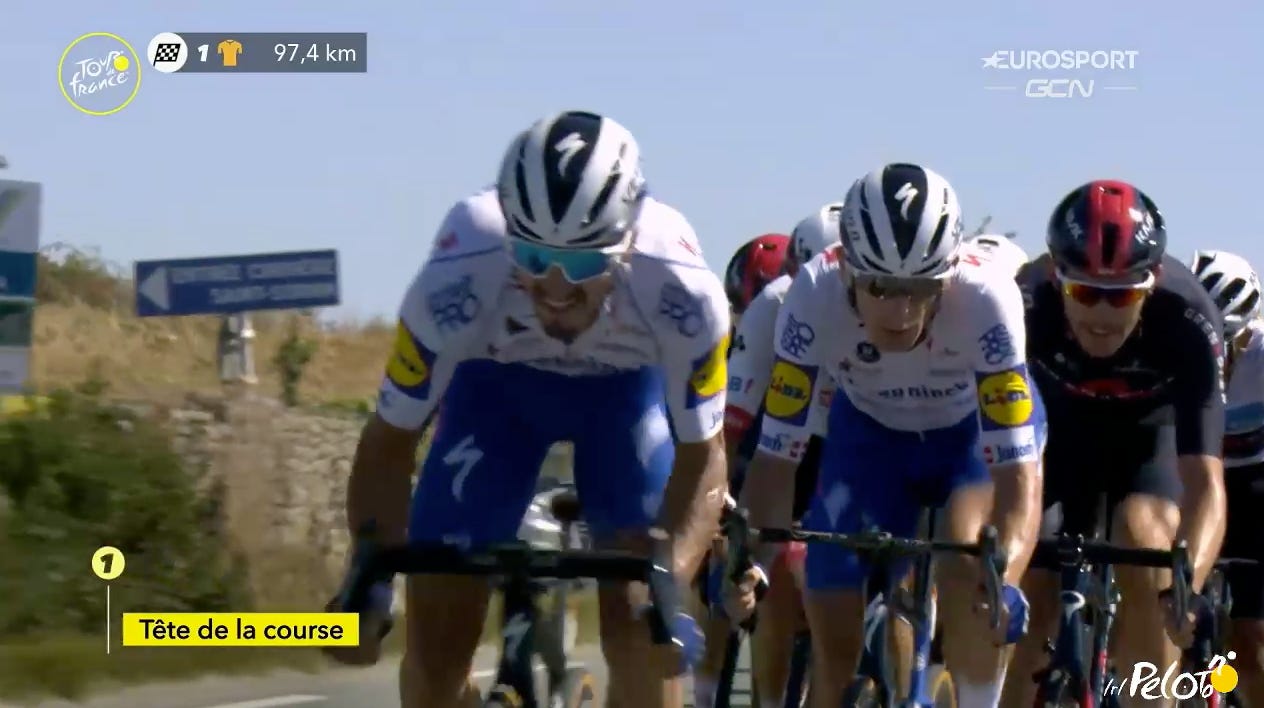 93.9km-DQS realizes the TV graphics are incorrect and Sagan is actually in the front and they ease off the pace. We got a shot of Richie Porte sitting in the back of the front group. This is exactly why Richie Porte (#101) is always "unlucky" when splits happen and has never won a grand tour as a result. After the hard lesson everyone JUST received about the importance of being at the front, he is casually riding at the back of the group.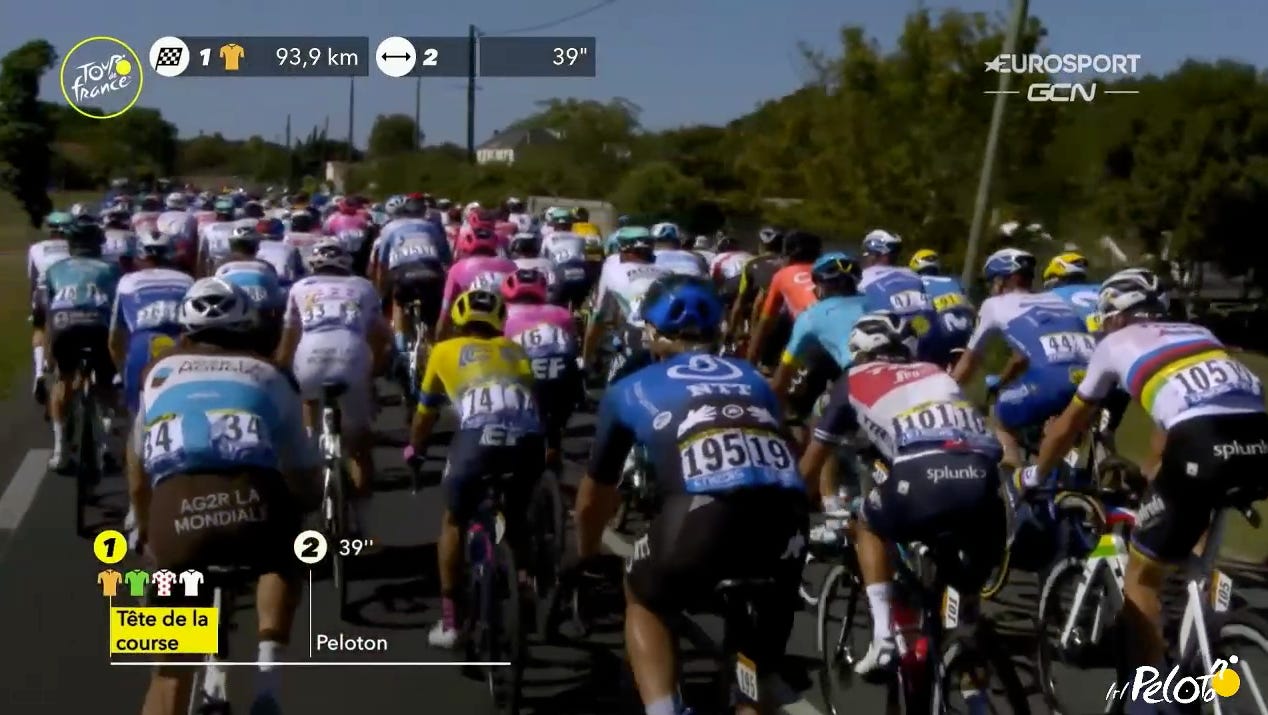 Note: My co-analyst, a 4-month old, needs his diaper changed at this point, so I miss a few kilometers.
89.4km-40km-The attacks chill out but the peloton stays tightly bunched across the road, with nerves and anxiety running high. There are a few crashes, with Tadej Pogacar and Guillaume Martin being briefly caught up and distanced. Nobody wants to take it up the work of trying to break the race apart here but are worried about others doing so.
-There are lots of complaints about road furniture during this portion of the stage, and there is certainly an absurd amount along the course, but it's a tricky issue. They are a major societal gain and show a willingness of the French government to invest in infrastructure and I"m not quite sure what the race organizer, ASO, could do about it. They obviously can't go through rip out roundabouts and medians prior to the stage.
39.4km-Intermediate sprint-Matteo Trentin wins this with Sagan coming in second. Bennett comes in behind Sagan in third, which is a big boost for Sagan. Trentin's win is interesting since it signals an intent to chase this jersey. He has beaten Sagan in a few of these and could be a real darkhorse for the Green Jersey, and at +3300 odds, he wouldn't be a bad bet. 
19km-Peloton turns into crosswinds and Ineos goes to the front to split it for Egan Bernal. It kind of works and Martin is dropped and forced to chase back on. Crash at the back of the group, which yet again shows why you have to be at the very front
16km-Heading onto a really long, scary-looking bridge. If I was in the race, I would pull over and refuse to ride over that bridge out of fear of falling into the ocean. There will be no place to hide from the crosswinds on this passage over the sea out to Île de Ré.
14.8km-Martin made it back on, really impressive. Miguel Angel Lopez gets spit out the back but claws his way back on after his team drops back to pace him.
10km-Even after all this chaos, Porte is once again at the back of the peloton. It's like he is addicted to the thrill of potentially have his raced ended by a crash at any moment.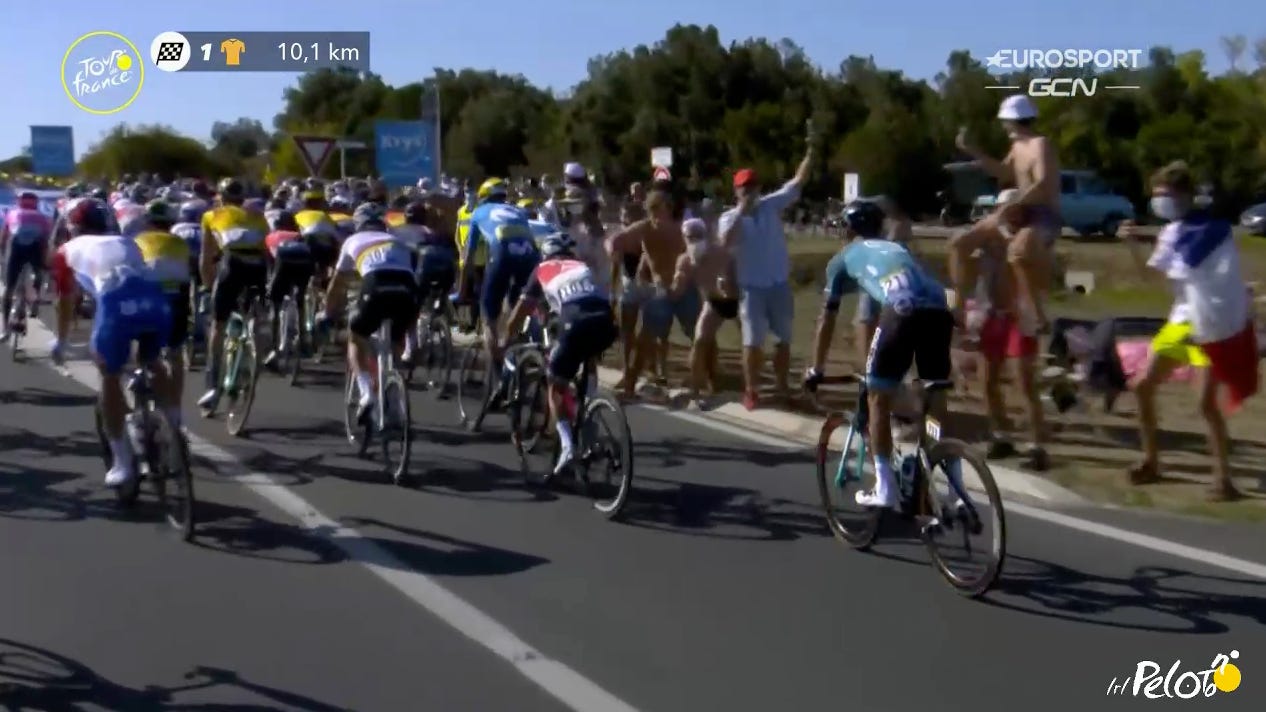 9.3km-Porte's poor position is even crazier when we get a look a the front. The race is thoroughly on here, with multiple GC teams burning matches to keep their contenders at the front.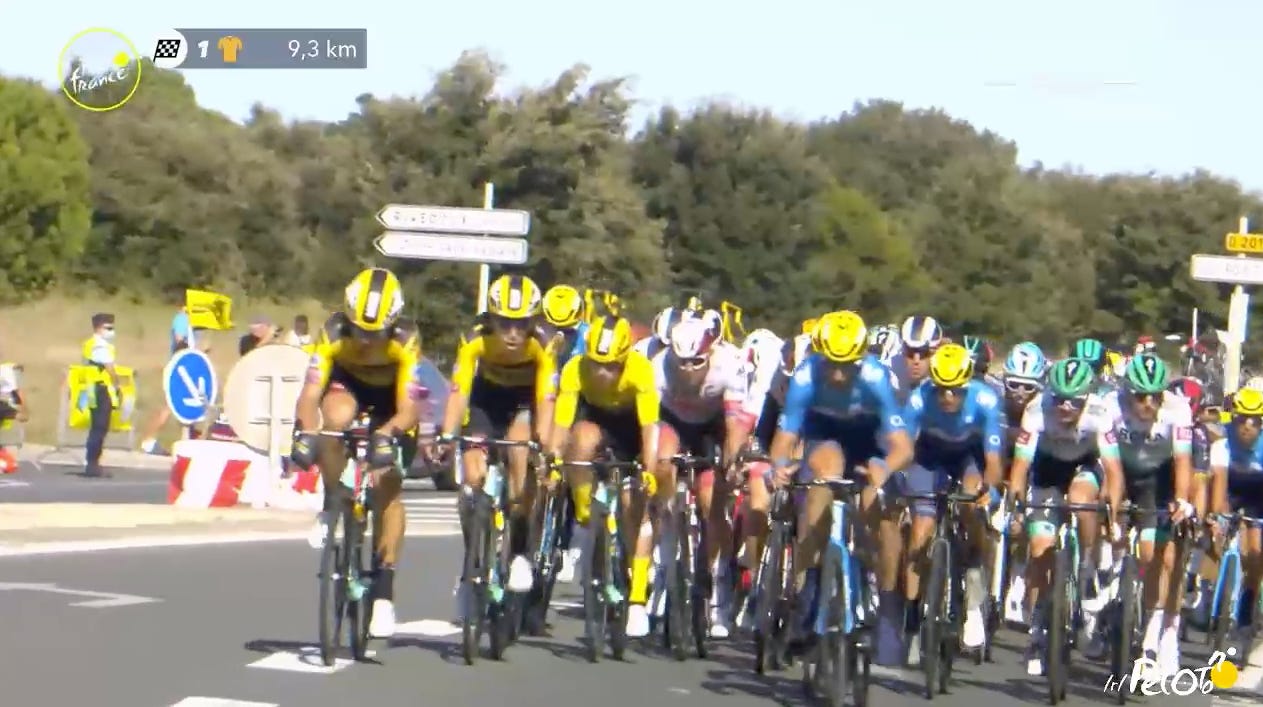 8km-Peloton has a tailwind, so it's fast but unlikely to split until they turn
Final km-Sunweb doing another amazing lead-out but its infiltrated by DQS and Ewan.
Bennett jumps first, and it's a savvy move since at that distance, the first man almost always wins. This is the exact opposite of stage 3, where Ewan sat back and roasted a Bennett after he jumped early in a head-wind sprint. Today, Bennett holds off a surging Ewan, and Sagan gets third. This is the best we've seen Sagan look at this race, but unfortunately for him, it is also the best we've seen Bennett look.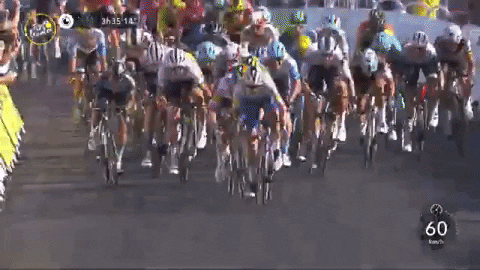 Major Takeaways:
After a difficult and stressful stage with multiple crashes and crosswind splits, we got a fairly routine bunch sprint and no major changes with the general classification.

We got a great example of the fickle nature of crosswind racing. The conditions were perfect for the race to explode, but when everyone expects it, it makes it much harder to actually execute that strategy. Compare this to stage 7, when the crosswind split got a few teams and GC contenders surprise.

Tadej Pogačar has looked like the strongest rider in the mountains, but his struggles on the flats continued today. He was caught up in a crash and his already weak UAE Team, who lost Fabio Aru on Sunday, took another blow with Davide Formolo dropping out with a broken collarbone.

Bennett's win gives him a solid lead in the Green Jersey classification and he will likely extend it on Stage 11 & 12, but things get interesting starting on Stage 13 when the intermediate sprints are placed after a few climbs. Sagan showed some signs of life today, but Matteo Trentin appears strong enough to get over the climbs with him and fast enough to beat him at those intermediate sprints.

Sam Bennett's stage win is his first career win at the Tour de France and becomes only the 5th Irishman to win a stage at the race.
Stage 11 Preview & Predictions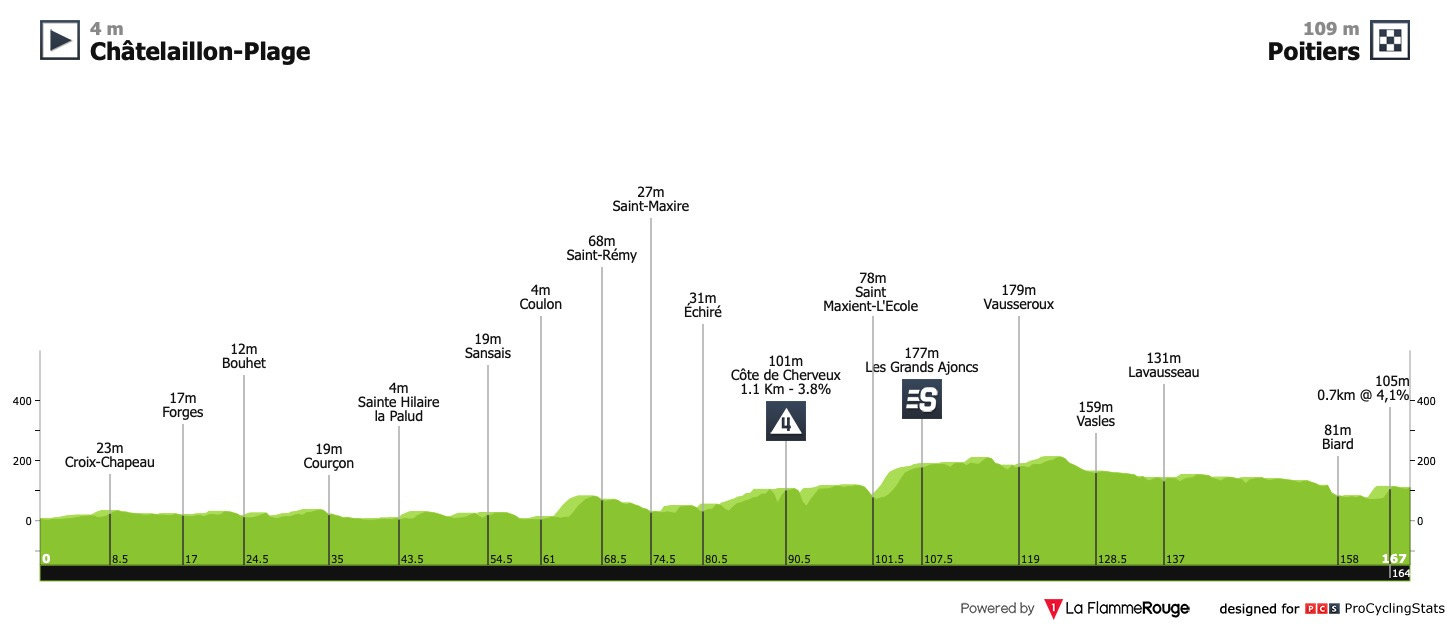 Another flat stage is on the menu for tomorrow for Stage 11, a 167-kilometer jaunt from Châtelaillon-Plage to Poitiers. The race leaves the coast and heads into the heart of France and through the marshlands of Poitou.
On paper, this should be the most "traditional" sprint stage of this year's race, with a breakaway likely to go early with the sprinter's teams slowly pulling them back before the finish. The only wrinkle is a .7km-long climb half a kilometer before the finish line, where an enterprising rider like Greg van Avermaet could launch an attack and spoil the sprinters' day.

Prediction: Sam Bennett gets up and over the final climb with an attacking group of riders, gets his second Tour stage win, and increases his Green Jersey lead. Primoz Roglic easily holds onto his Yellow Jersey and Benoît Cosnefroy increases his lead in the KOM competition.