Le Tour Stage 12: Breaking down a thrilling day in the Massif Central
We break down a transition stage that saw great racing finished off by an incredible individual performance
This is a premium daily grand tour analysis newsletter but today's edition is available to all to double as the free weekly newsletter. If you want to continue to get these during the Tour, as well as every other grand tour and major race, take advantage of the Tour de France discount below.
Stage 12 of the Tour de France was a classic run through the beautiful Limousin region as the race cut back through the Massif Central. The stage, which can only be described as incredibly exciting and fun, saw the GC favorites sit back in anticipation of the looming Alpine stages, and let the stage hunters shine, who treated us to a thrilling final 40-kilometers that saw Marc Hirschi finally get the stage win that has painfully eluded him so far.
Stage 12 Notebook:
It was really hard for the early break to get away right from the gun, with Peter Sagan trying to get in it but other teams, specifically Sam Bennett's DQS team, weren't thrilled about that prospect. To put it into perspective, the peloton averaged to 51km/h (32mph) in the first hour of the race. This would be as fast if not slightly faster than the hardest criteriums in the US, which are only 1.5 hours in length. Kids, get to Europe to race as early as possible if you want to be a pro bike rider.
Six riders eventually get up the road, including some world-class breakaway and one-day classics riders like Luis León Sánchez (Astana), Nils Politt (Israeel Start-Up Nation), and Kasper Asgreen (Deceuninck-QuickStep).
165km-Intermediate sprint-The break gets the first six spots, Sam Bennett gets 7th, with his teammate Michael Morkov grabbing the spot behind him, 8th, yet again. Sagan gets 9th and Bennett continues to extend his lead
82km-Despite the power in the breakaway, Bora is holding the gap down and their lead is only 1:40. It looks like everyone but Asgreen realizes they won't make it up and over the climbs before the peloton and they start to slow the pace, either to rest up in an attempt to hang after they get caught or potentially even trick the peloton into slowing down to avoid catching them too soon. Sometimes breaks will do this, and then when they get closer to the finish, they will speed up unexpectedly to pull out a big gap before the Peloton realizes what is going on.
46.9km-Bora is flying on the front as the peloton hits a 3rd category climb (aka kinda hard). Bennett and Mads Pedersen are dropped early, which shows how hard the pace is.
43.1km-Benoot and Soren Kragh-Andersen from Sunweb attack from the peloton to bridge up to the two remaining breakaway riders. They are absolutely flying and blow right by them. Asgreen jumps on for a second but can't hold the pace.
42.2km-Marc Soler emerges from the peloton and bridges up, showing signs of life for the first time this race.
40.7km-These guys are flying but the peloton is holding them close.
39.1km-37km-Soler goes solo, looks really good, and three Sunweb riders now up with him, including Marc Hirschi. Their teamwork is incredible and they now have numbers in the break and their strongest rider, Hirschi, in position to launch a solo move.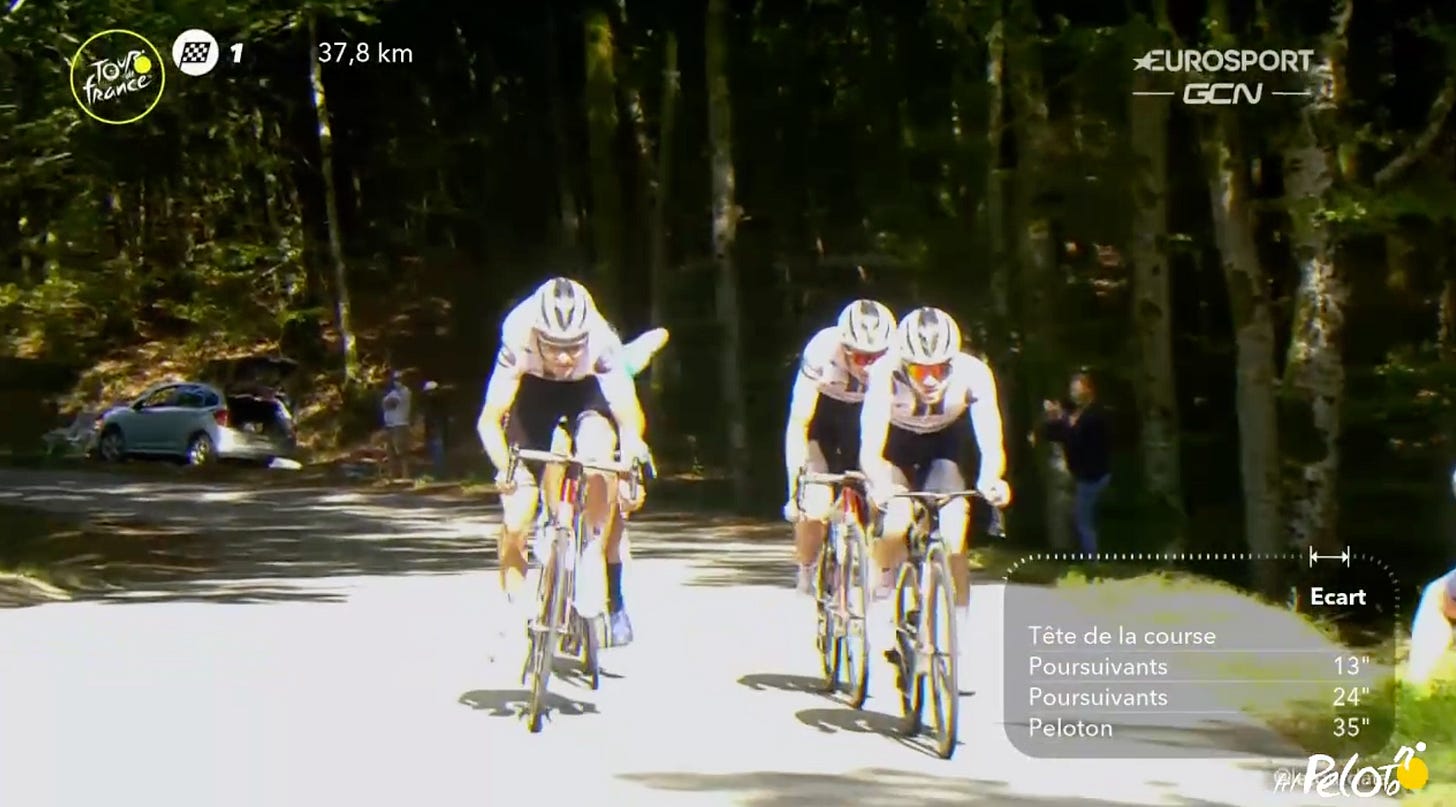 36.3km-Sergio Higuta is dropped and riding through the cars. I wonder if EF regrets leaving Michael Woods, who won a stage yesterday at Tirreno, off their Tour roster
33.4km-The Sunweb team time trial is pulling out time and is serious to this front group, out to 41-seconds, Bob Jungels working in the chase group to pull it back, but why? Certainly, his teammate Julian Alaphilippe wants to win this stage, so why is he pulling a group away from the peloton, sans Alaphillippe? Also, Jasper Stuyven is in this chase group, so even if Jungels can get to the finish line with this group in the lead, Stuyven will just beat them all in the sprint.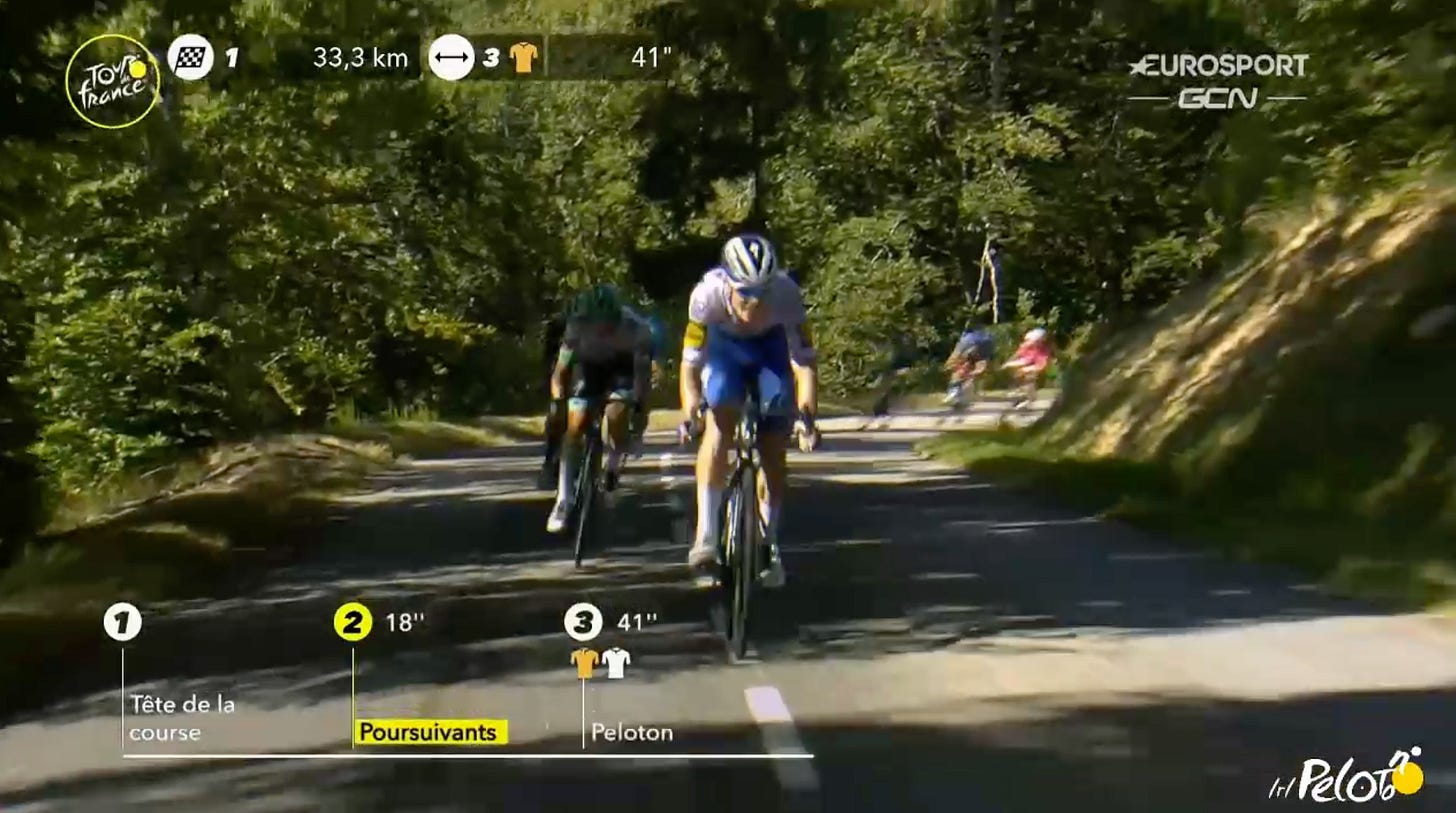 28.5km-Marc Soler attacks and gets away, but Hirschi chases after him and blows by him like he is standing still, wow. Soler is a great rider but Hirschi made him look like a cat 5 getting passed by a local pro on an evening group ride.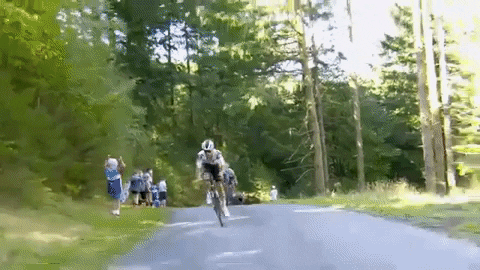 27.8km-Soler and Schachmann are dangling a few seconds behind him, but they might as well be minute back, Hirschi is gone.
26km-Alaphilippe attacks out of the peloton and bridges up to the second chase group, I don't understand why Bob Jungels was working on the front to pull that group away from the peloton, thus making this bridge harder
24.9km-Hirschi is flying on this descent, he's like Alaphilippe v2.0. He is braking so hard into the corners that his rear wheel is locking, it is both horrifying and thrilling to watch
21.8km-Hirschi is flying, you can tell the swiss kid was born with skis on. If he stays away, it will be tough for the peloton to pull him back. He actually looks like a downhill skier in the screenshot below, where he is super tucking through a turn (which is completely insane)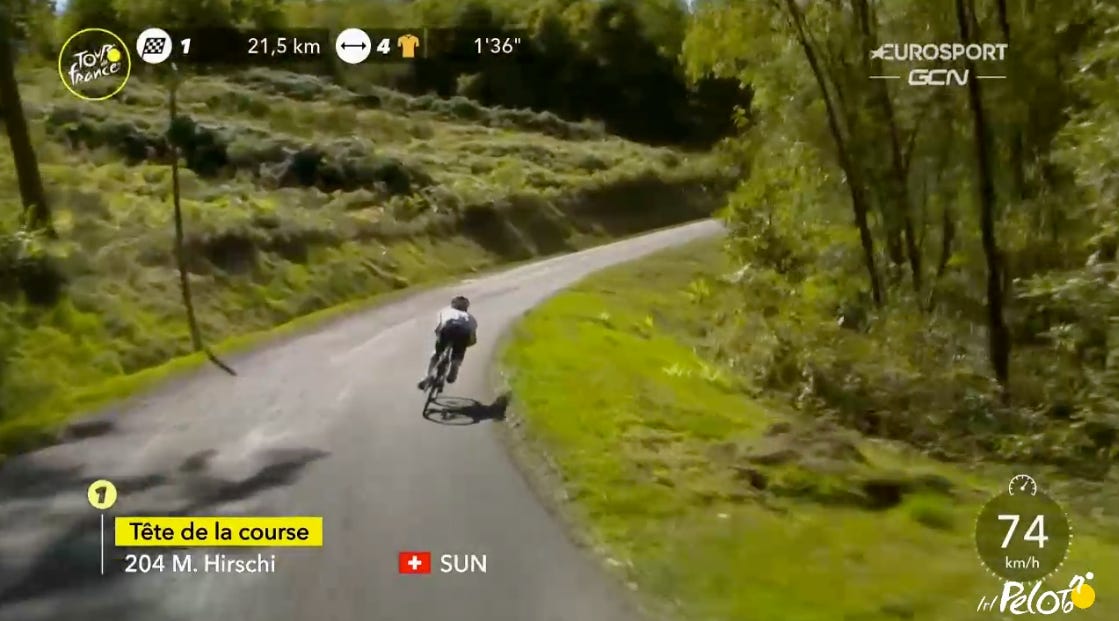 18.9km-The Alaphilippe group has actually lost time on Hirschi on this descent, gap now out to a minute, wow.
15km-Alaphilippe attacks solo to go over Hirschi but chases Pello Bilbao after him, once this infighting starts happening, it's over, they don't have a shot to pull him back.
-Hirschi has 2 minutes on the peloton, which is the only gap that matters at this point. He'll win the stage with that gap. Also, his bike computer is MASSIVE, it looks like he has a tablet on there. It seems to be a strategic workaround to rules stating you can't race with clip-on aero bars.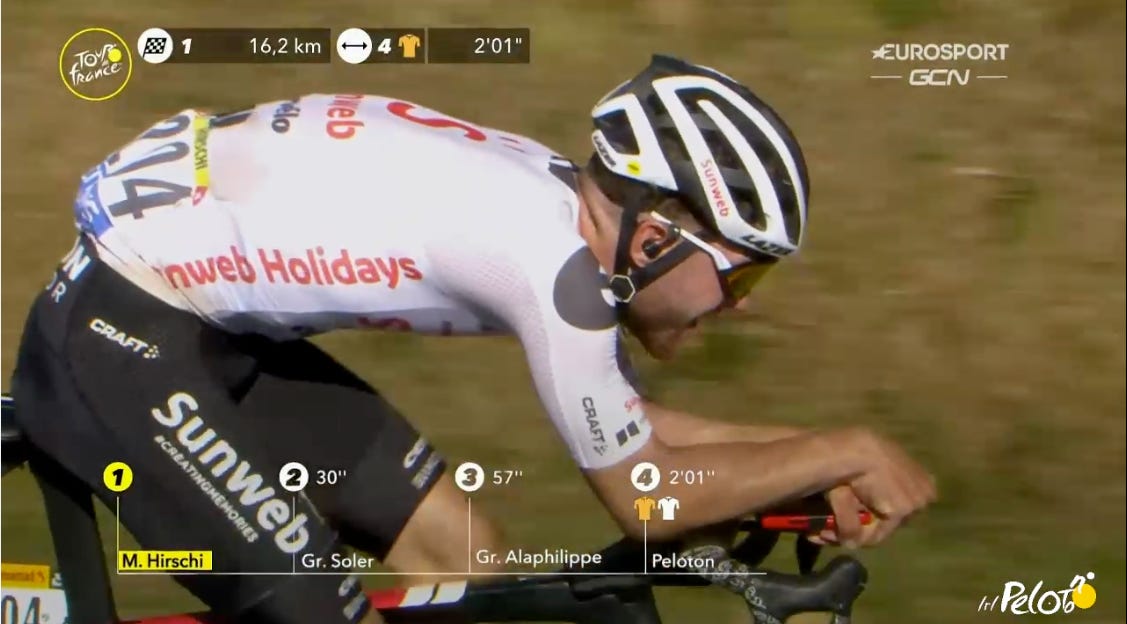 Whether this is strategic or not, it certainly works. In the screenshot below, he literally looks like he is riding a time trial bike. His aero position on the road bike is potentially the best in the world.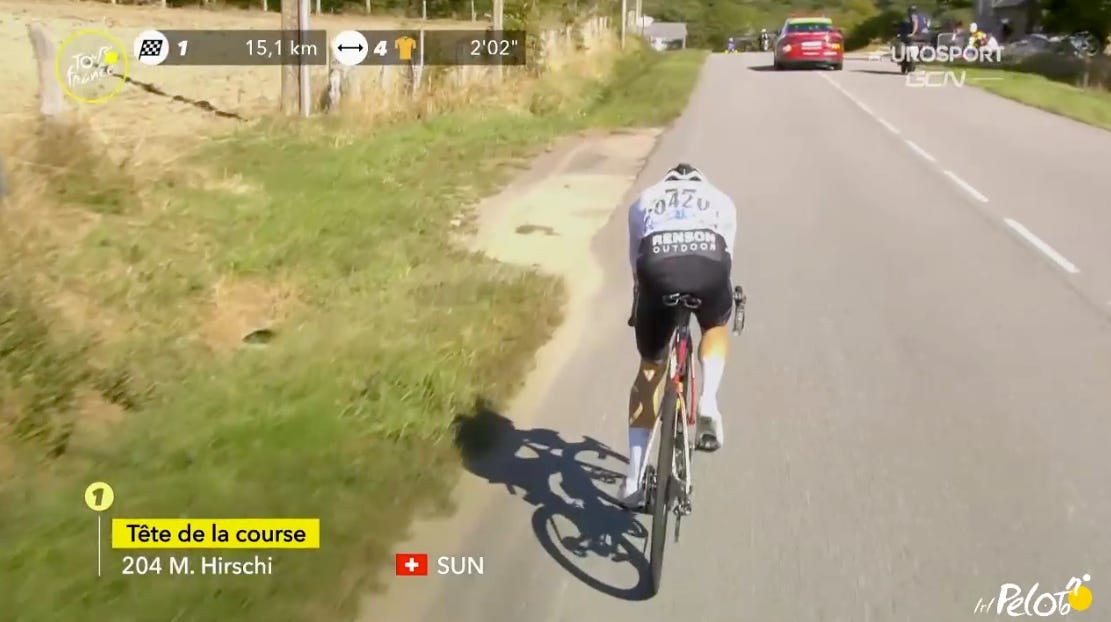 Compare this to a chasing Alaphillipe, who is out of the saddle and producing a lot of wind resistance with his position.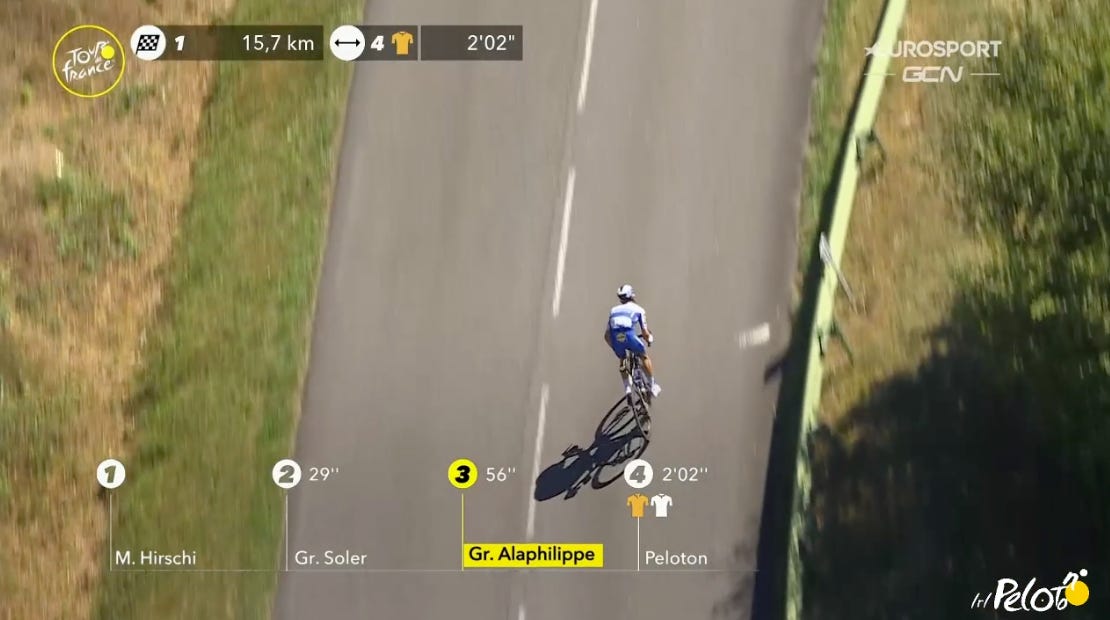 8.2km-Gap has gone down to 42-seconds, but Nicolas Roche and Kragh-Andersen keep jumping on any moves in that chase group to deter them, really good team coordination here and picture-perfect strategy
4.5km-Alaphilippe is still flailing around back in the chase group, Roche is marking him relentlessly.
This is a great example of the "lone rider" theory. Alaphilippe is mad no one will work with him to chase down Hirschi but nobody will work with him because he keeps attacking. Sure, someone could take a few pulls on the front, but he will just attack and drop them a few km later, so what's in it for them? Thus, Hirschi, as a solo rider, has the advantage, even though if all things were equal, a single rider wouldn't stand a chance against a group like that.
2.2km-Alaphilippe has a mechanical, what the hell is going on with these gears? It is like the third time in a week he has had an issue with his shifting
Hirschi wins solo and this is a super impressive victory from Hirschi, really rare any rider, especially one this young, to just keep taking runs at stage wins until he finally gets it.
Major Takeaways:
The emergence of Marc Hirschi shines a light on Sunweb's decision to leave Michael Matthews at home and they are slowly building a case to support their controversial decision. Matthews certainly would have gummed up this perfect teamwork and Hirschi wouldn't have had the freedom to do this if they were chasing the Green jersey.

Sagan won the sprint from the peloton for 13th place and picks up a few Green Jersey points. The gap between him and Bennett is 66 points. The lack of a win or podium finish today means he'll have to pull out some Sagan magic in the coming mountain stages to close this gap.

If Bora had let the gap to the break go, the attacks wouldn't have been so vicious on those climbs, and Sagan would likely have won the bunch sprint behind the breakaway for 7th place and closed the gap to Bennett to 59 points. They obviously wanted to swing for the fences today, but it was unlikely they could ever have held the race together on those difficult climbs and small roads into the finish if the peloton was racing for the win. It potentially could have been a mistake to keep the early breakaway so close.

Hirschi, at 22-years-old, now has 1st, 2nd, and 3rd on stage finishes at this Tour, thus hitting the Podium Cycle. I'm pretty sure he is the youngest rider to ever do this, let me know if anyone finds another example of a younger rider doing this. At only 21, Pogačar would beat him if he finished 3rd on a stage at this race.
Stage 13 Preview & Predictions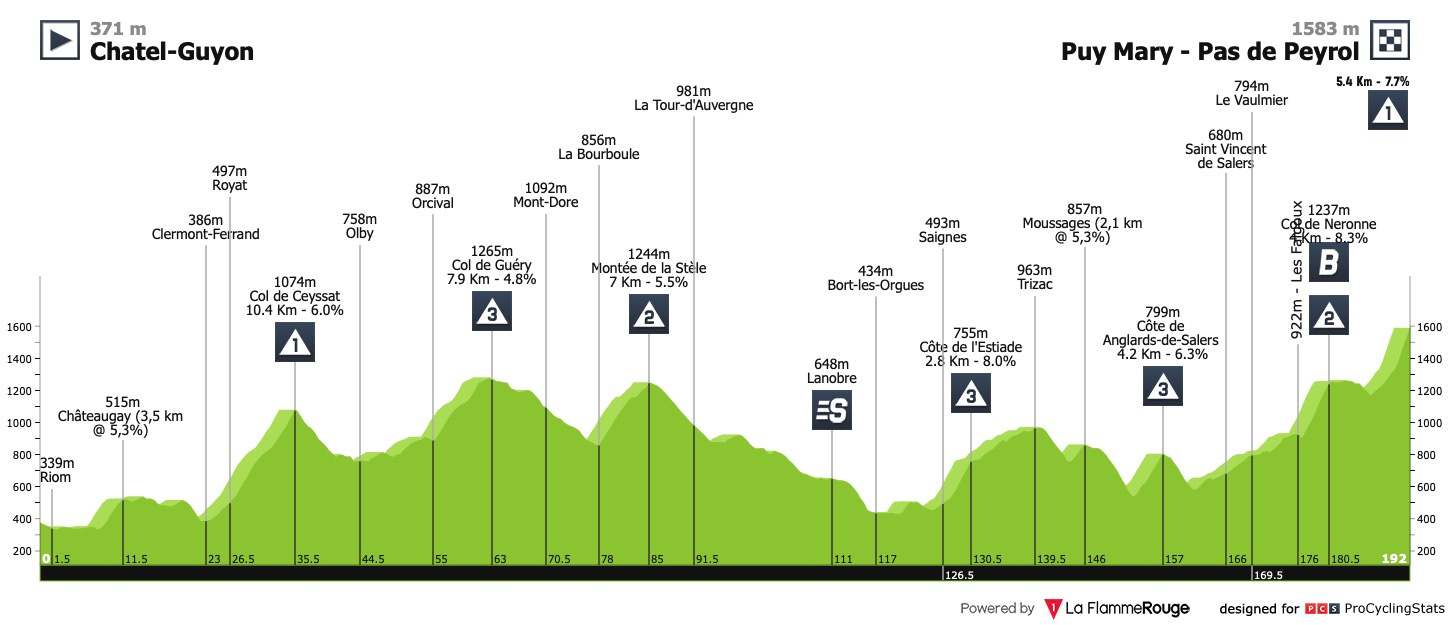 If today was for the stage hunters, tomorrow is for the overall contenders. The peloton will traverse deep into the mountainous heart of the Massif Central and will hit an absurd seven categorized climbs. It is a real-deal GC day and a very tough test with a brutal 14,435 feet of vertical gain (4,400 meters).
The stage finishes on the summit of Puy Mary (at 5,110-ish feet), a 5.4km climb at an average of 8.1%, but the steep Col de Neronne, 3.8km at 9.1%, is positioned directly prior to it, and the two climbs combined act as a sort of long climb with a short descent.
The climbs, while tough, aren't the high Alps, but this could actually make the race harder, since riders can attack and accelerate harder, and won't be as afraid to launch searing attacks.

Complicating matters further are the bonus seconds on offer at the top of Col de Neronne (8, 5 & 3), which will likely mean the overall favorites will attack much earlier on the climb than they would without the presence of the bonus seconds.

With an intermediate sprint positioned after three categorized climbs, Peter Sagan will have to try to get up the road and attempt to grab those points. DQS will try to stop him and this could make the beginning of the stage incredibly hard.

With time gaps in the high mountains getting smaller and smaller every year, if anyone who isn't Primoz Roglic wants to win the Tour, they will have to go for those bonus seconds on the penultimate climb and at the finish line.

Prediction: The breakaway won't get a significant gap and Tadej Pogačar will attack again on a stage that is tailor-made for him. He will get the 8-second bonus and win the stage, but won't be able to drop Roglic. Bernal will struggle on the fast, steep climb to the line and lose a few seconds and Pogačar will slot into 2nd place overall.