Le Tour Stage 14: Textbook teamwork in Lyon
A transition day once again heats up and we were treated to a cracking finish in Lyon
This is a premium daily grand tour analysis newsletter. Thank you to current subscribers. If you were forwarded this newsletter or are on a complimentary membership and want to continue to get these in the future once your free trial ends, sign up below.
Team Sunweb once again displayed perfect teamwork in the finale of a transition stage and Søren Kragh Andersen finished it off for the squad by launching a perfect race-winning attack 3km before the finish line in Lyon.
The 14th stage of the Tour de France was supposed to be a transition day that produced a strong breakaway and allowed the GC favorites to sit in and rest their legs prior to the Alps. Unfortunately for them, Bora and Peter Sagan had a different plan, and while the hard stage with a consistently high pace didn't feature any GC battles, the tough pace after yesterday's brutal climbs will cause a few GC contenders to crack in the upcoming Alpine terrain. Bora started off the stage with a high pace to drop the Green Jersey leader, Sam Bennett, in the hope that Sagan would win the stage and decrease his deficit in that competition to Bennett.
It is really interesting to see how the Green Jersey competition is shaping the overall race. The GC riders wanted an easy day, with Egan Bernal saying as much at the start line, but they had to ride seriously hard during the only "easy" day before four brutal mountain stages.
Stage 14 Notebook:
156km-Intermediate sprint-There are two riders up the road, Stefan Kung and Edward Theuns, who grab the points for first and second, but Sagan wins out of the peloton for third place, with his teammate, Max Schachmann leading him out and finishing right behind him to steal points, exactly like DQS has been doing in the past stages. Sam Bennett was dropped but catches back on before the sprint and finishes a few spots back, keeping Sagan from pulling back 15 points on him.
128km-Bora on the front ramping up the pace on the longest climb of the day, an 11km long Cat 2 climb that averaged a 5.3% grade. Long climbs that aren't incredibly steep can be brutal due to high speeds, and Bora is trying to get rid of Sam Bennett here so he can't contest the final sprint. It is worth noting that they are slowly increasing the pace and dropping the sprinters one-by-one so they can't organize and chase back on before the finish. 
124km-Bennett dropped and the entire DQS team drops back to pace him. 
123km-The pace is so high at the top of the climb that a gap forms between Ineos riders, forcing Carapaz (I think) to come around and close the gap. This could just be a slip of concentration from Ineos, but it is worth noting this for tomorrow's hard mountain stage.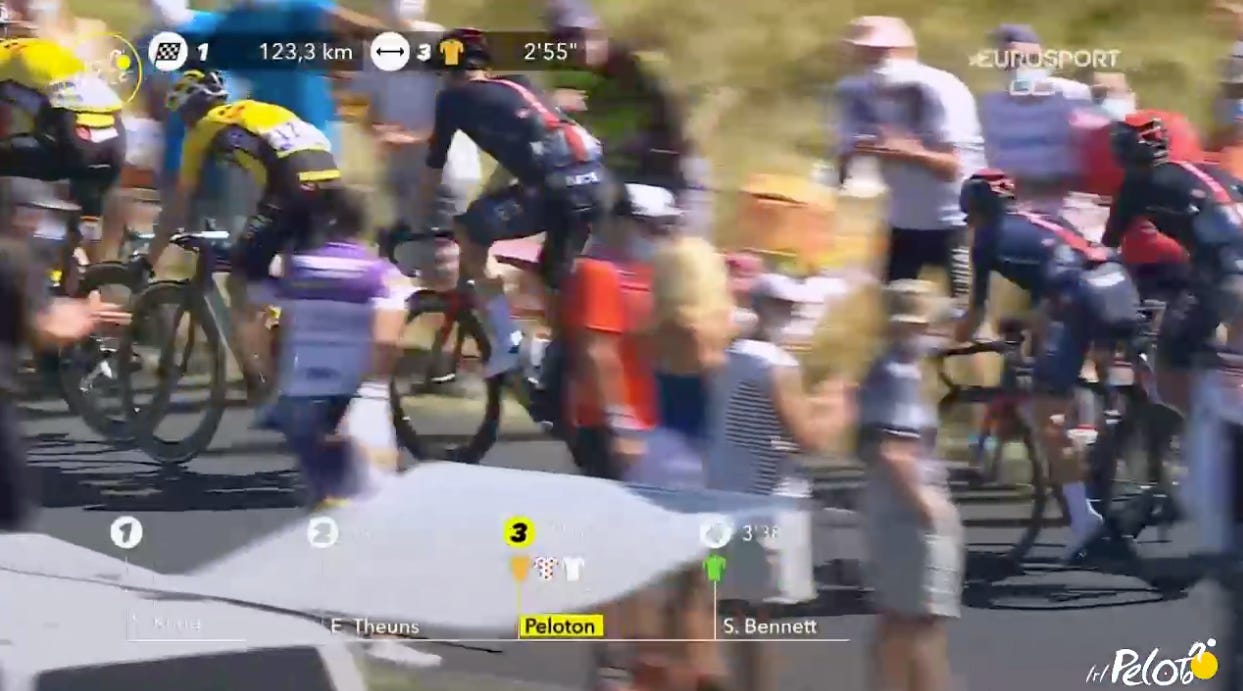 Sagan has to come around the struggling Ineos rider as well and the pace is so high that he is literally sprinting in the drops to keep up.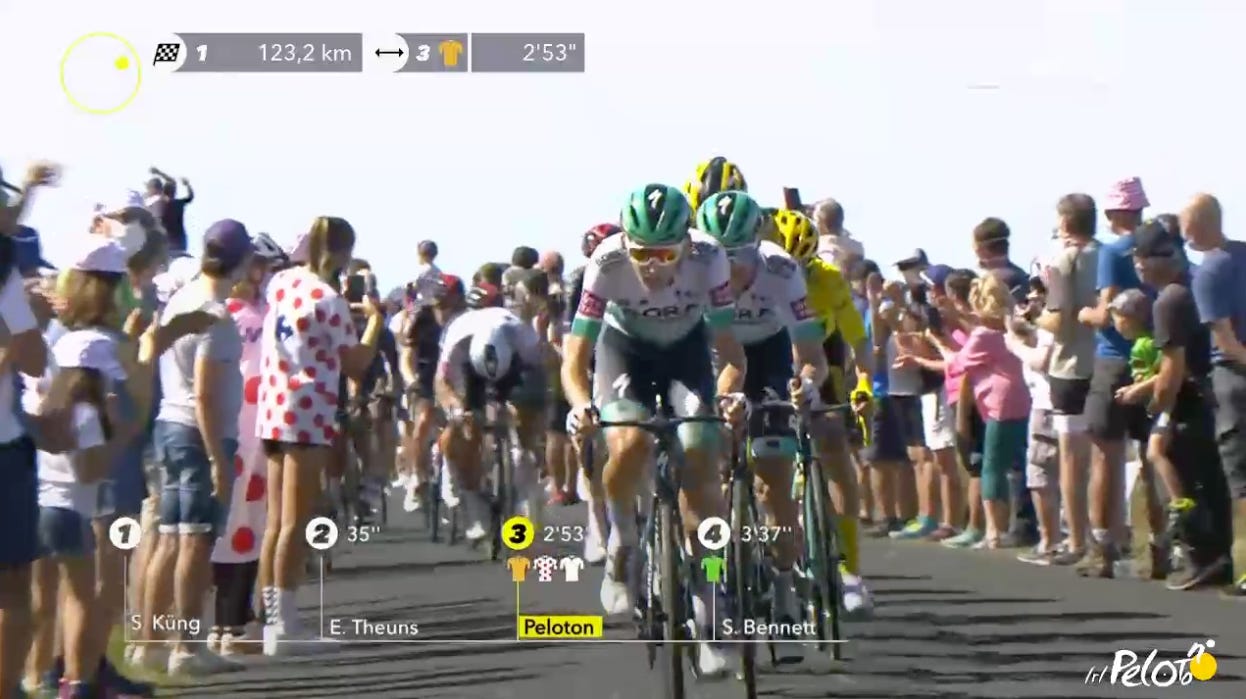 There is a 50-second gap to Bennett at the top of the climb. He should sit up right here. Even if he gets to Lyon in the peloton, it is going to be hard for him to get over the two tough climbs in the final 10km.
115km-Gap to the break is 2:29, has come down 6 minutes in the last 30km. Stefan Kung made the odd decision to drop Edward Theuns, and now he is alone, really strange, I don't see the upside.
105km-Gap is over a minute back to Bennett and Bora is driving the pace, this is PERFECT for Jumbo-Visma, they get a break from controlling the pace for the day. They likely kept the early breakaway small to incentivize Bora to work all day and give themselves a break.
82km-Kung caught by the peloton. Once again, I can't believe how early these breaks are getting caught. This is going to be really difficult to control for Bora in the finale.
76km-Bennett sits up, which makes sense since he would get dropped on the climbs into the finish anyway. The peloton will finally get a chance to sit up and rest, lets see if they do.
72.8km-Bora is still keeping the pace high, Sagan is running out of teammates and Lukas Postelberger had a mechanical and is now dropped, which could be an issue later on.
42km-Bora and CCC still setting the pace on the front, but have backed off the pace quite a bit. Richie Porte is sitting at the back AGAIN, this is such a bad habit and he could easily get caught out by a crash here 
28.5km-CCC on the front to set the pace, they must be feeling really good about Greg van Avaermat. The only problem is, why do they ride for at the end? GVA or Matteo Trentin? Keep in mind that Trentin won on this same finish at the Tour back in 2013.
14km-Jumbo on the front with Sunweb right behind them, the pace is quite high and the peloton is nervous as we enter this tricky finale. A GC move could potentially get away and there is a ton of road furniture, so everyone has to be on their toes. Richie Porte is still not at the front, which is insane at a moment like this.
12.9km-Jumbo is on the front, which is smart.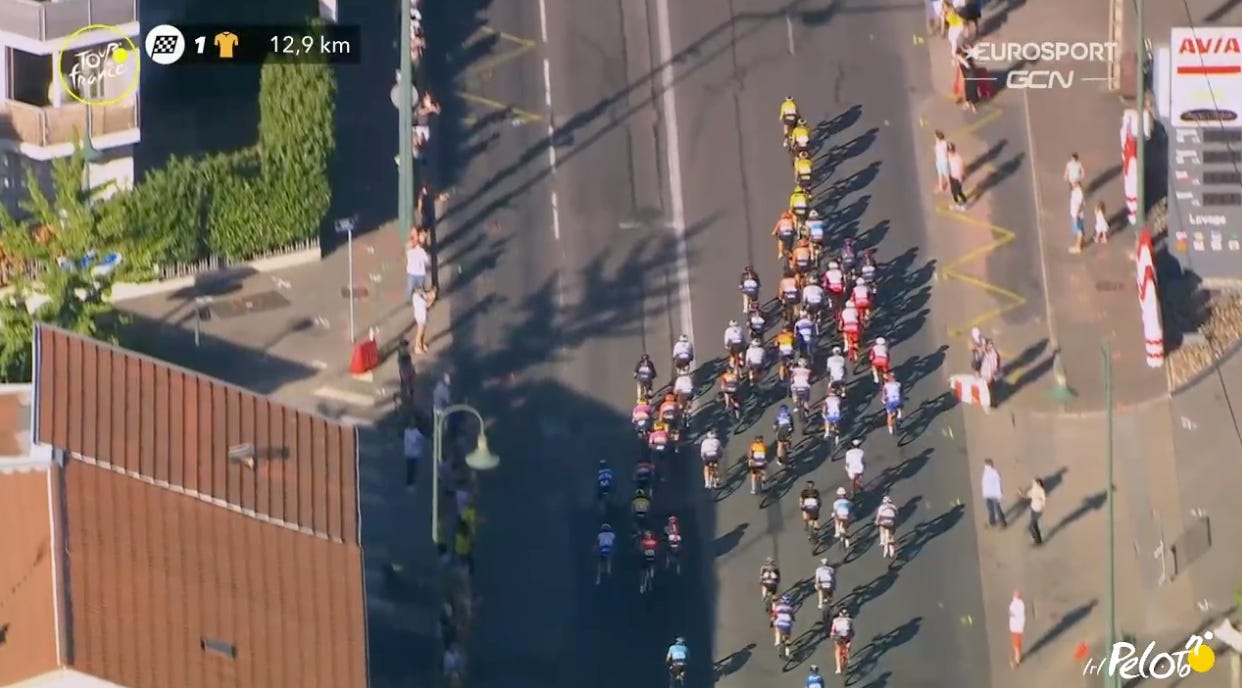 Ineos comes up and overtakes them, but Bernal is at the back of the bunch and has to weave through the group on his own to get to the front. This is a huge mistake at a moment like this and shows a lack of on-road leadership. Note the white jerseys following them, Sunweb uses this to move up in the peloton and they execute the perfect race from this point on.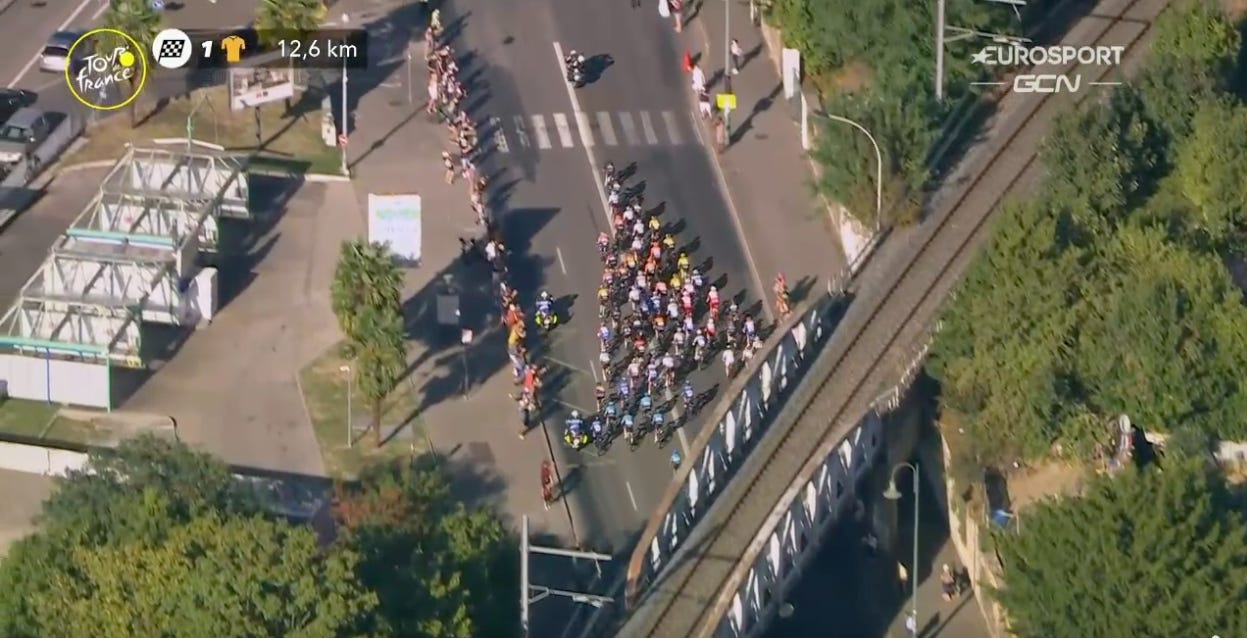 12.4km-The Ineos move to the front makes more sense when we see this insanely narrow road they all get funneled into.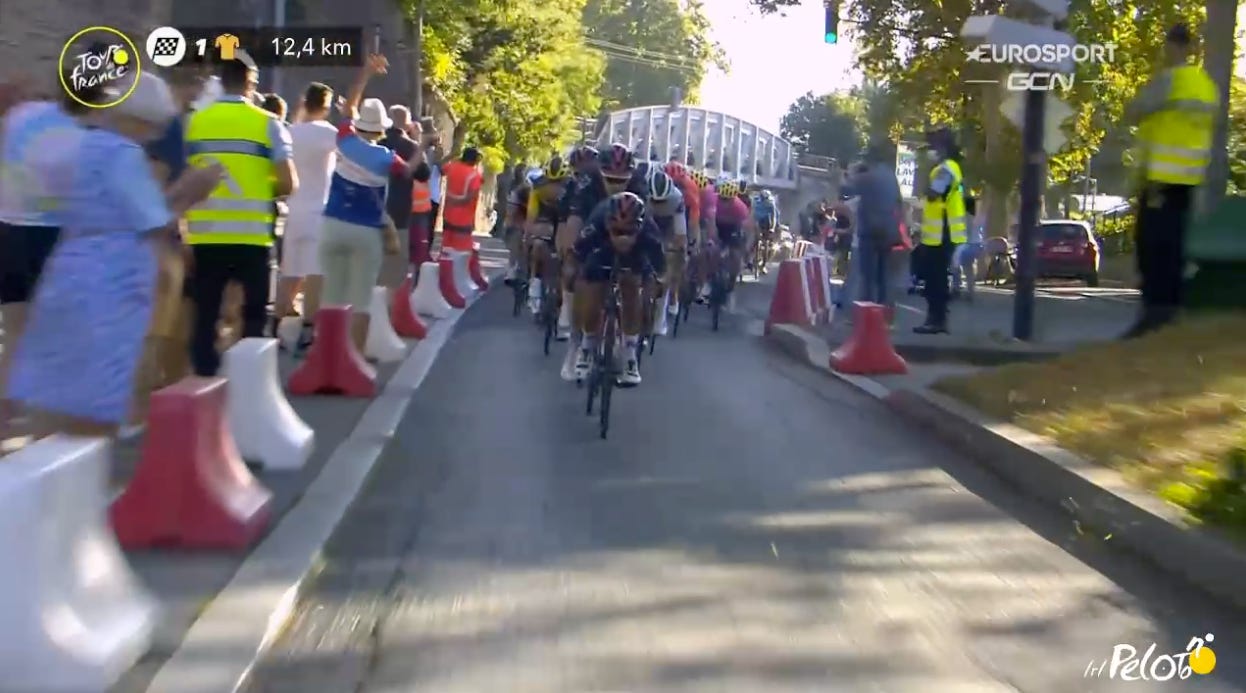 11km-This squeeze really helps Sunweb. They have their entire squad at the front and most of the favorites for the stage have teammates stuck too far back. Michal Schar goes to the front to set pace for van Avermaet and/or Trentin, but goes to hard and accidentally launches Tiesj Benoot.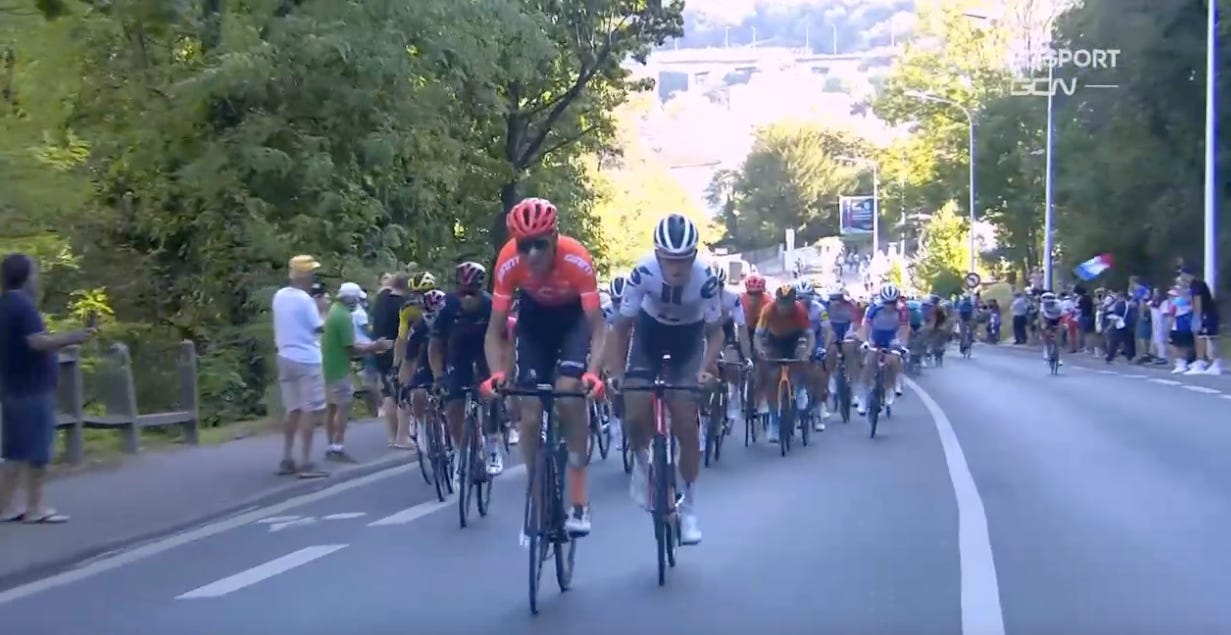 You can see at the top of the screenshot below that Schar (in orange) is way too far off the front. Benoot seizes the moment and attacks and Schar just oddly pulls off and its the end of his day. I have no idea why he didn't meter his effort to begin with and then attempt to chase down Benoot.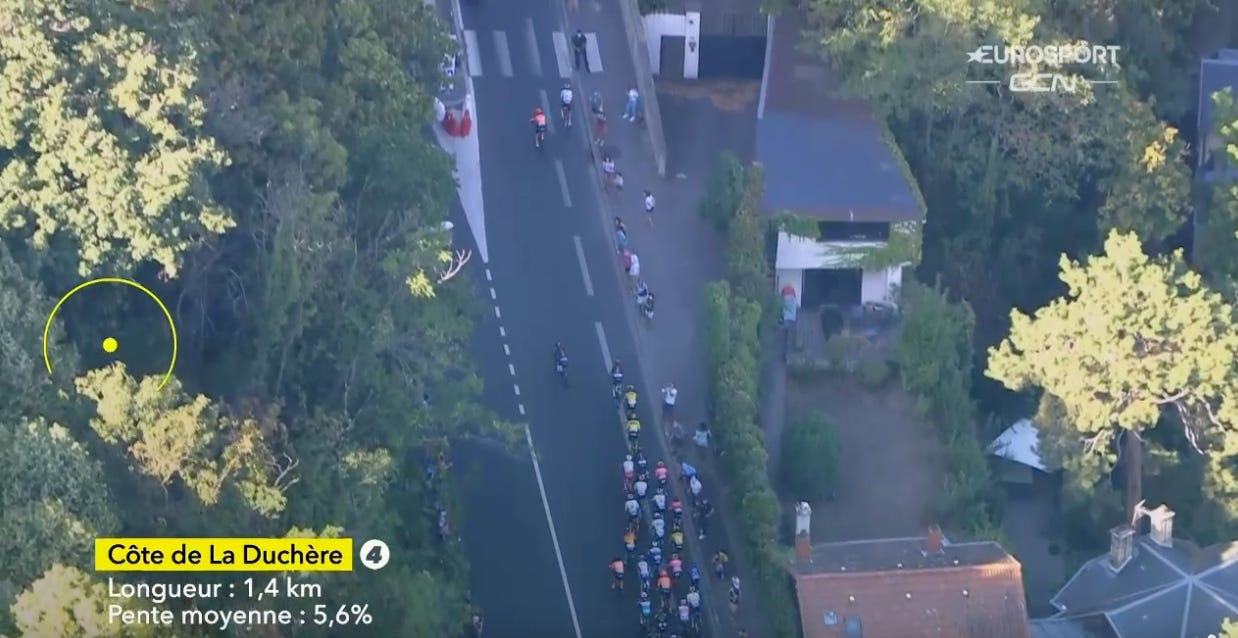 10.3km-Kragh-Andersen counter attacks from the peloton. It takes a confident team to attack out of the peloton when their own riders is up the road. It means they know they are strong enough to get clear without pulling anyone else up the road.
-Marc Hirschi on the front of the peloton waiting for someone to bridge so he can jump on and get a free ride up there. You can see him on the far right in the screenshot below, just sitting on Lennard Kamna's wheel, with a teammate right behind him. Sunweb has two riders off the front and two riders sitting at the front of the peloton waiting to counter when they are pulled back. This is absolutely picture-perfect teamwork from Sunweb.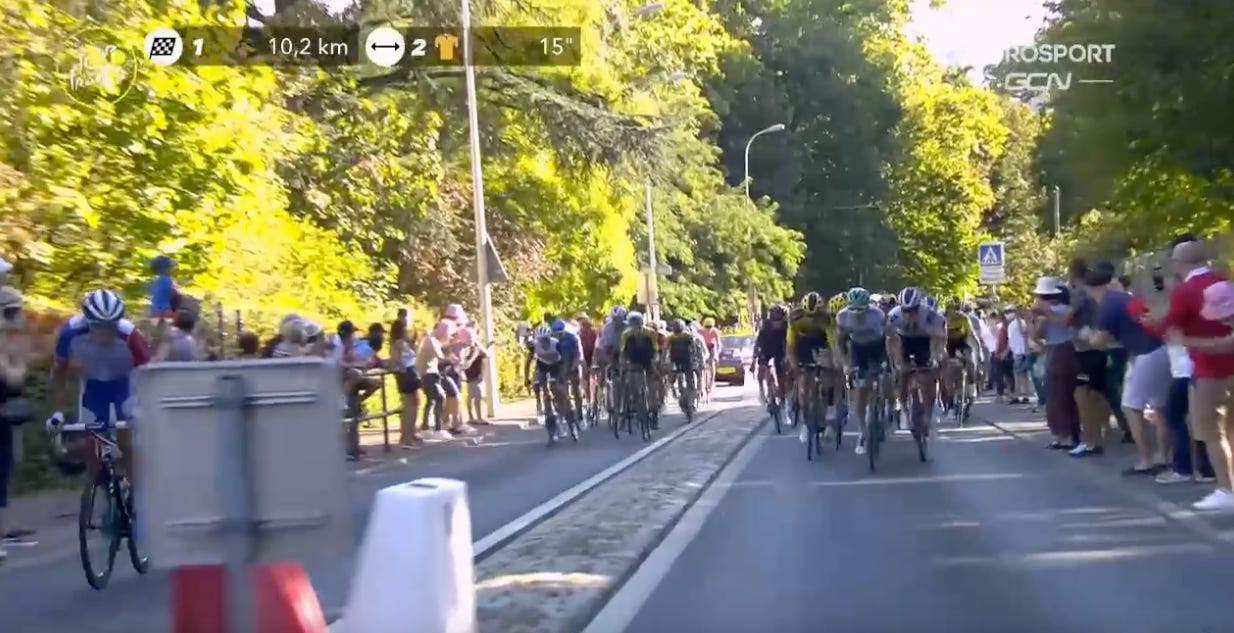 8.5km-Porte has a problem with his bike and he's really in trouble here since he has been sitting so far back. Has to switch bikes with a teammate and then chase back on.
7.4km-Benoot brought back by Bora's Kamna, but then Kamna attacks solo. I don't understand why? He should be sitting back with Sagan and using his energy to chase down moves.
6km-Porte catches back on to the peloton.
5.8km-Kamna is kind of screwing over the team, not saving energy to help Sagan later on and acting as a launchpad for attacks.
5.3km-And sure enough, Allaphillipe attacks out of the peloton, easily catches a dangling Thomas De Gendt and bridges up to Kamna, what is the plan for Bora here?
4.8km-The peloton is closing in, being led by Sagan, who is chasing his own teammate down, a total disaster from Bora here. GVA on his wheel.
4.1km-Marc Hirschi attacks, Sagan has to mark him personally, with GVA on his wheel. If Kamna had saved himself, he could have closed this move down instead of Sagan burning matches. Also, note how much harder this is for the GC favorites than it would be if a breakaway was up the road.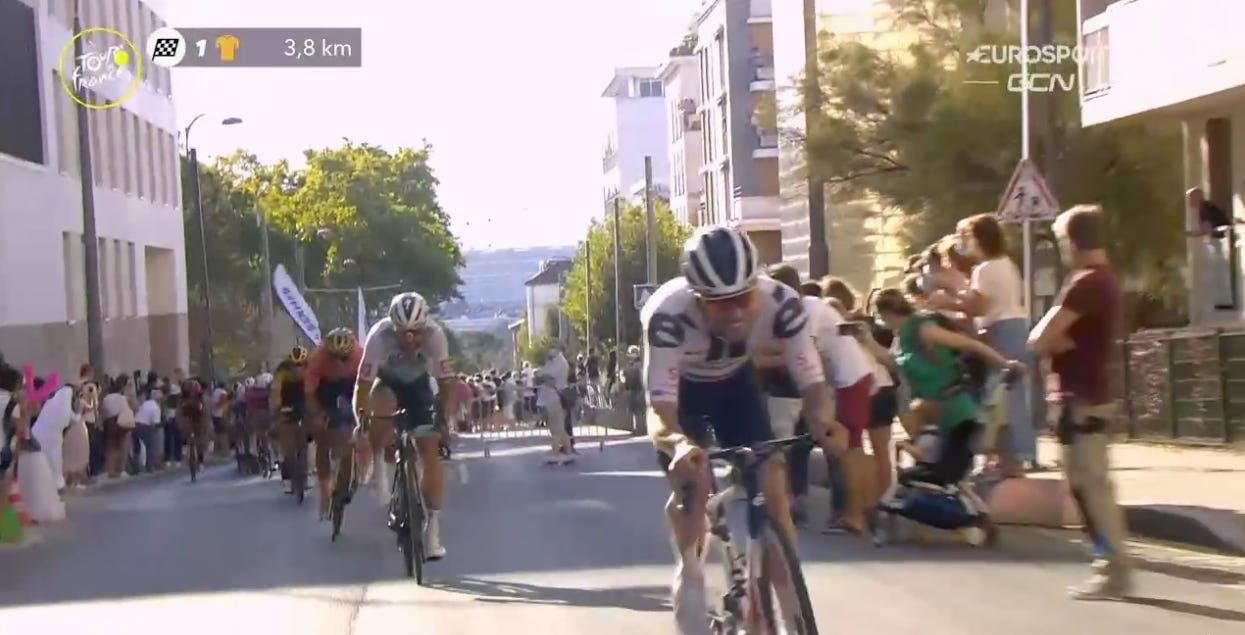 3.2km-Sagan pulls Hirschi back but he is dead in the water here. Stranded on the front of the peloton without any teammate, he slows down and is a sitting duck, unable to mark any moves that could be launched behind him.
3.1km-Kragh-Andersen senses this and makes the race-winning move with no hesitation. He knows that no other rider has teammates left to chase him down. This is the PERFECT attack and it couldn't have been set up better by his team. I could literally watch race-winning attacks like this all day (I probably have).
2km-8-second gap, he's gone it.
-Sagan has to sit in and try to sprint for second, can't have a "screw it" attitude since he needs the points, his team worked all day to get him max points, he can't just throw caution to the wind here
1.1km-Mitchelton-Scott on the front, but Sunweb has numbers and are blocking
-Luka Mezgec wins the sprint for second, Sagan gets 4th on the day, not great for all that work they did
Major Takeaways:
Another great team win for Sunweb. They trusted each other and executed perfectly. Yet another strong point for their case of leaving Michael Matthews at home and letting him out of his contract for the 2021 season.

If Sagan wanted to win he needed to either jump with Kragh-Andersen or better yet, be in the position Kragh-Andersen was and go alone. The problem is that if he would have gone solo, Sunweb would have chased him down. You can start to see the power of a strong team in these moments.

Bora worked all day to get Sagan the stage win and get him back in the Green Jersey competition. This meant they couldn't be there in the finale in numbers, but Kamna could have played it better and 4th place isn't the result they worked all day for.

Bora could have sat back and saved themselves for the finale, but a breakaway certainly would have gotten away and if Sagan wasn't in it, he would have finished worse than 4th on the stage.

Despite this disappointing result, Sagan took 23 points out of Bennett's Green Jersey lead and is now only 43 points behind. I've counted four intermediate sprint points left in the race that he could win and Bennett could get nothing (80 total points if he won them all and Bennett got nothing). So in theory, Sagan could still win this thing. It could easily come down to the final day on the Champs-Elysées and give us a thrilling sub-plot for the rest of the race.
Stage 15 Preview & Predictions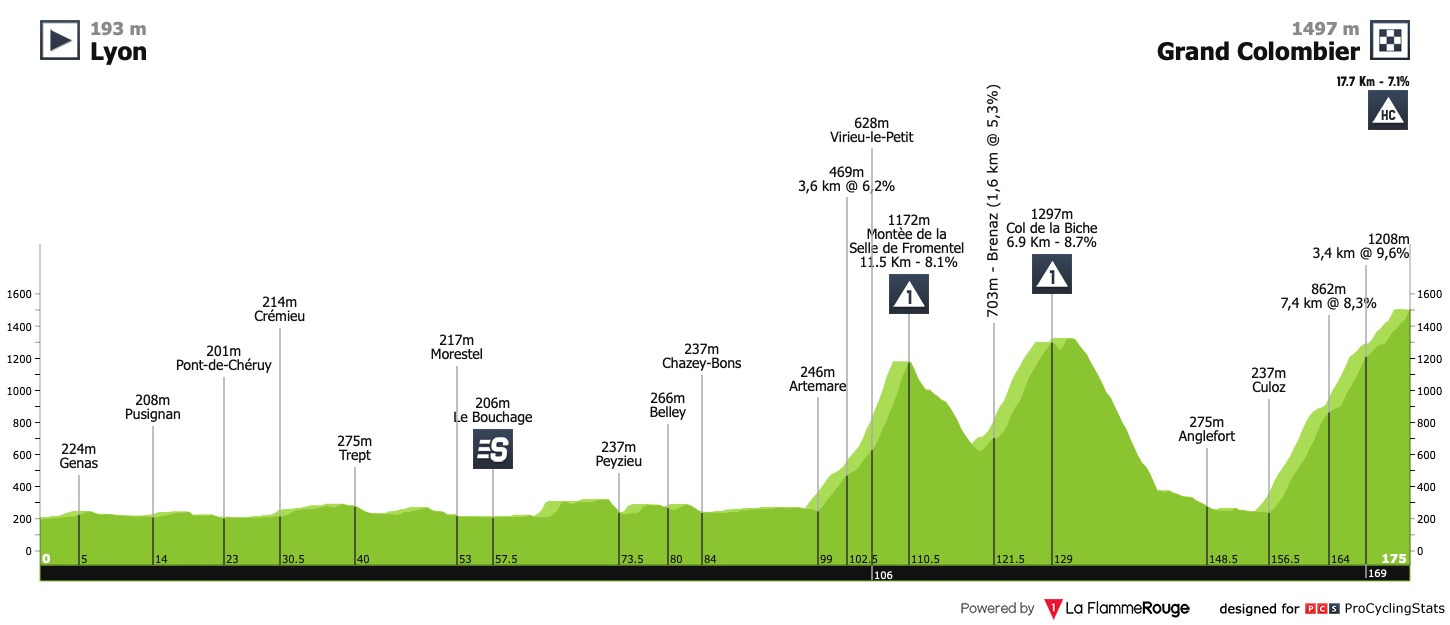 Tomorrow's stage presents an interesting concept. It starts in Lyon, rides straight to the Jura Mountains to the base of the Grand Colombier, and then tackles the mountain from three different sides. The stage is 175km-long and finishes atop the Grand Colombier, which is 17.4km long at an average grade of 7.1% (translation: really hard).
The favorites rode this exact same climb back on August 9th during the Tour de l'Ain, with Roglic winning in front of Bernal, Quintana, Martin, and Porte. This is a rare sneak peek at a crucial Tour climb only a few weeks out.

The former Sky/Ineos sport director, Sean Yates, came out yesterday and was incredibly critical of his former team's tactics. His point was that Ineos only knows how to ride one way and uses brute force to ride everyone off their wheel, but when another rider in the race is stronger, it simply hurts their own rider, Bernal, and helps the stronger riders, Pogacar and Roglic. He is completely right and they will have to come up with a new tactic on the fly if they want to win this race. I touched on this in yesterday's newsletter.

If Bernal can't put time into Pogacar and Roglic, he is in big trouble. This is one of the long Alpine climbs where pundits have been saying he will finally shine, but if he falls flat again, we have to assume that he simply isn't at the same level as the Balkan Boys.

Prediction: Primoz Roglic repeats his success from the Tour de l'Ain with a stage win and he finally puts a few seconds into Tadej Pogacar, who looked under pressure for the first time at the finish of stage 13. Bernal loses more time and Rigoberto Uran moves into third place overall. Peter Sagan makes the early break and wins the intermediate sprint before sitting up and riding in with the grupetto. DQS has marked him out of every breakaway so far, but they can't chase every day and will be looking to save their energy to rally around Bennett to get him through the Alps under the time limit.