Le Tour Stage 17: Breaking down team tactics on the Col de la Loze
The Tour's Queen stage saw fireworks on the final, brutally steep climb
This is a premium daily grand tour analysis newsletter. Thank you to current subscribers. If you were forwarded this newsletter or are on a complimentary membership and want to continue to get these in the future once your free trial ends, sign up below.
The Tour's 17th stage saw the peloton hit the hardest climbs of the Tour, the Col de la Madeleine before finishing atop the brutally steep Col de la Loze. The steepness meant the race stayed together until the final 4km, after which Astana's Miguel Angel Lopez attacked to win the stage and ride himself onto the podium, while Primož Roglič finally distanced the young pretender Tadej Pogačar and added to his lead as the race closes in on the Stage 20 time trial.
Stage 17 Notebook:
171-80km-Like nearly every mountain stage before it, Stage 17 started incredibly fast, with competition for the breakaway high and Sagan and Bennett vying for Green Jersey points. For the sake of brevity, the cliff notes are a big group finally got away, Sagan had a problem and had to perform a bike change, Sam Bennett stayed with him and beat him in the intermediate sprint, and the big breakaway got smaller later, and included only Julain Alaphilippe, Gorka Izagirre, Dan Martin and Richard Carapaz by the time we got to the Col de Madeleine.
76.3km-On the lower slopes of the incredibly difficult Col de Madeleine, the Bahrain-McLaren team of Mikel Landa takes the front as a few Jumbo riders and Nairo Quintana (Maybe I misread the signs and next year is actually the Year of the Nairo?) are already dropped. This indicates that Landa is good enough to attack from a long way out, and frankly needs to if he wants a top placing.
64km-The gap to the break is falling, was over five minutes at the start of the climb, now down to 2 minutes by the top. There are no Ineos riders in the front group of the peloton, just Carapaz in the breakaway. This is absurd for a team of this budget and prestige.
25.9km-Bahrain still on the front, Jumbo is getting a huge break here and can save riders for later on the climb. The gap to the break is 2:17, which shows the pace is just brisk, not overly hard.
19.3km-Julian Alaphilippe attacks Carapaz and Gorka Izagirre up in the break. Izagirre yells at him about this pointless attack. He went from a legit French GC contender in 2019 to a low-calorie Thomas Voeckler in 2020. How the mighty have fallen.
14km-Wout Pouls pulls off, three riders left, Jumbo has six. Gap to the break around 1:30.
13.5km-Robert Gesink dropped, perhaps Landa thinks he can isolate Roglic, but that will also isolate himself, and he isn't as strong as Roglic 
12km-Bahrain's pace that Pello Bilbao is setting is really high. Dumoulin's face looks uncomfortable, which is something, maybe?
10.3km--Bahrain's plan must be to get rid of Jumbo's 2nd tier climbers so that they have to use Dumoulin and Kuss earlier on the climb, so if Landa attacks in the final 4km Roglic has to engage him one-on-one. The fundamental flaw with this strategy is that even if they are successfully pairing down the front group, they have now reduced their numbers to three riders, while Jumbo still has five riders left. Not to mention that Jumbo has two domestiques in Dumoulin and Kuss that can outclimb Landa, so even if they are successful in shredding the group, they will have to drop their own guy before Roglic is isolated.
9.6km-George Bennett is dropped, he hasn't been himself since that crash back on Stage 1.
9.3km-Despite the hard pace, Sepp Kuss is riding right next to Roglic and having a conversation with him like he is a concierge at a Four Seasons.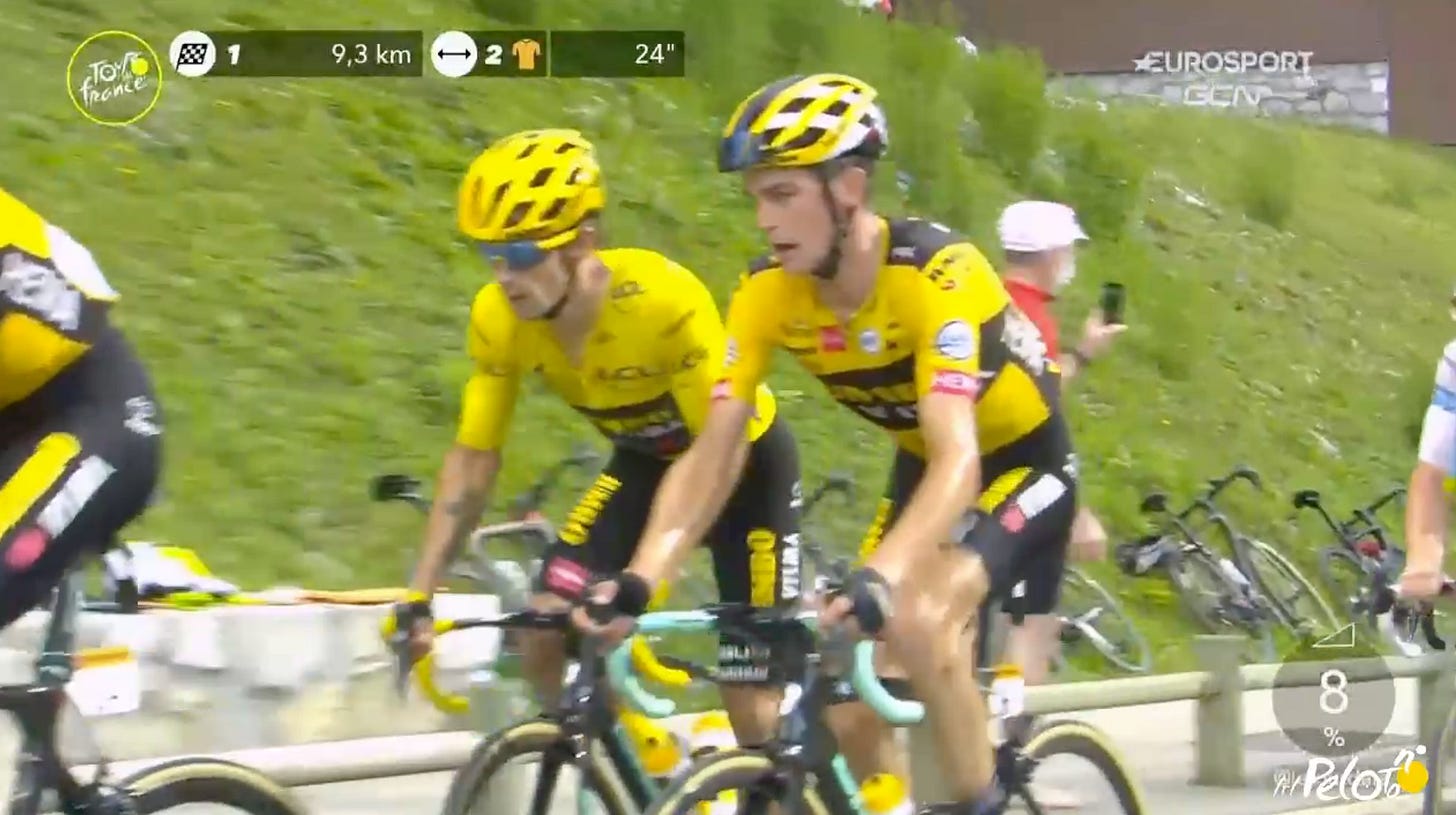 If we look back at Pogacar behind them, for the first time this Tour, he appears to be in difficulty and is even letting a small gap form between himself and Kuss.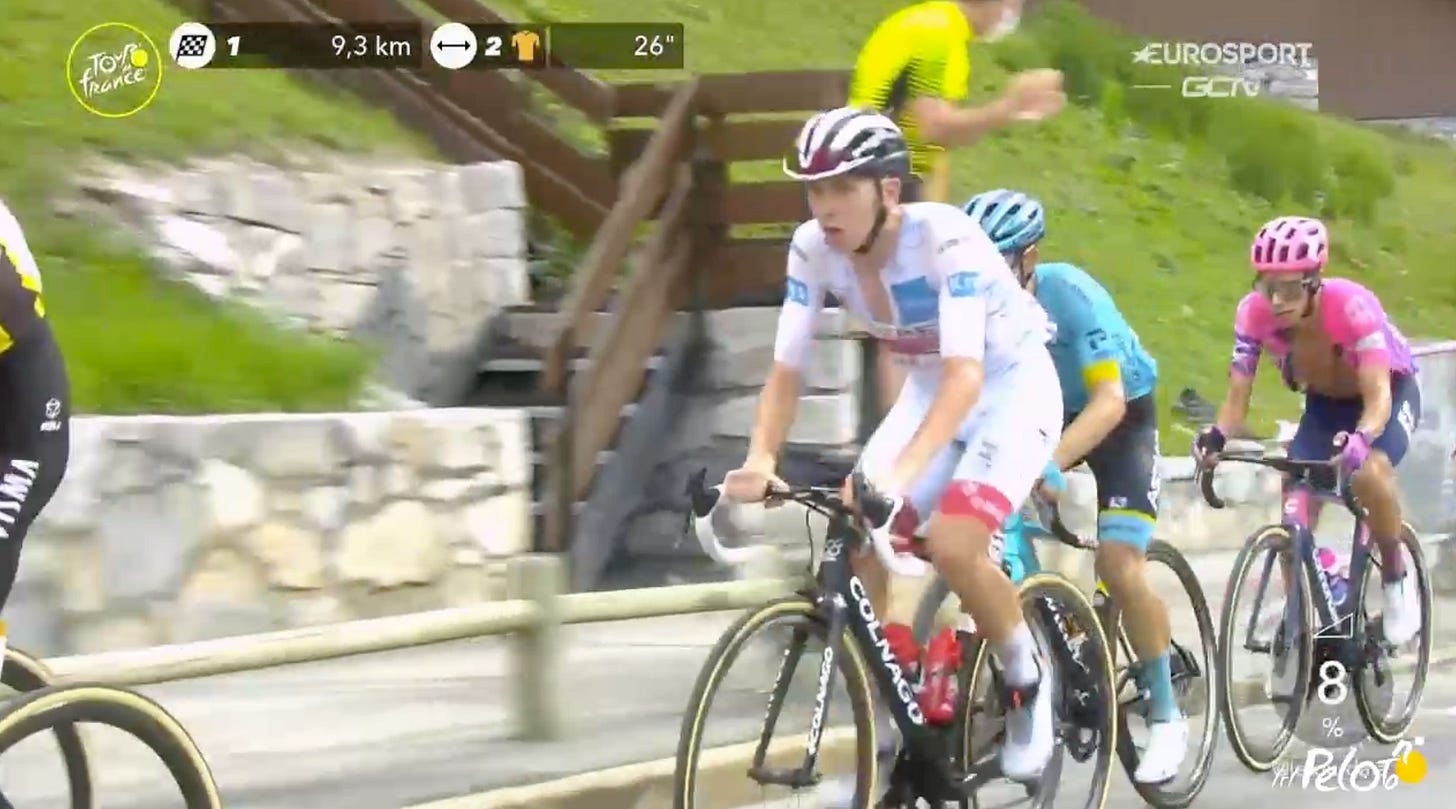 7.2km-Wout van Aert is dropped and Jumbo is down to three riders, but Bahrain is down to two. The fact that Jumbo can use their sprinter until 7km left in the final climb is mind-blowing.
6.3km-This lead group is getting stripped down and we still have a ways to go before the summit.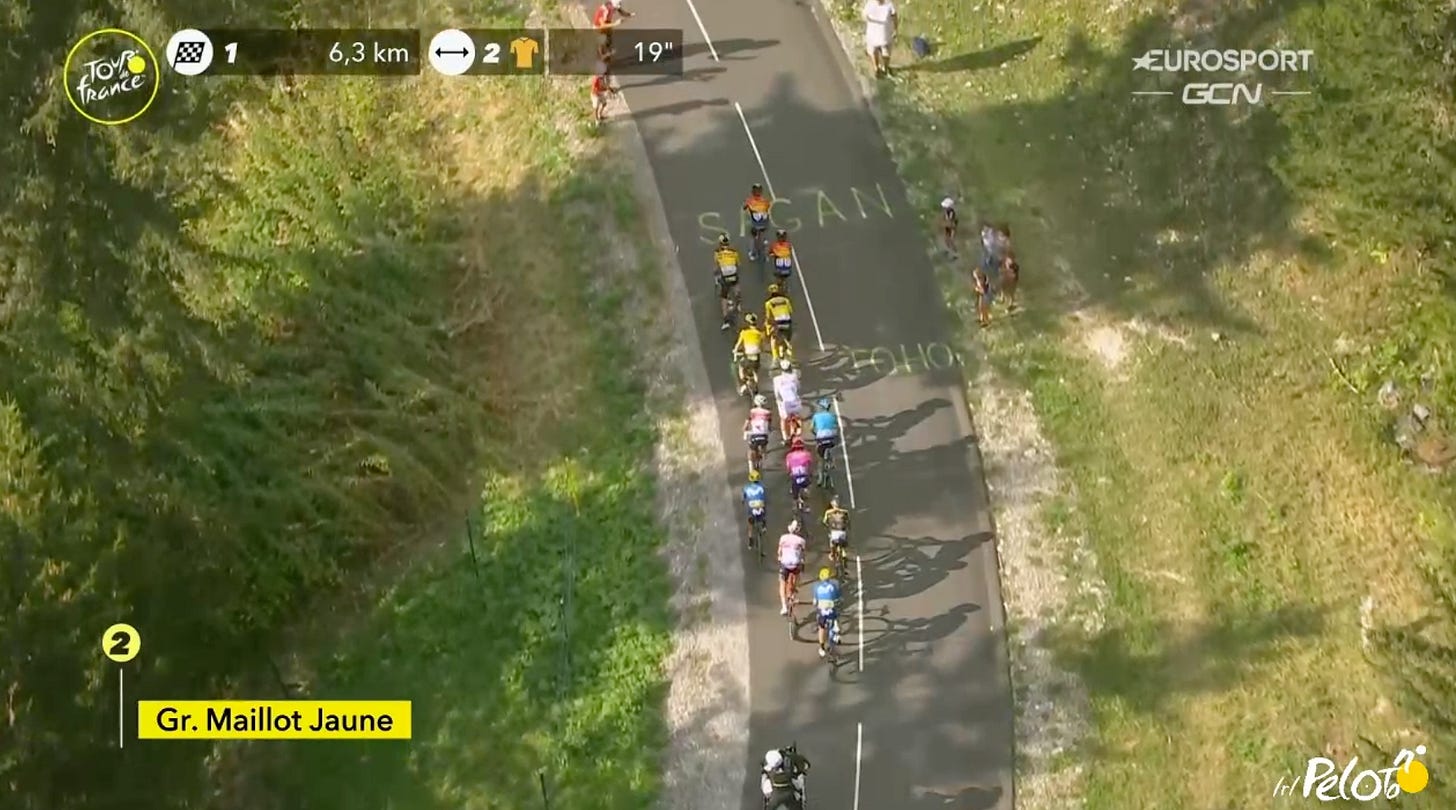 6km-The lone remaining leader, Carapaz, was almost caught, but is actually increasing his gap and has pulled it out to 24-seconds. This shows that Bahrain is actually letting the pace dip. Sensing this, Dumoulin comes to the front to try to take over, but Bahrain speeds up to fight him off.
5.5km-Carapaz is out of the saddle and climbing in the drops on 12% sustained grades and has pulled his gap out to 40-seconds. Stylistically, it looks incredible and makes him look like he is going significantly faster than the chasers, but he is utilizing anaerobic muscle groups by doing this with a long, long way to go to the top, while the group behind is still seated and spinning along.
4.5km-The cadences at these steep grades are REALLY high, these riders must have tiny, tiny gears on their bikes.
3.9km-UAE comes to the front with Pogacar.
3.8km-Dumoulin dropped, not too surprising, this would be really hard for him at his absolute peak fitness.
3.7km-Landa is dropped, which isn't shocking due to the hard pace his team was driving. What is wild that he wasn't communicating with his team earlier and letting them know he was hurting. Rigoberto Uran and Adam Yates are also going backward, so that final podium spot is now wide open.
3.6km-There are only six riders remaining in this lead group now, stuff just got real really fast.
3.5km-Miguel Angel Lopez attacks, which is a very smart move with his podium rivals struggling. He looks strong and most importantly for him, it is dropping Richie Porte. Pogacar looks like he is really hurting while Roglic sits right behind him and Kuss sit behind him looking straight up bored. Note that this is the first, and will be the last, time this race has hit legitimately high altitudes (8,000-ish feet), which could explain Lopez's resurgence and Pogacar's slight struggles.
3.3km-Kuss, coming from a high-altitude locale himself, decides he should do something to cure his boredom and pulls back Lopez before taking up the front of the race. This is another example of the flaw in the strategy of driving the pace to isolate Roglic. Everyone has just helped Roglic outnumber them towards the end of the final climb.
3.1km-Porte is yo-yoing on and off the back of the group.
3km-The inevitable comes for Richard Carapaz as he is pulled back by the lead riders, led by Kuss. This shows why a teammate like Kuss is such a trump card at the end of these stages. Roglic just has to sit on his wheel. 
2.9km-Okay, this is where stuff got weird. Right here, we see Roglic sitting on Kuss' wheel, which is good for them and totally normal.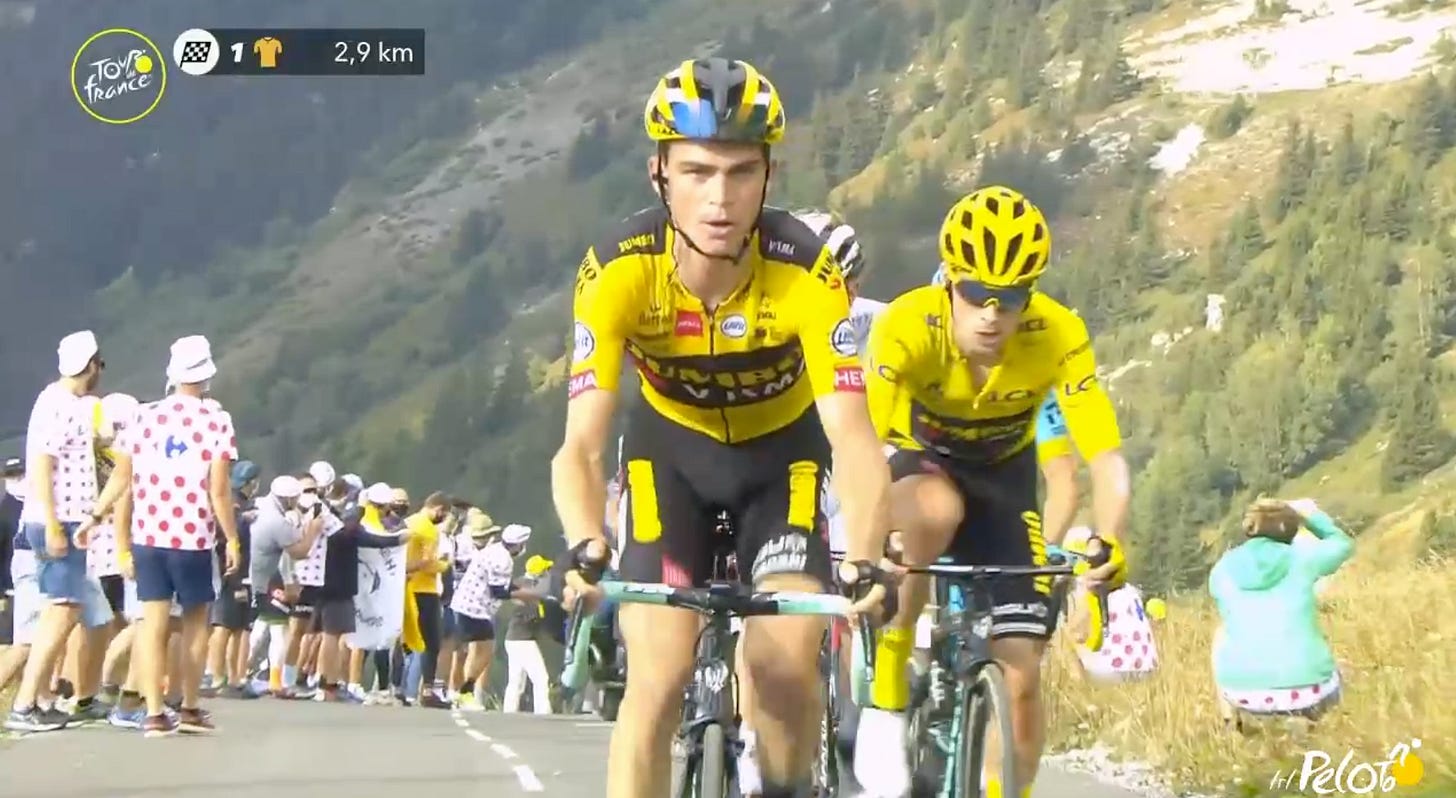 In the next few moments, it looks like Roglic calls an audible and pulls off Kuss's wheel. He looks over at Pogacar and sees him visibly struggling and decides to test him.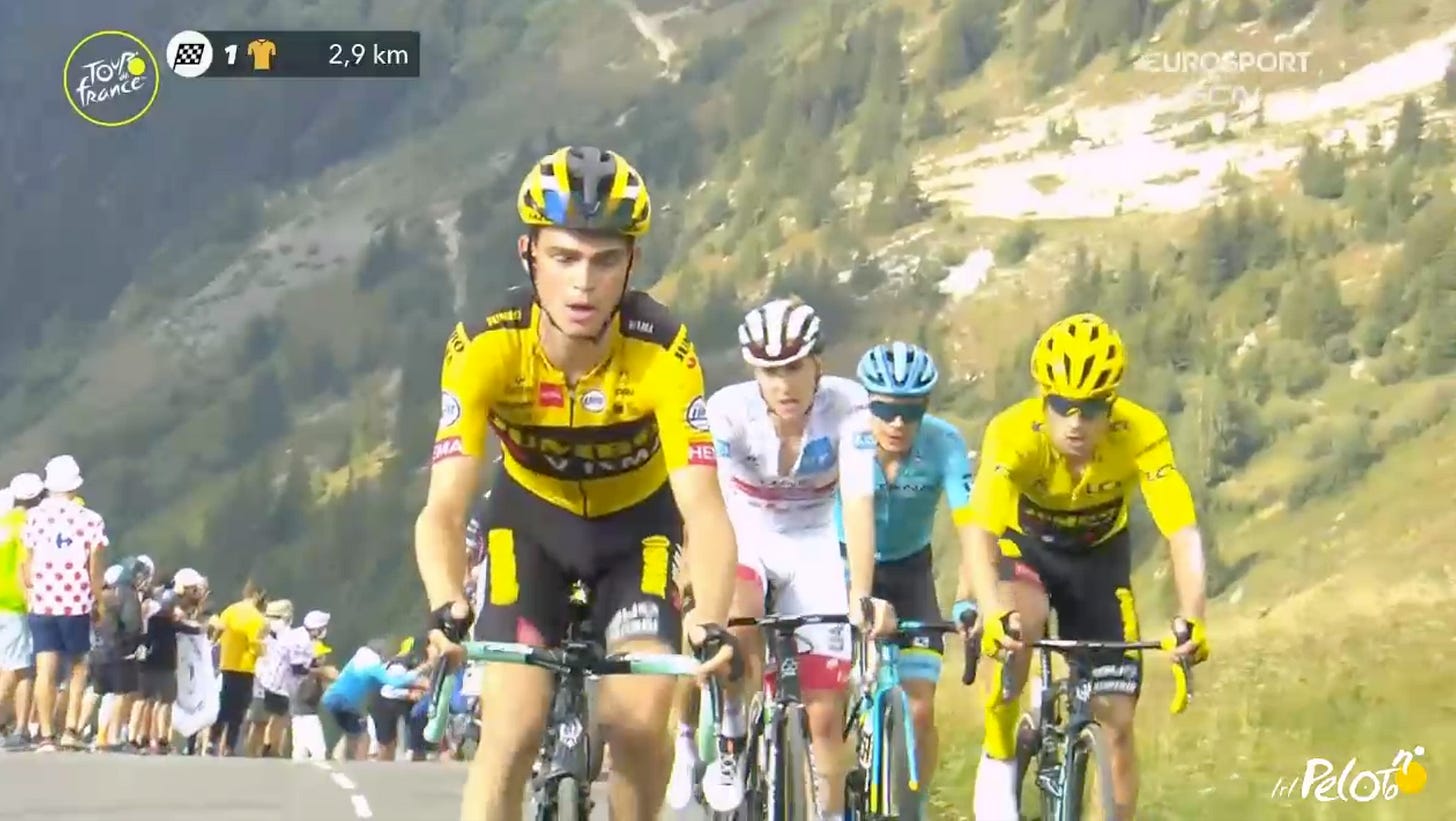 2.8km-Instead of following Kuss, Pogacar swings over and slows down, which lets Kuss ride up the road alone. Roglic likely figures this pressures the others to attack and if they can't Kuss will win the stage and grab the 10-second time bonus.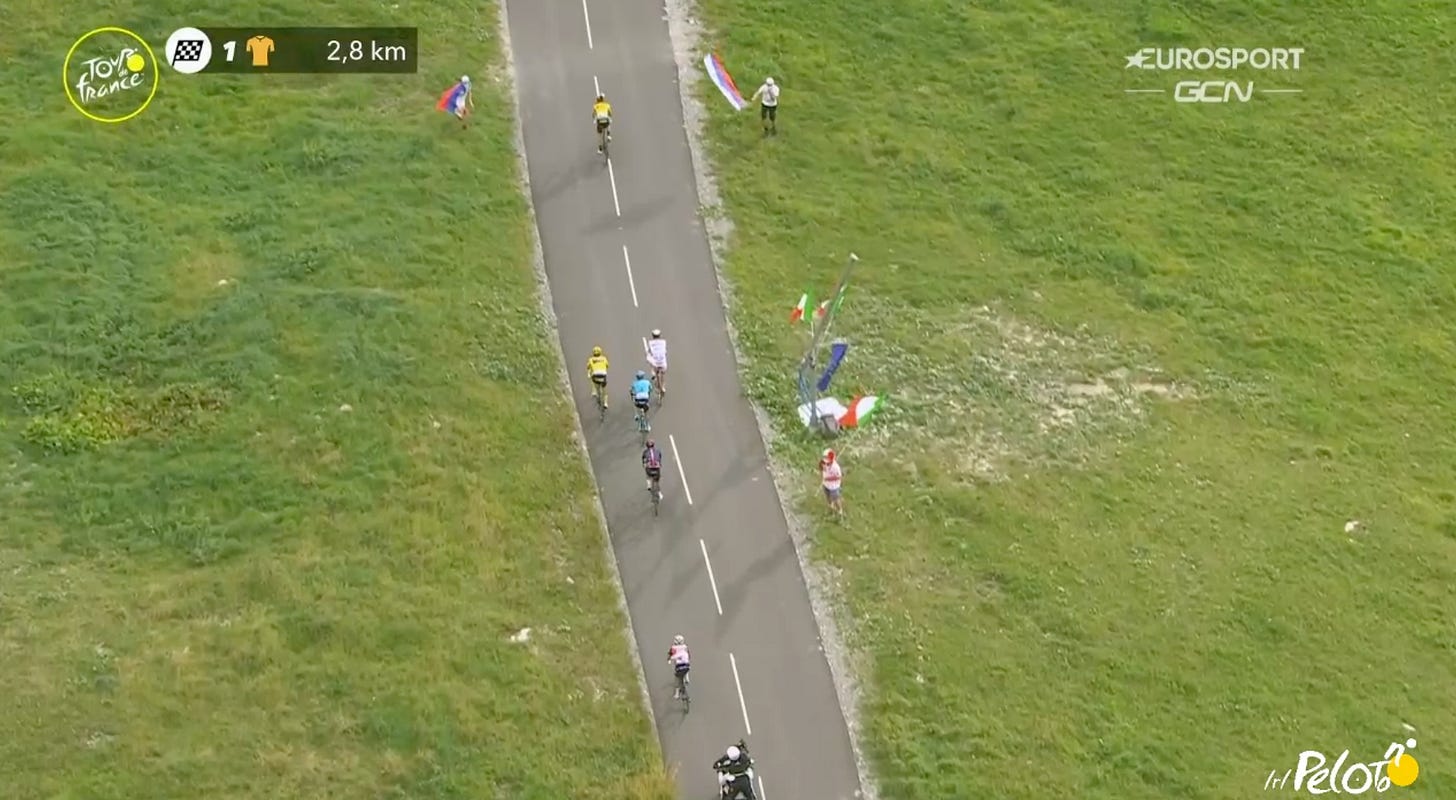 Lopez uses this lull to launch the perfect race-winning move. He rides right between Roglic and Pogacar to bridge up to Kuss.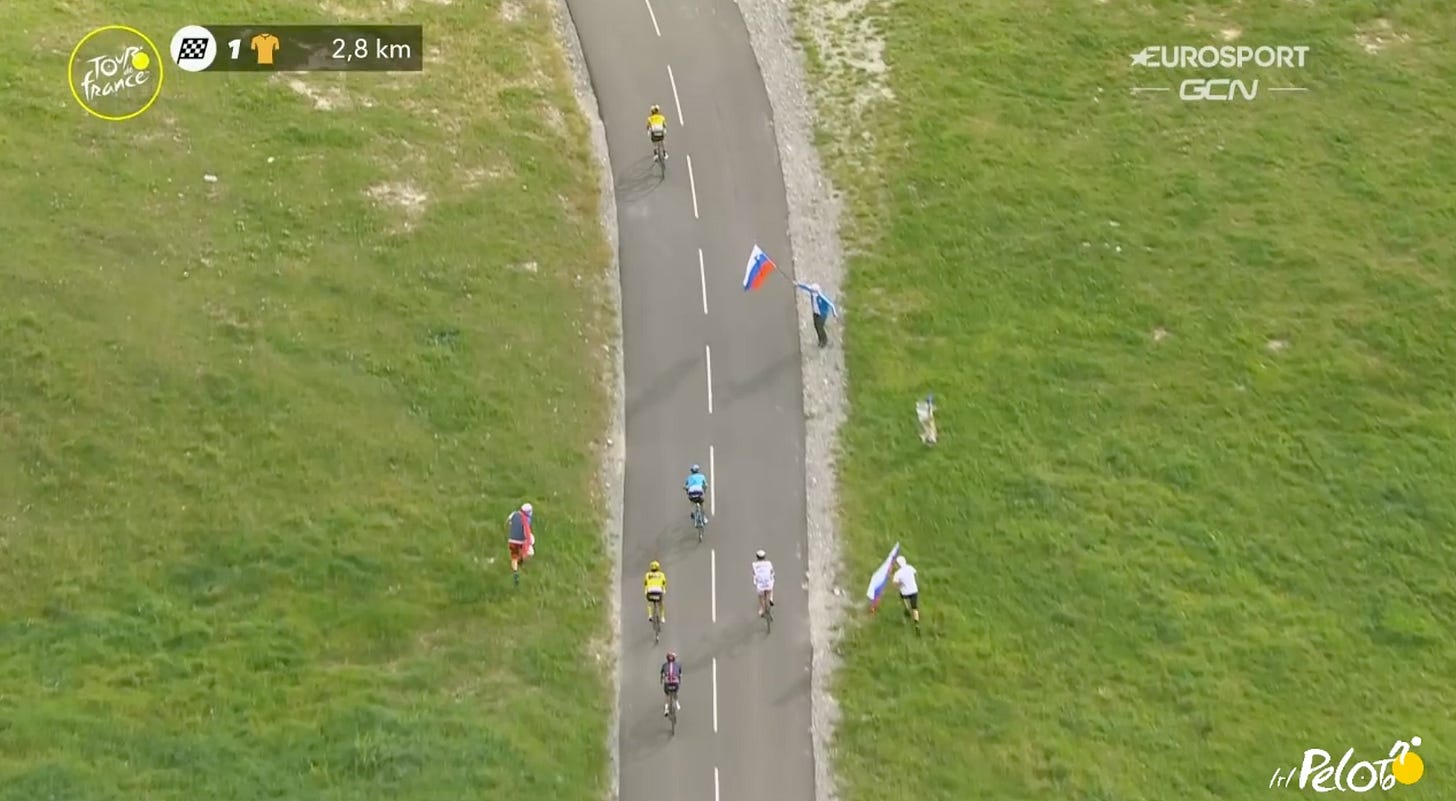 For a few moments, we get the odd visual of Kuss riding away from Roglic to try to win the stage with a main GC competitor. Adding to the confusion is that Kuss actually looked confused himself. He stays with Lopez for a while, but keeps looking back to see what happened to Roglic.
2.3km-But when the road slightly flattens out we get our answer. Roglic uses the higher-speed section to attack Pogacar and get a gap before the road kicks up again. I'm convinced Roglic doesn't really care about Lopez at this point. Lopez was 1'45 behind him at the start of the stage and is a far inferior time trialist. Roglic ONLY cares about Pogacar and saw an opportunity to "test" Pogacar by getting off his teammate's wheel to see if he would attack and allowing a rider that could take Pogacar's 2nd place overall go up the road. Now that he has been able to prove a weakness in the younger rider, he finally attacks to put time into him.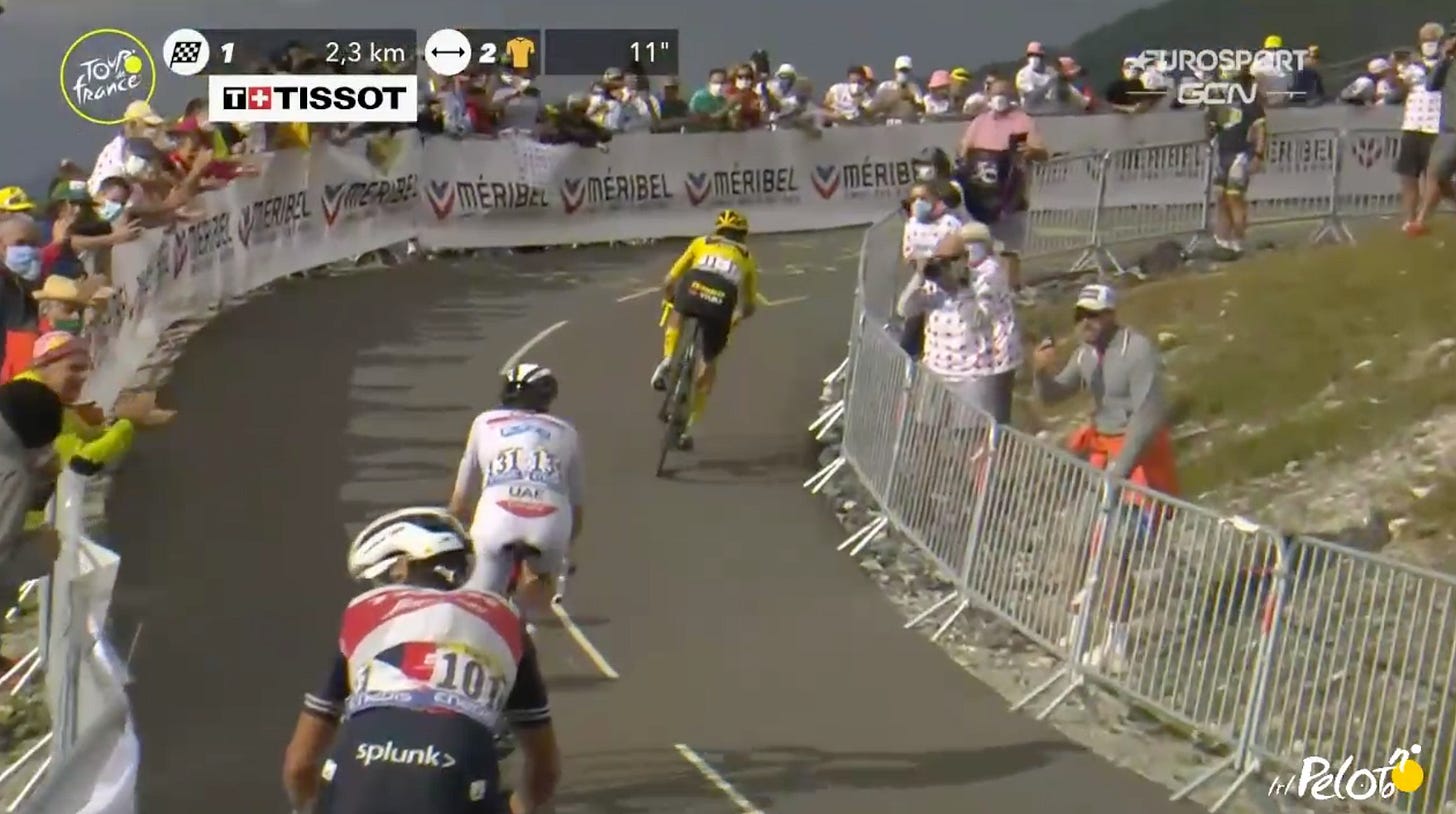 2.2km-Kuss sits up to help Roglic as Pogacar dangles right off the back and Lopez sits 8-seconds in front of them. A very comfortable margin for Roglic. But look at these fans on this climb! This is unsafe for multiple reasons and Pogacar even has to push a few fans off of him in the scrum.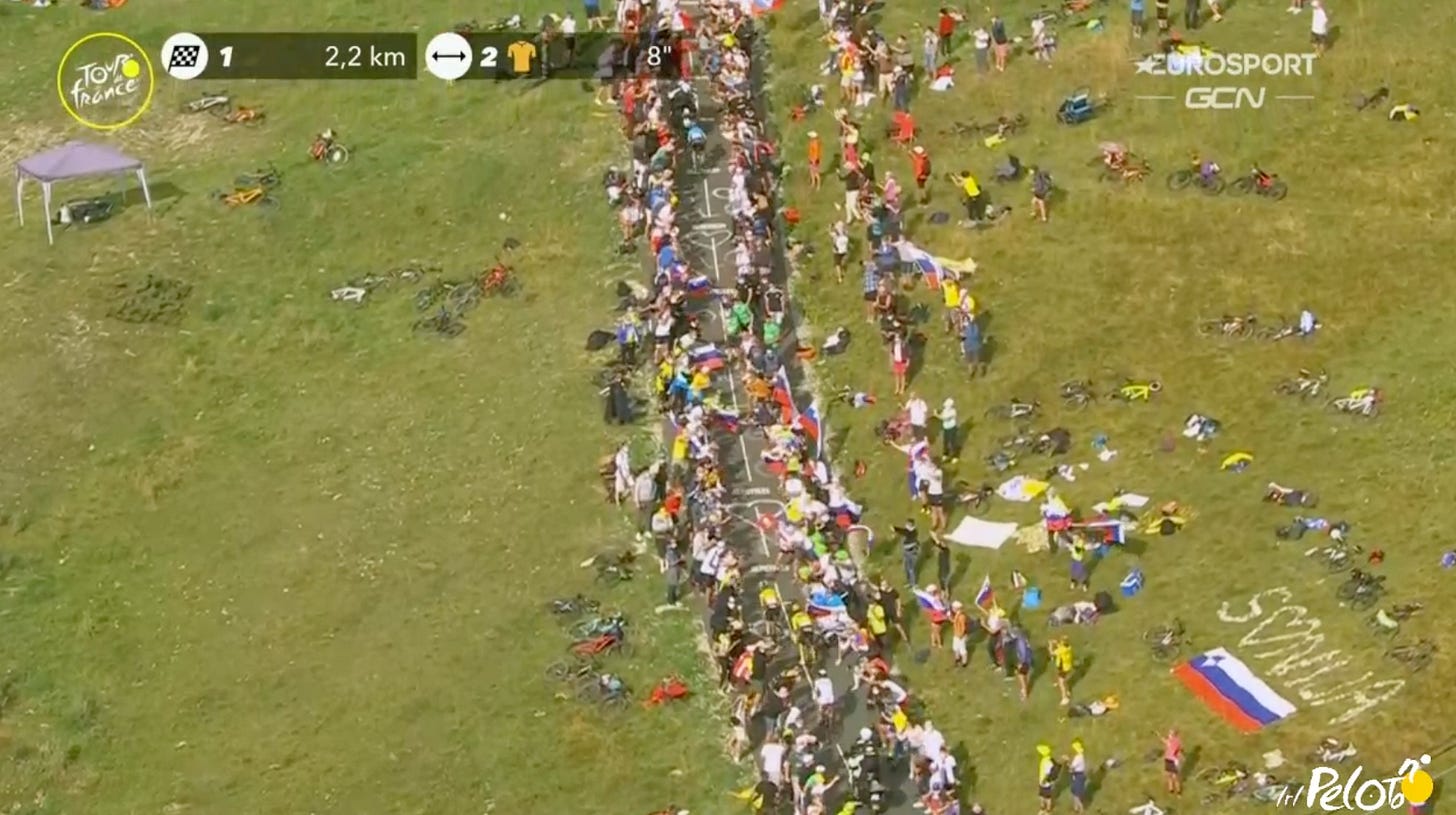 1.8km-Roglic's pressure finally pays off and Pogacar is distanced slightly. 
1.7km-Lopez looks fantastic here and is really in his element with the high altitude and steep grades. Roglic is "chasing him" but he really only cares about putting time into Pogacar behind.
1.1km-It looks like Pogacar is closing in on Roglic, but the steep grades and camera lenses make him appear closer than he really is. You can tell by their riding styles and body language that Roglic is stronger and he really pulls away on these final steep pitches.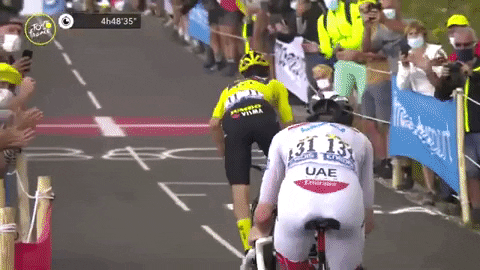 Finish: Lopez crosses the line solo for a great win at his first Tour de France.
Roglic comes in around 15-seconds back. You can see him immediately looks back to see where Pogacar is, and we can clearly see that he is struggling.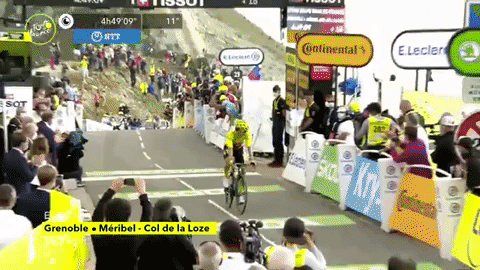 Pogacar finishes 30-seconds behind Lopez and 15-seconds behind Roglic, giving Roglic the first time gap to the younger Slovenian.
Major Takeaways: 
The race for the overall victory is likely over now and even the podium looks set. Roglic has a 57-second lead on Pogacar and 1'26 on Lopez. Nobody can outclimb or out TT Roglic and he will certainly go on to win without a massive mechanical or crash.

Big day for Lopez, he gets a Tour stage win and is on the podium. He still isn't totally safe from Porte, who is 1"39 back, and could make that up in the TT. He really must be rueing those time losses on the first-week climbs.

Pogacar shows his first real signs of weakness in the mountains. However, this makes sense as he has been incredibly aggressively all race and high-altitudes will expose any fatigue or weakness.

This was a big day for Landa's GC career, and he failed miserably. Bahrain is paying him to win grand tours, built the entire team around him, and had one goal at this race. He fell short on the day that was supposed to be perfect for him and likely won't even finish in the top-five.

Carapaz had a good ride as the "last man standing" from the breakaway, but he was never going to stay away on the brutal final climb after working to get into the break and riding in the break all day. It speaks volumes that Ineos didn't trust anyone on their squad to win out of the lead group on the final climb.
Stage
18 Preview & Predictions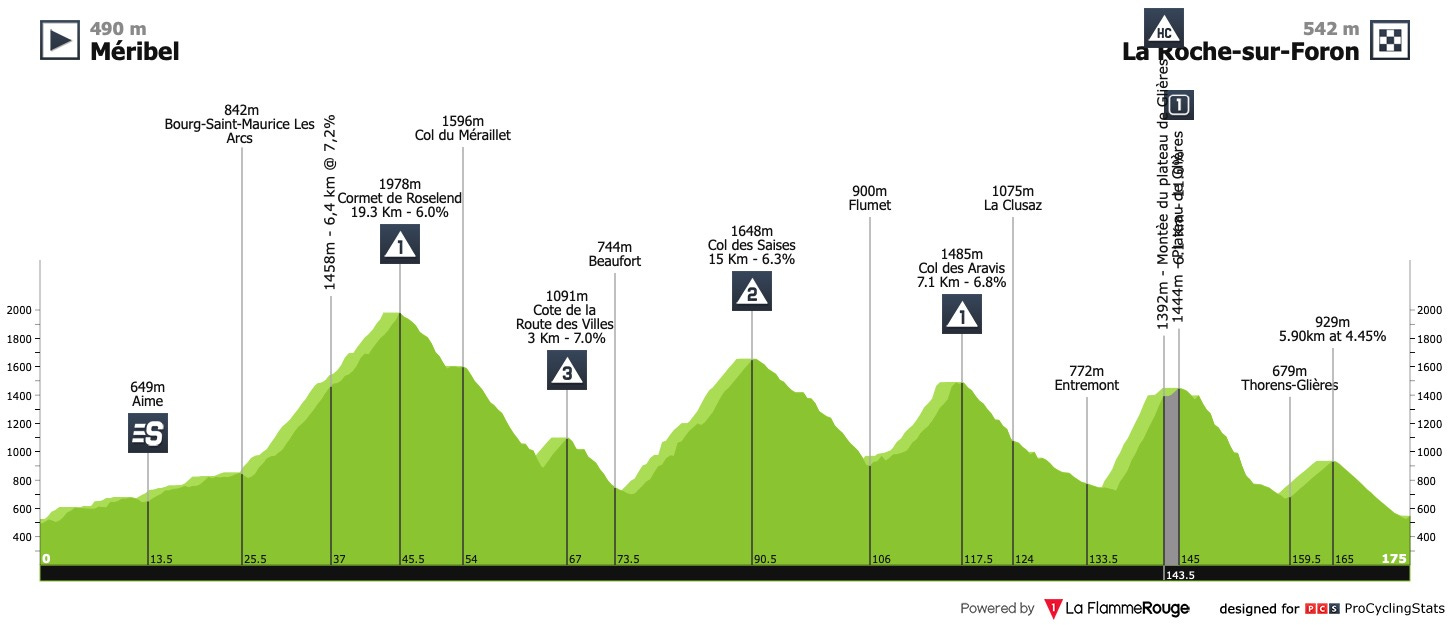 Stage 18 sees the Tour hit its final mountain stage. The Alpine stage runs around the border of France, Italy, and Switzerland and hits five categorized climbs, including a 6km, 4.5% uncategorized lump right before the descent to the line.
Stages like these look brutal on paper, and they certainly are hard, but fans will often expect an all-out assualt on the leader with multiple riders working together to dethrone the Yellow Jersey. But without a summit finish and riders already starting to count their top-ten Tour finish bonuses, these stages usually see incredibly conservative racing.

This is one of the last days that Jumbo really has to work and I see them letting a breakaway up the road and then taking the peloton by the scruff of the neck, keeping the pace too high to attack and keeping everything together into the finish.

Sagan failed to make a dent in Bennett's Green Jersey lead in the final few days and now sits 47 points back. The jersey is likely firmly in Bennett's grasp now, but expect him and Bora to shred the field on the uphill finish to the first intermediate sprint point.

Prediction: Jumbo lets a breakaway go, and Max Schachmann takes it the stage win from the break after breaking the race apart for Sagan in the early stages. The GC contenders shadow box on the final HC climb, but all finish together, with Roglic taking his 57-second lead on Pogacar into the TT.