Le Tour Stage 19: A surprise one-day classic & TT Preview
A Classic breaks out at the Tour de France and previewing tomorrow's time trial
This is a premium daily grand tour analysis newsletter. Thank you to current subscribers. If you were forwarded this newsletter or are on a complimentary membership and want to continue to get these in the future once your free trial ends, sign up below.
Stage 19 of the Tour de France treated us to the cycling version of a well-designed Matryoshka doll, with a one-day Classic buried inside of a Tour de France stage. With 16km-to-go, Søren Kragh Andersen attacked out of a group of Classics stars who were off-the-front of the peloton and soloed to another stage win. This brought his stage win total to two, and his Sunbweb team to three, all solo, which is incredibly impressive for a small-budget team without a star rider. As predicted, the GC battle took a day off prior to the pivotal time trial tomorrow.
If the end of Stage 19 resembled an exciting one-day classic, the start was a textbook boring Tour sprint stage, with one rider, Remi Cavagna going up to the road on a pointless solo breakaway. As I was writing a paragraph about how it is really odd that the Tour organizers decided to sandwich a boring stage in between dramatic Alpine stages and the final TT, the race got suddenly got exciting, with serious sprinters and one-days riders popping off the front while Caleb Ewan struggled to hang on to the peloton.
This was a welcome sight since traditionally, the Tour has put odd sprint stages here, while the Giro and Vuelta (and more recently, the Tour), which are actually superior entertainment products, would either put in another GC mountain stage or place the TT on stage 19 and then put a mountain stage on the following day, to encourage those who lost time in the TT to attack and shake up the race. However, the tricky finale and aggressive racing today was certainly more entertaining than a textbook sprint stage and after my initial distaste, I actually found it a refreshing palate cleanser from the, and let's be honest here, kind of boring GC battle. 
Stage 19 Notebook:
50km-We approach the intermediate sprint and Bora, who was setting pace earlier in the stage have clearly given up on getting rid of Bennett. They are letting Benoit Cosenefrey and Luke Rowe attack off the front 3km before the sprint point. Sagan isn't even at the front of the bunch.
49km-The peloton just rolls up to intermediate sprint One wonders if Sagan is holding back in an attempt to win the stage. Remi Cavagna, the lone breakaway rider, is only a minute in front of the peloton
Intermediate Sprint: Bennett wins it easily, Sagan 2nd and Morkov third.
46.7km-And this is where things suddenly get interesting. With the intermediate sprint in the rear-view mirror and Jumbo happy to sit up and let the plebians fight it out of the scraps on offer for the stage win, a small group attacks out of the peloton. Rémi Cavagna sits up and waits for the chasers, they catch him.
45.6km-Peter Sagan attacks to get up to the break and Sam Bennett, Matteo Trentin, Kasper Asgreen, and Michael Morkov follow. They are likely trying to catch out Caleb Ewan, who is struggling at the back of the peloton. Sunweb, who missed this move, is winding up the pace in the peloton behind to close this down.
It has been interesting to watch the breakaway dynamic evolve at the Tour. Instead of just attacking early and sitting out there waiting to be caught before the line, it feels like riders are waiting until closer to the finish to launch their breakaway attempts, which has made them more potent.
43.5km-A group of sprinters attack the peloton in an attempt to bridge up to the break, but up the road they are really flying and pulling out a big gap.
41km-Greg van Avermaet has attacked off the front following a move from Cofidis. This is getting interesting, almost like a mini-classic in the middle of a Tour stage.
40km-Crash at the back and Rigoberto Uran is held up by it. He tends to sit too far back in the group on days like today and this is exactly why you shouldn't do that. The race is really on and now his team has to sit up, wait for him, and chase back on.
37.6km-There is some serious firepower in this front group, this could work out really well for van Avermaet
32.4km-Caleb Ewan getting dropped at the back, when these images get to the team cars they will certainly ramp up the pace.
28km-The peloton is sitting up, Jumbo has no reason to chase, with a classics specialists group up the road.
24.3km-Every sprinter in the race is trying to bridge up to the leaders now that Ewan is struggling at the back of the peloton and can't respond
23km-Big names like Trentin, Sagan, Bennett, Rowe are pulling through at the front of the break. This is so interesting, it's like watching the Tour of Flanders.
12-riders have established themselves out front and they are all classiscs stars, or at the very least, contenders in major classics. Luke Rowe (Ineos), Peter Sagan (Bora-Hansgrohe), Oliver Naesen (Ag2r La Mondiale), Sam Bennett and Dries Devenyns (Deceuninck-Quick Step), Jasper Stuyven (Trek-Segafredo), Greg van Avermaet and Matteo Trentin (CCC Team), Jack Bauer and Luka Mezgec (Mitchelton-Scott), Nikias Arndt and Soren Kragh Andersen (Team Sunweb) with 25km to go. Three chasers: Edvald Boasson Hagen (NTT), Bryan Coquard (B&B) and Hugo Hofstetter (Israel).
18km-The break is going up the final climb before the finish. If they want to get rid of Bennett, this is the time to do it. And sure enough, pressure is being put on at the front, but its not coming from Sagan and Trentin, its coming from…his own team?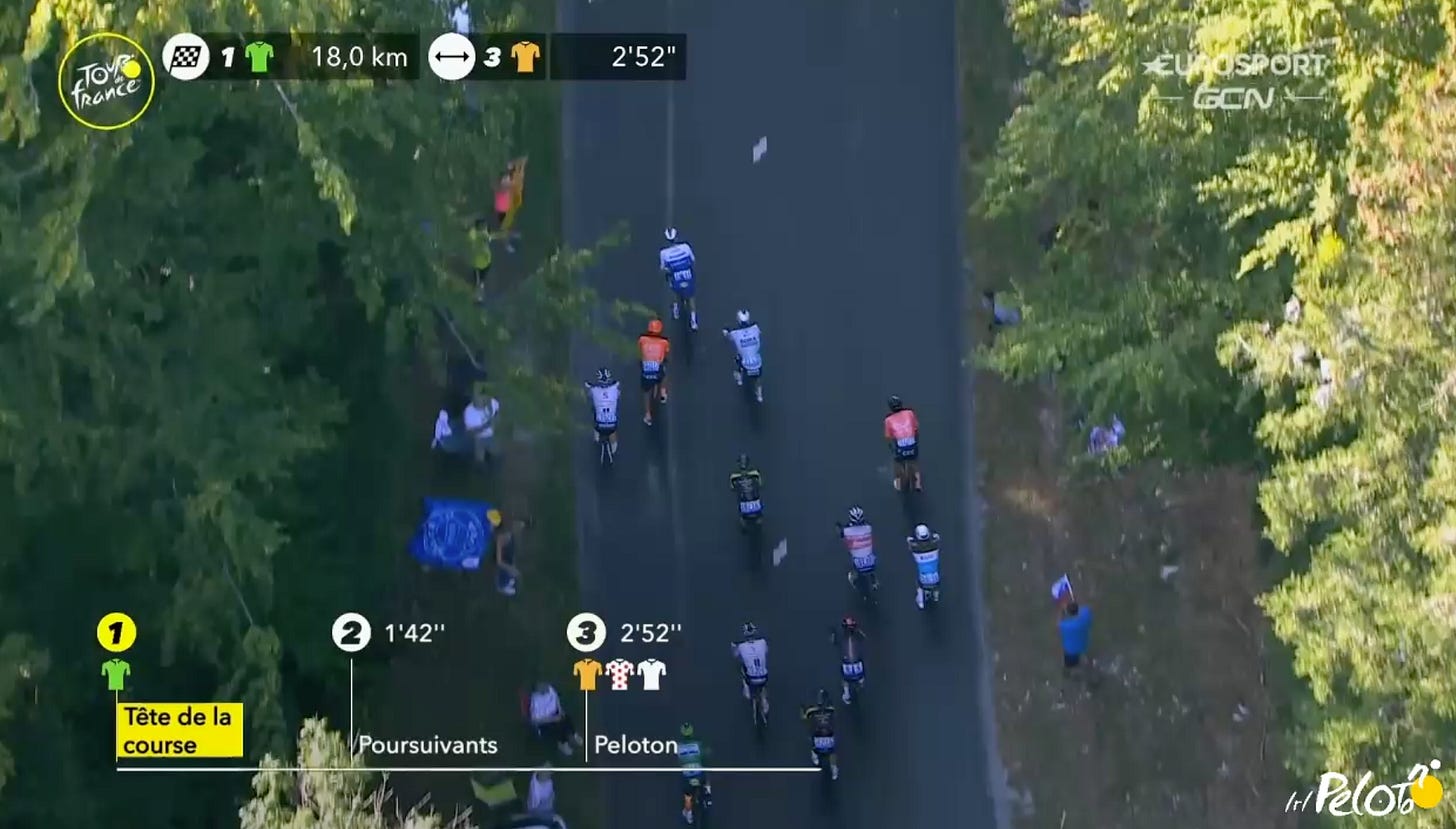 When we get a shot of the back, we clearly see Bennett struggling to hang on to the pace being set by his teammate Dries Devenyns.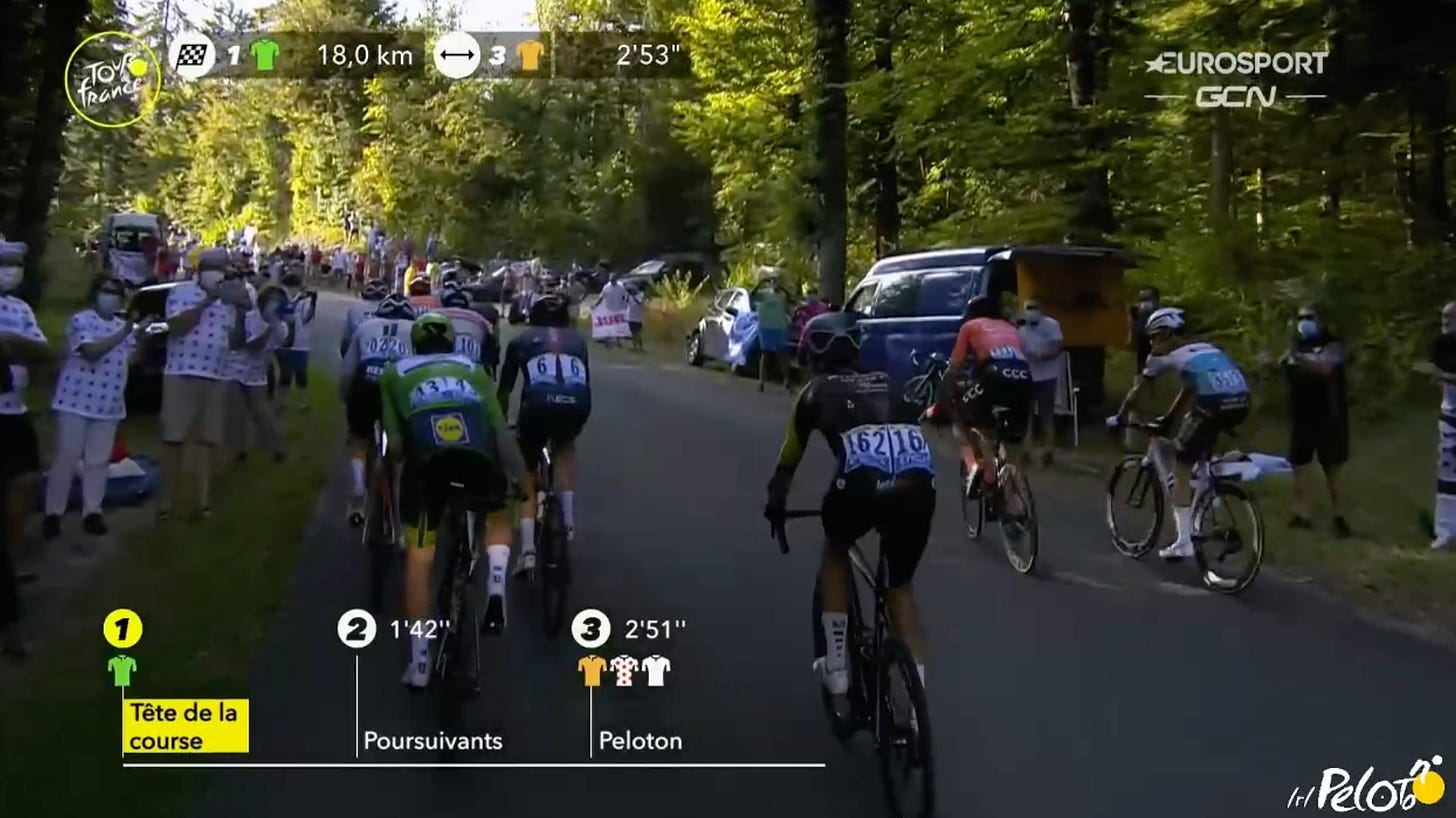 I get the feeling that DQS actually resents Sam Bennett for using so many team resources to pull back the race on sprint stages of which he wins at a fairly low rate. Pulling races together for bunch sprint isn't in their DNA, and they have enough one-day race snipers that they potentially win at a higher rate if they got rid of their sprinter and raced the way Sunweb does.
16.7km-Trentin attacks, Sagan and Bennett following closely behind.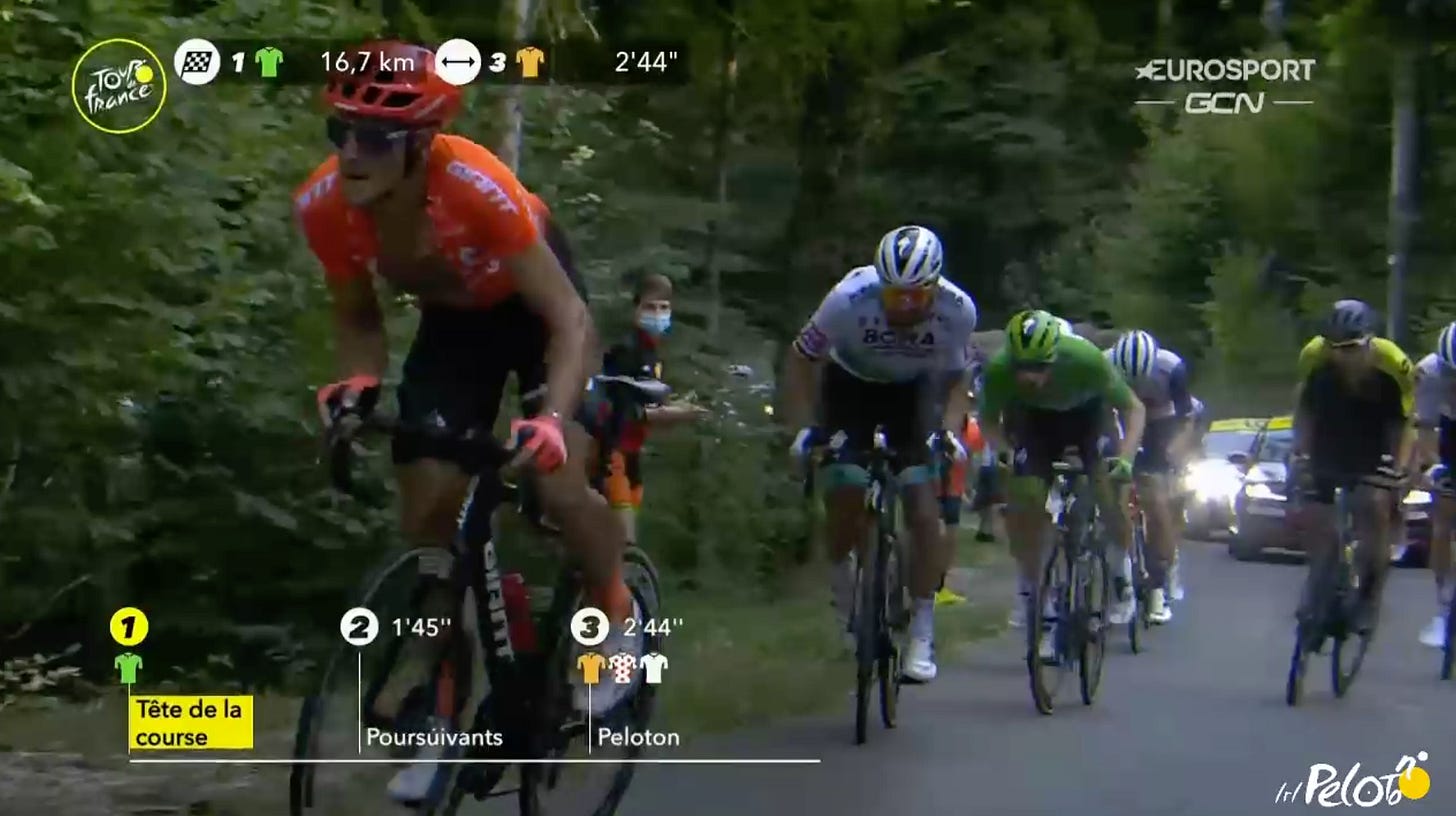 16km-Right as Trentin is pulled back, Soren Kragh Andersen counter-attacks. Just like Stage 14, this is a perfect move. You can see riders in the back literally looking at each other wondering who is going to chase this down. Kids, if you want to win races, just watch the Sunweb riders.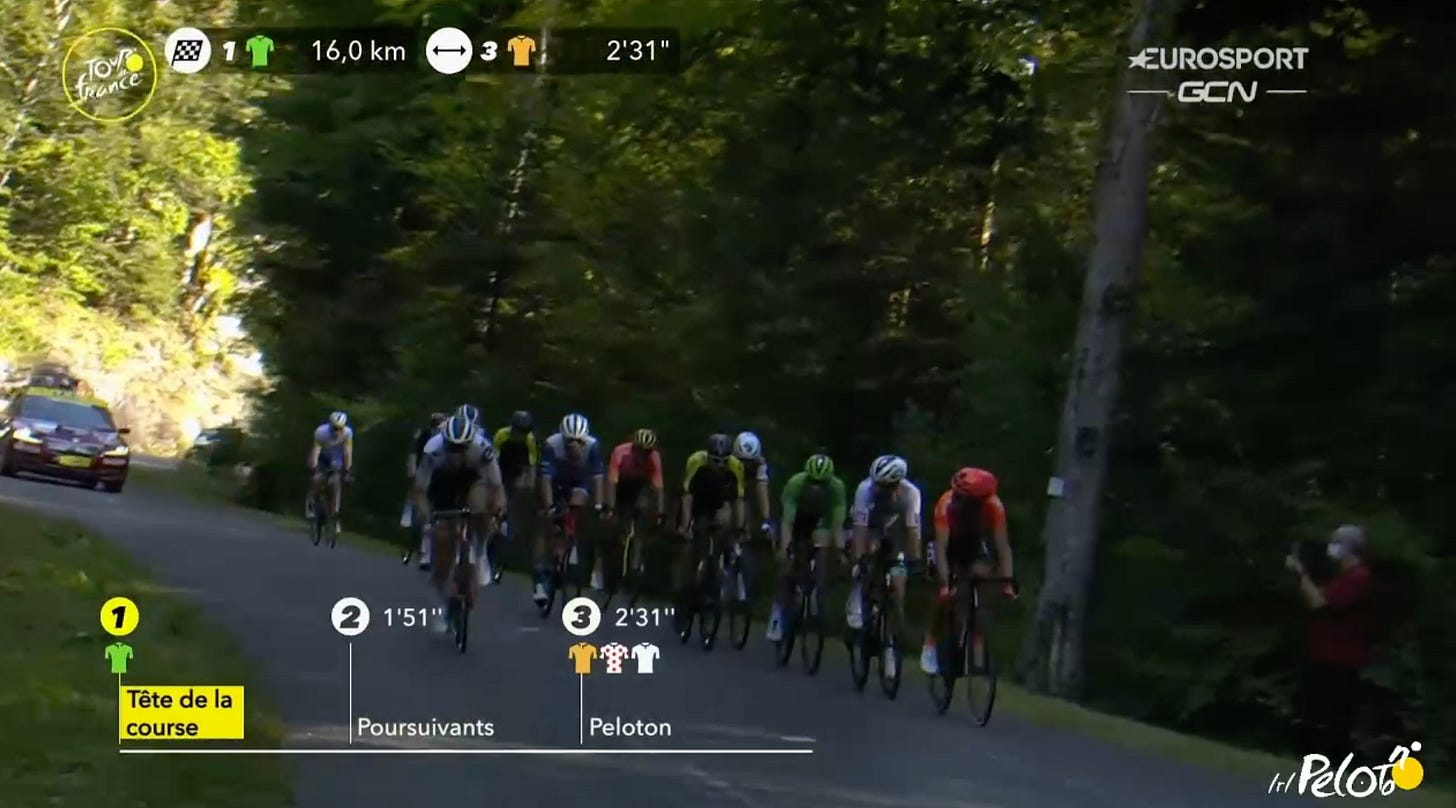 14.3km-Kragh Andersen is flying and gets a huge gap immediately. Nobody in the group behind wants to be the one to pull him back and set the others up for a win. CCC teammates Greg van Avermaet or Matteo Trentin could sacrifice themselves for the other, but with the team folding at the end of the year, there is likely little team loyalty and both of these riders have made a career out of winning races, not working for the team.
13..8km-The gap is already out to 14-seconds, and on these winding and tree-lined roads, it is harder for a group of riders, since the solo rider can hold speed just as well and the group can't see the escapee through the curves and trees.
12.5km-The gap out to 25-seconds. This race is over.
8km-The gap is out to 46-seconds. This is playing out exactly like the end of a one-day classic.
Finish-Kragh-Andersen ends up winning by 53-seconds, with Luka Mezgec (another podium stage finish for Slovenia) coming in second in a small group ahead of the Bennett and Sagan.
Major Takeaways:
Sagan, and the CCC duo of van Avermaet and Trentin missed out on their last stage win opportunity by letting Kragh-Andersen ride away, but their options here weren't great. If they work to pull him back, the faster riders in the group like Mezgec and Bennett would just outsprint them at the end. They needed to get away solo, but they were all marking each other closely, thus opening the door perfectly for a rider like Kragh-Andersen.

Another impressive win for Sunweb. This brings their tally to three solo stage wins, with two brought home by Kragh-Andersen. A fantastic result for a low-budget team that chose to leave their star sprinter at home.

On this note, I wonder if DQS wishes they were riding a la Sunweb and letting their snipers roam for stage wins freely by leaving their sprint at home. They have won two stages at this Tour with Bennett bringing home one of those, but it is interesting to think what they could have accomplished in another reality where their riders were cut loose to chase stage wins every day.

With a 55-point lead in the points classification, Bennett will win the Green Jersey in Paris if he can finish the intermediate and final sprint on Sunday in a decent position. If Sagan hadn't been DQ'd on Stage 11, Bennett would still be in the lead. It appears like Sagan isn't in top form and has just finally met his match after seven years of domination in the competition.

Back in November, I predicted this Tour would be won on the Stage 20 TT, and we are certainly going into tomorrow with a tightly-packed podium exactly like I thought we would. The more climbing and fewer TT kilometers there are in a race, actually has an inverse effect of neutralizing the climbing and emphasizing the time trailing. The biggest difference-maker in this climb-heavy Tour has been the crosswinds on Stage 7. Without the time losses in the crosswinds, Pogacar and Roglic could be going into tomorrow's TT nearly tied on time (how exciting would that have been?).
Stage 20 Time Trial Preview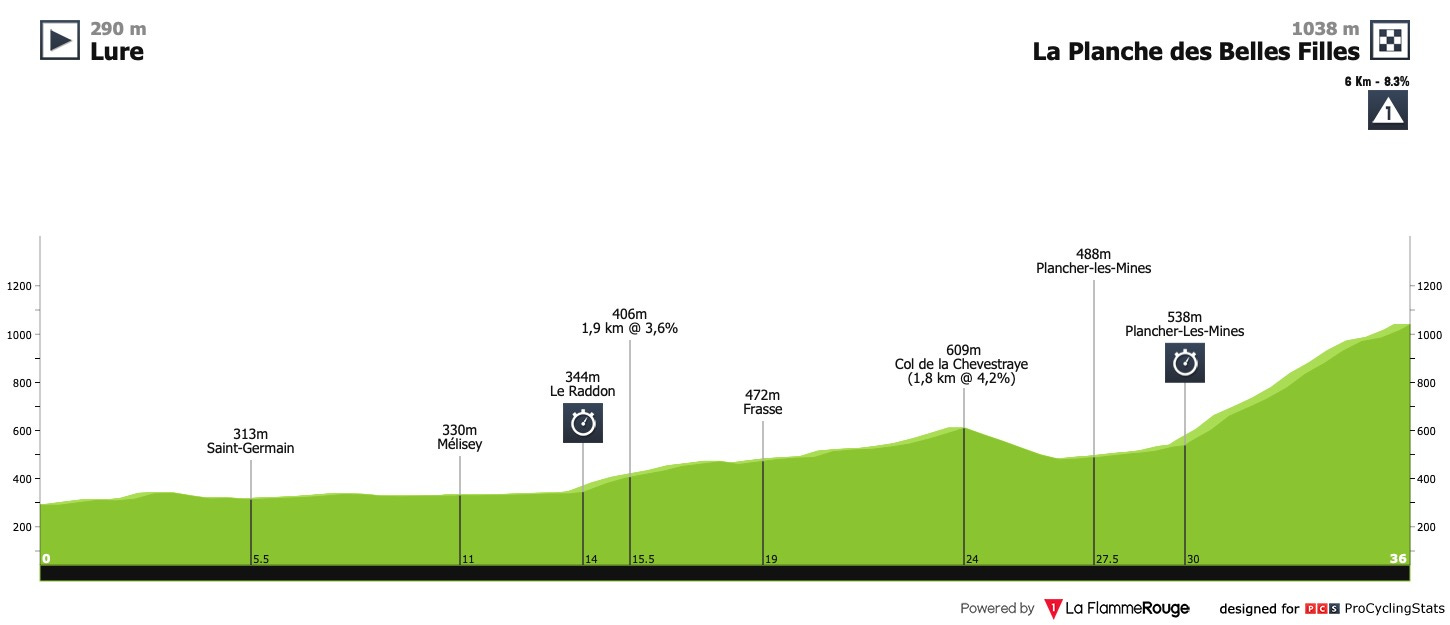 The Stage 20 time trial is the final chance for the GC riders to improve their overall standing. The 36.2km TT finishes up La Planche des Belles Fille, which sees the riders forced to tackle an uphill drag of 5.9km at an average of 8.5%, with the steepest pitches of 20% appearing right before the finish line.
The media is calling this a "mountain time trial," but this isn't the 2004 Tour hosting a TT up Alpe d'Huez. There are 30km of traditional rolling terrain before they hit the climb, and remember, if the average grade on the climb is 8%, but the final pitches are 20%, the lower slopes are an easier grade that will suit the time trialists. It is really similar to the 2017 world TT champs in Bergen, Norway, where Tom Dumoulin dominated and Primoz Roglic finished 2nd.

In general, I hate the terms "climbers" and "time trialists" since riders like Mikel Landa are considered climbers but aren't as good at climbing as riders like Primoz Roglic, who is considered a "time trialist." Roglic is just faster at riding his bike and will beat Landa on any terrain, and I think people will be shocked at how well the "time trialists" like Roglic, Porte, and Dumoulin do against the "climbers" like Landa, Lopez, and Yates.

Even Lopez, who has certainly proved himself to be very strong going up mountains in this race, could struggle. Just because there is an uphill section in the TT doesn't mean that the riders like Lopez will do well. There is a certain physiology and mentality required for time trials, and just because one is good at riding up hills in groups doesn't mean they will be good at this type of solo effort.

Speaking of Lopez, he should watch out for Richie Porte. Lopez is one of the worst time trialists in the pro peloton and this TT is tailored-made for Porte and he has thrived on courses like this throughout his career (remember, he won two editions of Paris Nice due to uphill time trials). If Porte is on a good day, he could pull back the 1'39 needs to land on the podium. He will go significantly faster than Lopez in the first 30km, and I think he will actually outclimb Lopez on La Planche.

1'39 might seem like a big gap to close down in a 36km TT, but on Stage 20 of the 2011 Tour, Cadel Evans put 2'38 into Andy Schleck over a 41km course featuring a tough climb.

I expect almost every major favorite to change from their TT bikes to their road bikes for the final 6km. The rules dictate that they have to change bikes from the car, so it will be really interesting to watch, as a poor change can cost a rider serious time.

The KOM competition will be decided between Carapaz and Pogacar by the faster rider up the climb of La Planche des Belle Fille. This is such an exciting sub-plot for a normally boring competition. Remember, Carapaz has the luxury of riding easy before there climb, while Pogacar has to ride full-gas all day.

Prediction: It isn't really being discussed in the media, but my lord, this course couldn't be better for Primoz Roglic. He will absolutely destroy the field tomorrow and easily get the stage win. Note that he is only a +150 on BetMGM, with Dumoulin is at +250. One of these two guys will win the stage and bets spread evenely between them will see you come out ahead. The three weeks of hard racing will finally catch up to Tadej Pogacar and the 21-year-old will lose time on Roglic. Richie Porte will reel in Lopez like a master fisherman and take the final podium spot.