Discover more from Beyond the Peloton
In-Depth Pro Cycling Analysis
Over 16,000 subscribers
Le Tour Stage 20: What the heck just happened!?
The Tour's GC battle is capped off by one of the most exciting time trials of all time
I'm making today's Tour de France stage analysis available to all because of the shocking and historic nature of the stage. If you want to continue to receive these daily updates during the Tour, Giro, and Vuelta, along with more regular newsletters and yet-to-be-announced benefits, sign up below. If you have already signed up, thank you for your patronage and enjoy your daily updates.
Slovenia got its first-ever Tour de France champion, but not in the way that I expected. The GC battle, which had been on a slow boil since Stage 6 finally exploded as Tadej Pogačar stunned Primož Roglič, along with the cycling viewing public, by erasing his 57-second deficit on the La Blanche de la Belle Fille time trial to win the Tour de France by 59-seconds (becoming the 2nd-youngest rider to ever win the race). He also won one of the most dramatic Tour stages of all time over Tom Dumoulin, former world time trial champion who put in a fantastic ride, by a whopping one minute and 21 seconds. Roglič, a completely broken man, came over the finish line nearly two-minutes behind Pogačar and could only collapse onto the tarmac in horror, disappointment, and disbelief.
The stage will go down as the catalyst for one of the most shocking comebacks in Tour history and will be considered the second-most exciting TTs of all time, right behind Greg Lemond's incredible comeback during the Stage 21 TT in 1989.
Oh yeah, Richie Porte put in one of the best rides of his careers to get onto the podium and put over two minutes between him and Mikel Landa in 4th place, while Miguel Angel Lopez ended up over three minutes off the podium in 6th place. This performance by Porte won't be forgotten since it was never even noticed in the first place due to the unforgettable battle for the overall win, but it should serve as a lesson for how much time a skilled time trialists can put into poor ones over relatively short distances, even when there is significant climbing involved. In a Tour with extremely minimal time trial kilometers, a poor time trialists like Landa, Quintana, Bardet, and Lopez still would have needed 3-4 minutes before the stage to win the overall. It should also serve as a testament to persistence, as Porte finally gets onto the podium of a grand tour at the age of 35 and five years after he left his domestique role at Team Sky to pursue his individual results. It clearly means a ton to Porte, who missed the birth of his second child to continue in the race.
Stage 20 Notebook:
David de la Cruz and Jan Polanc (part of the Slovenian cycling mafia) on Team UAE both ride the TT course incredibly hard and switch from their TT bikes to road bikes early in the day. UAE is clearly practicing their bike changes with these riders and using them as guinea pigs to relay information back to Pogacar.
Wout van Aert has an amazing ride and sets the best time on the course. He performed a bike change from his TT to his road bike at the bottom of the climb.
Tom Dumoulin, 2017 World Time Trial Champion, starts later and roasts the flatter section of the course. He beats van Aert's time by ten-seconds and takes over the hot seat as the current leader. He stays on his TT bike for the climb, even staying in the aero position on grades up to 12%. Ultimately I think this was the wrong decision, as he set the fastest time of the day in the first 30km, but would lose 1'22 to the stage winner Pogacar on the climb, and even cede 40-seconds to his teammate van Aert, who he should be outclimbing.
Riche Porte looked really good all day and switches to his road bike for the climb. He finishes a few hundreds of a second behind Dumoulin at the finish but out-climbed him by a minute, which means Porte set a much slower pace on the flats and confirms that Dumoulin probably left time on the table by not switching bikes.
As soon as Roglic leaves the start ramp as the last rider out on course, Pogacar is taking time out of him at a shocking rate and it is clear the Yellow Jersey is in big, big trouble.
17.1km-Pogacar FLYS by a struggling Lopez like he is standing still. This is the first sign that he is on an absolutely amazing day.
9.1km-Three kilometers before the start of the climb, Pogacar has already pulled 31-seconds out of Roglic (the green number below Roglic's name represents the gap between the two in the overall standings). This is quite shocking since Roglic is a World Time Trial Champion runner-up and historically has been the much faster time trialists on the flat (remember, he took 90-seconds out of Pogacar at a 36km TT last August at the Vuelta a Espana).
However, look at their respective form. Roglic has his head up and is significantly less aerodynamic than Pogacar, who has his head tucked down. These small mistakes in form are usually indicative of fatigue.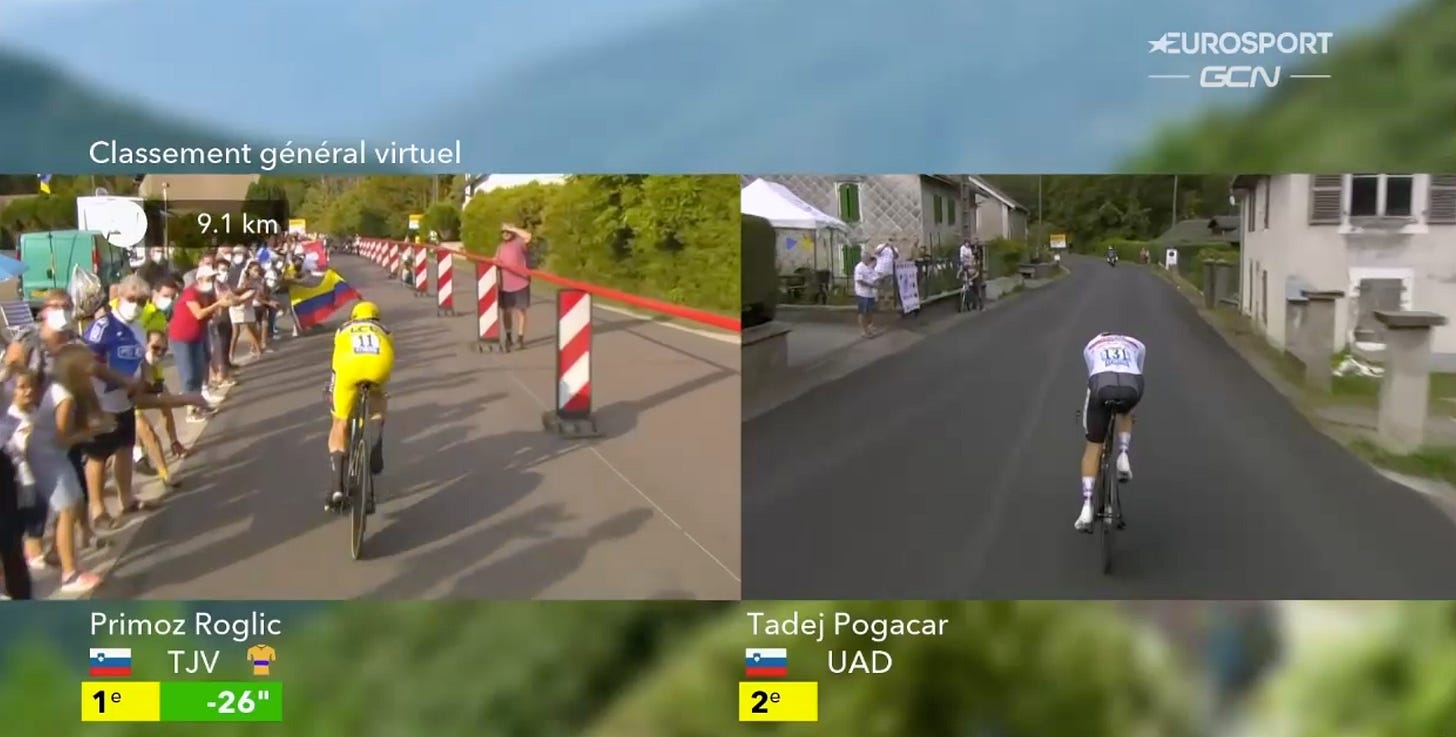 6km-By the base of the climb, Pogacar has taken 36-seconds out of Roglic and executes a perfect bike change. Remember, he practiced this change at the Slovenian national TT championships back in July, while Roglic chose to stay on one bike for that entire course.
Roglic comes through a few minutes later and gets a much slower bike change. He looks uncomfortable standing after he gets off his TT bike and is waiting for his road bike.
4.9km-A kilometer later, Roglic has stemmed the bleeding and has actually pulled a second out of Pogacar. I thought that Pogacar had gone out too hard and Roglic had done a better job of pacing the course.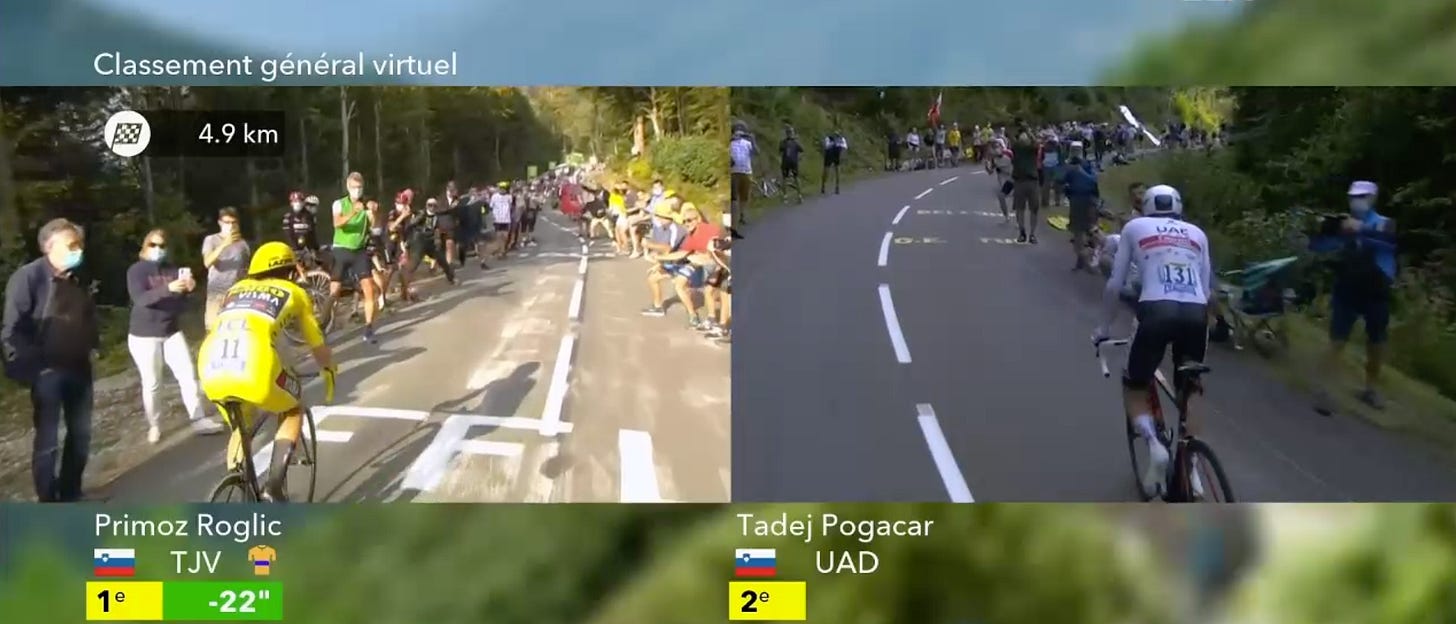 4.2km-But Roglic surrenders 19-seconds in .7kms to Pogacar and it is clear he is riding a much, much faster pace. This is obvious in this screenshot just by the way each are sitting on the bike. Pogacar is riding a bigger gear and has a noticeable spring in his pedal stroke, while Roglic, who usually has picture-perfect form, is riding a very high of a cadence, but without the usual power.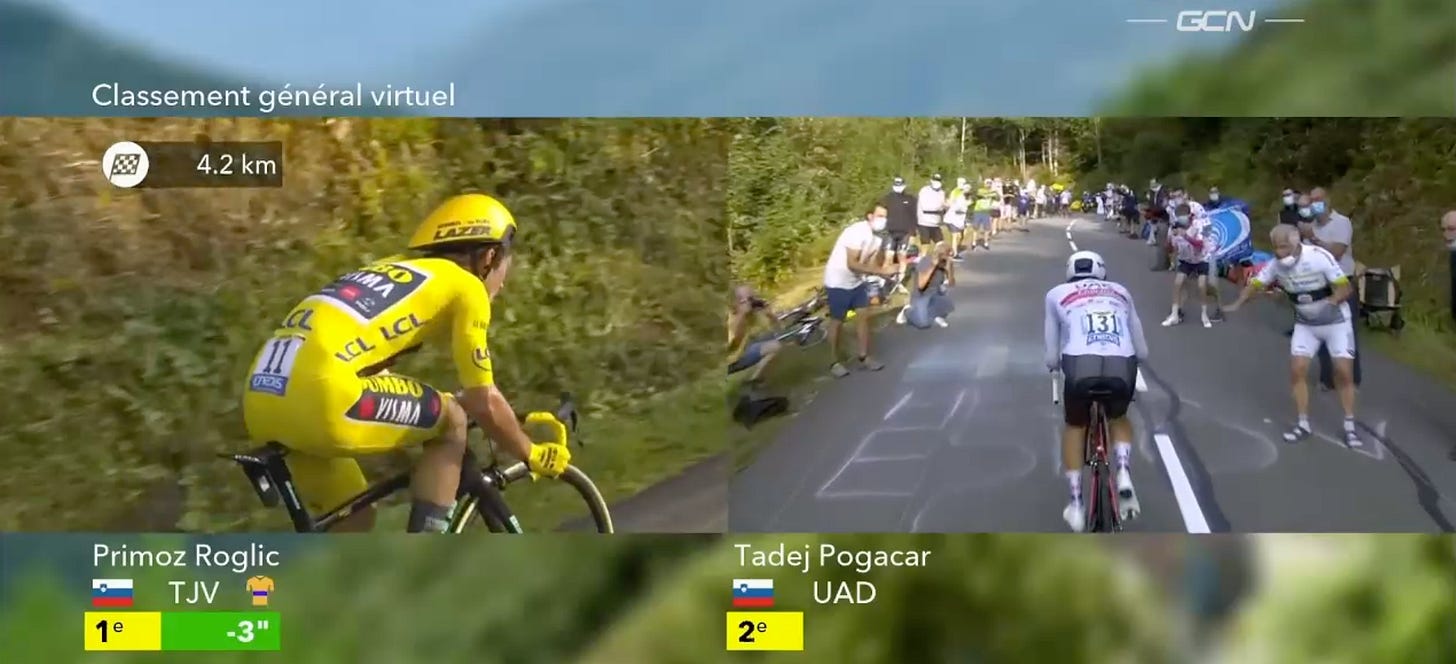 2.1km-Pogacar has pulled out 48-seconds in TWO KILOMETERS. To put that into perspective, Roglic put 57-seconds into Pogacar over 3,350km, and Pogacar almost erases that gap in 2km. It is obvious just from watching that Pogacar is flying up this climb.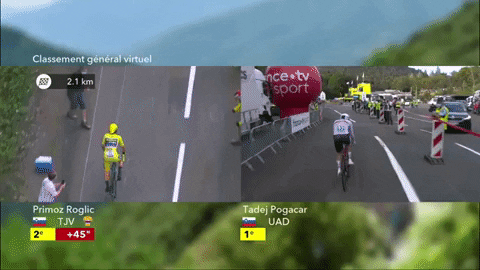 Final km-As Pogacar turns the corner to climb the final steep pitch to the line, he is over two minutes ahead of Tom Dumoulin. We get a priceless picture-in-picture showing van Aert and Dumoulin looking gobsmacked like members of the Night's Watch watching the White Walkers approach Castle Black with their army of the dead.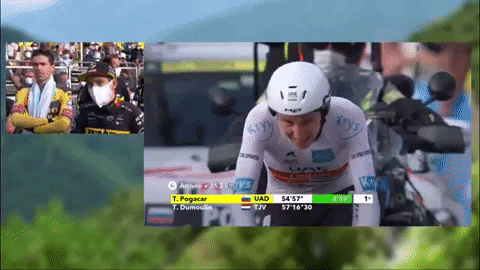 The velocity at which Pogacar comes over the finish line, which is just after a 20% pitch, is shocking.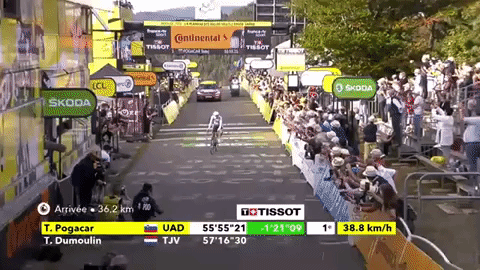 Roglic is a broken man, as displayed by his dislodged helmet, a clear sign you are over the limit, and rolls over at a much slower pace.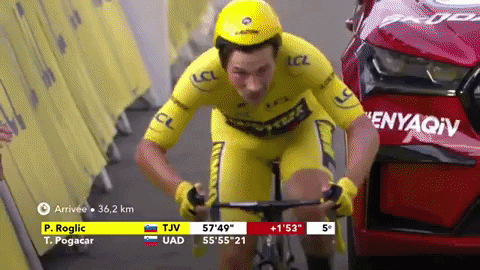 Roglic collapses in defeat and clearly struggles to wrap his mind around what just happened as he desperately tries to wake up from this horrible nightmare.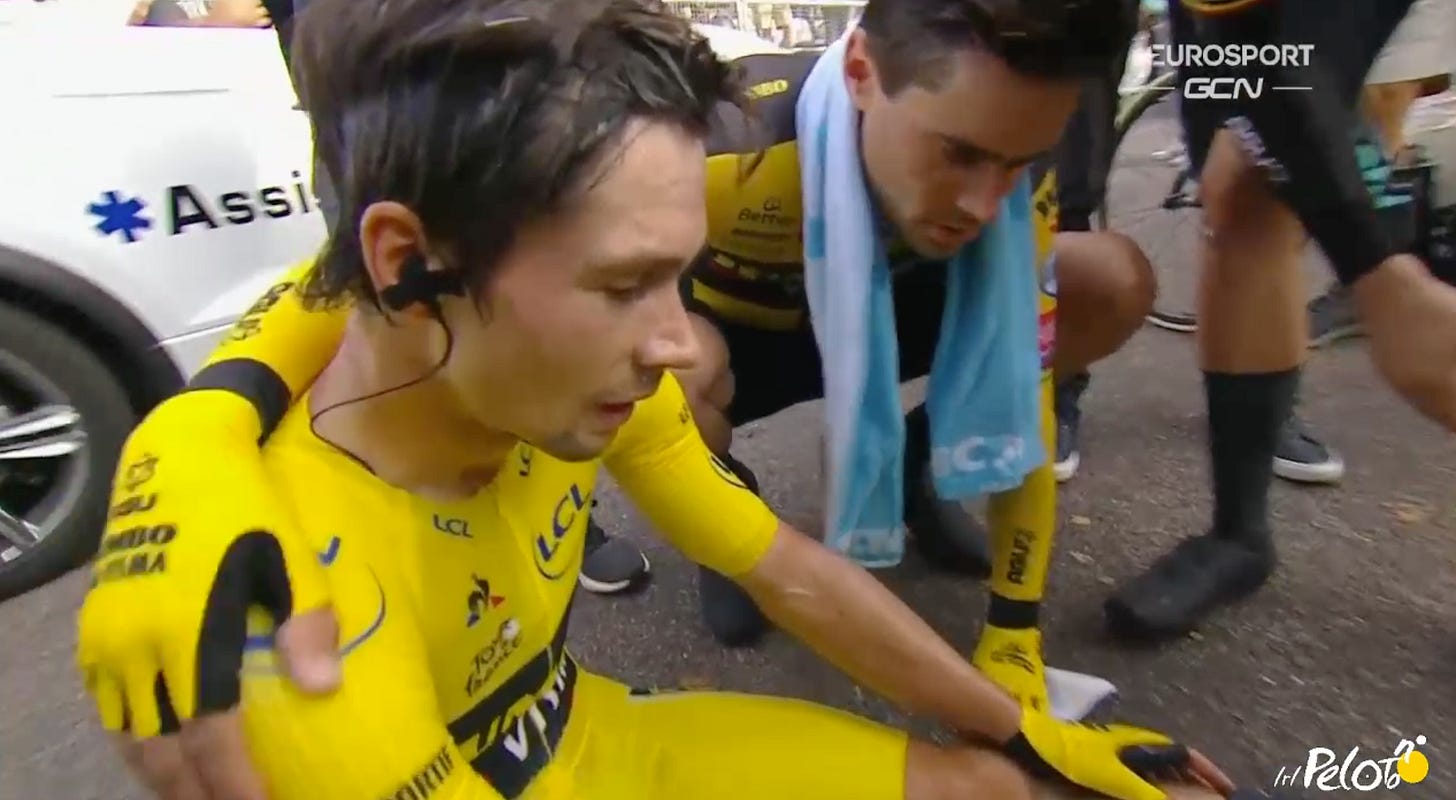 Pogacar, looking quite fresh, celebrates with his team manager.
Stage 20 Top-Five

GC Top-Ten

Major Takeaways:
Pogacar's UAE Team becomes one of the weakest teams to win the Tour de France. Pogacar basically won this thing unattached.

Pogacar will win three competitions; the Overall, the Best Young Rider, the King of the Mountains, which is absurdly impressive.

Back when this Tour route was released, I thought the race would be decided by this time trial, but the way this unfolded was shocking even to me. Roglic didn't have a great final climb, but he only finished roughly 30-seconds behind Dumoulin, who I thought would easily have the fastest time of the day. Pogacar looked broken earlier this week, getting dropped by Roglic on Stage 17, and looking in trouble on Stage 18 when Roglic put pressure on. You rarely see riders recover from moments like that in the third week of a grand tour, and Pogacar putting 1'57 into Roglic just two stages later was something I never saw coming.

Pogacar pulled out a mind-bending 3.2-seconds per kilometer over Roglic over the course of the 36km TT. This is the type of gap you normally see between the best time trialist in a race and a much weaker climber, not a gap between two of the best time trialists in the world.

Roglic is going to lose this Tour by 59-seconds, the 10th closest margin of all time. Looking back at the past three weeks, it is hard to find anything he could have done differently except when he didn't follow Pogacar's attack on Stage 8 and the young rider went on to gain 40-seconds by the finish line.

Roglic didn't implode, and 5th in the final TT is a very good finish for a GC rider, but if we look at the times on the final climb, we see just how much faster Pogacar was.

Looking at the times on the final climb below, even if Roglic rode the final climb at the same time as Porte, which would have been a great result, the 36-second time loss on in the flat first 30km means he still would have lost the overall by 1-second.

Note the top three times for the climb. None of these riders are considered pure "climbers" (even though Pogacar seems to be the best climber in the race and won the KOM jersey).

I've been skeptical about Wout van Aert becoming a GC rider, but his TT shows he could do possibly make the transition if he wanted to. In the short term, I would consider him the favorite to win the World Championships next weekend.
Let this be a lesson to everyone for future Tours. We kept hearing how this race would be won in the mountains, and that the gaps may seem small so far, but we will see huge gaps on the big Alpine climbs. However, if we look at the total time lost/gained between Pogacar and Roglic, the biggest loss for Pogacar came on the flats in the crosswinds, while his biggest gain came in the 36km TT. The mass start mountain stages saw the climbing sensation pull out a mere 32-seconds.
Time lost/gained between Roglic/Pogacar per parcours:
Flats: +1'29 in favor of Roglic

Climbs: +32 in favor of Pogacar

TTs: +1'56 in favor of Pogacar
My betting strategy will see me win more money with a Pogacar overall win, but I personally found it really difficult to watch Roglic's Tour win melt over the course of an hour. I think he is an incredible rider who is criminally underrated by the English-language media and is often discounted because of his stoic demeanor and Eastern-European-ish background. He is a refreshing force in a sport when many champions are groomed from youth. He tried to join a Slovenian junior team at the age of 22, but the team manager informed him he was far too old to ever find success in the sport, that he would receive no financial support from the team and would need to raise 5,000 Euros to ride with the squad. Roglic would go work in a grocery store until he had the necessary funds to join the team and the rest is history.
Not to mention that this could have been his best shot to win the race. At 30, he will certainly come back to the race in great shape, but it is hard to imagine him getting a better shot at this and beating an on-form Pogacar, who now has to be considered the best GC riders in the world and if he continues this trajectory, could go on to become the best GC rider of all-time.
Stage 21 Preview & Predictions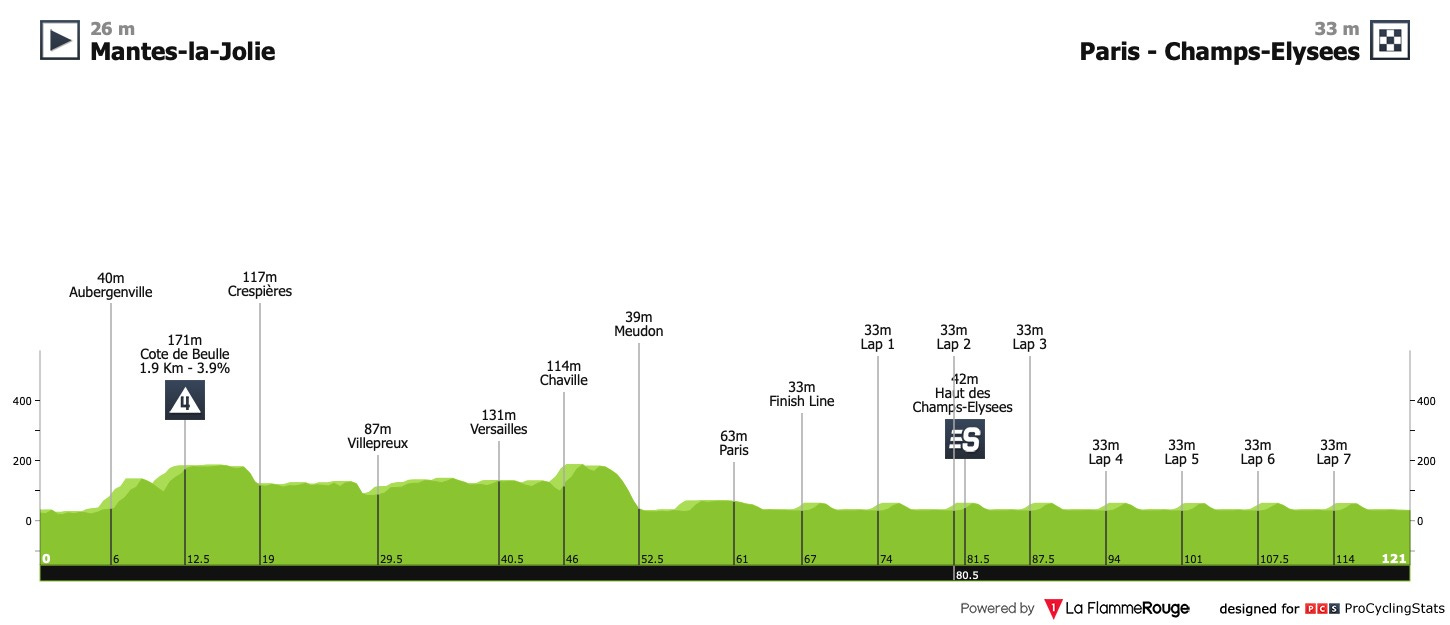 Tomorrow sees the peloton roll into Paris for the mostly ceremonial final stage. This could be an unpopular opinion, but I don't care for this stage. The sight of the riders riding along the Champs-Élysées is fantastic, but other than that, it always feels like a massive let down after an intense battle for the overall is suspended for a glorified parade.
Don't tune into this thing early. The peloton will slow roll into Paris while Pogacar drinks champagne and pauses for photos with his UAE team.

The race does heat up when the riders hit the cobblestones.

There will be breakaways, but the sprinters' teams will pull it back together before the finish.

Prediction: After my call yesterday that Pogacar would have a bad day in the TT, I never want to make a prediction again, but I think Caleb Ewan will win the stage. The high-speed finish is perfect for his compact frame and aero sprinting position.