Le Tour Stage 5 Update: Jersey drama & breaking down what the first summit finish usually tell us
Stage 5 notebook & dispelling GC myths on an epic(ly dull) stage
I'm making today's Tour de France stage analysis available to all to double as the free weekly newsletter. If you want to continue to receive these daily updates during the Tour, Giro, and Vuelta, along with more regular newsletters and yet-to-be-announced benefits, sign up below. If you have already signed up, thank you for your patronage and enjoy your daily updates.
Correction Notice: A reader pointed out that in last week's newsletter that said Thibaut Pinot had never podiumed in a grand tour when in reality, he was 3rd in the 2014 Tour de France. I would argue that was an odd race and it doesn't count (pop quiz: who got 2nd in that Tour?), but thank you for pointing that out, and please let me know if you ever find any incorrect info so I can correct it. Please don't bother sending grammar corrections, I'm afraid my email inbox doesn't have the data limit to handle that.
Wout van Aert once again treated us to his endless talents by winning the bunch sprint win on Stage 5, which was stimulatingly one of the dullest and unprecedented stages I've ever personally witnessed at the Tour de France.
The stage, which ended in a sprint finish, lacked a breakaway, which meant the peloton could roll along at an extremely leisurely pace. I don't have records for this, but I can't recall this happening in the modern history of the race. This made the majority of the stage completely unnecessary, but the upside was that I was able to have a broken-down car towed out of my garage and coordinate a botched eletrical panel replacement at my house without missing a thing!
Despite the boring nature of the stage, it was announced after the finish that Julian Alaphilippe lost his Yellow Jersey to Adam Yates due to taking a bottle from a roadside helper inside the final 20km of the stage. He was docked 20-seconds in the overall classification and fell from 1st to 16th. This type of unnecessary mistake is incredibly rare and robbed Alaphilippe of potentially 10 additional stages in the race lead.
The extremely tough parcours of this Tour, while giving the peloton a great springboard to attack, is probably actually making the race more subdued than usual. After a summit finish yesterday and with another to come tomorrow, it's only to be expected that few riders are willing to go too deep at this very early juncture.
In recent editions of the Tour, the wildcard teams have fought to get into the early break and then have been pegged back without much drama. This time out, the invitees include Arkea-Samsic, who have a GC contender in Nairo Quintana, and B&B Hotels-Vital Concept, who are under the belief that Bryan Coquard can compete in the sprint finish, despite loads of evidence to the contrary, and so they are not inclined to chase television time on a day like this. The reduction of team sizes from eight riders to nine also means that fewer riders have the freedom to go up the road.
Stage 5 Notebook:
Sam Bennett wins intermediate sprint and takes green jersey lead, Sagan finishing in 4th. Bennett's teammate, Michael Morkov grabs 2nd. This strategy by DQS of leading Bennett out and then taking the points for 2nd place in the intermediate sprints has been really effective.
56.5km-Its almost impressive how easy they are riding, this takes incredible organization amongst the peloton. They look like they are on a corporate lunch ride.
53.5km-The peloton is fanned across the road so tightly that KOM jersey holder Beniot Cosfrey is struggling to get to the front to get the KOM points. He has to push and beg his way through the crowd to get up there. 
34km-Sepp Kuss falls as the peloton jostles heading into a nervous cross-wind section. This isn't good for Jumbo, they are going to need him on tomorrow's summit finish.
10km-Ineos takes the front and really strings it out, putting riders in the back in big trouble. It looks like they catch Jumbo out slightly and are definitely trying to send a message after the beating they took yesterday.
6.6km-Peloton is splitting up with the slight climb and slight crosswinds, if you aren't in the top 40 you are off the back. Ineos takes the better side through the roundabout than Jumbo. They are distanced slightly but Tony Martin pulls the whole team back up to the front. Shows the merits of a strong team at the Tour.
2.4km-Lotto-Soudal on the front, with Sunweb right behind them
1.6km-My FloBikes feed is so pixelated I feel like I'm watching a moving Monet. I literally have no idea what is going on.
500m-Cees Bol has a picture-perfect leadout from his Sunweb team. Note van Aert's yellow jersey lurking in 4th place all alone.
250m-When Bol opens up his sprint, van Aert launces from behind and is forced to go out and around Bol's leadout mean. Despite this detour, he catches and overtakes Bol right before the line, all while getting zero help from his team. My god, this guy is on fire. Just sit back and enjoy greatness.
Major Takeaways:
Remember, van Aert pulled up the final climb yesterday and put serious climbers into trouble. It is so impressive that he could come back the following day and win this stage. It is absurd the guy is playing a key part of his team's GC help and is moonlighting by winning stages. Some people will say this is too risky and dangerous because if he crashed the team would be out a key helper but come on, you only live once and this is so much fun. Also, it keeps Jumbo from falling into the role of being too boring and strangling the race the way Sky has for the past decade.

We didn't need another example showing us that the sprint leadout is dead, but this stage clearly shows us that good sprinters can win stages with zero help from their team.

Bennett takes the points lead and gets Green Jersey. He will easily hold it and even expand his lead over the next few stages. By the middle of the second week, Sagan could target some intermediate sprints tucked between a few difficult climbs. However, for the first time, I'm starting to wonder if @The_Spokes_Derd's prediction in my twitter mentions that Bennett could end Sagan's Green jersey could actually come to pass.

Alaphilippe dropping from 1st to 16th in the overall standings is catastrophic for France and his DQS team, and a huge, huge win for Adam Yates and Mitchelton-Scott, who have been in desperate need of positive publicity since their mid-summer sponsor fiasco. It is hard to get inside the mind of what was going on here within DQS. The TV images clearly show Alaphilippe taking a bottle from a soigner placed on the side of the road inside the final 20km. Either they miscalculated the distance to the finish when placing the feed or just totally forgot about the rule. Either way, you can bet the soigner is getting an ear-full from Alaphilippe and team boss Patrick Lefevere this evening.

The mid-stage live odds had van Aert at a +500 to win the stage. That is a great return for a rider of that level on a finish that suits him so well. Keep an eye out for inefficiencies like that. Also, Roglic has moved to -112 for the overall, with Pogacar, who looked incredible yesterday, at +800, while Tom Dumoulin and Nairo Quintana, who are quietly having great races moving out to +1200 and +2000 respectively. If you believe in these guys, it is a great time to put some money down.
The First Summit Finish Usually Predicts The Overall Winner
The overwhelming media narrative regarding yesterday's summit finish at Orcières-Merlette is that while Jumbo-Visma flexed some muscle, it is too early to jump to any conclusions, and Ineos, the more experienced and intelligent team is simply lying in wait. After all, this is the three-week-long race and the Tour is usually won in the third week.
This all sounds very probable and makes sense at first glance. However, if we look at the past eight editions of the race, this theory simply isn't true. In seven of those editions, the race was "won" in the first 14 stages and the eventual winner showed incredibly well on the first summit finish.
Performance in the first summit finish is directly correlated to winning the overall and the first week is not too early to take the race lead
2018-Geraint Thomas finishes 6th on the first summit finish (stage 6) and takes the race lead on stage 11

2017-Chris Froome gets third on the first summit finish (stage 5) and takes the overall lead. He would lose it on stage 12 and then re-take it for good on stage 14.

2016-Chris Froome gets 2nd from the GC group on the first summit finish (stage 9) and took the jersey before that on stage 8

2015-Chris Froome wins the first summit finish (stage 10) but actually took the lead before that on stage 7

2014-Vincenzo Nibali is second out of the GC group on the first summit finish (stage 8) and took the race lead well before that on stage 2

2013-Chris Froome wins the first summit finish and gets the race lead on stage 8

2012-Bradley Wiggins gets third on the first summit finish (won by Chris Froome) and gets the jersey on stage 7
The worst position in an early summit finish is Geraint Thomas' 6th place on the Mûr de Bretagne in 2018 (excluding breakaway riders). These facts run counter to a Velonews Roundtable piece that ran after yesterday's stage 4. Here are a few quotes from the piece with the contrary facts below.
"But again, Ineos as a team has shown it can be patient and deceptive. It's still too early in the Tour to tell what kind of role Ineos will play in the GC."
2019 is the first Tour since 2012 where they didn't completely telegraph their movies from stage 1 and take race lead as early as possible jersey and defend it all the way to Paris.  
"While it's too early for alarm bells to be going off at Ineos Grenadiers, today showed that they do not have the sheer brawn of Jumbo-Visma. But they do have the brains and the experience."
Ineos has a combined two grand tour podiums on their TdF squad, Jumbo has 5 and has won the most recent grand tour. There is also no evidence that Ineos has more "brains" than Jumbo. If anything Jumbo has shown themselves to be the smarter team by building a much stronger squad with a much smaller budget.
"It's too early to tell. Everyone's legs were strong today, and they were all highly motivated. I don't actually think that today is a harbinger of what will come in the Pyrenees or the Alps. I expect to see Pinot, Bernal, and Buchmann soaring on the long climbs. Today, for example, does not tell me what will happen on the Col de la Loze. That's why we will have to watch the race!"
Recent history would tell us that stage 4 tells us exactly what will happen on the Col de la Loze.
While the media keeps saying it's too early to tell anything, it simply isn't true. The mainstream media says every year in an attempt to keep readers interested but we almost always know who is going to win after 10 or so stages and things rarely change after that. While 2019 did see a late-race lead change and Egan Bernal certainly waited as long as possible to take the race lead, that edition is clearly the outlier.
Stage 6 Preview and Predictions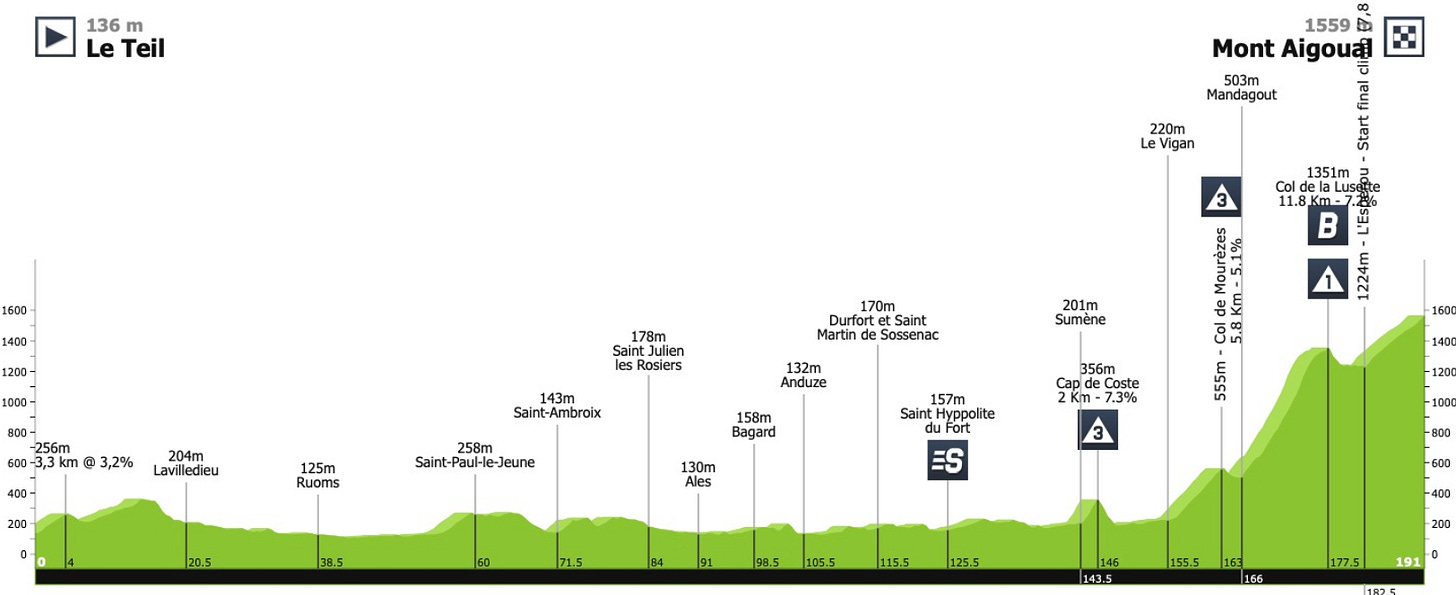 The 6th stage on the Tour de France dips its toe in the notoriously rugged and difficult Massif Central. The race goes from Le Teil to Mont Aigoual and tallies 191-kilometers. Most notably, we see another summit finish with the finale 26km run mostly uphill.
The first 5.8km of the climb is at a fairly mild of 5.8%, with the middle 11.8km hitting a steeper 7.2%, before flatting off in the final 8km at a more mild 4%. In short, a perfect climb for Primoz Roglic and his Jumbo-Visma team.

After an easy day today, expect the final climb to be raced a turbo speed, which will deter any attacks and means a breakaway would need an absurd amount of the time at the bottom to hold off the peloton.

Prediction: Primoz Roglic will win another mountaintop "sprint finish" out of a reduced bunch of GC favorites and the ensuing time bonus will see him take Yellow from Adam Yates, who sits three-seconds ahead. However, keep an eye on Guillaume Martin. The Frenchman isn't afraid of anybody and if he attacks late in the stage, he could take the race lead, and Jumbo might see Cofidis as a great candidate to carry the duties of the Yellow jersey.