Le Tour Stage 7 Update: Flats are the new climbs
The Tour finally sees mid-stage fireworks on a crazy and hectic transition stage
The cloud of bore finally broke and the rains of exciting racing poured down upon us during Stage 7 of the Tour de France. In classic Tour fashion, a positioning stage stuck between two mountain stages yielded the most significant time gaps and drama we've seen so far in the race. Wout van Aert continued his run of dominance with a stage win, Bora ripped the race apart from the gun for Peter Sagan and Ineos split it up in the crosswinds into the finish, only to have their secondary leader, Richard Carapaz, hit by friendly fire and lose significant time.
Stage 7 Notebook:
166km-The race starts uphill and Bora gets to the front of the peloton and starts to jam. Most of the sprinters are in trouble immediately and getting shelled off the back.
156km-The crosswinds have split the race up into echelons already. You can see in the image below the three distinct groups. Crosswinds have a unique effect of actually making it easier to be in the front rather than in the back since drafting is only available to those who can fit across the width of the road. When these echelons form, you only have seconds to recognize this and get to the front as quickly as possible. It is similar to being stuck in quicksand, you have a few seconds to get out or succumb to a slow, sinking death. You can be close enough to throw a bottle at the group in front of you, but it can be impossible to physically close the gap.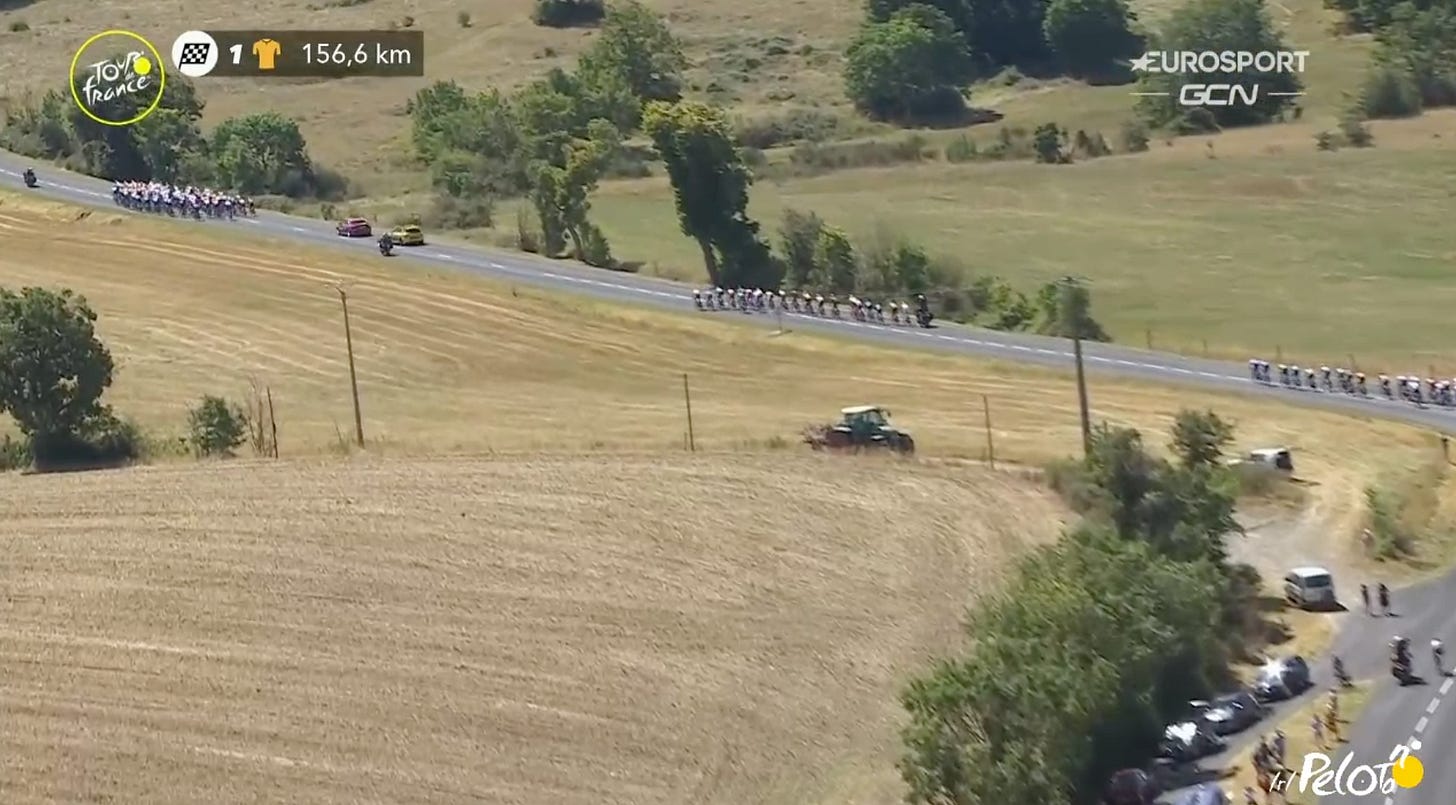 150km-ish Sam Bennett is only a few seconds behind the Sagan group and has a suite of teammates, he is even so confident they will make the junction that he gives the camera moto a thumbs up. See in the image below how close the groups are, and keep in mind, this is on a flat road, where they should be able to easily close the gap, but the crosswinds make this nearly impossible.
But such is the cruelty of crosswinds, just when he thought he was about to catch back on, the gap blows out again and suddenly he is a few minutes back and the stage is over for him.
Note: Sagan and his team have done this before on stage 7 of the 2013 Tour de France.
109km-Intermediate sprint: Matteo Trentin narrowly beats Peter Sagan for the intermediate sprint. Trentin is at +800 on the live stage betting and Sagan at +325. Interestingly, Bryan Coquard, who made the front group and has been beating Sagan in the finish sprints is way out at +1200. Wout van Aert, who is doing teamwork all day, is all the way down +130. In retrospect, these are pretty cheap odds for a rider who seemingly can't lose.
95.3km-The lead group with Sagan and Trentin are 3:43 in front of Bennett and 6:37 ahead of Caleb Ewan.
94.4km to 40km-Thomas de Gendt goes off on a completely pointless solo attack, sits 40-seconds in front of the peloton while Sagan and his team roll towards a sprint finish after blowing up a seemingly benign sprint stage; nature is healing.
39.6km-This is where things get interesting. You can see Ineos moves up the side of the road to get on the front. Jumbo-Visma, in yellow, notices this and moves up with them.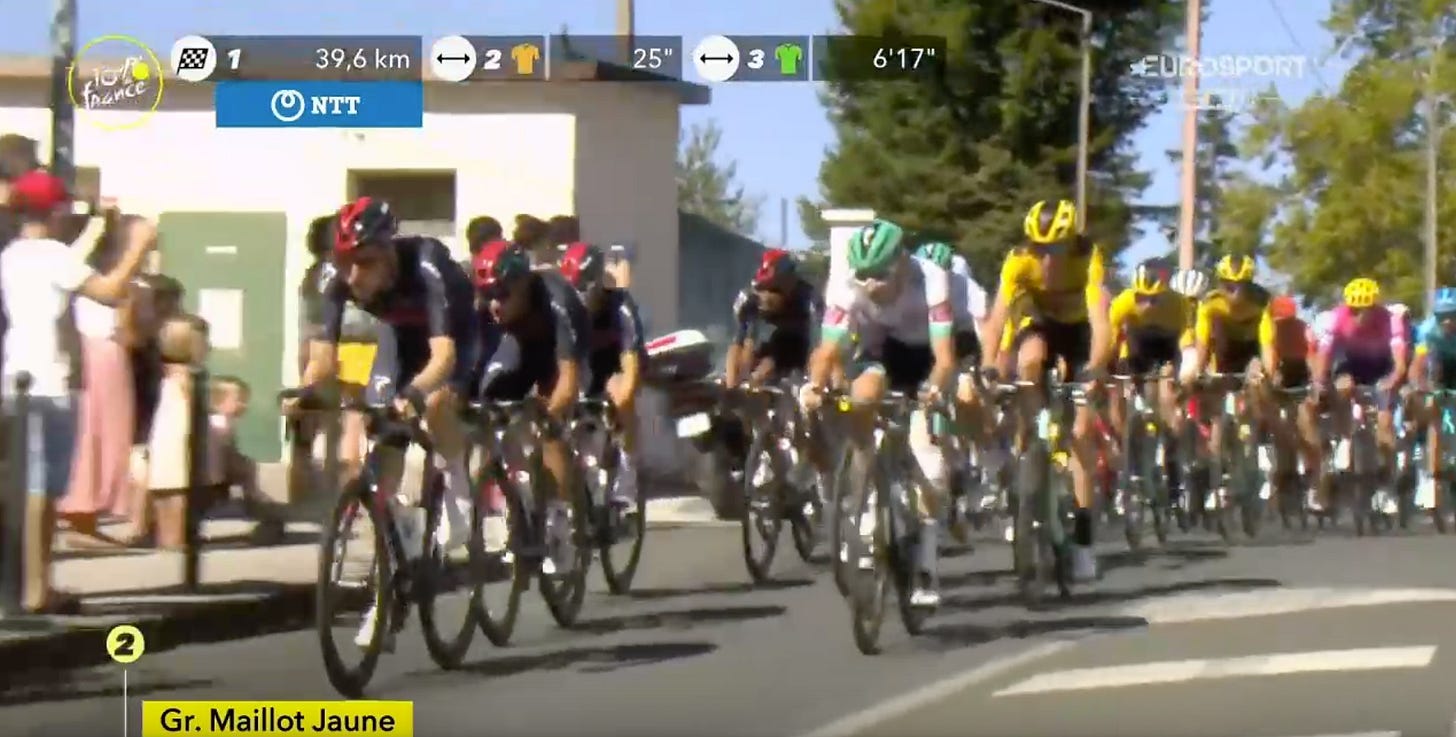 38.4km-A few moments later, you can see an Ineos rider talking into his radio as their team masses the front. We can't know exactly what was said, but it was likely along the lines of "Get ready to blow the bloody doors off this thing!" or whatever the Brits say to each other.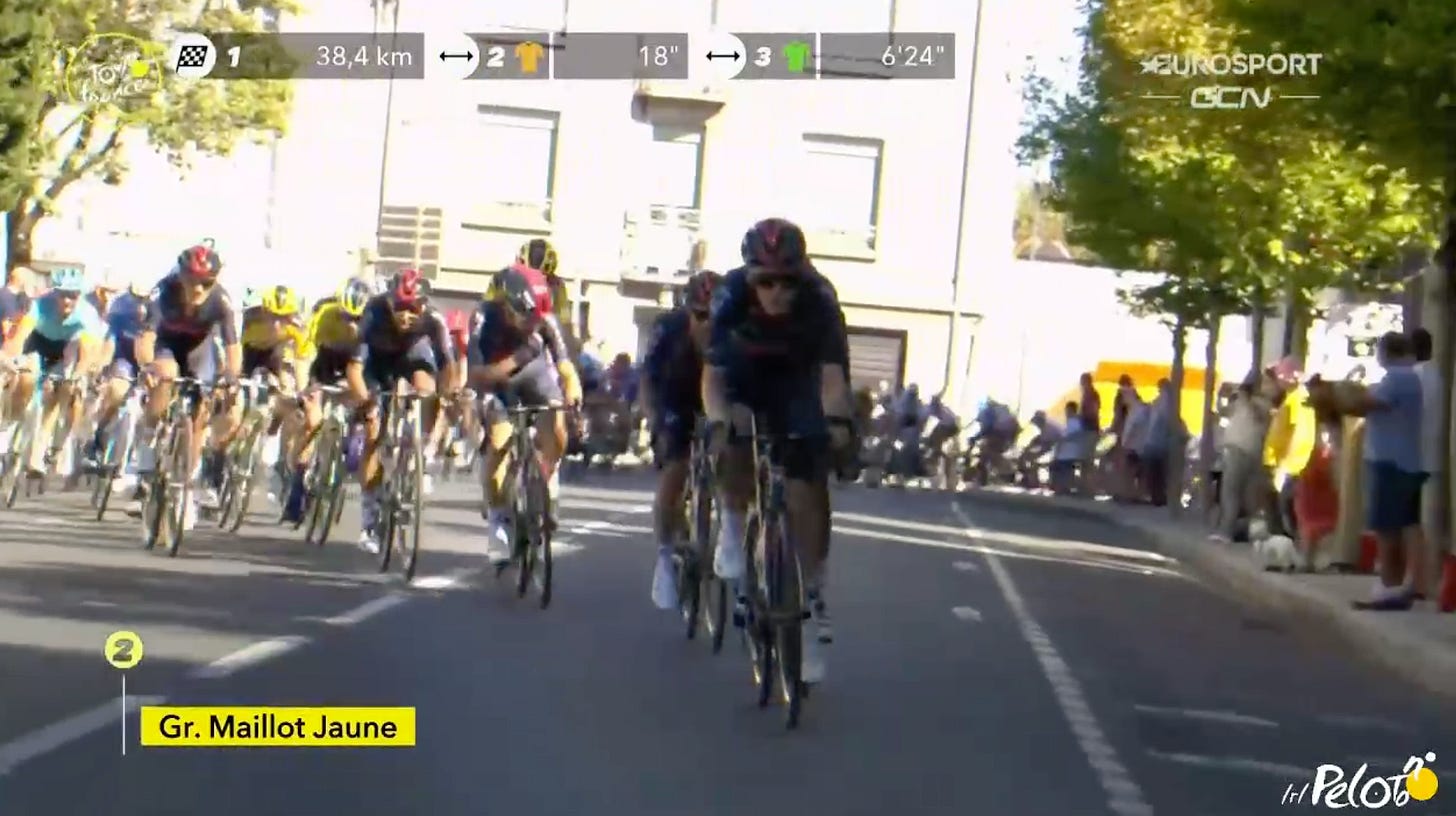 35.4km-The peloton takes a turn into the crosswinds and Ineos immediately closes the 18-second gap to de Gendt. Note how Michal Kwiokaski, on the front, is literally out of the saddle sprinting.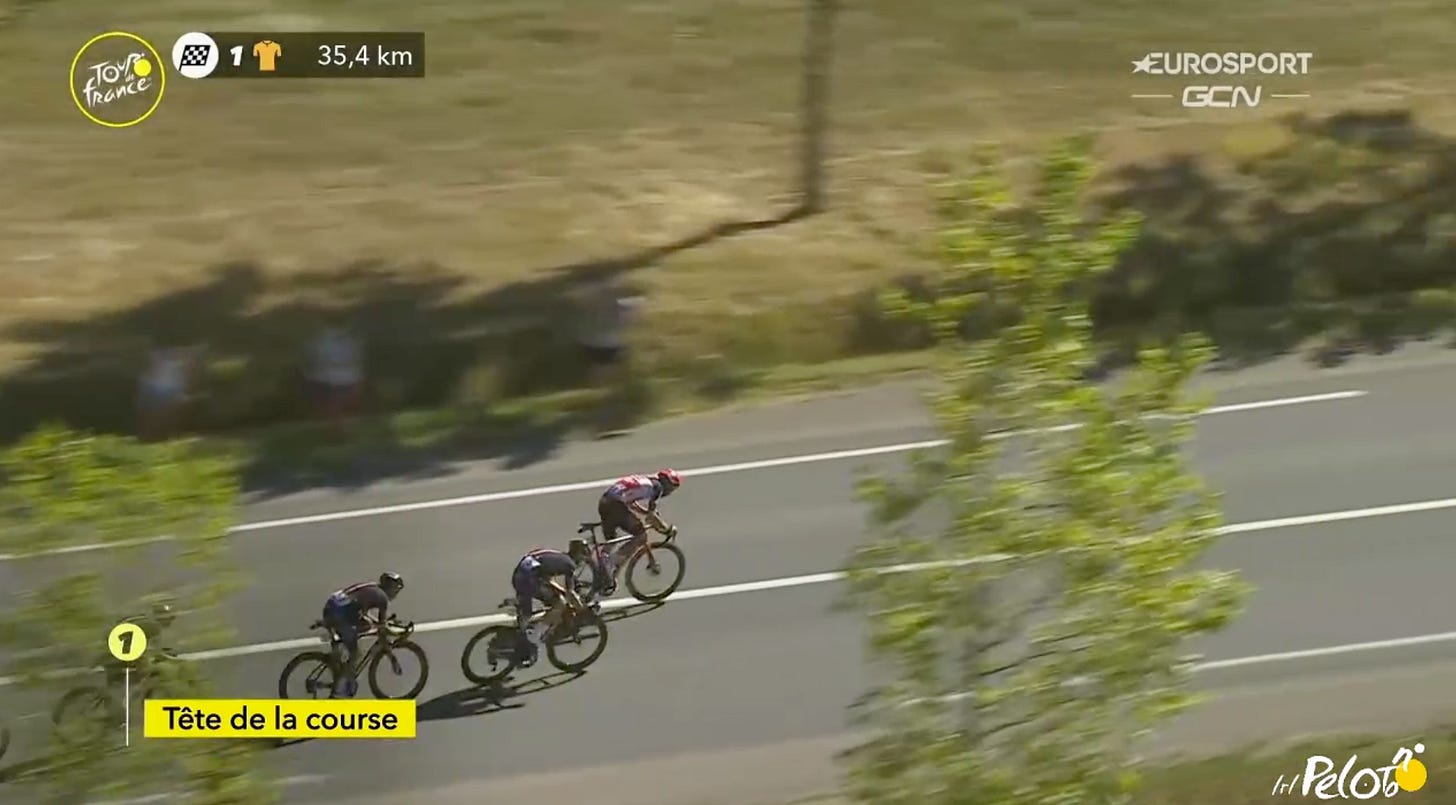 35km-Ineos hugs the right side of the road with the wind coming from the left to allow just enough space for their teammates to get a draft while stiffing everyone else. You can see this perfectly in the image below. All three riders have slightly staggered and get a picture-perfect draft off each other, while the DQS and EF riders behind are slammed by the crosswind. You can also see Wout van Aert steps out behind them to create a draft for Primoz Roglic.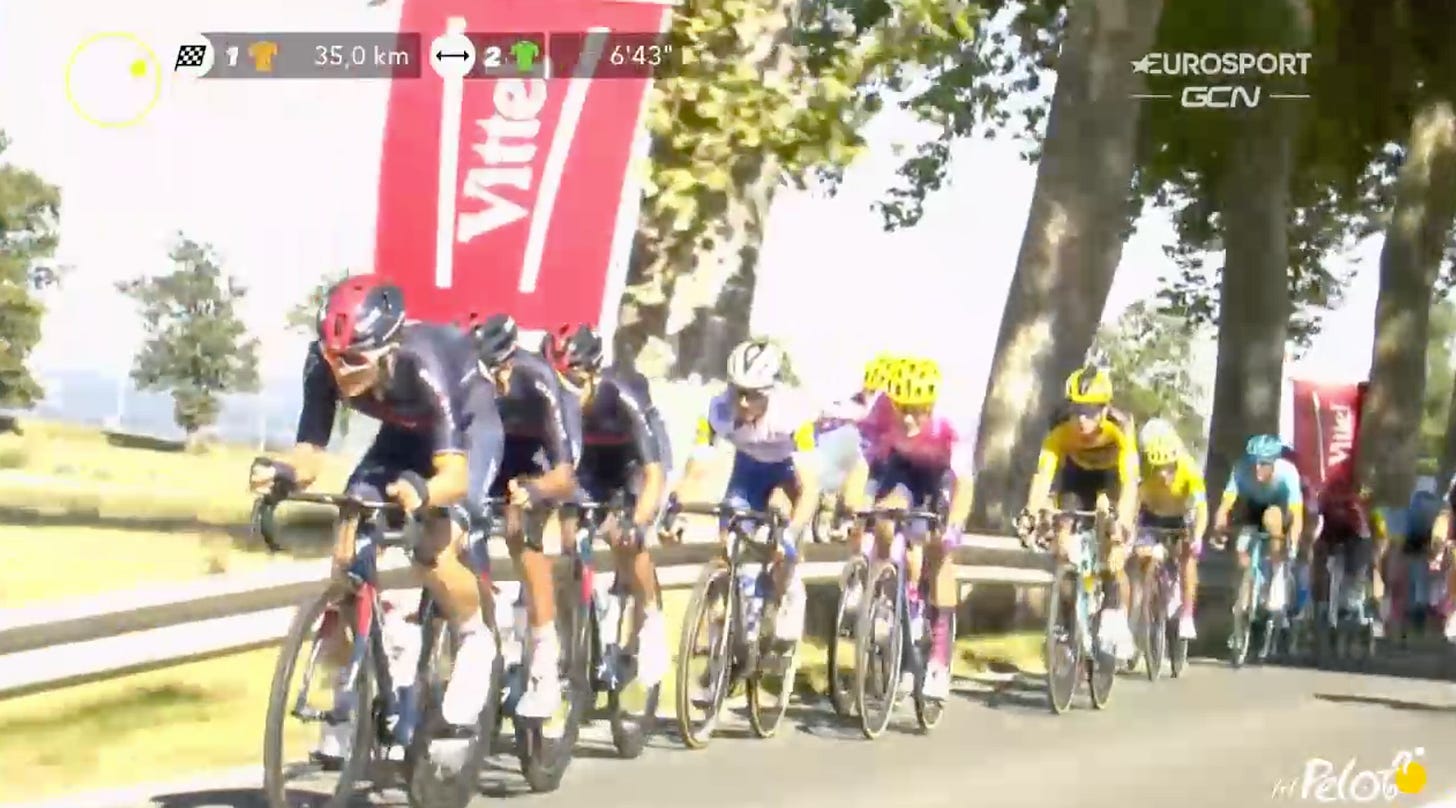 34.7km-The damage this causes to the peloton is both awesome and immediate. When the camera pans to the back of the group we see gaps forming and riders desperately scrambling for a draft. Note the speed is 43mp/h on THE FLATS. Go out and try to do that on your ride today.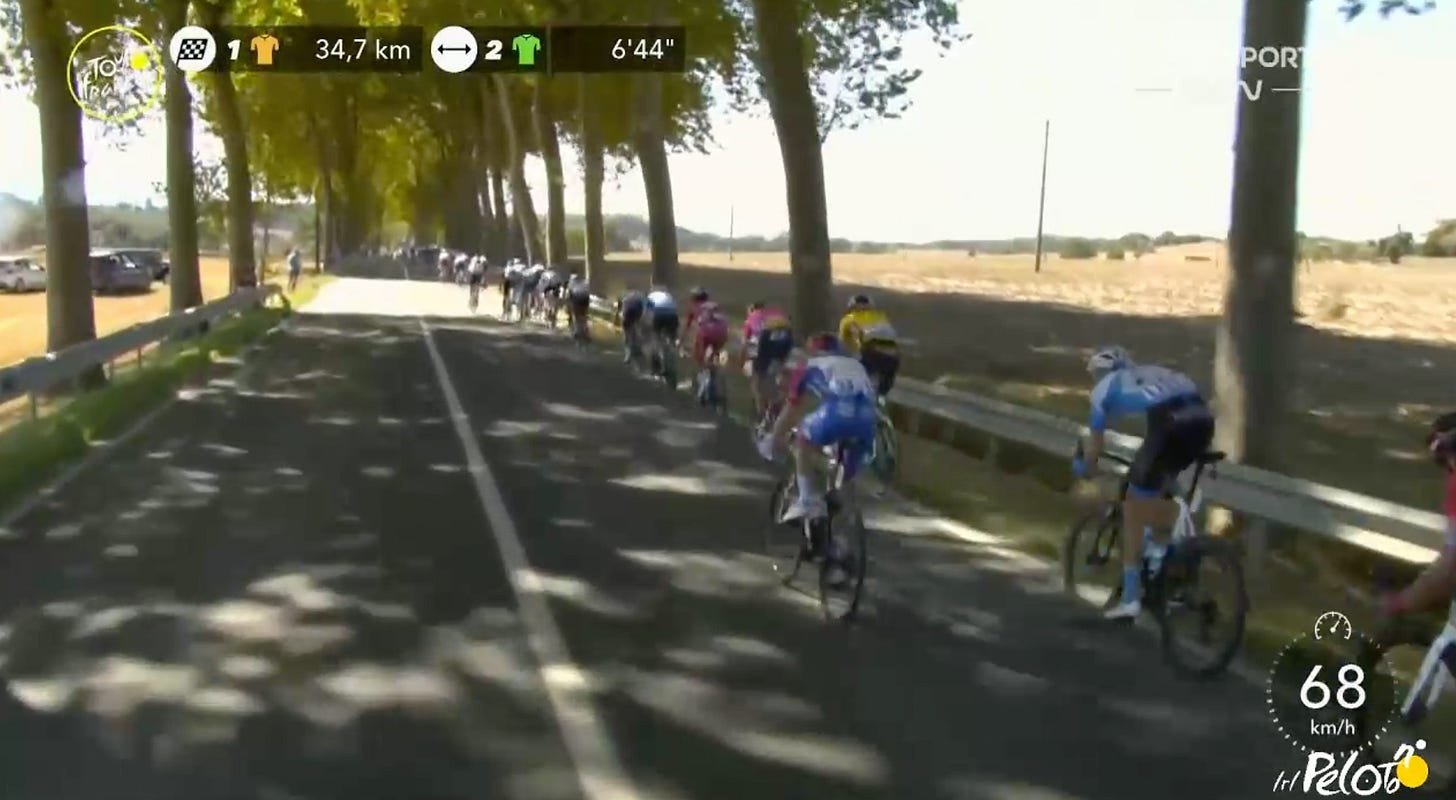 30km-My favorite rider Tadej Pogačar is caught out and loses 40-seconds in the blink of an eye. This is personally devastating to watch, and I feel like Gene Hackman in The Royal Tenenbaums when he tells his son, 'I had a lot riding on you, both emotionally and financially.'
-Mikel Landa and Richie Porte are caught out with him, which isn't surprising, crosswinds and positioning are major Achilles heels for those two, who always seem to be forced to take back time in the mountains after losing time on the flats.
-Roglic is taking a big turn at the front, he smells blood in the water with Pogačar off the back. I hate to see Slovenian-on-Slovenian violence. He also potentially sees an opportunity to strike a deal with Pogačar later in the race if they aren't both competing for the win.
29km-This is wild, Pogačar's has lost over a minute and his GC is going up in smoke on a "sprint" stage. It shows how important these flat days are becoming as things get tighter and tighter on the climbs.
-The stage is reminiscent of Stage 3 of the 2009 Tour when Lance distanced Alberto Contador (his own teammate) in the crosswinds on a flat stage in the first week
24.5km-Nairo Quintana and Thibaut Pinot are in the front group and are HUGE winners here. They both would have lost time on this stage a few years ago. Despite no press coverage, Quintana is having his best first week ever of his Tour.
17km-Up to this point, Ineos has ridden the perfect race, however, something strange happens when they start to pull back from the front and Castroviejo starts talking to George Bennett.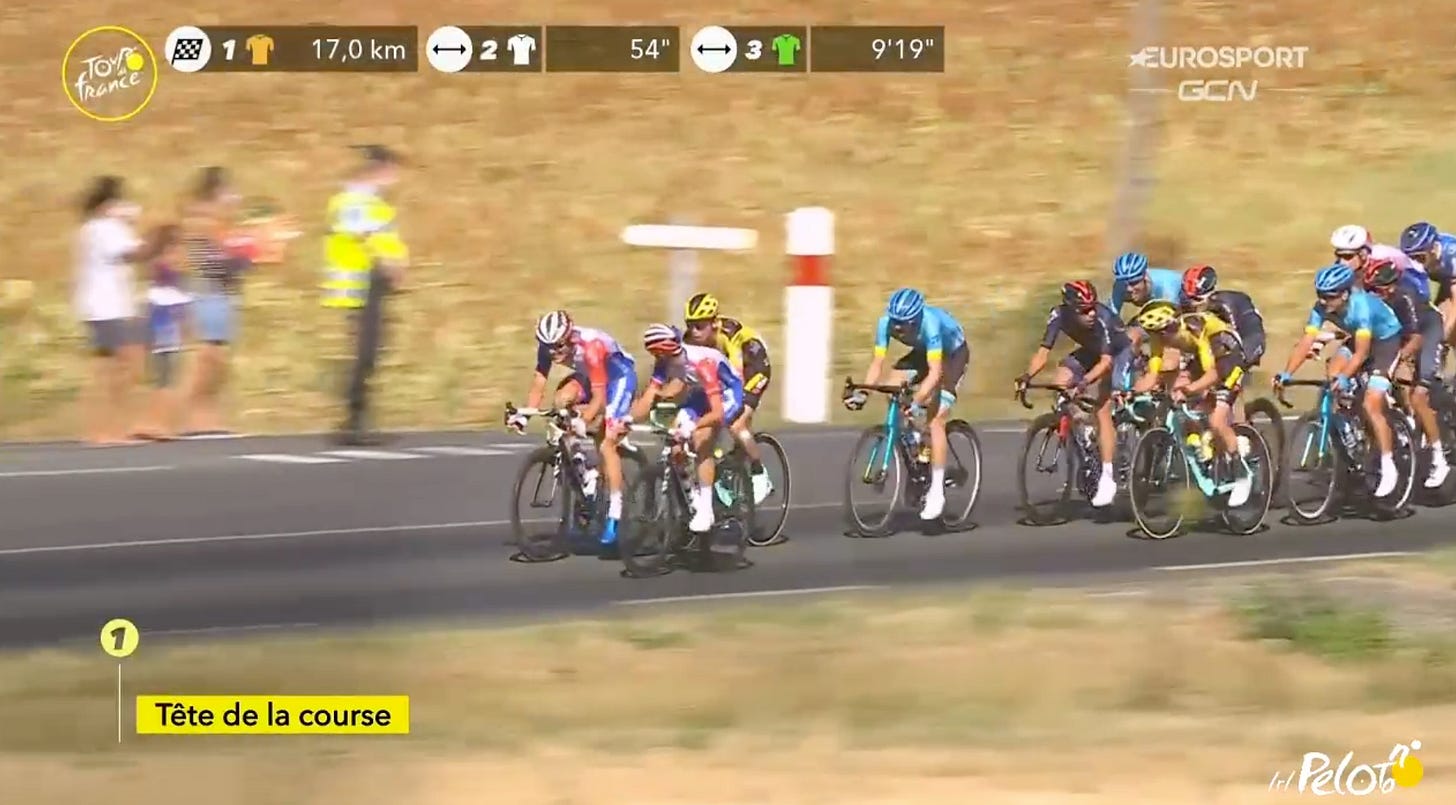 We quickly see what this is all about, the pace they have been setting has dropped their secondary leader, Richard Carapaz. You can almost hear Michael Caine's voice coming through their team radio.
13.8km-Castroviejo drops back to help Carapaz, which shows that Carapaz is a bonafide leader for them. This will help Pogačar and the other chasers, Ineos can no longer push on the front and the two Ineos chasers will help them once they get caught.
Final Kilometer-This is soooooooo fast! They are coming into the sprint at almost 40mph.
After such a wild day, we still have a few more key things in this final few hundred meters. After working all day to steal as many Green jersey points as possible Peter Sagan is out of position and then suffers a dropped chain, relegating him to 13th on the stage, which is a mild catastrophe for him and his team. Additionally, Julian Alaphilippe, who could have gotten closer to the race lead with a podium place in this sprint, bumps into Jasper Stuyven and drops his chain (riding the same bike as Sagan, what the hell is going on with all these dropped chains?), costing him precious bonus seconds. Meanwhile, van Aert, who has worked for the past 40km keeping him teams' GC leaders out of the wind and in great position, just decides, 'hey, I'd like to win this stage', and comes around everyone in the final few meters for a cheeky stage win, almost as if he wanted to win the stage but not as any energy by sprinting any earlier than he had to.
Pogačar & co come in 1:20 down
Major Takeaways:
I keep harping on this, but we are watching Merckx-level greatness with van Aert at this point. The closest comp in recent years would be 2012-2016 Sagan, but even he wasn't doing the same level of teamwork, especially in the mountains, that van Aert is doing.

Ineos rode a perfect race before being hoisted by their own petard. Yes, they put time into Pogačar, Landa, and Porte, but they didn't distance any of the A-level favorites like Roglic, Dumoulin, or Quintana, and they ruined their ability to pivot to Carapaz if the rumors of Bernal asking his team to slow down yesterday are true.

If Ineos walks away severely hampered by Carapaz's time loss, Jumbo comes out of today in fantastic shape. They get the morale and momentum boost of winning the stage along with a darkhorse rival on the second-strongest team in the race taken out of the GC picture.

A theory was floated to me during this stage that power meters are blunting the impact and excitement of the climbs since everyone can ride right at their threshold, which keeps time gaps small, but that type of measured riding doesn't help you in the crosswinds, where instinct, the ability to read a race and lightning-fast reactions matter most. This is causing these 'flat' stages to generate bigger time gaps than many mountain stages.

Pogačar and Landa losing time is a great thing for viewers, since we will see them forced to attack in the Pyrenees this weekend. These time losses are key to exciting racing since if everyone is bunched together on the GC standings, the mountain stages will see stalemates since nobody has an incentive to put themselves on the line by attacking and potentially losing time.

The irony of Pogačar being caught out is that he has been at the front the entire race up until now, with his worst result in a stage 25th place. This shows the brutality of Le Tour and why you can never let your guard down in this race.

Sagan is back in Green, but he and his team will rue the points they lost in the final sprint. He will need to build off his 9-point lead over Bennett in the mountains this weekend. Watch for him to target the early breakaway on both Saturday and Sunday.
Stage 8 Preview & Predictions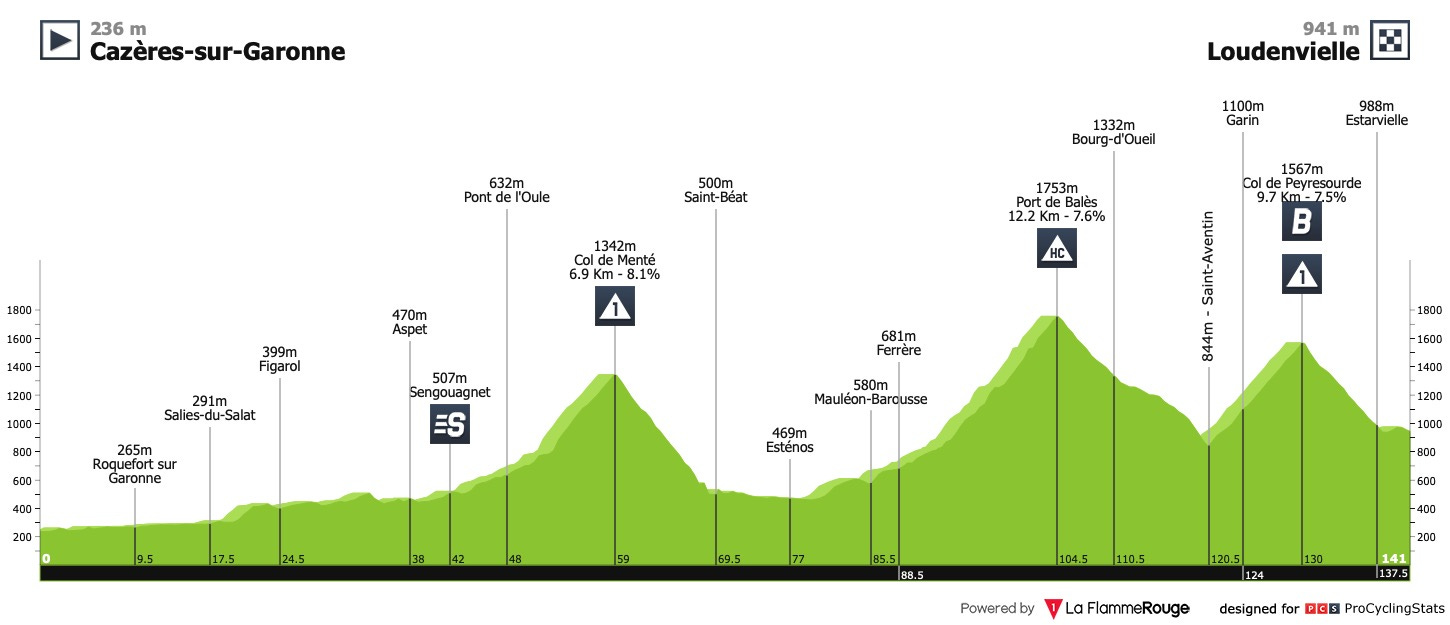 Stage 8 sees the peloton head into the Pyrenees for a fairly textbook mountain stage. It is worth noting that nothing goes to plan in the Pyrenees and the rugged mountain range tends to see more chaos than the tamer French Alps.
With an intermediate sprint before the first climb, the first 42km will be fast as Sagan and Bennett battle to make it in the early breakaway to steal points.

The final two climbs, 12.2km @ 7.6% and 9.7km @ 7.5%, are the first legit mountain passes of the race and I suspect we will see Jumbo string the race out and thin the lead group significantly on the penultimate slopes before Landa, Pogačar, and Porte attack on the final climb to attempt to steal some time back.

Roglic has proven he is the strongest rider in the race, but keep an eye on Nairo Quintana, who has had an amazing first week and will be happy to see the race hit his favored terrain.

We will finally get answers as to whether Egan Bernal is in top shape after dropping out of the Dauphiné if Adam Yates is in the type of form to be a serious GC threat and if Alaphilippe has the climbing legs he displayed last year.

Prediction: Note: I personally think predictions on mountain stages are silly as things rarely ever play out in a neat and predictable way. But hey, I've started this so I guess I have to keep going. Pogačar and Landa attack on the final climb, Primoz Roglic, and the other A-level GC contenders match them (Dumoulin, Bernal, Pinot), along with Julian Alaphilippe. Alaphilippe takes the stage win in Loudenvielle but Adam Yates holds onto his lead.

Keep an eye on Guillaume Martin, the Frenchman is an incredible climber and if he attacks, the favorites might not immediately peg him back.