Discover more from Beyond the Peloton
In-Depth Pro Cycling Analysis
Over 16,000 subscribers
Le Tour Stage 8: The Pyrenees deliver the goods
The Tour sees its second-consecutive exciting GC stage as the race hits the high-ish mountains
This is a premium daily grand tour analysis newsletter. Thank you to current subscribers. If you were forwarded this newsletter or are on a complimentary membership and want to continue to get these in the future once your free trial ends, sign up below.
The first true mountain stage of the 2020 Tour de France, a romp over three Pyrenean mountain passes, produced more drama than anticipated as the breakaway held off the GC favorites, Thibaut Pinot fell apart a week ahead of schedule, losing close to 30-minutes, and Tadej Pogačar threw down a searing attack from the Yellow Jersey group to chip away at the losses he sustained in the crosswinds on stage 7. Race leader Adam Yates, along with Ineos leader Egan Bernal, lost contact with Primoz Roglic and Nairo Quintana, who put in a few digs on the Col de Peyresourde, but was able to claw his way back and preserve his overall lead.
Stage 8 Notebook:
50.7km-Jumbo-Visma coming to the front of the peloton as they hit the start of the second-to-last climb. The gap to the break has moved out to 13:00. No way they pull this thing back with only 21-kilometers of climbing remaining.
42.3km-Attacks in the breakaway sees Nans Peters (AG2R) and Ilnur Zakarin (CCC) get off the front on the penultimate climb, the Port de Bales. Still 11:02 in front of the peloton, who is starting to rachet up the pace.
-Going to be a balancing act for the big teams here, In theory, Jumbo-Visma doesn't have to take any time prior to the stage 20 time trial. They have the best time trialist in the race, so they can just sit tight and let the other teams attack. The other teams have to attack, so they will just try to keep as many riders in this front group as possible and wait for other riders to attack.
41km-Thibaut Pinot is getting dropped and looks like he is totally falling apart. My god, the team is having to literally push him. This is sad, but there is no real surprise here. He has extreme off-days like this every grand tour, and I thought he looked suspect all the way back on stage 2 due to injuries he sustained in the stage 1 crash.
40km-Pinot is holding his lower back, so it could be back problems from the crash on stage 1, but the odd thing is that he was up there in the crosswinds on stage 7. If his back was really that bad, how would he have been able to generate the massive power to hang in the front group yesterday?
39.7km-Jumbo is going to the front to drive the pace to distance Pinot, but honestly, they probably don't really have to, he looks like he's thrown in the towel.
-Gap to break at 10:35
39.1km-Pavel Sivakov dropped, this is an issue for Ineos, he is the key mountain domestique but he doesn't appear to be able to do any work 
37.4km-Jumbo is driving hard-ish on the front, but nothing crazy, they want to take as many riders as they can to the final climb. Literally as I type this Sepp Kuss dropped, this is a big loss for Jumbo, he's really been struggling since his crash and now they will need to enlist their co-leader Tom Dumoulin to work for Roglic.
33.8km-The two leaders are descending off the Port de Bales. Zakarin has always been a bad descender and it is no exception here, he can't even come close to holding Peters' wheel. This means that even if he gets to the top of the final climb with him, he can't win the stage. In his defense, these Pyrenean descents are horrifying (tiny, poorly maintained roads).
31.3km-Ineos appears to be down to three riders and Bernal isn't looking good. Even though Jumbo doesn't technically need to take time, this when the grand tour game theory comes into play. If Bernal could potentially get better later in the race, it could be wise to take time now and build up a cushion. Strike while the iron is hot.
26.2km-Wout van Aert is hammering on the front towards the top of the climb, this is incredible. He has to stay with Roglic as long as he can now that Kuss is dropped, it is insane what they are asking of him and ever more insane that he is delivering.
20.3km-American Neilson Powless is chasing the two leaders and goes off the road at the base of the Col de Peyresourde on I think the exact same place Froome did on stage 12 in the 2017 Tour.
19.1km-Zakarin has never recovered from that poor descent and wasn't able to make it back to Peters. This shows how important descending skills are.
15.4km-The GC group is on the final climb and Bernal is totally isolated. Dumoulin is working on the front in place of Kuss. Jumbo is really ramping up the pace here and might be trying to stick the knife in Bernal, they smell blood.
14.8km-Julian Alaphilippe attacks the group and then is promptly dropped. The classic self-drop. His chances of taking the Yellow Jersey again are officially over.
14.5km-Dumoulin pulls off as Pogacar attacks hard. This group really blows up.
14.3km-Roglic bridges easily and Nairo promptly follows. These are the three strongest riders in the race.
13.3km-Rigoberto Uran bridges up to the group with Landa on his wheel. You can see Bernal in the far right of the frame slightly off the back. Yates is off the back and nowhere to be seen.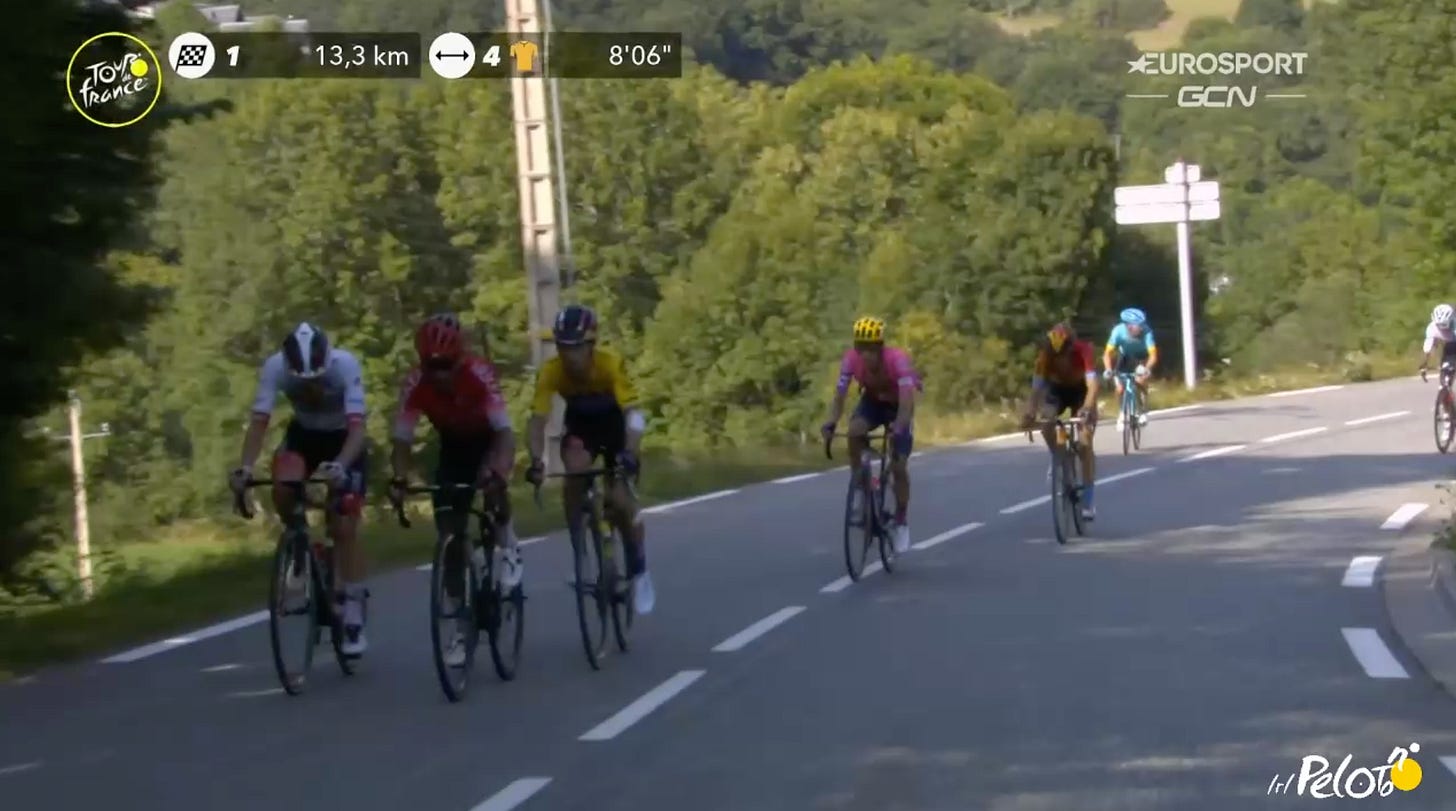 13.1km- We get a shot of Yates, who is distanced but appears to be sitting on the bike in a way that suggests he isn't totally blown. Also, note the French fan sans mask right in his face. Could a rider actually catch COVID from a roadside fan and get pulled from the race?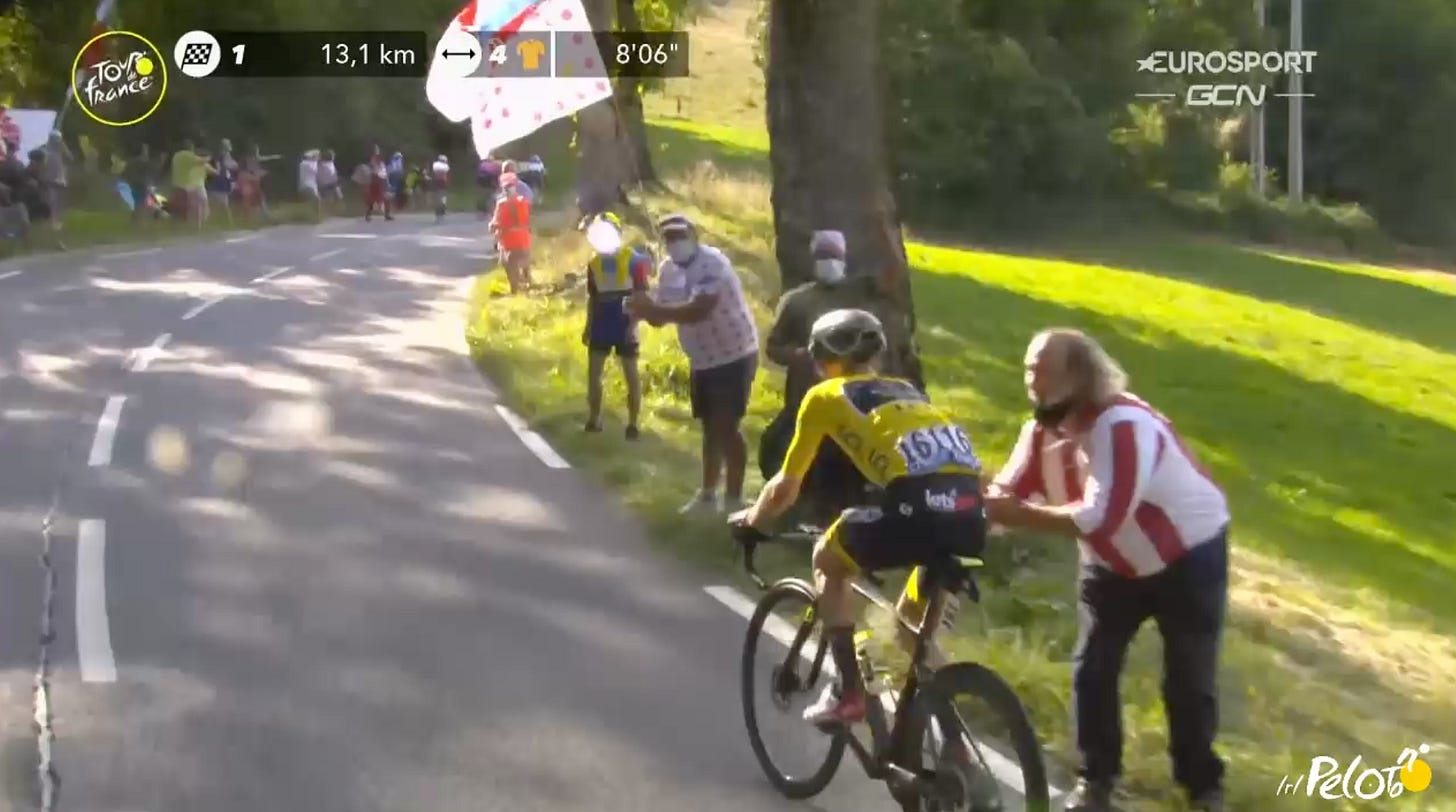 12.9km-They pace is totally off in the Roglic group and this allows Bernal and his teammate, Carapaz, to ride back on. In my mind, this is a big mistake. They had Bernal on the ropes and riders like Martin, Landa, and Pogacar should have attacked him before Carapaz could catch back on.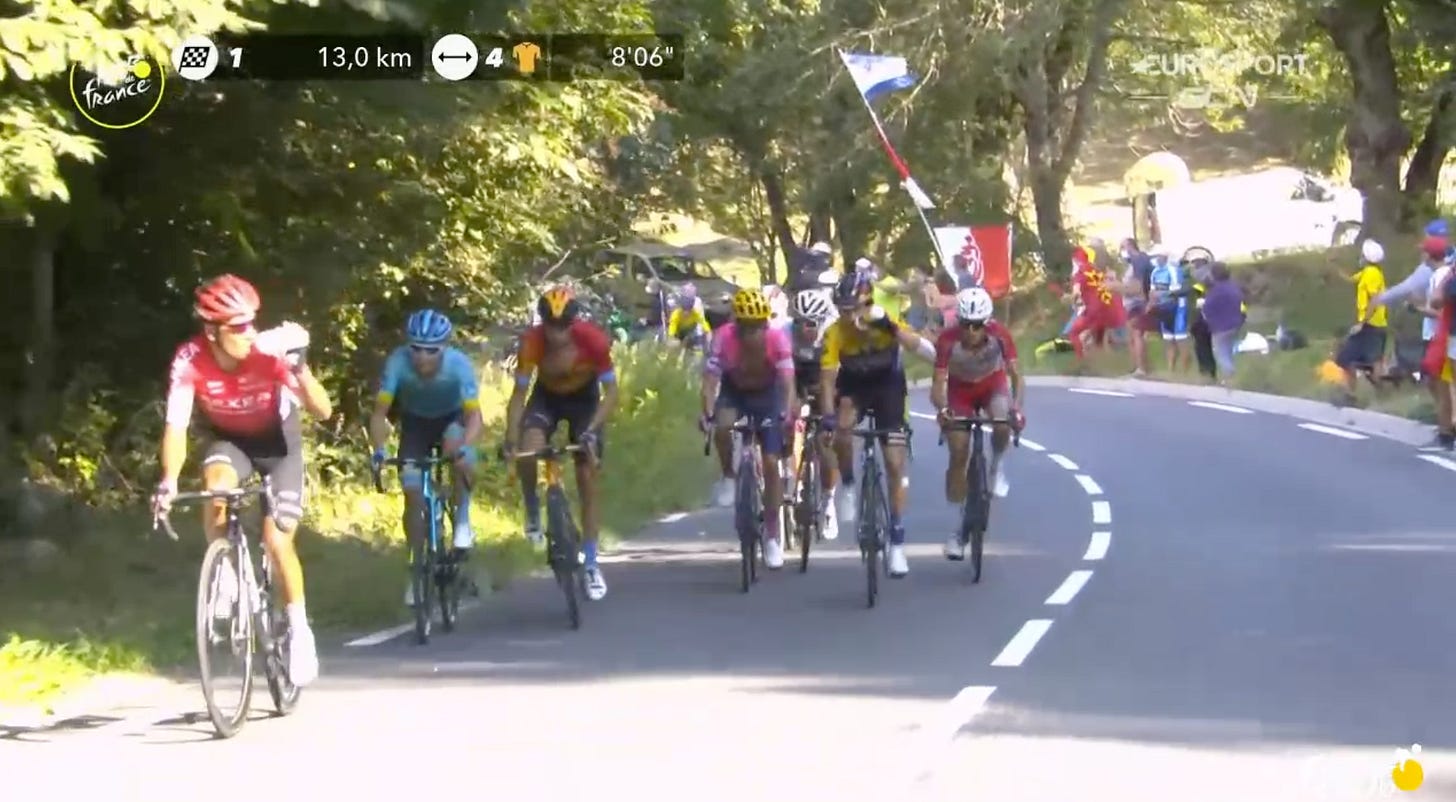 12.7km-Pogacar attacks again, he has to go and he is clearly stronger than the rest but why did he let Carapaz get back on before he went?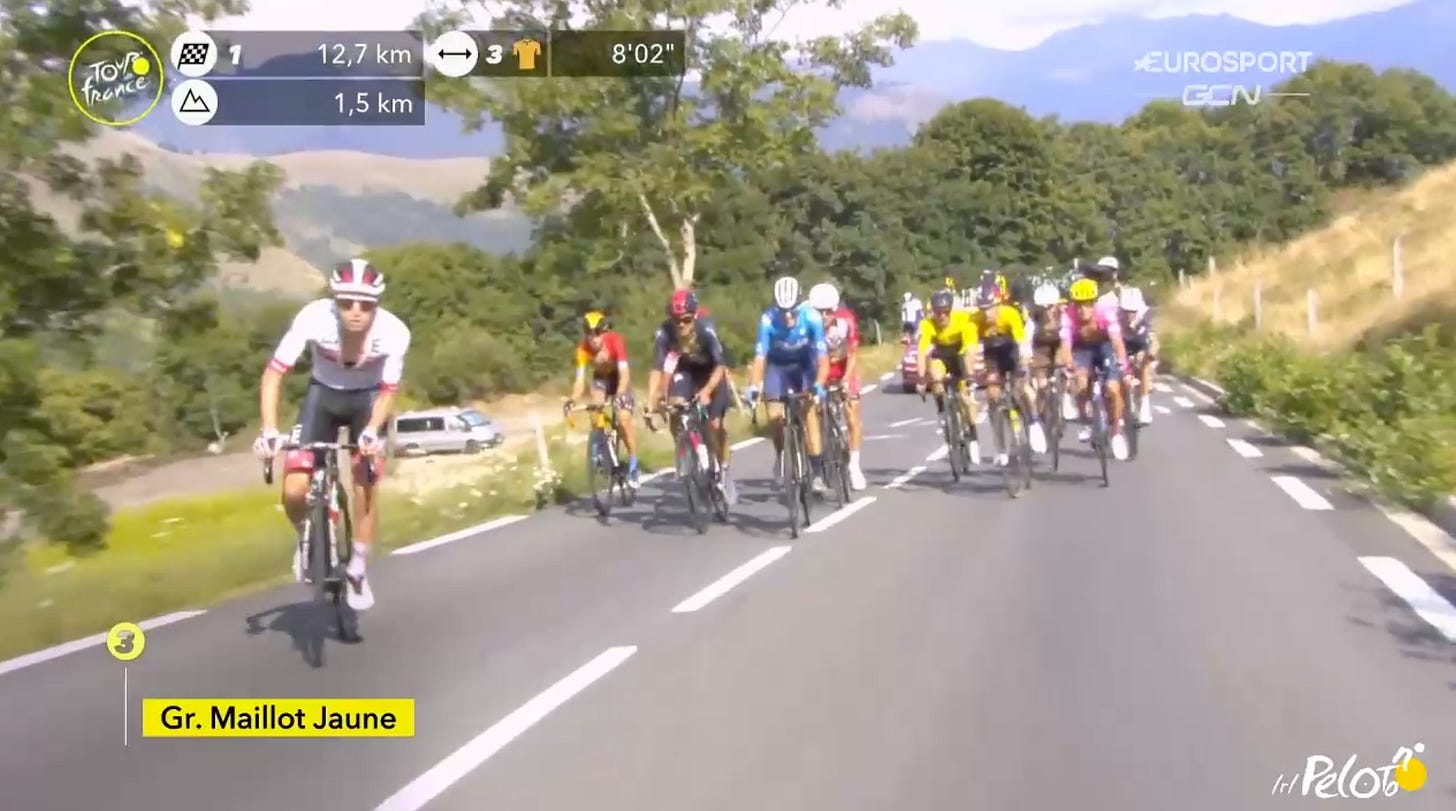 12.5km-Pogacar gets a nice gap but you can see Carapaz on the front of the group keeping him on a leash. If he would have attacked 30-seconds earlier, he would have been long gone by the time Carapaz got to the front. Dumoulin was close to getting back on but wasn't able to make the junction and now they are riding away from him.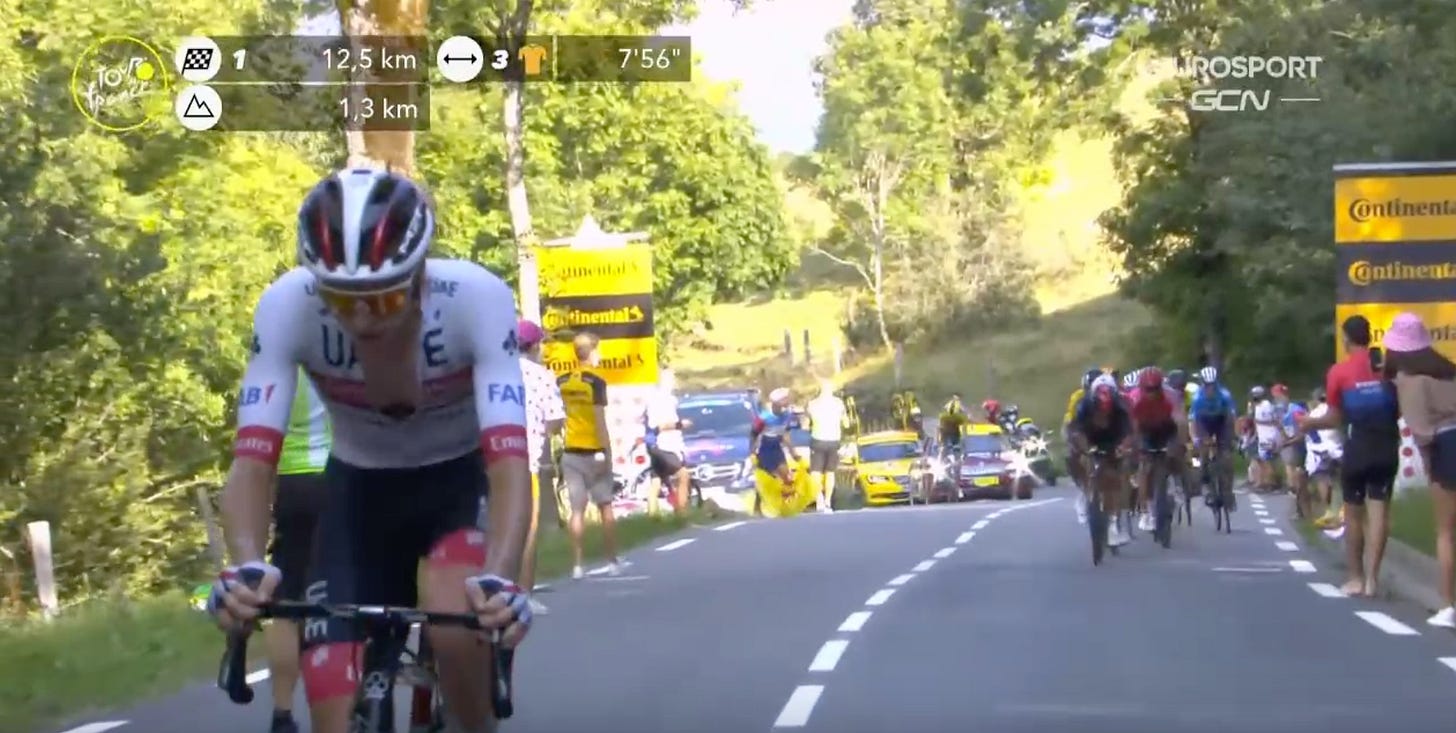 11.8km-Mikel Landa attack with Richie Porte, both lost time in the crosswinds yesterday and are looking to take back more time.
On one hand, it could be a mistake from Roglic to let Bernal get away with this sub-par form and not attacking up to Pogacar, which he looks strong enough to do. On the other hand, he is the "leader in the clubhouse" due to the stage 20 TT and could be smart to just be sit in and letting others do the work.
9.9km-Pogacar is still alone and is putting significant time into the Yellow Jersey group. In the overhead shot below, you can see Carapaz on the front but Bernal is sitting all the way at the back, behind Adam Yates in Yellow. Seems to be struggling.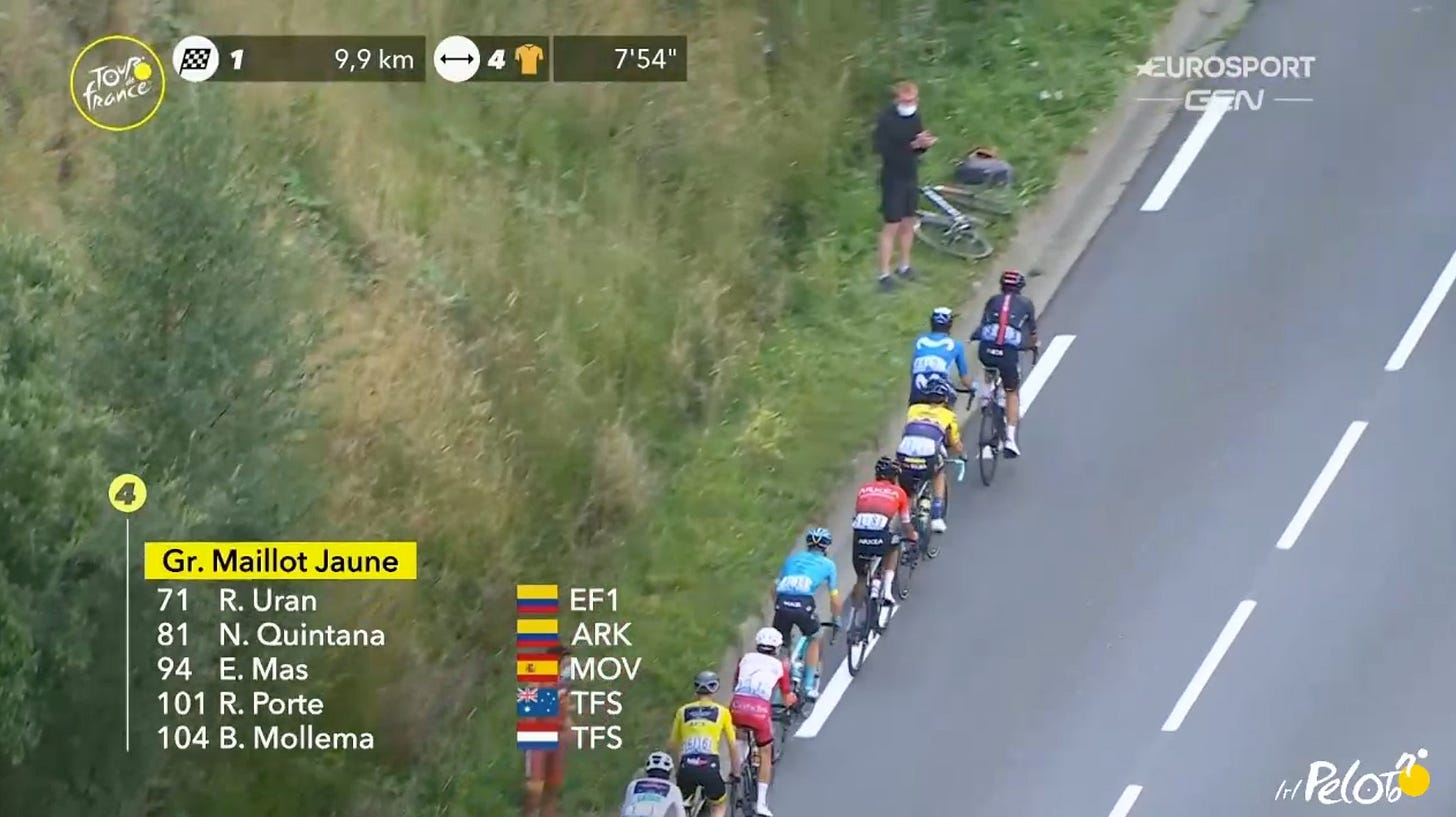 7.6km-Guillaume Martin attacks out of the Yellow jersey group and could get the race lead if he can hold a small gap to the finish.
5.8km-Pogacar has 40 seconds, could take back a big chunk of what he lost yesterday. 
5.1km-Bernal, he is yo-yo-ing off the back. Roglic is still following wheels, I'm getting flashbacks to his fanatic dedication to following wheels at the 2018 Giro which ended up costing him the race.
3.8km-Pogacar has over a minute, wow, he's back in it, this is similar to how Carapaz won the 2018 Giro.
3.1km-Nairo attacks HARD towards the top of the climb. Roglic follows and they go over the climb together, Bernal is really struggling to hold on.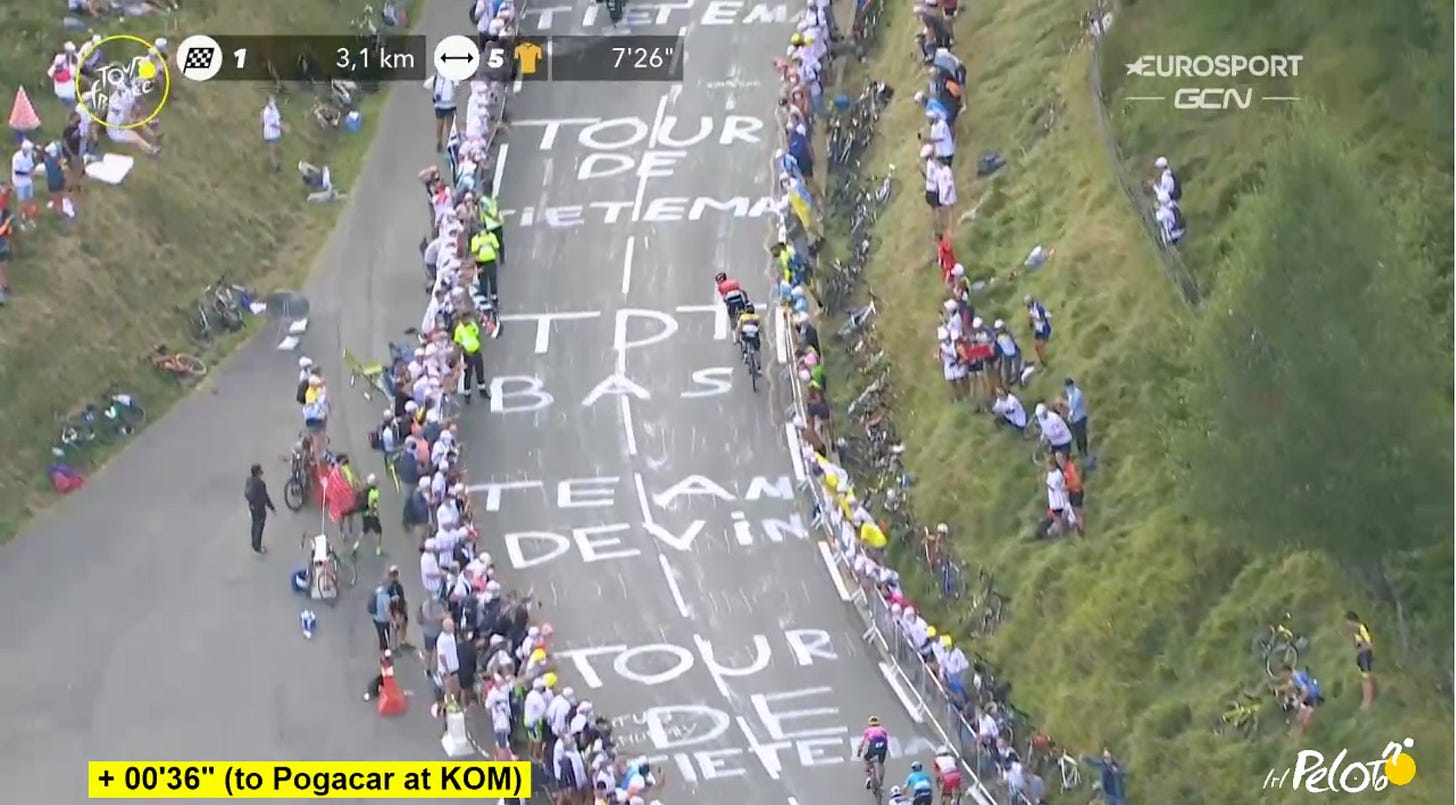 1.7km-Nairo and Roglic catch and drop Porte and Landa on the descent. This ends up not mattering since they all get caught, but those vast differences in descending skills will play a role later in the race.
Nans Peters wins the stage solo. Huge result for AG2R and France. Toms Skujiņš comes in for second place 47-seconds later, this is a massive result for him.
Neilson Powless gets 5th place on the stage. Another great ride from the young American and his two top 5s from this race is the best result from an American at the race in a long time.
GC group all back together, Pogacar still up the road
Romain Bardet attacks on a small rise into the finish, Yates follows, I like this move a lot from him, he could take the Yellow jersey
Pogacar finishes 38-seconds on the Yellow jersey group,
Major Takeaways:
It was a wild stage and a lot happened, but if we pull out and think about this critically, Roglic looked incredible and is still the clear leader unless someone can drop him in the mountains because of the looming stage 20 TT. He also has the added luxury of being able to sit on and react to moves when he runs out of teammates like he did today. My first reaction to the stage was that he missed a big opportunity to big-time into Bernal, but on second thought, he and Jumbo are likely racing their own race and assuming he will hold his form instead of racing in fear of a late Bernal surge.

Pogacar's GC campaign is far from over. The young Slovenian showed he is one of, if not the strongest rider in the race and reportedly set a record time up the Col de Peyresourde, the final climb. He will have to continue to attack on stages like tomorrow's and chip away at his time loss from stage 7, which obviously isn't ideal, but the paradox is that his time loss in the crosswinds means the other GC riders will give him a little bit more freedom in the mountains than he would normally have. It isn't a one-for-one comparison, but it is similar to Richard Carapaz's winning ride at the 2018 Giro, when Nibali and Roglic marked each other while Carapaz rode off the front in a few mountain stages and built up a big enough lead to win the overall. Keep in mind, the young rider is the Slovenian national TT champion, besting Roglic, so if he can keep things close, he could win the race on stage 20.

A few cracks appeared in Jumbo-Visma's armor, Dumoulin slipped out of any real GC contention and Roglic was outnumbered by Ineos at the top of the Peyresourde, but this actually showed why it will be so difficult to beat the Slovenian. He was isolated and outnumbered and he still never appeared in any real trouble. He has the strength to sit comfortably in the lead group and has the luxury of sitting back and forcing others to attack because of his supremacy in the TT.

Rigoberto Urán will come out of this stage feeling great. He wasn't as sharp as Roglic, Pogacar, and Quintana, but the Colombian appears to be the best of the rest. He was able to respond when it mattered and if he can just hang with the leaders in the mountains, he is known to string together a decent TT from time-to-time, and could easily ride himself into a podium placing, if not the overall lead if things get weird, on Stage 20.

Nairo Quintana is BACK! The year of the Nairo could finally be upon us, as the Colombian climber has shown that he is in a much better place physically and mentally after leaving the toxic situation at Movistar. He will need to take massive time to build up enough of a buffer to hold off the likes of Roglic in the TT to win the overall, but it is great to see him back at his best.

Guillaume Martin showed he is the real deal and won't be going away anytime soon. The French climbing specialist has a dubious TT record, but I certainly consider him a solid podium contender.

Adam Yates held the Yellow Jersey with an impressive ride, but I didn't love how difficult it appeared for him when the pace was really on. I think his days in the lead are numbered. He will likely hold on until Stage 13 but if today is indicative of his form, he will go backward quickly when we hit the high Alps.

Egan Bernal clearly isn't at his best, but the Colombian showed an amazing ability to hang on through his bad days and recover better than the rest late in the 2019 Tour. All signs are pointing to him just not having the legs to put enough time into Roglic before the stage 20 TT, but I still wonder if Roglic and others could regret not taking advantage of his off-form later in the race. But something to keep in mind, 2020 is the inverse of the 2019 edition, with the TT coming after, not before the high mountains. This means he doesn't have the luxury of sitting back and needs to be taking time on Roglic in these mountain stages, not just holding even, if he wants to defend his title.

Romain Bardet had a great ride today and reminded us of his great rides in the Pyrenees in the 2017 Tour, but I think today was as good as it will get for the Frenchman. He was struggling when the pace was hot on the Peyresourde and he can't count on a front group detente to give him a chance to catch back on in future mountain stages.

Oh yeah, remember that any of these riders could get pulled from the race at any time due to a positive COVID test, which occur on the two rest days.
Stage 9 Preview & Predictions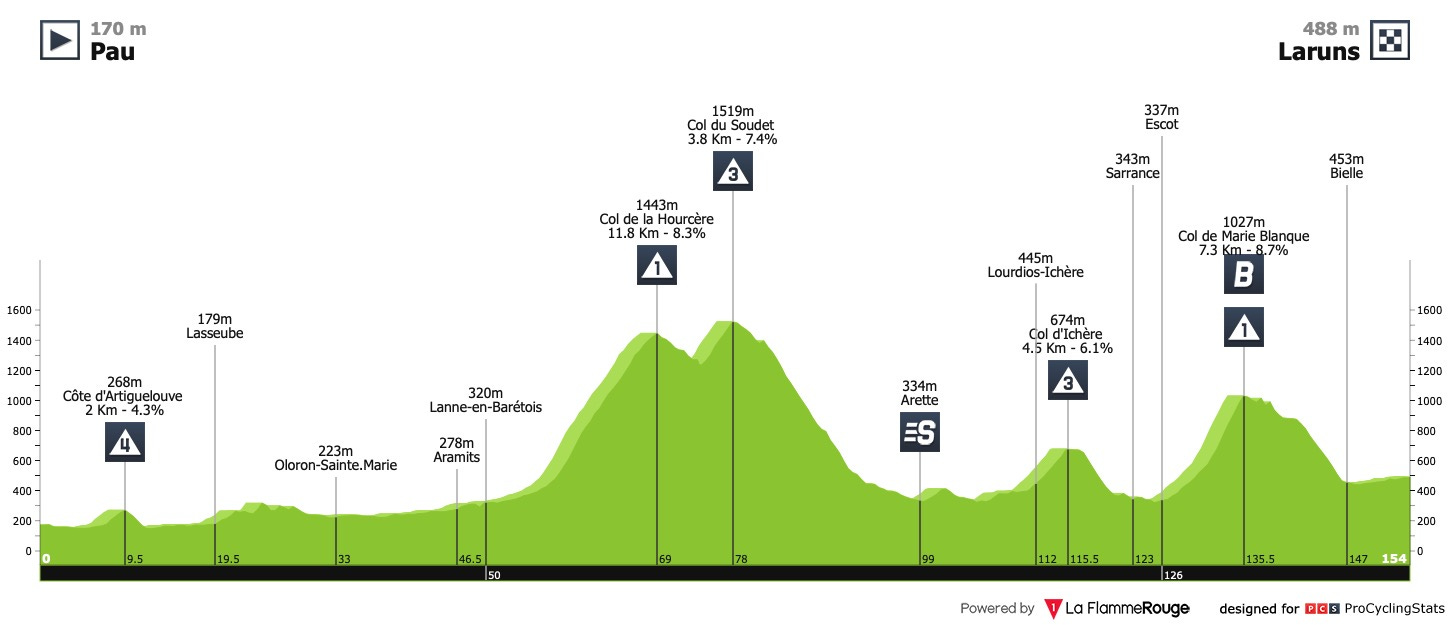 Stage 9 of the Tour de France serves the second test in the Pyrenees. The 154km stage races between Pau and Laruns and tackles three major ascents.
The finale flies downhill into the valley for a false flat run-in of 6km, which will deter any major attacks on the final climb.
I would normally peg this as a classic breakaway day with little-to-nothing happening in the GC group, but remember, that's what people were saying about today. With riders like Pogacar still needing to take back more time and a few steep Pyrenean climbs (8-9% average grades), which are less consistent and roll slower than Alpine climbs, we could see some GC riders try something to isolate Roglic again and take some time.

Monday is a rest day, which means riders will be willing to push it to the limit knowing they get a chance to rest before a few flat stages in Brittany on Tuesday and Wednesday.

Prediction: Watch for riders like Bauke Mollema, Miguel Ángel López, Tadej Pogacar to attempt to catch out the other GC favorites. A breakaway will get away for a stage win, with Pello Bilbao taking the stage win. Peter Sagan will fail to get any points at the intermediate sprint, putting his Green Jersey defense at serious risk.