Discover more from Beyond the Peloton
In-Depth Pro Cycling Analysis
Over 16,000 subscribers
Milano-Sanremo Preview, Strade Bianche Breakdown, Ineos TdF Leadership Picture Clears Up
Van Aert dazzles at a scorching Strade Bianche, Milano-Sanremo gets a new route but is as difficult to predict as ever and Froome loses over five minutes to Bernal at La Route d'Occitanie
If you find these newsletters helpful, you can buy me a coffee to keep me fueled while up early watching races.
The latest episode of the Beyond the Peloton Podcast is live.
Strade Bianche
The broadcast for the first WorldTour race in five months didn't start airing race images until 60km to go, this is absurd and they missed the most exciting part of the race. Having said that, we got to see Wout van Aert win solo in fantastic fashion out of a small group of riders with a blistering attack with 12.3km to go, so it wasn't a total loss.
Quick Notes:
The race was HOT, close to 100F (38C) under the brutal Tuscan sun. This made the already tough racing absolutely brutal, with the race splitting up early and the final selection forming 51km from the finish.

Van Aert, the winner, was on RIM Brakes. This proved to be a great move. All of the other favorites were on disc brakes and reportedly suffered multiple flats and slow wheel changes due to the slightly more cumbersome setup and difficulty getting wheels from the neutral service.

Van Aert looks incredibly strong. He has clearly recovered from his crash and subsequent injury last year at the Tour de France and this win was Cancellara-esque

Once van Aert got even a small gap with under 10km remaining, the chasers, Max Schachmann and Davide Formolo were at the disadvantage because even if they had the numbers, due to the prisoner's dilemma game theory thought experiment. Neither could fully commit to the chase knowing the other rider would simply sit on their wheel and potentially beat them at the end. Better to save yourself and sprint for second (or hope the leader falls apart) than pull another rider to a sure victory.

Every podium finisher was in their 20s and this bears out in the historical data. Wout is on the heavier side of the winners, 75kg-ish, but he makes up for it with his massive power, and whatever weight he is, it is working for him. Maybe doesn't have the pedal stroke for pedal stroke power of Cancellara, but he has better handling skills and is becoming an incredibly savvy racer.

The "old" guys (Phillipe Gilbert, Peter Sagan, Greg van Avermaet) looked really, really old. Does this signal a changing of the guard? Or was this just a hot, early, short race with lots of variables that caught them out? 35-year old Jakob Fuglsang did look like the strongest rider in the race for a while, pulling back van Aert and Schachmann with 18km-to-go, but then likely put himself deep in a hole and was dropped when Wout threw down the hammer a few kilometers later.

Van Avermaet suffering at the back of the break makes sense. He's 35 and racing against guys in their prime. Prime Tour de France and Classics winning ages are 26-32. Lance Armstrong won his last Tour at 33, Alberto Contador "won" his last Tour at 28, Tom Boonen won his last monument at 32, and Fabian Cancellara won his last monument at 33.

There is a possibility that this might be less of "the new guys" having a big day and more of the new guys turning into the guys, while our old stalwarts age out of winning the big races.
Abridged Race Notebook:
52km to go-What is left of the peloton breaks up on sector 8 gravel section. Short but steep climb pulls out our lead group
51km-Julian Alaphilippe was dropped on this climb. The race was REALLY hard here and what was left of the peloton was absolutely blowing up. Mathieu van der Poel was dropped and was chasing briefly with Alaphilippe. Fuglsang was really pushing the pace here and caused the split with the group of Brent Bookwalter, Michael Gogl, and Zdeněk Štybar.
Van Aert was ALMOST dropped here. His head was down and he is barely hanging on after being forced to bridge up after sitting too far back in the group and missing a split in the lead group.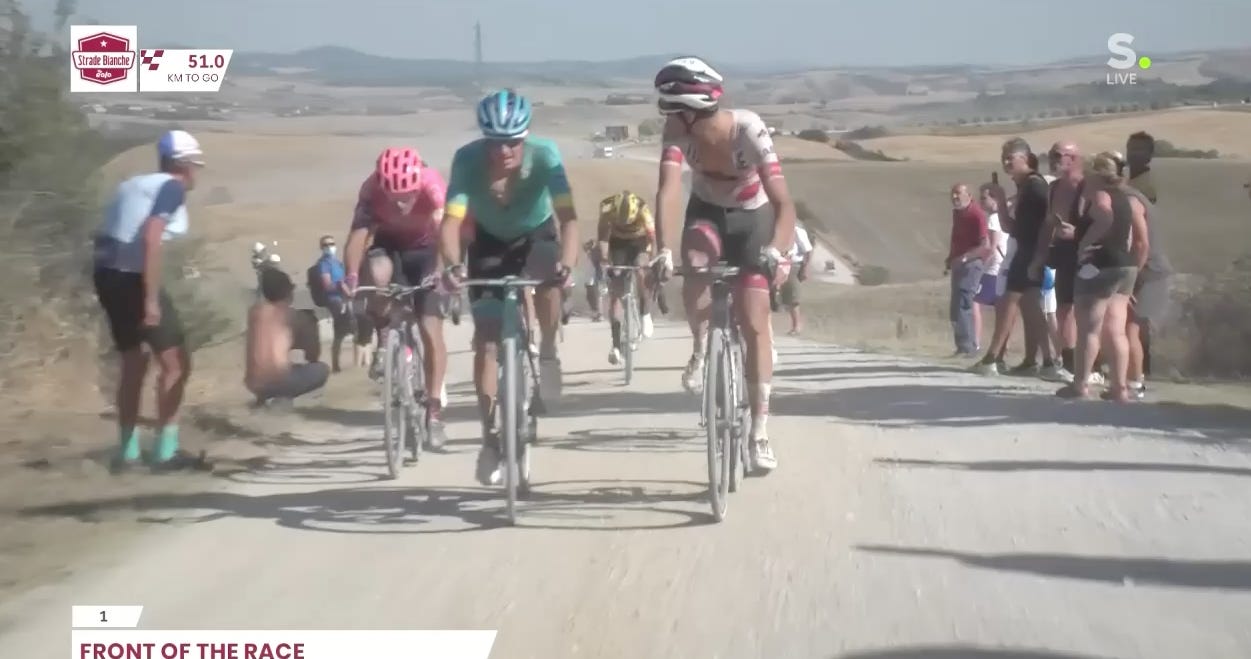 In the next screenshot, we can see Wout struggling slightly off the back of the front group, being driven hard by Fuglsang.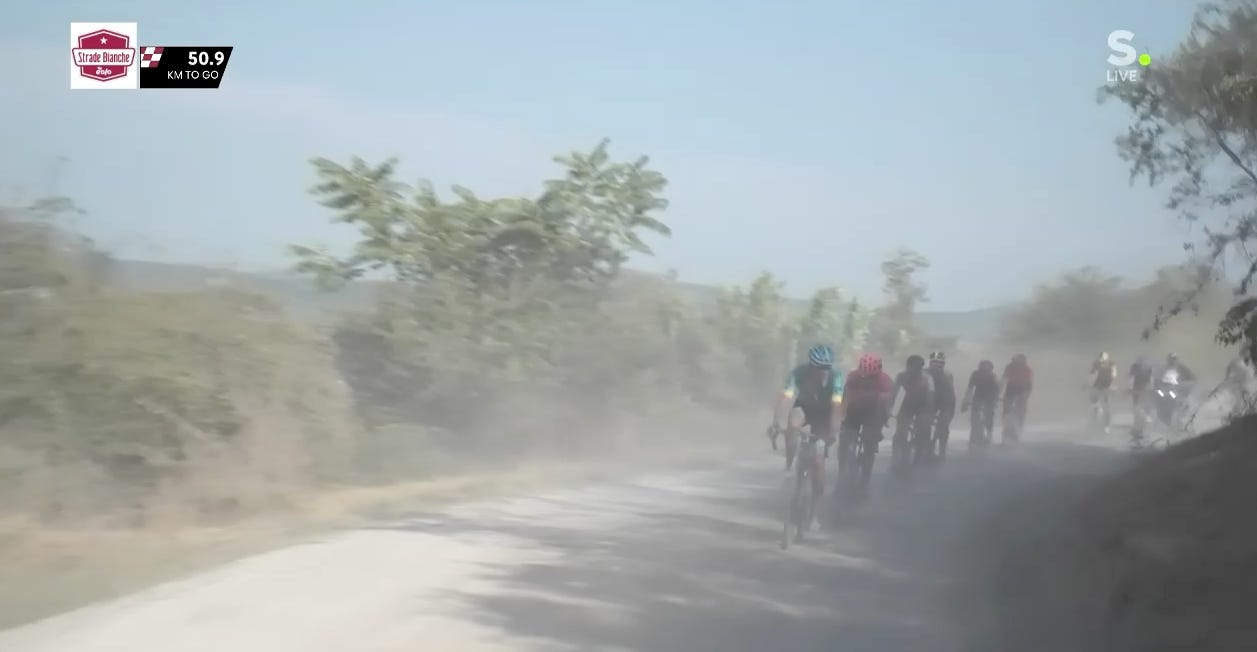 The next kilometer, where Fuglsang rips off the front solo and the group consolidates behind, is a key point in the race for Van Aert. The fact that Fugslang leaves the group and the other riders are riding a steady pace allows him to catch back on, get a slight recovery and the group starts to work together to keep Fuglsang's lead in check.
When Schachmann attacked with a little over 21km-to-go, Fuglsang and van Avermaet don't even attempt to respond or even appear to notice when van Aert follows the German's blistering attack. We know at this point that they have gone too deep into the red and are just holding on.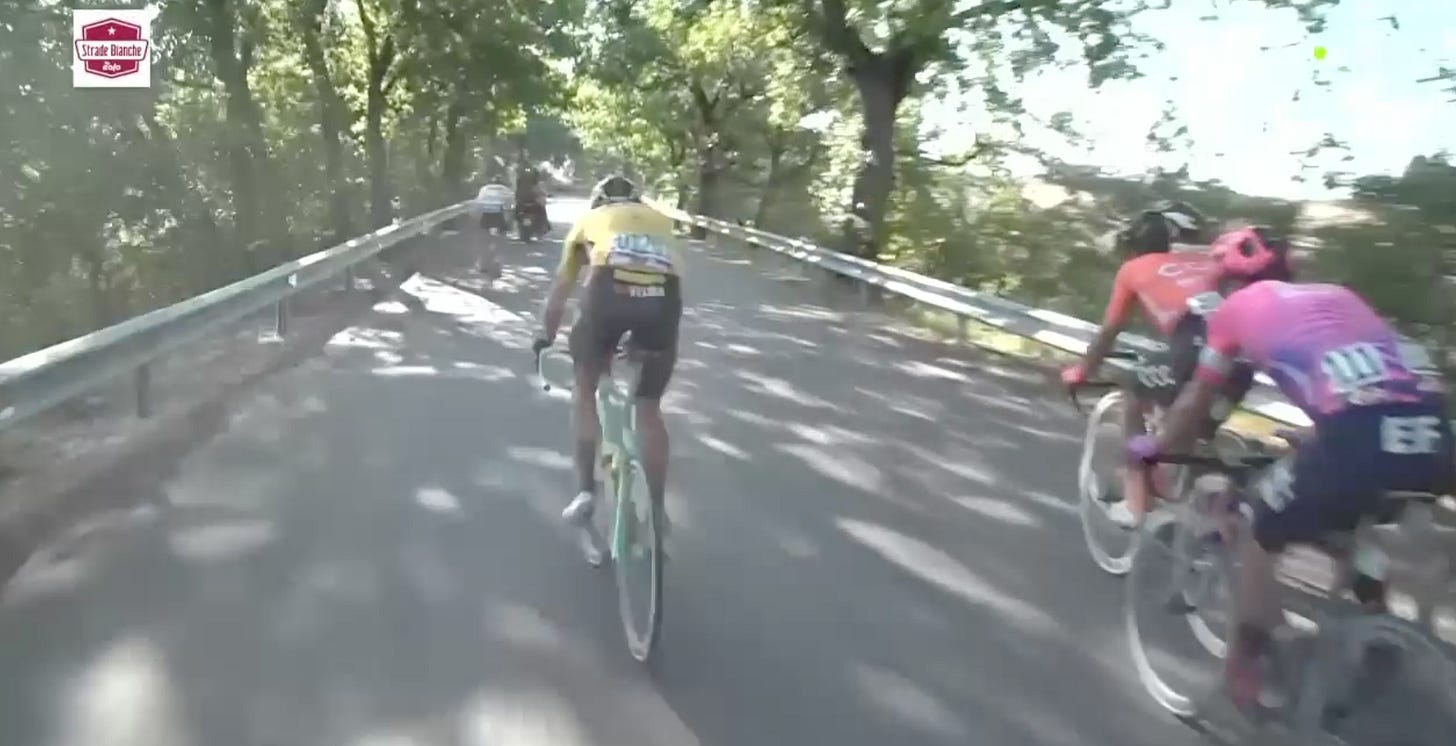 Even those the two riders are pulled back a few kilometers later due to a load of work on the front from Alberto Bettiol, the damage had been done and softened the group up perfectly for van Aert's killer blow with 12.3km remaining,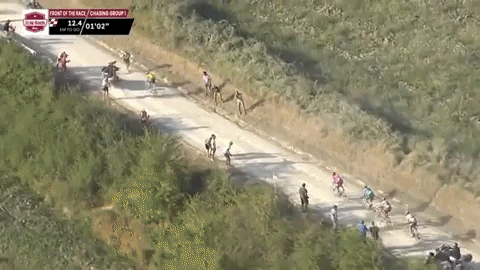 Milano-SanRemo
The old beauty has a brand-new look! The race was kicked off its historic course because, in Italy, going to the beach in August is an institution, and the MSR course goes from the nation's second-largest city straight to the beach. The old course is historic and the stretches along the coasts are beautiful, but it's incredibly boring. You can turn on the race 6 hours into the race and not miss anything. It is so long that there is a mountain pass, Passo del Turchino, halfway through that I've never seen because the TV coverage doesn't start until after the race crests.
Old Course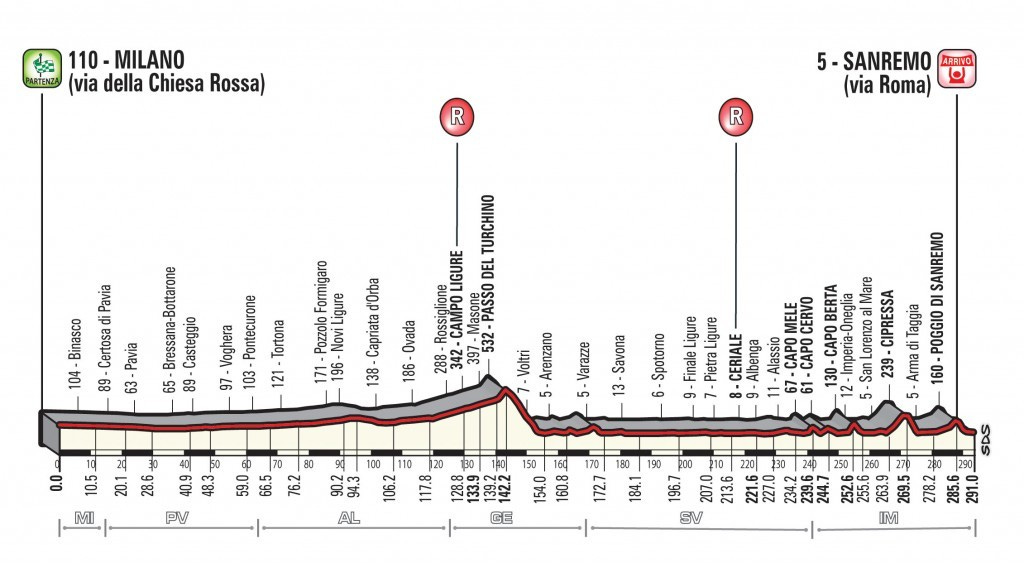 New Course

The new course looks more exciting and race director Mauro Vegni has said they might stick with it even after this year. RCS hasn't been too happy with how predictable the flow of this race has become.

The final mountain pass is still 70 kilometers from the finish and probably too far out to shed any sprinters and my take is that this new, tougher route won't actually change the racing.
They say the 300km-long "sprinters classic" is the easiest to ride, but the hardest to win, which makes it a total lottery trying to pick the winner.
Favorites: It is absurd to attempt to pick winners for this race, so don't bet any significant amount of money. I'm personally betting on Sam Bennett (+1400), Fernando Gaviria (+1400), they are both in incredible shape at the moment, Matej Mohoric (+2500) looked to be in great shape at the recent Slovenian national road championships, and Elia Viviani (+2500), just on a hunch, even though he has shown no form recently. Philippe Gilbert (+1800) is looking to become only the fourth rider of all-time to complete the monument sweep with a victory on Saturday. Sanremo is tough to win on the best of days and even tougher when everyone in the peloton knows you desperately want to win. Not to mention that if the 38-year-old won, he would be the oldest winner of the race by a full two years. Having said that, the Wallonian has come back from the dead multiple times in his career and is capable of seemingly anything, so at +1800, a few dollars on him could add some major excitement to your race watch.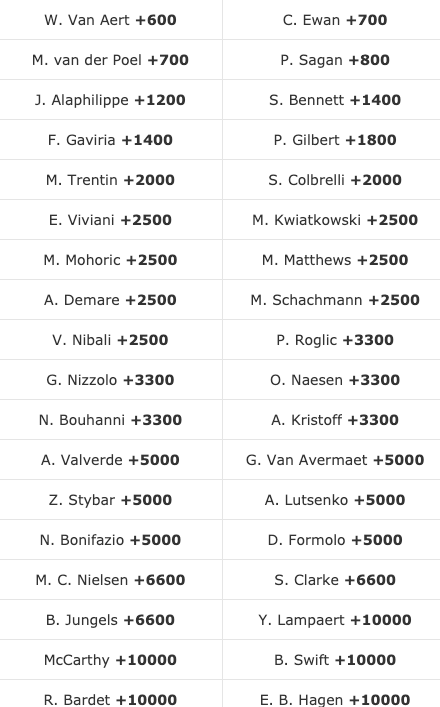 Van Aert is the betting odds favorite at +600, which shows how hard this is to predict

I don't love any of these, but Matej Mohoric at +2500 is intriguing. The Slovenian was fifth last year and this race loves a dark horse.

Note on betting odds: They aren't meant to be predictive of the outcome. They reflect the betting house trying to spread their money evenly across all possible outcomes. They don't set them for how they think the outcome will be, they set them to keep too much exposure from forming on one outcome
Milano Sanremo Past Winners Since 2007
2007-Óscar Freire-63kg-31yo
2008-Fabian Cancellara-80kg-26yo
2009-Mark Cavendish-70kg-22yo
2010-Óscar Freire-63kg-34yo
2011-Matthew Goss-70kg-25yo
2012-Simon Gerrans-62kg-32yo
2013-Gerald Ciolek-75kg-27yo
2014-Alexander Kristoff-78kg-27yo
2015-John Degenkolb-77kg-26yo
2016-Arnaud Démare-76kg-25yo
2017-Michał Kwiatkowski-68kg-27yo
2018-Vincenzo Nibali-65kg-34yo
2019-Julian Alaphilippe-62kg-27yo
The average age of winner since 2007: 27.923076923077yo
The average weight of winner: 69.9kg
My Picks for Saturday:
Sam Bennett: 73kg, 29yo
Fernando Gaviria: 71kg, 25yo
Elia Viviani: 67kg, 31yo
Matej Mohoric: 72kg, 25yo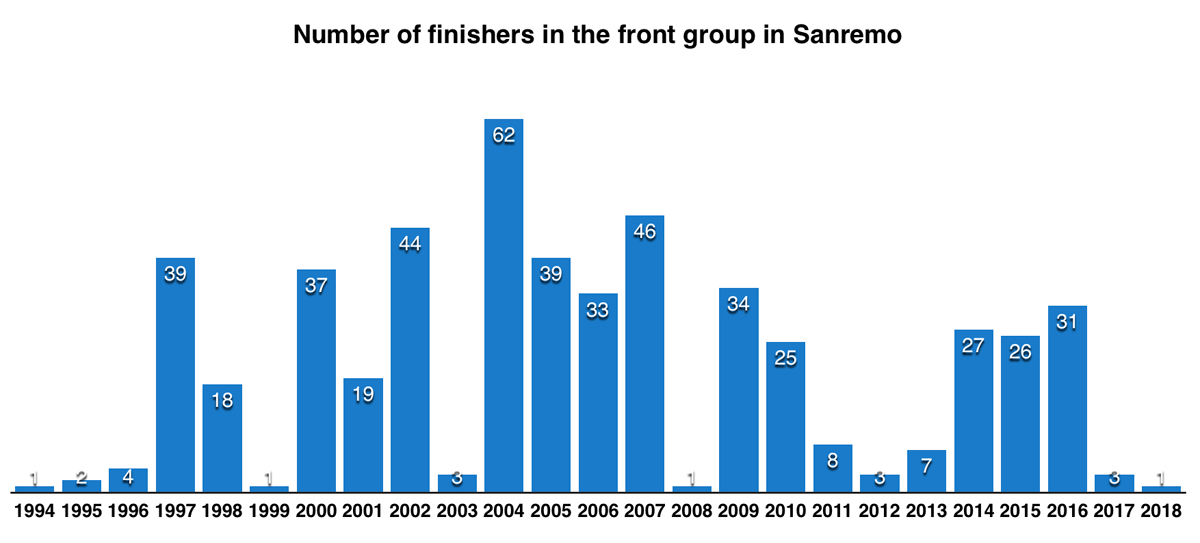 Something to note: The climb speeds on the Poggio have been getting faster and faster every year since 2015, which has made things hard for the pure sprinters and giving us a run of wins from the climber-classics type riders (you can read more about this on a BTP blog post last year). However, I don't think this trend can continue on an endless upward trajectory, and as the graphic above shows, there has always been short cycles of smaller groups, or even lone riders, making it down the Via Roma ahead of the pure sprinters.
Ineos' Tour de France Leadership Picture Clears Up
At stage 3 of La Route d'Occitanie, Egan Bernal won on a summit finish 10-seconds ahead of his teammate Pavel Sivakov, who we know is absolutely flying from last week's newsletter. Some big names were further back, like Thibault Pinot, and Romain Bardet, with his teammate Chris Froome coming in over five-minutes down. Less than a month before the Tour's first summit finish, this is a big marker for the Colombian to lay down and shows that Froome isn't anywhere close to a level that would allow him to compete for the overall, or even potentially make the Ineos lineup, at the 2020 Tour. The fact that he was yelling at roadside hecklers recently is also not a good sign.
Bradley Wiggins said on a recent podcast that Bernal would have cracked if the final mountain stage of the 2019 Tour de France had been run in its entirety. I'm not sure what race he was watching (I have a theory that Wiggo doesn't watch the races), but Bernal was easily the stronger rider in that race. He also claimed that Geraint Thomas should be given free rein to attack Bernal in the Tour this year. Wiggo is a bit of an eccentric, so anything he says should be taken with a grain of salt, but this type of messaging from influential British cycling voices could cause a lot of problems for Bernal during the Tour.