Discover more from Beyond the Peloton
In-Depth Pro Cycling Analysis
Over 16,000 subscribers
Strade Bianche Preview, Chris Froome's Tough Time at Team Camp, and Vuelta a Burgos Notebook
WorldTour Racing Returns (hopefully) on This Weekend, and Why Froome Might not Make the Tour de France Start
If you find these newsletters helpful, you can buy me a coffee to keep me fueled while up early watching races.
The Beyond the Peloton Podcast is live! Episode one covered Froome's current spot on Ineos' pecking order and Episode two previewed Strade Bianche and picked out a few key points from the first stage of the Vuelta a Burgos.
Today's Topics: WorldTour Professional Cycling Racing is (almost) Back! Chris Froome is Getting Beat by His Own Teammates at Training Camp & the peloton showed up ready to rip at the Vuelta a Burgos 
Strade Bianche
WorldTour racing kicks off on Saturday, August 1st with Strade Bianche, signaling the re-start of Worldtour professional bike races in 2020 after a lengthy layoff due to the COVID pandemic (the race starts at 1:45 and is expected to finish around 6:00pm Central European Time).
The 184-kilometer race over the white gravel roads of Tuscany and finishes up a brutally steep 1.75km climb into the picturesque Piazza del Campo.
In normal times, predicting the winner of a one-day classic is difficult, but in current times, with an extended break from racing and a highly compressed calendar makes nothing more than throwing darts. However, let's pause and take a look at the current odds board for the Italian one-day race (if you aren't a gambler, Rouleur Derby offers an incredibly fun fantasy betting cycling game system)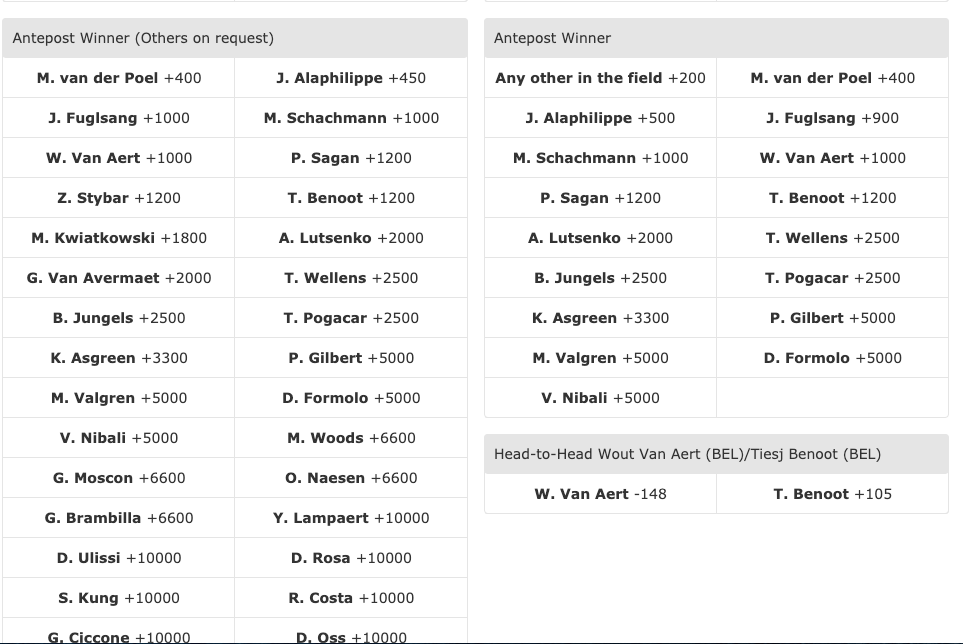 Now, let's take a look at the list of the past winners since the race's inaugural run since 2007.
Past winners, weight and age at time of win
2007-Alexandr Kolobnev-64kg-26yo
2008-Fabian Cancellara-80kg-27yo
2009-Thomas Löfkvist-70kg-25yo
2010-Maxim Iglinskiy-67kg-29yo
2011-Philippe Gilbert-69kg-29yo
2012-Fabian Cancellara-80kg-31yo 
2013-Moreno Moser-64kg-23yo
2014-Michał Kwiatkowski-68kg-24yo
2015-Zdeněk Štybar-68kg-30yo 
2016-Fabian Cancellara-80kg-35yo
2017-Michał Kwiatkowski-68kg-27yo
2018-Tiesj Benoot-72kg-24yo
2019-Julian Alaphilippe-62kg-27yo
Being a shorter race compared to the sport's monuments, it tends to be won by slightly younger riders and featuring a relentless rolling course with a brutally steep finish, it also tends to be won by lighter riders.
If we look at the list of favorites on the above betting board, not many riders actually check those boxes. Mathieu van der Poel and Wout van Aert are the young stars in the field (both 25 years old) but they are both well over 70kgs, and Vincenzo Nibali, and Zdeněk Štybar both fit the weight profile but are both in their mid-30s (35 & 34 years old). Julian Alaphilippe checks both boxes, but nobody has won the race in two consecutive years since it launched, which speaks to its difficulty. Maximilian Schachmann, 26 years old and 70kgs, has no significant one-day victories in his career, but did win Paris Nice in March and was third in Liege-Bastogne-Liege in 2019.
Peter Sagan at +1200 is an intriguing prospect. He was runner-up in 2013 and 2014, and Philippe Gilbert at +5000 is interesting. He needs a victory at Milano-Sanremo on August 8th to become only the 4th rider ever to complete the monument sweep, so we know he is going to show in shape.
Remember: This race is usually run in March, with damp, sticky gravel roads and mild weather. The shift to July will see the riders face loose gravel roads and near 100F degree heat. The loose gravel will favor the world-class bike handlers like Sagan, van der Poel, Van Aert, and Stybar. Also, Sagan won the 2016 World Road Race Championships in Qatar in punishing 100+F degree weather.
Chris Froome's Tough Time at Team Camp
According to Strava (and his team's technical director), Chris Froome isn't at his former level of fitness that saw him win four Tour de Frances.
Strava shows that teammate Pavel Sivakov put 9 minutes into him on a 6,000 foot, 18-mile, 90-minute climb on recent training camp climb on Tenerife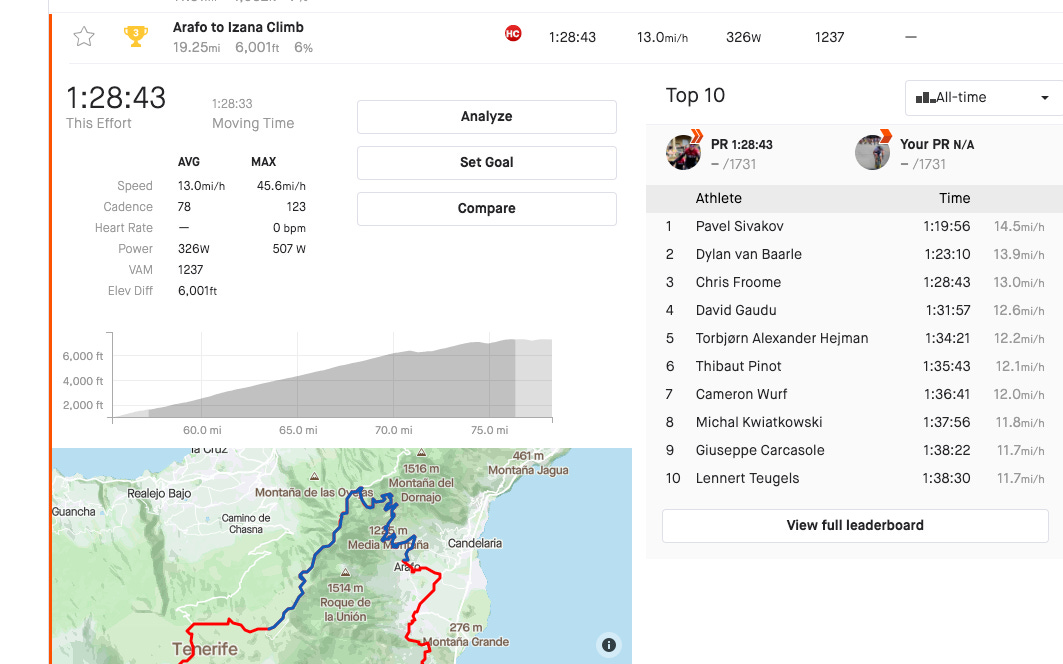 Pavel Sivakov File
https://www.strava.com/activities/3761236127/analysis/8739/13808
Chris Froome File
https://www.strava.com/activities/3761235976/analysis/8685/14029
It is worth noting that Dylan van Baarle also put 5 minutes into him. Froome was going fairly hard as well doing 350w (which included multiple higher intensity intervals), and doing some back of the envelope calculations it seems Sivakov (assuming he is around 70-72 KG) was doing at least 380w (presumably also with the higher intensity intervals) for roughly 90 minutes.
While looking at training camp data is a somewhat idiotic way to predict race performance, these were real, race-level efforts and it is frankly all we have. Also, due to the severity of Froome's injuries last year, we should assume he isn't going to be at his best, and I think there is a real chance of him not being selected for Ineos' Tour de France squad (I go into this in detail on episode one of the podcast). Worth noting is that if he was to win in 2020, he would be the second oldest Tour winner of all time and if he were to win after 2020, he would be the oldest winner of all time.
So who will lead Team Ineos at the 2020 Tour de France? Geriant Thomas will be 34 years, 3 months of age at the start of the 2020 Tour de France, which would make him the fifth-oldest Tour winner in history if he won. Just playing the averages, he won't win. 
So that leaves us with who on their squad can win. Last year's winner, Egan Bernal, is Ineos' best shot at a victory. Ineos used to be hands down the strongest team, but Jumbo-Visma has bolstered their roster in the offseason and Ineos' strength could be compromised by splintered incentives and taking three leaders to the race, leaving only five domestiques to help them. While this is the same as Jumbo, the showing of Ineos' domestiques in 2019 was horrible and only van Baarle seemed to be up to the job. Moscon and Michał Kwiatkowski, both world-class riders, one literally a world champion, were horrible. If they can't get things right in 2020, they could really fail to control this race.
Additionally, the "Let the road decide" ethos is BS, it doesn't work. Ineos needs to pick a leader internally before the show up to the start in Nice on August 29th. Teams can say that, but there is a myriad of practical concerns that prevent this from working. Everything from the order of bikes on the team car, where a rider is on the mountain train, TT start times, etc.
TDLR, if they don't get this straightened out internally and externally, this Tour is going to be a mess (and fun for us to watch).
Vuelta a Burgos Stage 1 Notes:
The peloton came out ready to race. Instead of a leisurely jaunt around Spain and an uphill sprint finish, we got echelons 50km out, World Champion Mads Pedersen and Simon Yates being dropped, and Remco Evenepoel ripping off the front solo. By the time the peloton hit final kilometer, only 35-40 riders remained in the lead group. Felix Großschartner's blistering attack with 700m to go blew everyone away, making Alejandro Valverde, who made a career out of winning on finishes like this, look old and sluggish. 
BIG Takeaways
-Simon Yates dropped, another clue as to why he isn't going to the Tour
-World Champion Mads Pedersen dropped with 35km-to-go, could signal a lack of form in the coming "spring" classics
-Ineos showing some weakness, took the front with under 20km to go, but ran out of gas and riders with 10km and had to just hold on for the race into the finish
-Valverde would have won this in year's past, signs of age showing
-Remco is FIT, keep an eye out for him at his grand tour debut in September's Giro d'Italia