Vuelta Stage 8: Jedi mind tricks abound
A GC battles breaks out on the Alto de Moncalvillo
Primoz Roglic looked invincible as he dropped Carapaz to win the stage atop Alto de Moncalvillo in commanding fashion, proving his bobble in the final few kilometers of Stage 6 was most likely due to clothing management, not fading form. Carapaz held the race lead but saw his 30-second lead cut down to 13-seconds.
Roglic was able to get this stage win due to his ability to perform some sort of Jedi-mind trick on the Movistar team that convinced them to ride on the front of the peloton from 56km-to-go, setting a pace that put everyone under pressure and pulled back the breakaway. The reason for this work isn't totally clear. Perhaps they thought it was 2009 and they were setting up Alejandro Valverde to destroy the field on the final climb? Or, as a mathematician texted me after the stage, they performed a statistical analysis of every grand tour and found that the teams of the eventual race winners spent most of their time on the front, and thought, hey, that's the secret, lets get to the front.
But before we judge, lets just all take a moment to appreciate the Movistar team. Without them, grand tours would simply be three weeks of racing with some riders attacking and some being dropped. Oh man, what a dull sport it would be. But, Movistar knows we aren't here for the actual cycling, but the drama, so they do everything they can to keep the sport's top tactical minds guessing. Sometimes they employ three team leaders who clearly can't stand each other and constantly race to hurt the others, or in the case of Stage 8, set pace on the front all day for no apparent reason just to get dropped on the final climb and set up a win for a rival rider. In all seriousness, this stage would have been much less exciting without their sacrifice.
Stage 8 Notebook:
75km-Peleton is 4'27 behind the breakaway. Ineos is at the front setting what looks like a tough pace, but the odd thing here is that they only have three riders plus Carapaz, while the other teams behind have full teams left.
60km-Gap to the break is at 5'04 as the peloton hits the intermediate climb. Froome is on the front and appears to ride a much bigger gear than he used to. Ineos has four riders left but I wonder if the other teams are working to wear them down from day to day and slowly chip away at them.
56km-Movistar taking over at the front of the peloton from Ineos, why? Is this just for the stage win for Valverde? I think it's a big mistake to let Ineos off the hook here.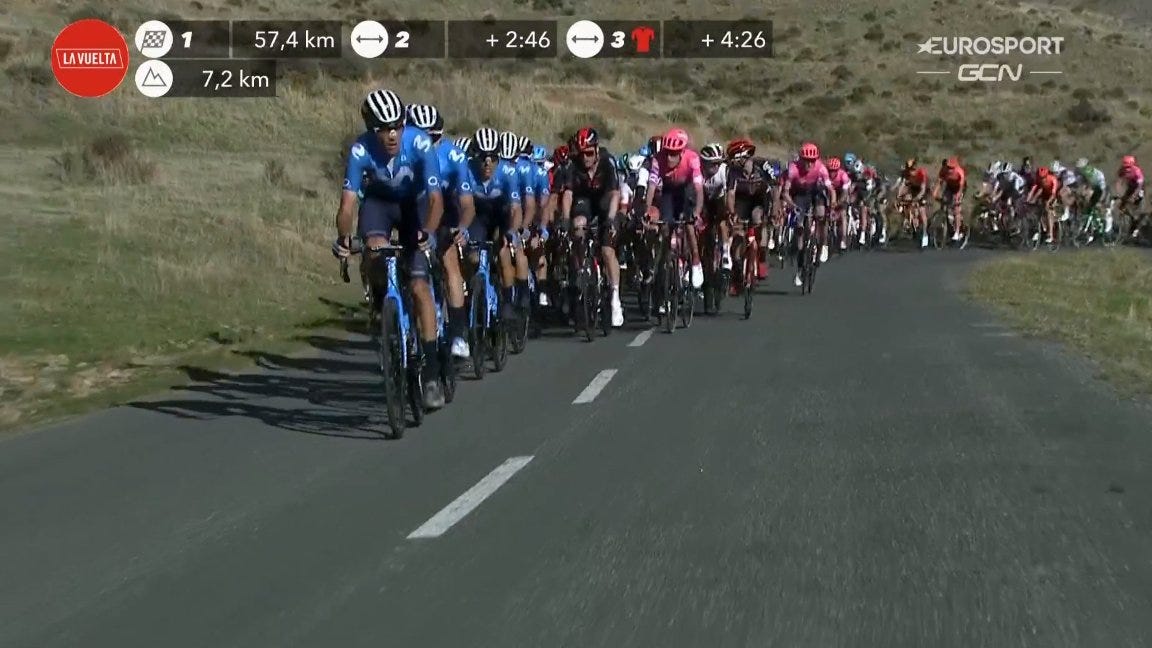 54km-Ineos has looked awful nearly this entire Vuelta, but their leader, Richard Carapaz, hasn't looked vulnerable at any point in this, but this Ineos team looks awful. I think due to Carapaz's strength, Movistar would be better off letting Ineos drive themselves into the ground on the front for a few more days and try to attack him when he is isolated.
38.4km-Movistar still has six riders on the front, Ineos down to two and everyone looks like they are just hanging on for dear life. But I still think this is a massive mistake if they can't convert on the final climb.
23.8km-Gap to the break down to 45-seconds, wow, shows how hard this pace is back in the peloton.
13km-Movistar still has their full team on the front and now have the break within 14-seconds.
10km-Roglic has a full team with him (except Dumoulin who left this morning). They haven't done a single thing all day and gotten a completely free ride. This is going to help them big league (or is it bigly?) later on this climb, as well as later this week.
8.2km-Peloton on the lower slopes of the time, just catching the remnants of the breakaway.
6.6km-Valverde attacks but just kind of dangles slightly off the front. Is this what they worked all day for?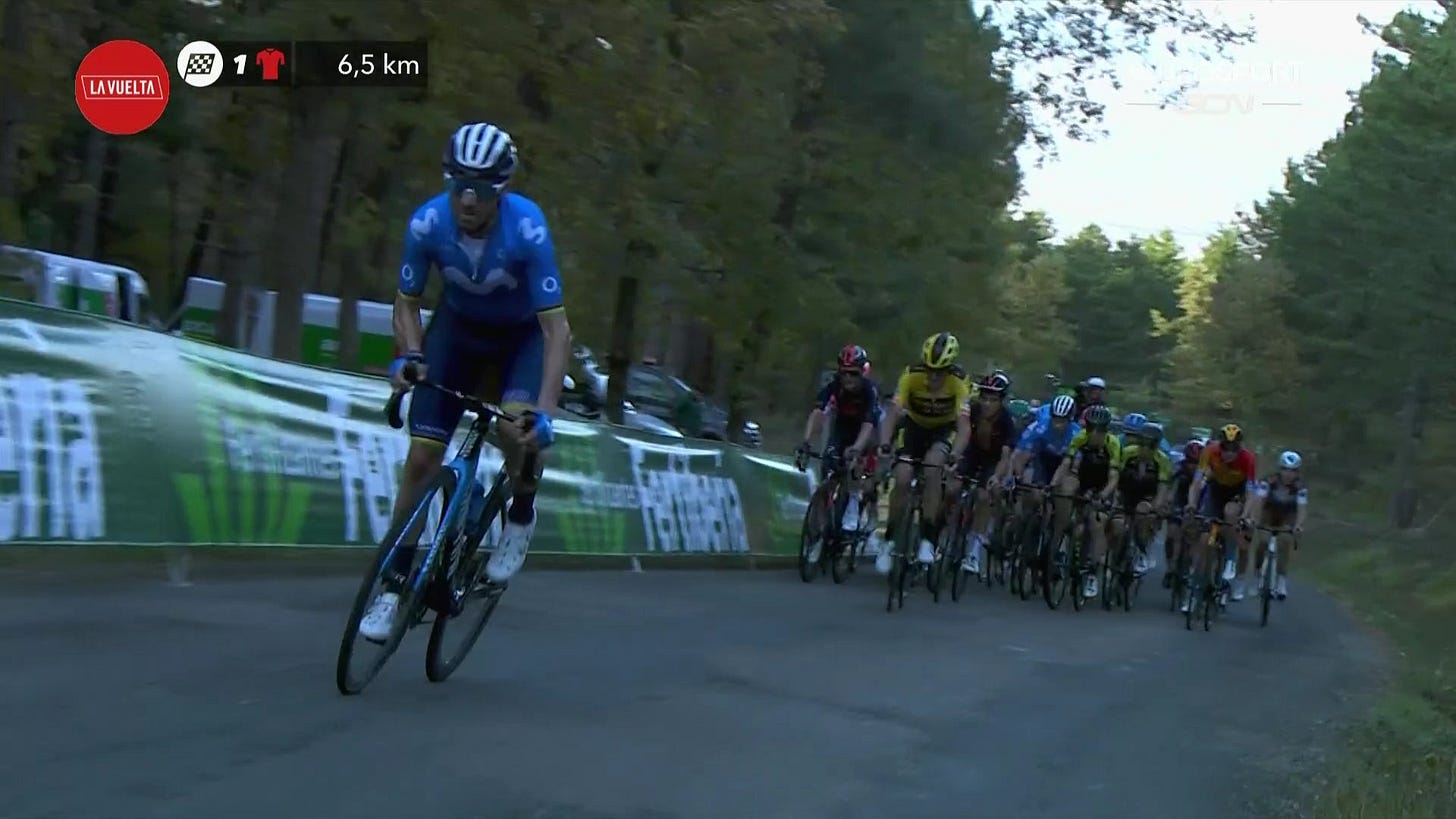 6.2km-Robert Gesink from Jumbo easily pulls him back and is now setting pace.
5km-EF takes over at the front for Carthy.
4.8km-Carapaz is isolated, all Ineos riders have been dropped.
4.5km-Mike Woods of Stage 7 fame is on the front with Carthy behind him, Carapaz is right behind them. The last 5km of this climb is absolutely brutal with consistent double-digit gradients.
4km-All Movistar riders but Mas are dropped from the front group, really confusing that they worked all day just for this to happen.
3.6km-Hugh Carthy attacks and only Sepp Kuss can go with him. Carapaz leading the group behind but he can't bring it back.
3.3km-Chaves dropped and Dan Martin trying to jump across to the leaders. Remember, Carthy will lose loads of time in the TT, so Roglic doesn't have to mark him.
2.7km-Roglic sitting right behind Carapaz. He looks incredibly comfortable.
2.6km-Carapaz reels them in but Kuss immediately counterattacks. Carapaz goes after him but Roglic is glued to that wheel. Mas is dropped, wow, what a waste of a day for Movistar.
2.3km-Carapaz is the leader on the road and flying, dropping Carthy but Roglic is still just sitting right on his wheel.
1.8km-Carthy and Dan Martin have recovered and are back with Roglic and Carapaz.
1.6km-Vlasov attacks and gets a huge gap.
1.2km-Roglic throws down a thermo nuclear counter-attack and distances Carapaz. He closes Vlasov's significant gap absurdly fast.
800m-Carapaz attacks but Roglic brutally counters him. This is the knockout blow and shows the bad say on Sunday was obviously simply due to the jacket debacle.
330m-Roglic riding much steadier than Carapaz, who is rocking and rolling.
Finish: Roglic wins and opens up a sizeable gap by the end. Carapaz cracks and comes in 14-seconds later in addition to the 4-seconds he will lose due to time bonuses. In the gif below, we can see the gap Roglic opened up in the final few hundred meters was incredibly large, and Carapaz rolls in slowly, not fighting to save every available second. This allows Roglic to take half of his deficit back in a single stage.
Dan Martin comes in a few seconds behind Carapaz in 3rd. Hugh Carthy gets 4th but he needed to drop everyone today, not limit loses.
Takeaways:
Movistar's beers should be on Roglic tonight. They pulled the break back and let him win the stage and get the time bonus. They also softened up Ineos and his other rivals so he could drop them on the climb. He more than halved his deficit to Carapaz and is now back in the driver's seat for the overall win.

Jumbo-Visma rode completely different than they did at the Tour and got a lot for relatively light energy expenditure. They have really benefited from not holding the leader's jersey, as it is allowing them to sit in the wheels, only emerging when they want to chip away at Carapaz's lead.

There was a lot of chatter after Stage 6 as to whether Roglic was falling apart after his long season, but he showed today that he is the stronger rider in the race and that bobble was due to simply being cold and not layering enough.

Carapaz looks good, but he could be in trouble if he can't consistently drop Roglic on these summit finishes. Roglic could easily put 1'30 to 2 minutes into Carapaz in the upcoming 33km TT. Roglic had a horrible day on the final TT at the 2019 Giro but still took 2.7 seconds per km out of Carapaz.

This helps explains why Carapaz has been racing so aggressively in this race. It is amazing and certainly fun to watch, but I wonder if he should be more calculating. In retrospect, if Carapaz wouldn't have attacked with 800m-to-go, Roglic probably wouldn't have attacked him and they would have ridden to the line together, and Carapaz would have salvaged the lost 18 seconds.

This also speaks to a big weakness Roglic often displays. He usually won't attack unless he is forced. With the form he had today, he perhaps could have attacked with 3km-to-go and put over a minute into Carapaz.

Ineos being so weak as a team makes things even more difficult for Carapaz. This will make it difficult for him to get creative on some of these medium-hard stages and isolate Roglic a long way from the finish.

However, things aren't are peaches and cream for Jumbo. Tom Dumoulin dropped out of the race this morning before the stage, citing extreme fatigue (we will dig into what we can expect from Dumoulin in 2021 and beyond in an offseason newsletter). This leaves Jumbo down a key domestique.

Jumbo seems to have taken a few lessons out of the Tour, where they rode on the front far too much, and are Jedi-mind-tricking other teams into doing all of their work. Carapaz taking the lead from Roglic on Stage 6 has actually helped them avoid the same trap they fell into at the Tour.

I was critical of Jumbo yesterday for sending Bennett and Kuss up the road and having nothing to show for it, but in retrospect, for the price of Kuss and Bennett spending energy in the break on Stage 7, they were able to force Ineos to spend an enormous amount of energy on the controlling the race on the front yesterday and the first half of today while the rest of their team sat in the wheels doing nothing.

Movistar really swung for the fences here. I guess it was to set Mas or Valverde up to blow up the race on the final climb, but that doesn't fit their talent profile. I get that they have to do something, but I think they could needle the stronger teams on medium-hard days like they did yesterday, not going toe-to-toe with better riders on steep summit finishes. This is like the Continental Army meeting the British Red Coats in an open field vs the guerrilla warfare that eventually won the Revolutionary War.

Hugh Carthy needed to drop everyone today to give himself a serious chance to win or podium at this Vuelta. He is going to lose loads of time in the TT, so it isn't a great sign if he can't take time when the terrain fits his strengths.

Dan Martin rode well to hold his third place overall. He is emerging as a serious podium contender, which would be the best grand tour result of his career.
Stage 9 Preview & Predictions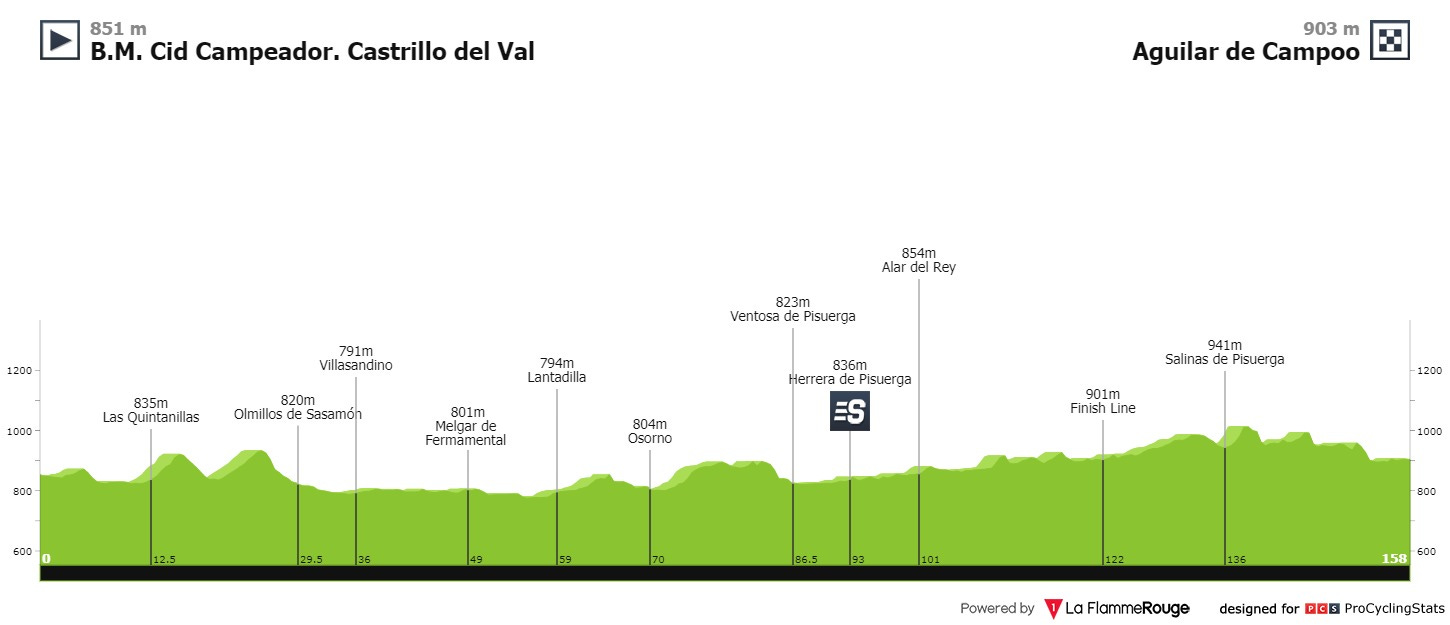 There are no boring days at this Vuelta, but tomorrow could be the closet we get to a normal sprint stage. By my count, this is one of only two sprint stages at this race (the other being Stage 4).
There is no way the DQS team of Sam Bennett lets a breakaway stay away on one of their few chances to win a stage.

Philipsen did everything right in the last sprint and got a great jump on Bennett, but Bennett was still able to comeback and overtake him before the line.

Prediction: Bennett wins his second stage at this Vuelta over Jasper Philipsen.