Vuelta Stage 9: The race jury strikes again
A contested jury decision spices up an extremely boring stage
Irishman Sam Bennett crosses the line in first after sprinting past the big German, Pascal Ackerman. However, after some deliberation, the stage is awarded to Ackerman as Bennett is relegated to last place for an errant headbutt in the final few hundred meters. This sprint and the drama that followed punctuated an incredibly boring stage where an ill-timed flat tire from Primoz Roglic inside the final 12km was the only other notable piece of action on the day. Roglic was able to easily catch back on after the peloton slowed up to wait for him and thus, there was no change in the overall classification, and Richard Carapaz still holds the leader's jersey by 13-seconds.
Stage 9 Notebook:
22km-The decorative breakaway is caught. In these stages that are sure to end up in a sprint, the breakaway riders aren't actually attempting to contest for the stage win, but are simply out there to gain airtime for their team sponsors. We are destined for a sprint finish now, but honestly, that has been in the cards since kilometer zero.
12km-Roglic flats but the peloton slows down to wait for him to get back. This is pretty significant, as a rider could easily lose a minute with a flat tire at this point in the race
500m-Bora has the dominant position going into the sprint. Sam Bennett employs some serious headbutting to make his way into their slipstream.
200m-Pascal Ackerman jumps first and actually gets a slight gap on Bennett.
Finish: But Bennett, being the best sprinter in the world at the moment, easily comes around him to win. Notice that he sits up before he crosses the line and nearly loses due to it. The next DQS team meeting should just be the director drawing a line and telling the team not to raise their hands until they cross it.
Takeaways:
I'm not convinced Bennett deserved relegation based on the general physicality of sprint finishes. However, he clearly throws a few headbutts and easily could have started a devastating chain reaction of crashes at 60km per hour in that final few hundred meters.

The initial win for Bennett must have felt good since Bora let him go to keep Ackerman at the end of last year.

Ackerman is a good sprinter, who I think is incredibly underrated, but we got a clear view here of the gulf in class between him and Bennett in that final 100 meters.

Roglic got incredibly lucky that the peloton decided to extend him the respect of waiting for him. He could have lost a serious amount of time in the final 10km. This is normally only extended to the race leader, and even then, the tradition has faded in recent years.
Why Aren't Advanced Stats Present in Cycling?
During this extremely boring stage, I started to think about why teams and riders do things in cycling and how they could actually prove if it were the right decision or not. I joked yesterday that the reason for Movistar's work on the front of the peloton was due to a misreading of past race data indicating that grand tours are won by teams who spend the most time on the front. This would obviously a horrible misreading of the data and confusing correlation with causation, but I do think there is quite a bit of room to completely overhaul tactics in the sports using data capturing and analysis.
For example, Mike Woods' win on Stage 7 was a direct result of his lack of time spent on the front of the breakaway. While some might not like that he won without doing his fair share of work, it is certainly an effective way to win a bike race. Many viewers, riders, and directors know this, but we don't have a trove of historical data to actually prove this or what potential consequences it holds. For example, will Woods have a harder time winning in the future as breakaway companions are less likely to work with him? We simply don't know.
I believe that tracking, collating, and analyzing this past data could give a team a real model to disrupt bike racing, much in the same way that the Houston Rockets small ball movement (only shoot three-pointers since they are worth more than two points) has changed basketball. The three-point line was introduced into the NBA in 1979, and everyone has been aware since then that three points are more than two, but it took 36-years before teams actually crunched the numbers to see how much more potent the increased points per possession were.
I feel the same blindness is currently occurring in professional cycling. Teams and riders simply do things because they feel it works and have seen others do it, but nobody is actually tracking past data and crunching the numbers on what actually works according to those numbers. Of course, it took the implementation of full-game tracking for these trends to become apparent in basketball, but with riders already riding with GPS trackers, it wouldn't take much to implement a similar tracking system in cycling. I will dive further into this possibility in a few off-season podcasts and newsletters and possibly try to create some race-winning models with my own tracking process.
Stage 10 Preview & Prediction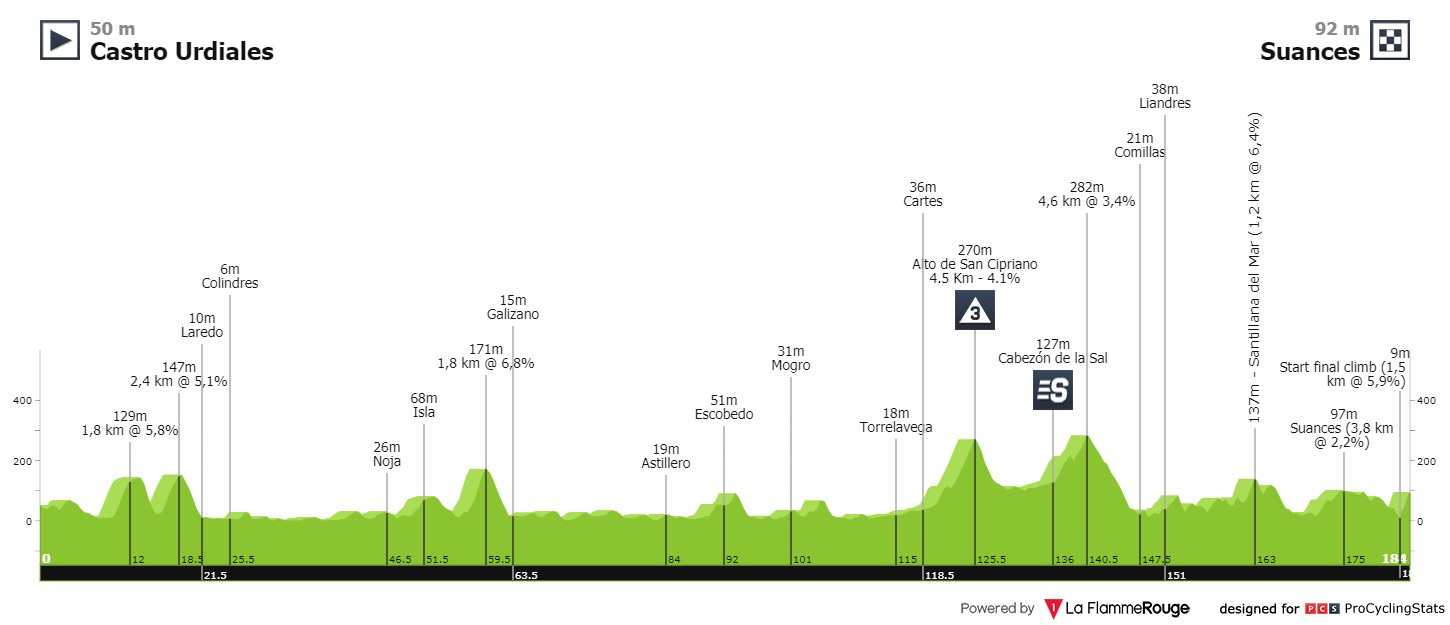 Tomorrow is being sold as another sprint stage, but I'm not convinced. The 185km day travels along rolling roads tracking the Bay of Biscay and is capped off with a 2km uphill finish.
Below is the profile of the Final 5km. It gains around 300 feet in the final 2km, which isn't a serious climb but will certainly burn the legs and make things tough for the sprinters.

The sprinters should be able to get up and over the climbs on the course, but if we look at the top three finishers the last time the Vuelta finished here in 2008, Paolo Bettini won with Davide Rebellin and Damiano Cunego coming in 2nd and 3rd. Bettini, aka "The Cricket," was famous for his slight frame and late-race punch, while both Rebellin and Cunego were climbers.

This historical data makes me think this won't be contested by the bigger sprinters, but by smaller fast finishers or even GC riders like Martin, Carapaz, or Roglic.

Prediction: Primoz Roglic wins the stage ahead of Dan Martin and Richard Carapaz. He closes the gap to first place to seven seconds due to time bonuses.